If you're stranded or you're looking for ways to help the victims of the flash floods that have swept Malaysia, here's what you can do:
NOTE: We will be updating this directory as more relief efforts emerge.
The devastating floods that have swept eight of Malaysia's 16 states and federal territories this weekend have left thousands stranded, more than 11,000 people driven out of their homes, and many roads closed. While East Malaysia is regularly flooded during the monsoon season, West Malaysia—particularly the state of Selangor—has been adversely affected, with this flood being one of the worst seen in years. The torrential rain started on Friday morning and, according to the Meteorological Department, it will continue until Sunday. The department also tweeted areas that have been placed on red alert as a warning.
The Malay Mail reported that last night saw a sharp increase in the number of flood victims relocating to temporary relief centres (PPS) in affected states such as Pahang, Selangor, Melaka, Negri Sembilan and Kelantan. Selangor alone has 3,508 flood victims sheltered at 45 PPS located in areas such as Kuala Langat, Klang, Kuala Selangor, Sepang and Hulu Langat. In addition, Prime Minister Ismail Sabri Yaakob announced that he has mobilised more than 66,000 personnel from the police, army and fire department to help rescue stranded flood victims and take them to shelters. Meanwhile, for those who are in need of help—and those who want to help—find resources in this directory ahead:
If you are stranded and in need of assistance, here is a list of helplines to contact:
Majlis Perbandaran Klang
03-3374 8845
Majlis Bandaraya Shah Alam
03-5522 2787
Majils Perbandaran Kuala Langat
03-3182 2566
Hospital Tengku Amuan Rahimah
03-3323 9478
Pejabat Kesihatan Daerah Klang
03-3323 9554
PDRM Klang Selatan
03-3372 2222
PDRM Klang Utara
03-3291 3344
Jabatan Bebajikan Masyarakat
03-3341 3703
Jabatan Kerja Raya
03-3371 4040
Jabatan Pengairan & Sailran Selangor
03-3371 2464
Angkatan Pertahanan Awam
03-3371 0820
Pusat Kawalan Bencana Negara (NDCC)
03-8064 2400
Other places offering help and assistance:
Thomson Hospital Kota Damansara
Dewan Pangsapuri Anggerik and Dewan PPR Hicom
GSC is offering ticket refunds for those affected by the flash floods:
Selangor Library is open as a shelter —call +603 5519 7667
Nia Atasha is fostering stray cats and pets: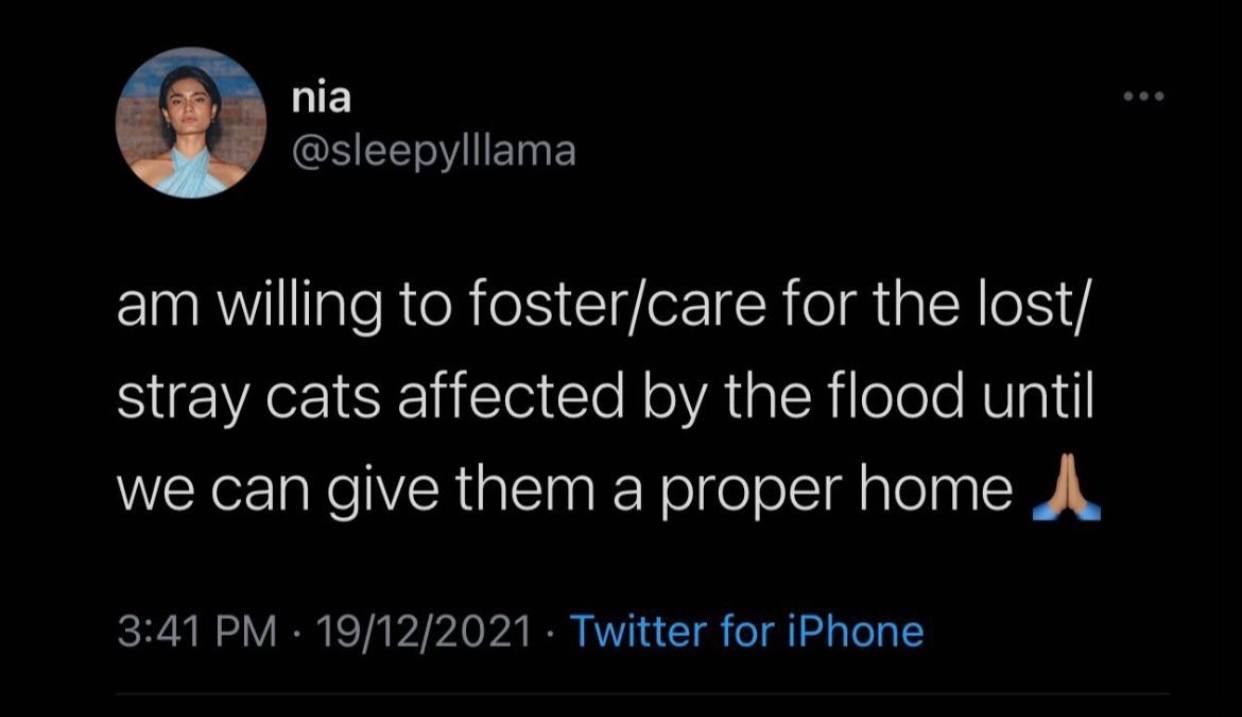 Sebelah Mata Studio is offering their space as a shelter
My Naturi is offering temporary storage solutions for small businesses affected by the floods:
Mahasiswa Harapan has a hotline:
0189060270 - Rahim
01112731962 - Syamim
The Lost Food Project is distributing food aid and cooked meals for those in need:
How can you help?
Evacuation centres are currently overwhelmed and in need of necessities such as food, water, diapers, pads, blankets and more. These organisations are accepting donations for them ASAP:
Mari Bantu - donate here
The Orang Asli community in Karak is in dire need of support at the moment:
Impactive Malaysia - 56226356702 (Maybank)
We Listen Malaysia - 552189537243 (Maybank)
ABIM - 562106228176 (Maybank)
Mercy Malaysia - Mercy Humanitarian Fund | 5621 7950 4126 (Maybank) or Mercy Malaysia | 8000 7929 08 (CIMB)
S.I Animal Shelter needs donations and assistant to save their animals with special needs - 512781085946 (Maybank)
People in Taman Sri Muda are looking for boats to get their pets to higher ground:
Malaysian Relief Agency - 8600 0594 78 (CIMB)
The Hope Branch / Pertubuhan Harapan Amal Harith Iskander - 564892140932 (Maybank)
Happy Bank Crew - 568621000906 (Maybank)
Malaysian Red Crescent Society - 5144 2210 2657 (Maybank)
My Hope Hero are looking for food, baby necessities, torchlights and rain jackets in addition to financial aid - 5648 1052 4226 (Maybank)
Pertubuhan Generasi Penerus Harapan Ummah - 564221668588 (Maybank)
Mahasiswa Harapan are collecting food and financial donations - 5643 0623 9265 (Maybank)
Zurianty Sudin is collecting donations to supply necessities to Shah Alam and Puchong - 7003943740 (CIMB)
For even more flood relief drives:
Last, but not least, we thought this Twitter thread would be good to share too:
The pictures used for this article are for illustration purposes only, and do not accurately reflect the true state of the national disaster.