Beauty
Exploring the art of gua sha and its benefits
Firmed and lifted
Image credits: @madiross/ Instagram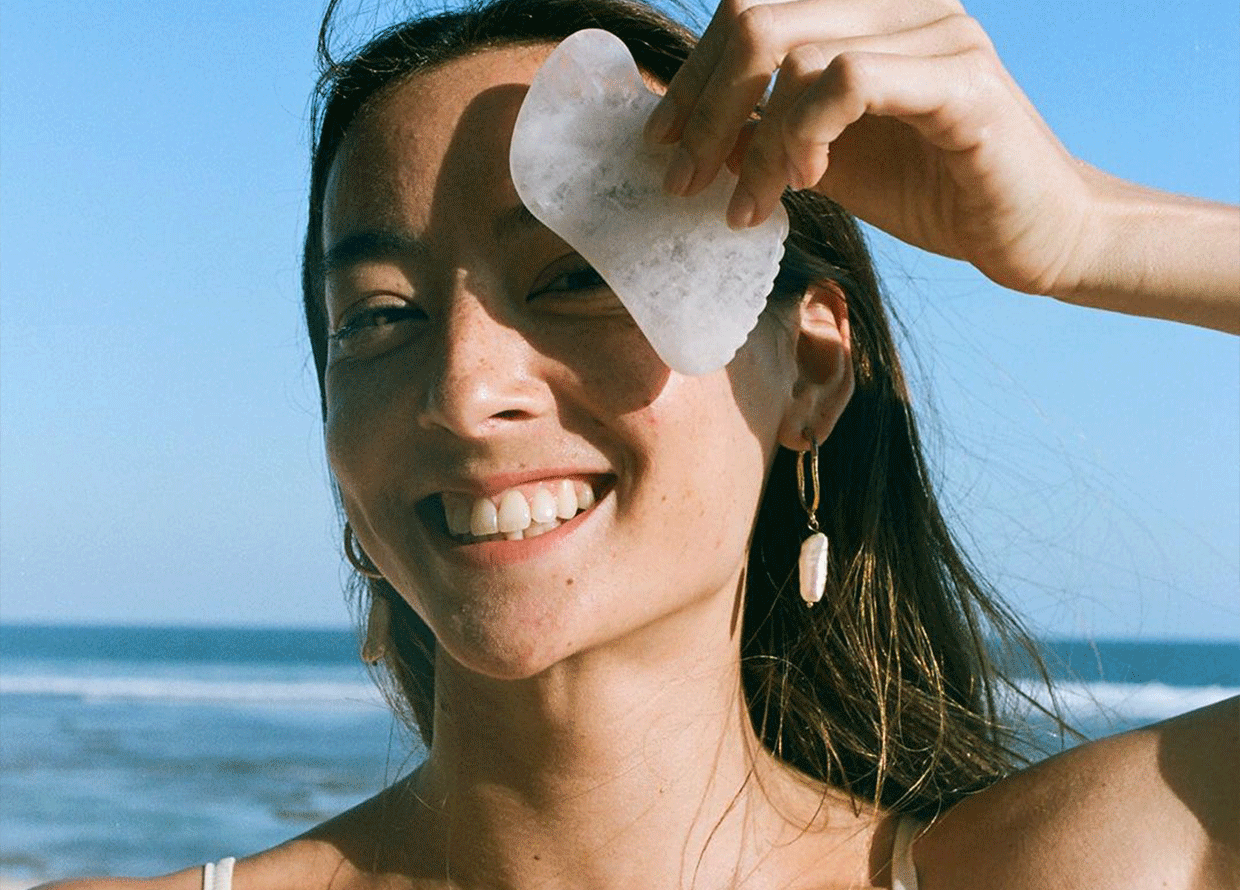 This "magic" face-slimming massage has gone viral—here's everything you need to know about gua sha.
In case you aren't aware, the art of gua sha has swept the beauty world. For context, gua sha is a traditional Chinese massage technique that involves a trained professional applying firm pressure to the body with a smooth-edged stone or jade. The method has been used since ancient China to treat chronic pains all over the body, making it one of the oldest forms of traditional medicine recorded. 
However, in our modern day, the practice has become increasingly popular among the beauty community for its lifting and sculpting benefits on the face. Ahead, we're walking you through the dos and don'ts of gua sha.
View this post on Instagram
How to pick and use a gua sha tool
To see effective results, you'll have to know how to choose the right tools. Get a flat tool with curved edges that matches the curves of your face. Make sure that your tool is easy to grip so that it does not slip when you use it to glide over your skin. Gua sha tools can be made out of stones like quartz and even stainless steel, but jade is your best pick, delivering a cooling effect when in contact with skin.
Face or body oil should be applied before each treatment so that your skin does not get hurt by the friction from the tool during the massage. Of course, a gentle touch is key if you are using this method on your face and neck, as the skin is more delicate in those areas. Using gua sha on your body can help to reduce inflammation and swelling, relieve headaches, soothe muscle pain and allegedly alleviate some of the discomfort associated with the symptoms of perimenopause.
If you're a beginner, we recommend heading to a professional for your first gua sha session. However, if you are keen to try it yourself at home, holistic esthetician and founder of Mount Lai Stephanie Zheng has got you covered on the basics.
NOTE: When doing gua sha, you may notice temporary little red, rash-like dots appearing on your skin immediately after each session, also known as petechiae—fret not, as this reaction is normal and will subside shortly.
You can do gua sha on your face daily for approximately five minutes per session. However, if you experience pain or excessive irritation on your face, try alternating the days or easing up on the intensity of your massage.
The many benefits of Gua sha
View this post on Instagram
If you always wake up to a puffy and bloated face, this nifty tool might be your holy grail. Gua sha can help to eliminate fluid build-up, which can reduce puffiness by promoting lymphatic drainage. Consistently massaging your face with this tool can also help to sculpt your face and jaw to give you the appearance of more snatched features. However, do keep in mind that being consistent is key as the results require time and patience.
Besides that, gua sha can have anti-ageing effects, with some reporting the reduced appearance of wrinkles and fine lines. While the effect of reduced wrinkles is not scientifically proven as one of the benefits of gua sha, it definitely does help to your skin looking lifted and glowy by improving circulation to the skin.
The practice can also work to relieve muscle tension. Particularly for those who grind their teeth while sleeping, this massage can release the build-up of muscular tension and give your facial muscles a little relief.
The risks of Gua sha
Gua sha is great, but of course it also comes with its own pros and cons. Specifically, if you're suffering from sunburn, diabetes, clotting disorders or you've just had surgery, it's best to ease off the practice. Further, it's important to be gentle—applying too much pressure to the skin can cause damage or bruising, or in extreme cases, even light bleeding. Essentially, when it comes to gua sha, a gentle touch is key, and you should ease up if you feel any discomfort. Or, your best bet is to head to the pros to make sure you're getting the best results possible!
For more body and wellness reads, click here.
| | |
| --- | --- |
| SHARE THE STORY | |
| Explore More | |