Uncategorized
24 Minutes with Choo Yilin, founder of the eponymous jewellery label that gives jade a modern update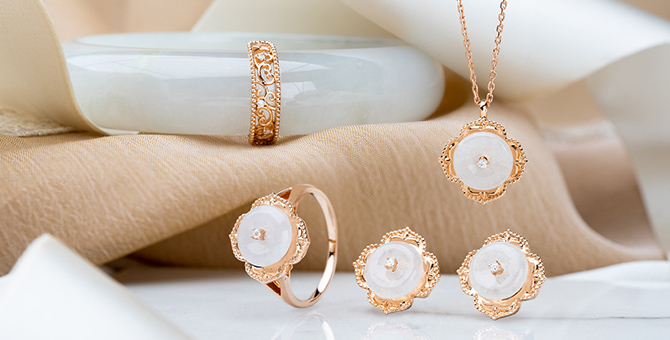 Jade has definitely taken a backseat when it comes to jewellery picks (especially for the younger generation) in recent years, but Singaporean jeweller Choo Yilin aims to change that with her eponymous label. Its DNA is all about championing our Asian roots by "reimagining heirloom pieces for the women of today" using only the best jadeite, along with diamonds and other precious gemstones that help elevate the traditional jewellery. Their rings, in particular, have been sought-after by brides-to-be, and it's impossible to scroll through its Instagram page without finding something to lust over. If the old Chinese saying "gold is valuable, jade is priceless" is anything to go by, the gemstone should be on your radar, stat.
Here, Choo Yilin gives us more insight into the world of jade:
Describe the Choo Yilin jewellery in three words.
Love. Heritage. Becoming.
How did the label come about?
I was living in Thailand with my husband way back in 2008 and I was doing a lot of non-profit work. As part of that work, I was introduced to the hill tribe artisans from the north of Thailand. They come from a rich history of silversmithing. My first collection was a partnership with them-I wanted to showcase their heritage with reinterpretation through my own lens as a designer. Ever since then, all our collections have had that commitment to telling heritage stories.
The Choo Yilin designs are heavily influenced by the Southeast Asian cultures. Can you tell us more about that?
Choo Yilin is a platform to tell important Asian heritage and conversation stories, using fine jewellery as the medium to do that. From the beginning, the brand has been about honouring and sharing our Asian roots, and it is for our younger selves to grow into our best versions of Asian women who are on a quest to embrace all aspects of ourselves, which inevitably encompasses our histories and heritage. We in Asia are capable of creating immense beauty that will leave people in deep awe.
Can you give us more insight into the jewellery-making process?
It takes us approximately 18 months to create our pieces sometimes. It's an extremely laborious process. People are often shocked when we explain how long it takes for us to create a piece—from the conceptualizing, the designing, prototyping, sampling, cutting the jade, the metal work and gemstone setting. But it is what it is!
Do you incorporate trends into the Choo Yilin designs, or do you prefer to stick to the classics?
We don't study trends I'm afraid. We take our inspirations from the past, primarily through the stories and legacies of our grandparents'.
Jade can be known as old-fashioned to some. How do you plan to change this perception?
Through the reinterpretation of what how jade has been designed with. We take historically significant stories and motifs but tell it through a very 21st Century lens such that the pieces can connect with the modern woman of today.
The brand primarily works with the Type A Burmese Jadeite. How does this differ from the other types of jade?
Type A jadeite is the purest form of jade. Less than 5% of the world's jade is Type A, and most are either Type B or Type C. Those types of jade essentially mean it's been aesthetically enhanced in some way—through heat, impregnation of polymers and the addition of colour.
For those who are not too familiar with jade, what's the easiest way to tell if it's real or imitation?
This is very tricky! Gemologists have shared that they think jade is one of the hardest, most complex materials to assess. We would really recommend purchasing jade from a trusted source.
Which are some your best-selling pieces?
The Hydrangeas and the Cherry Blossoms have been incredibly popular with brides. The Peranakan pieces are also always a perennial favourite. A fun factoid: The Kebaya collection, which we launched to great success last year, was actually inspired by Tun Endon Mahmood.
What has been the most memorable experience you've had with a customer so far?
We've had some of the most incredibly generous and supportive clients in the world. No one single memory stands out, but we love hearing their deeply personal stories of how they have come to love Choo Yilin. We hear the quirkiest, most authentic love stories, and we also hear about their incredibly rich relationships with their grandparents and how purchasing our pieces help them stay closer to them.
Some tips for caring for jade jewellery? 
1.     As our jade pieces come with metalwork, be mindful to keep the jade away from water.
2.     To maintain its luster, use a damp cloth and mild soap to lightly wipe away body oils and dirt on the jade and dry it with a lint-free, 100%-cotton cloth. Use a soft brush to gently clean hard-to-get areas.
3.     Treat your jade with love and care; be careful not to drop it, knock against it, or scratch it against hard surfaces.
How many jade pieces do you personally own?
I'm incredibly lucky in that I have almost complete access to everything we've designed!
What's next for the brand?
Lots of exciting projects in Malaysia. So stay close!
| | |
| --- | --- |
| SHARE THE STORY | |
| Explore More | |