When the team was discussing to bring back #FitnessFridays, various types of workouts were laid on the meeting table and since we couldn't decide between Muay Thai and kickboxing, we went with a combination of both. And that meant, twice the challenge and twice the intensity but a good mix of utilising both our hands and legs. For that, we prepped up in our Uniqlo Activewear and headed to Klinch MMA where we met Coach David, who with a plethora of experience in mixed martial arts (a grand total of 31 professional fights which is unheard of in this side of the region), gave us a workout that kicked our asses. Check out what the team thinks and watch the video below!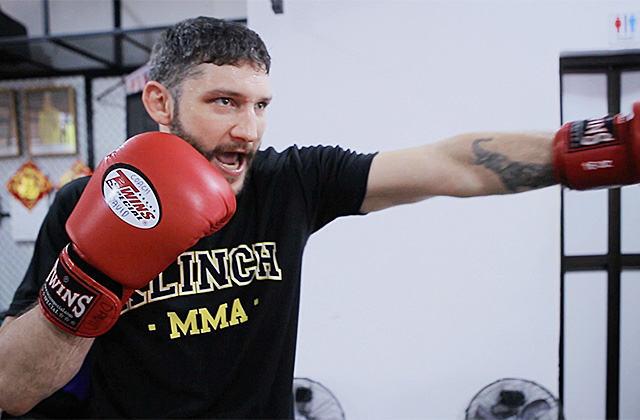 Cai Mei Khoo, Editor-in-Chief
I find kickboxing, or any combat sport for that matter, to be a great stress reliever and mood enhancer. Long, hard day at work? Someone annoy you just before class? There's nothing like throwing punches (jab, cross, hook, upper cut!) and kicking bags to sweat the small stuff, plus you get a great cardio workout, burn calories and pick up some self-defence tips along the way. Even the warm-up got me breaking a sweat—Coach David will definitely see that you won't be looking cute after class.
Rating: 4/5

Wei Yeen Loh, Fashion and Beauty Writer
I went into Klinch MMA with an open mind as it was my first attempt in Muay Thai/kickboxing and I was pleasantly surprised by how much I enjoyed it. Despite failing terribly at rope-skipping (blame my very poor coordination skills) during the warm up, I was psyched when we were really getting our gloves and shin pads on to try out some moves. Coach David gave thorough instructions and gave us helpful pointers as well—my favourite part was the final round of sparring that involved the whole team. I might just sign up for round two (in the distant future!)
Rating: 4/5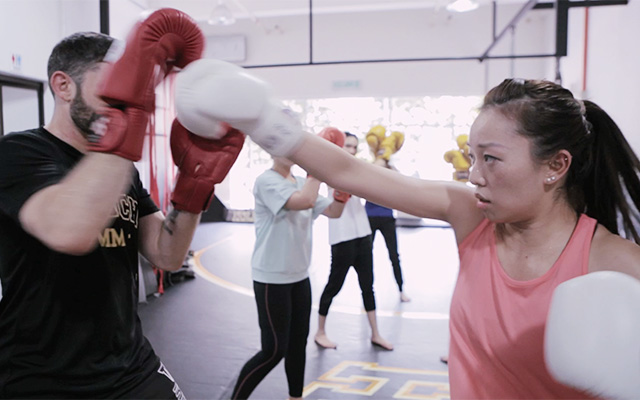 Yi Suen Chong, Digital Designer
I have never tried MMA or kickboxing before so I was actually quite excited to join this. Truth be told, I was expecting it to be similar to Body Combat classes, which I've previously participated before—but boy, was I wrong. Coach David had literally kicked our asses right from the beginning of the class when we were required to do 15 minutes of jump-rope nonstop (with only one rest in between, mind you!). I also liked how the Uniqlo Activewear tights was… well, tight yet comfortable to wear throughout. Overall, it was a fun one-hour workout that is jam-packed with excessive punching, kicking, cardio and strengthening moves (push-ups and squats). Will I be back for more? Definitely! But first, let me get my own boxing gloves. 😛
Rating: 4/5

Jasmine Yeap, Marketing Executive
When I was growing up, my dad sent me to various martial art classes ranging from Taekwondo to Jujitsu to Muay Thai to kickboxing; and I have always enjoyed them. To me, it's important for women especially to learn some form of self defence. Compared to the other gyms I've attended before, I personally felt that Klinch MMA's class was pretty good. I felt really motivated and challenged during the session, especially since they were playing my favourite EDM. Overall, it was a good workout—different from the usual gym sessions—and I had a great time burning off some steam.
Source:https://www.buro247.my/lifestyle/buro-loves/buro-tries-making-a-terrarium-with-ohsum-mossum-te.html
Rating: 4/5

Rachel Au, Lifestyle Writer
I've always wanted to try a combat sport but my parents weren't too keen on it and as I got older, I just generally wasn't much of a sports person so this was a great opportunity to try it. I didn't doubt that it would be intense but surprisingly, I didn't feel that it was until I realised how much sweat I was working up. For most workouts, I'd feel bored enough by the repetition to feel tired; but this time, the one hour passed faster than I expected. And while doing the workout, I loved how the sports bra from the Uniqlo Activewear collection provided a good support.
Rating: 4/5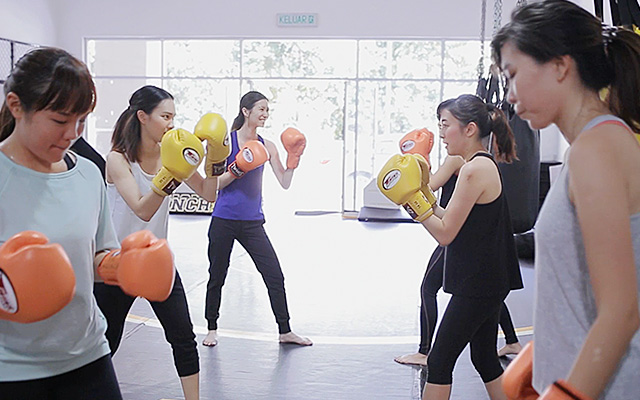 Su Fen Tan, Editorial Assistant
I've always wanted to try Muay Thai but never got around to it, so I was pretty excited to see what was on the class agenda that day. While I sat out of almost half the class (lesson learnt: no more skipping breakfasts, especially before a workout), I still rather enjoyed what little time I had on the mat. Seeing we were mostly beginners, there was no real sparring involved, but we were introduced to a handful of basic combos, which we got to practice with both a partner and the punching bags. I liked how the pace picked up towards the end – we got to do a series of exercises (push ups, sit ups etc) coupled with slightly more complicated combos, which was fun. In a nutshell, it was a fairly well-paced class and a good way to work up a sweat.
Rating: 4/5

Richelle Lim, Account Manager
I always thought women who do Muay Thai are amazing so I was really looking forward to the session at Klinch MMA. But it turns out that it's not as simple as I thought as Muay Thai/Kickboxing requires a lot of strength—something which I now realise I don't have. The class was intense right from the beginning, with Coach David asking us to 'warm up' by skipping rope for 15 minutes. The different types of punches and the order of them also threw me off guard a few times. Even so, I would still recommend the class and I think that ladies should try it at least once for the experience. On top of that, can I just say how comfortable the Uniqlo Activewear was during such an intense session? The answer: Very.

Klinch MMA is located in Publika. Find out more about them here.
Looking for some new workout gear? Check out the gallery below for some of the latest picks from Uniqlo:
{insert gallery tpl="slide-freesize.tpl" id="Uniqlo Activewear Collection" rid="3897″ order="a_tstamp"}
Related stories:
#FitnessFridays: Team HIIT workout at Firestation.fit
#FitnessFridays: Team workout at Fuel Athletics
#FitnessFridays: Team tries Vinyasa Vibes yoga at Organica Lifestyle

Source:https://www.buro247.my/lifestyle/health-fitness/fitnessfridays-team-tries-vinyasa-vibes-yoga-at-or.html
| | |
| --- | --- |
| SHARE THE STORY | |
| Explore More | |