After last month's intense #FitnessFriday workout of flipping tires and pushing/pulling sleds, we decided to catch our breaths and take things a little slower with yoga. But rather than a usual yoga session, we decided to satisfy our curiosity about Fly Yoga at Aravind Yoga Studio in Plaza Damas. Let's just say that although it makes for Instagram-worthy pictures, the process of getting into the pose isn't as easy if you're a first-timer. But hey, practice makes perfect. Check out the team's reviews and watch the video of our session below.
Cai Mei Khoo, Editor-in-Chief
I've heard mixed reviews about Fly Yoga, one being that there was a lot of time spent climbing up the silk as opposed to getting any actual yoga done but after trying out a class for myself, I would have to disagree with that. Climbing or getting into position within the silk is an essential part of the class and once in position, you hold the stretch for a few counts. I think it's a great addition to any workout routine, whether or not you're already doing yoga since the silk really helps you get into a deeper stretch-the only thing you need to overcome is the fear of falling flat on your face.
Rating: 4/5

Wei Yeen Loh, Fashion and Beauty Writer
My initial thoughts about Fly Yoga were that it was something that only dancers and gymnasts (or anyone who is incredibly flexible) can really enjoy. Before the class, I Googled it and got a little more nervous than expected after seeing images of yogis hanging upside down on a sash hung from the ceiling. Seriously, I can't even reach my toes when seated. But I liked that Chris gave us thorough instructions at a good pace and helped us out with our moves individually, knowing how some of us were eager yogi-to-bes but also a bit of a scaredy-cat. Pros about Fly Yoga? It's really quite a Zen workout, but with an extra challenge—which is great if you're looking for a switch from your regular yoga sessions. Not to mention, it actually works out your core and upper body a great deal while giving you a darn good stretch. To my pleasant surprise, I found that it wasn't that scary to hang upside down on the silk with my toes pointing to the sky.
Rating: 4.5/5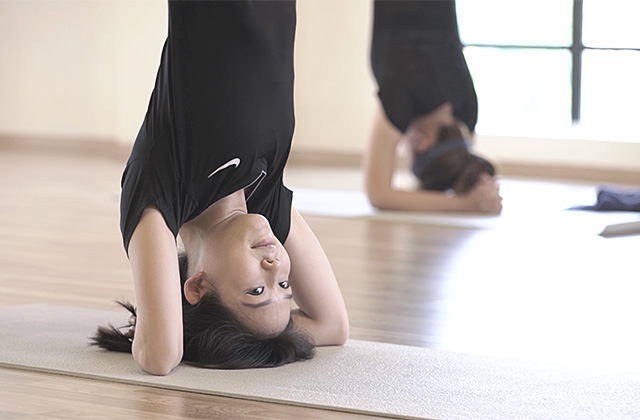 Yi Suen Chong, Digital Designer
I imagined myself to be this graceful swan gliding into different poses hanging on the silk (I blame Instagram for this unrealistic expectation) when we were told that we will be doing Fly Yoga for our #FitnessFriday. Turns out reality can be cruel sometimes—I was neither graceful nor flexible. Instead, I felt like a clumsy potato when I tried to climb into the silk, and worse of all, I felt nauseous after completing the class. The good thing is that Chris was really patient. He explained each move thoroughly while demonstrating both easy and advanced poses (watch him fold himself into them, people!). It's a huge plus for a first-timer like me because when I was lost in the midst of trying to get into a pose, he came and guided me step-by-step. I wouldn't say that Fly Yoga is my kind of workout but I do feel a sense of peace while hanging upside down, taking slow but deep breaths, and settling into the pose. Like all exercises, it just requires patience, practice, and lastly, for us to always remember to trust our body.
Rating: 4/5

Rachel Au, Lifestyle Writer
Photos of yogis achieving amazing poses while hanging on a silk look incredible but I knew it wasn't something easy to do if you're not flexible (I'm talking about myself). Still, I took on the challenge and it felt great at the beginning—until it got to the upside down poses. I was telling myself, "Just face forward. You won't fall. You won't hit your head. Just don't think about it," because really, the fear is what stops most of us from doing something more possible than we think. Luckily, Chris was a great instructor. He attended to whoever who needed help, was patient (the perfect example of Zen mode), and because he helped show us to bend the right places or guide us, we were able to achieve the final poses. Be warned though: If you easily get motion sickness, you might feel it halfway into the class because that's what happened to me and Yi Suen. The effects will last for a while, depending on the individual, but with practice, it'll eventually disappear.
Rating: 3.5/5

Su Fen Tan, Editorial Assistant
Fly Yoga was one of the things that I've always wanted to try but never got around to actually doing it—and I'm really glad I finally got to give it a go. I liked it from the get-go: I thought it was great how Chris taught us diaphragmatic breathing (something that might seem obvious but can be easily taken for granted), which allows you to take in deeper breaths as compared to chest breathing. Chris' instructions and demonstrations for the class were clear and easy to follow. The hard part? Certain poses or transitions required us to simply let go and allow ourselves to hang upside down, which can be a little daunting at first try. But once you get the hang of it, it is actually quite fun. What you get at the end of it is a moderate core workout and a nice, deep stretch of muscles—it is definitely something I would come back for.
Rating: 4.5/5

Aravind Yoga Studio is located in Plaza Damas. Find out more about them here.
Related stories:
Aerial Yoga: Key to a calming vacation
#FitnessFridays: Team tries Vinyasa Vibes yoga at Organica Lifestyle
Source:https://www.buro247.my/lifestyle/health-fitness/fitnessfriday-team-tries-muay-thai-kickboxing-at-k.html
| | |
| --- | --- |
| SHARE THE STORY | |
| Explore More | |