Beauty
Recap: Kenny Lim of Befrienders KL on identifying mental health concerns and ways to solve them in the age of coronavirus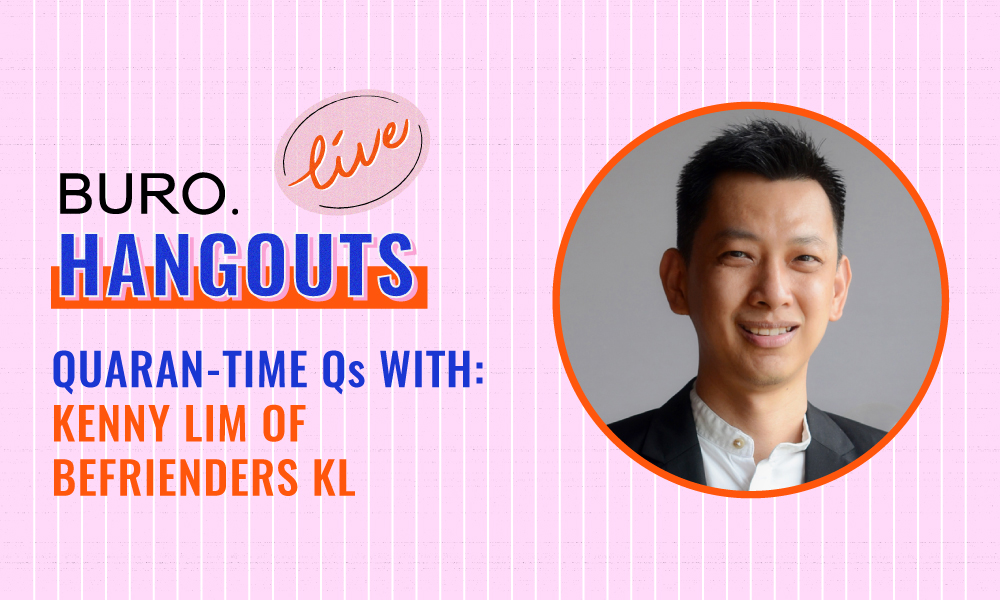 It was a wonderful yet confusing afternoon—a day after Prime Minister Muhyiddin Yassin announced that the Conditional Movement Control Order will begin on 4 May. Prior to this, Malaysians have been self-isolating at home and practising social distancing for six weeks. With prolonged quarantine comes the unsurprising emotional toll; whether you're living alone, with a partner, with friends, or with family.
Therefore, we're grateful that Kenny Lim—with over 21 years of experience with Befrienders KL—took time to share his insights and advice to everyone experiencing the COVID-19 pandemic during our BURO Hangouts Live session; from methods to cope with psychological issues to places to get support. Here's a fun fact: the Befrienders KL is celebrating its 50th anniversary this year!
Watch the interview below!
The psychological impact of quarantine and self-isolation can be huge. How do people identify mental health concerns? What are the signs of distress to look out for?
Since the MCO was implemented six weeks ago, I think some can actually manage and some enjoy staying at home as well as not going out. There are also a lot who are affected because of the lost of freedom and being confined indoors for a long period of time. It has taken a huge toll on a lot of people. We have been getting a lot of calls from people who are affected.
It is very important to be aware of people around us. Look out for signs that show someone might be struggling. Signs we could look out for include loss of interest, loss of focus (affecting performance at work and studies), mood swings, changes to sleeping patterns, and changes to eating behaviour.
There are some who choose to express verbally. Some post about their feelings on social media. If you see people struggling with signs like these, it's important for us to reach out. If you yourself are struggling, it's important for us to try to get help.
What can the government and employers do to help those who need emotional support during the MCO and the COVID-19 pandemic in general?
This situation is very new to all of us. There are a lot of uncertainties. Even with the MCO being lifted on Monday and some of us going back to work, there will be a lot of changes. We will be seeing a new normal.
If you look around the world, governments have actually spent a lot of money in terms of sending out packages to support the people. Financial assistance. I do hope what can be done is using financial assistance as a subsidy for people who are struggling and need professional help. A subsidy for them to be able to see a psychiatrist at a private sector. Even before the pandemic, the waiting list to see a psychiatrist at a public hospital is actually very long. With the pandemic now, I'm guessing that it will be even longer. That's something the government can look into.
As for employers, it's important to create an environment where it is safe for staff to talk about mental health. If they are struggling, they feel safe enough to open up to their bosses about it—without fearing if they'll lose their jobs or how people will react. If they are not able to talk about it openly, it will eventually affect their performances. In addition to creating a safe environment, employers should also provide resources such as places to seek help and hotlines to call.
At times like these, we look to our frontliners who are doing so much on a daily basis. How does the pandemic impact the mental health of our frontliners, and what do you think needs to be done to reduce the emotional toll that they experience?
It's hard to imagine what they have to go through. It can be quite traumatising to see patients struggling and experiencing patients dying. With long working hours, it's very exhausting. When they go home after work, there's this fear of passing the virus to loved ones. It's tough for them and I really salute what they have been doing.
I know that the Ministry of Health (MOH) has provided psychological support to them. They are encouraged to call any helplines and talk about anything that's troubling them. Since the first day of the MCO, many helplines were set up. The resources are there but they need to be encouraged to actually do it.
There are a lot of things that we can do. For example, we are able to make a donation to a charity body that supports the frontliners. Post something on social media to encourage them. Little things mean a lot.
It's also easy for some to feel lonely while social distancing or practising MCO—even more so for those who live alone. How would you advise people who are going through that?
Stay connected and use modern technology. Social distancing doesn't mean social isolation. Keep in touch. It's important to let people know that we care for them and to let people care for us as well.
Take the time to do a little bit of self-reflection. A very good question to ask yourself is: "Have you been taking good care of yourself?". This is the time to practise self-care and do something for ourselves.
We will all have to establish our own ways of preserving mental health at home—especially for those who will be self-isolating for a longer period of time. What are your top tips and advice when it comes to keeping sane at home?
Different people will have different ways of keeping sane. One of the most important things they can actually do is to have a proper routine. Before the MCO, we have a routine. On weekdays, we go to work from 8am to 5pm. We sort of know what we are going to do.
With MCO and working from home, the routine gets disrupted. You feel like there's no need for you to sleep too early; or to get up early. Keeping a routine gives us a sense of normalcy. It gives us something to look forward to and a sense of control. We know what is going to happen.
Can you give us a little background on Befrienders and the services that you provide?
We started in 1970. That makes us 50 this year. We are a not-for-profit organisation and what we do is provide emotional support to people in distress; who are feeling depressed or suicidal. Basically—to anyone who needs to someone to talk to.
Since the MCO started, have there been more calls for help? 
We have been getting an increased number of calls that are related to COVID-19 and MCO. During the first week MCO, nine percent of our calls were related to COVID-19 and MCO. Fast forward to last week (the sixth week), the percentage increased to 41 percent. Mostly about the stress of being confined indoors; and those who have pre-existing mental health conditions are not able to get their therapy sessions.
If someone needs emotional support, how can they contact Befrienders KL?
Before the MCO, we were providing services through 24-hour helpline, through email, and face-to-face. Since the MCO started, we are still providing the helpline (still 24 hours) and email. You can go to our website to check out the list of all our contact numbers. We are on Skype as well at the moment.
Finally, do you have a message of hope for everyone experiencing the pandemic?
There is hope and this is not going to last forever. Things are going to get better. Having said that, it's okay to feel a little bit of anxiety and fear in times of uncertainties. Know your limit. If you feel like you cannot take it anymore or when you're starting to feel uncomfortable, reach out to someone. Talk to someone you can trust.
Mental health issues are longer a taboo subject. Do you know someone who requires help? Do you need someone to talk to? As mentioned by Kenny Lim, accepting the fact that you need support is important.
For more information on Befrienders KL, visit this website, call 03 7627 2929 or email [email protected]
| | |
| --- | --- |
| SHARE THE STORY | |
| Explore More | |