When an individual is diagnosed with breast cancer, there's often more than one victim. While breast cancer patients carry the heaviest weight of such life-changing news, their caregivers also share the mental and emotional burden that comes with the incurable disease–especially for more severe cases, such as metastatic breast cancer (mBC), also known as Stage IV breast cancer.
To shed light on the pivotal role caregivers play in the support of mBC patients, the Breast Cancer Welfare Association Malaysia (BCWA) recently launched the #Unpause 2021 campaign as part of its continuous efforts to raise awareness on mBC in Malaysia. Supported by Pfizer Malaysia, the campaign also serves to empower cancer caregivers who want to learn and connect with others who have similar experiences.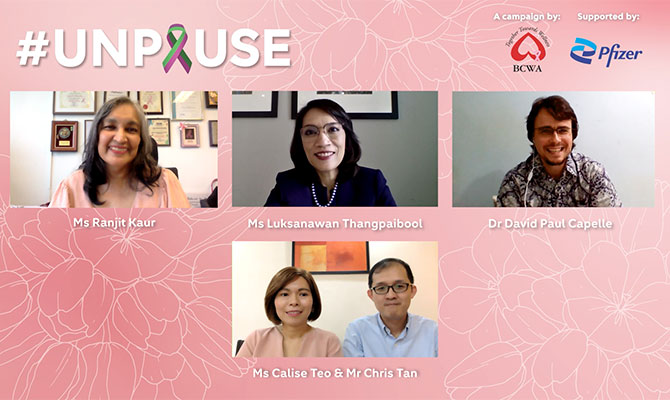 "Often, a caregiver's life can be put on the back burner because of their responsibilities. Many of them also have part or full-time jobs and families of their own to raise as they simultaneously act as the caregiver," said Ranjit Kaur, President of the BCWA.
She added: "As Edward Albert said so eloquently, 'the simple act of caring is heroic.' Through the #Unpause campaign this year, we would like to draw attention to our mBC caregivers, thank them for their efforts, and share their stories to motivate and inspire many more caregivers out there."
Ahead, we've listed down the frequently asked questions accompanied by real-life stories and answers from mBC caregivers:
What is metastatic breast cancer (mBC)?
Metastatic breast cancer (mBC) or stage IV breast cancer is when the cancer cells have spread from the breast to other organs in the body. The most common sites for the breast cancer to metastasise include the bones, the lungs, and the brain. It can occur at diagnosis, or months or years after the breast cancer has been treated.
What should be my first step as a caregiver upon an mBC diagnosis?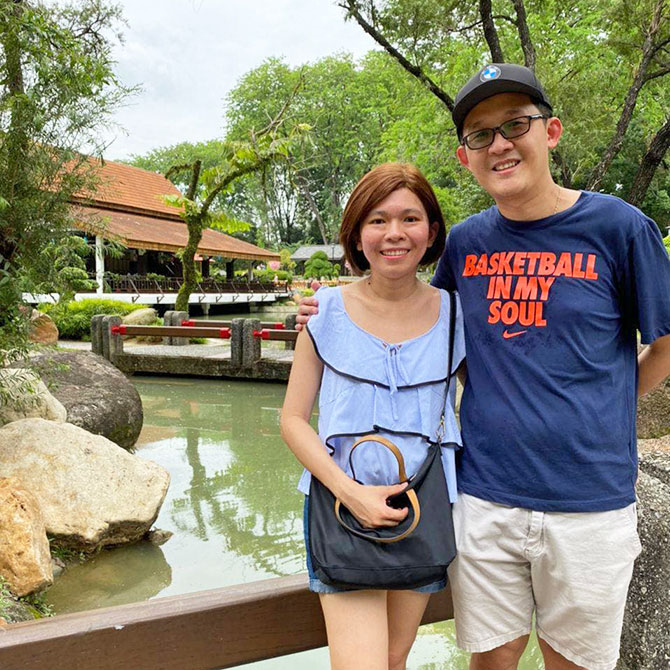 Firstly, it's important to note that denial is a normal initial reaction to news of any life-threatening diagnosis. Chris Tan, caregiver to his wife, Calise Teo—who was diagnosed with mBC in July 2020 four months after giving birth to their third child—experienced this first-hand.
"My first reaction was denial because cancer was not something we thought would happen to us [even though] we read about it all the time. I consulted my brother who is a doctor about the potential of it not being cancer, and I also asked a breast surgeon if there was a possibility of it not being cancer," he opens up.
"Right after biopsy, the doctor confirmed it was cancer. Two things crossed my mind after that. The first was to get the right treatment immediately. The second thing was: 'how much time do we have left?'" he divulges. The rest will come naturally with your doctor's advice.
How should I equip myself as an mBC caregiver?
View this post on Instagram
Every mBC patient and caregiver will face unique challenges. Regardless what they are, the ordeal will require immense physical, mental, emotional, and spiritual strength. For Chris, who is not only the primary caregiver for Calise but also a father of three children, including an infant below a year old, managing all his responsibilities at once proved to be a crucial challenge.
"I had to be emotionally strong to support Calise, who was emotionally frail… I needed to take on new skills of managing time, work, and also took on some strategies to improve my emotional well-being so that I can support my family," he shares.
As to what helped to keep him going, Chris says, "One of the important aspects that enabled me to be emotionally strong is my faith. It strengthens my spiritual well-being to be able to go through this journey together [with Calise]. I believe everybody has their own faith, so be diligent in following that faith and praying.
"The second thing is communication. I'm the primary caregiver, but not the sole caregiver [of Calise]. If I'm the sole caregiver, I'll burnout in the long run physically and emotionally or run into health issues or depression issues. So I enlisted help from a lot of people as co-caregivers."
He names his parents, mother-in-law [Calise's mother], friends, and his two older children among those in his support network—each of whom played an important role, whether it was running errands, cooking food, providing advice and emotional support, or simply sharing a joke with Calise to lift her spirits.
What should I expect as a mBC caregiver?
"When my mother first started on her treatment for breast cancer, she had trouble controlling her bodily functions, and it must have been so embarrassing for her. As a son, seeing my mother go through that is, of course, difficult and heartbreaking, but all I could think was that I had to be strong for her," shares Datuk Redzuawan Ismail (better known as Chef Wan), the primary caregiver for his mother, Che Ani, after she was diagnosed with mBC in October 2020.
"I looked for solutions, tried different ways to help my mom, and I found that what would help my mother was a routine, so we would take her to the bathroom every hour even if she did not need to go.
"Most importantly, I will care for and nurse my mother the best I can­—shower her with lots of love, [and] comfort her till her last breath. If you are like me, currently caring for someone you love who is diagnosed with cancer, please be strong and know that you are not alone," he says.
Where can I get financial help for mBC treatments?
"Affordability remains one of the main barriers faced by patients when it comes to mBC treatments. There are several financing options in Malaysia that support mBC patients, for example, government hospitals, SOCSO (Social Security Organisation), EPF (Employees' Provident Fund), insurance, and patient assistance programmes such as Embrace," BCWA President Ranjit Kaur explains.
Launched in 2019, Embrace is a patient assistance programme by Pfizer to support HR+/HER2- (human epidermal growth factor receptor 2) mBC patients' treatment continuity for improved outcomes and quality of life. Through the programme, mBC patients can better plan their finances and gain access to medical treatment. Click here for financial aid alternatives.
How can I learn more about mBC?
View this post on Instagram
The BCWA has put together a 'Me & mBC' handbook to support mBC patients and caregivers as they go through the difficult journey, from diagnosis and treatments to managing relationships and emotions. The first-ever digital metastatic breast cancer patient guide is designed to simplify complex medical information and answer the most urgent questions an mBC patient or caregiver may have on diagnosis, treatment, and coping with daily life. In addition, it provides a list of resources for more help, including where to find more information, patient support groups, a doctor or counsellor, financial support, and other resources in your area.
To learn more about mBC, the #Unpause campaign, or the 'Me & mBC' patient guide, please visit www.thrive-malaysia.com. Alternatively, the guide is available in audiobook format via SoundCloud. 
For more information, read our guide to breast cancer diagnosis, treatment and support in Malaysia here.
| | |
| --- | --- |
| SHARE THE STORY | |
| Explore More | |