One week down, three more weeks (hopefully) of the Movement Control Order (MCO) to go— how is everyone holding up? If you're part of the population that is working from home during this period, chances are you've found a little extra time on your hands (traffic jam, who?) to sneak in a few Netflix shows, fight the urge of napping with a home workout or two, or perhaps give your wardrobe the Marie Kondo treatment. We hope you've remembered to keep your hands clean by washing them the right way in between all that too.
Speaking of which, when was the last time you cleaned your timepiece(s) or jewellery? If said wearables are part of your everyday routine, then it should definitely be on your to-clean list, especially after you've ventured outside your home (be it for essential work, grocery shopping etc.). After all, it has been established that Sars-CoV-2 — the virus that causes COVID-19 — can remain airborne for several hours in still air, and survive for up to three days on plastic and stainless steel surfaces. This presumably applies to other similar metal surfaces, except for copper — interestingly, researchers found that copper surfaces tend to kill the virus in about four hours.
So, let's get down to it. How should you go about cleaning your wristwatches? Here's a general guide according to some of the most common materials:
Gold / Stainless Steel
While you might find a few sources citing toothpaste as a means to clean gold, a look at the Mohs Hardness Scale says otherwise. Toothpaste comes in at 3-4 Mohs on the scale, while 14k gold has a hardness of 3-3.5 Mohs. Thus, toothpaste can actually scratch/damage gold surfaces.
Don't worry, that doesn't mean you'll need any fancy tools/kit to do it. This goes to stainless steel pieces too. All you need is some lukewarm water, mild dishwashing soap, a soft-bristled toothbrush (optional), a couple of soft cloths (preferably microfibre cloths), and the following steps:
1. Prepare a bowl of lukewarm water with a drop of dishwashing liquid mixed in.
2. Slightly dampen the soft cloth with the solution, then gently rub down the watch case. If your watch case has any engravings or embellishments, you may also use a Q-tip dipped in the solution to get around these areas.
Tip: Always be cautious when cleaning watch cases. Ensure that the winding crown is tightly screwed in so that water will not penetrate the interior of the case.
3. Next up, the bracelet/strap. For metal bracelets: If you have the tools to separate the watch case from the bracelet, you can choose to do so – so you can easily soak the bracelet into the soap solution. Otherwise, simply dip the bracelet into the solution, taking care not to get the case wet in the process.
4. To go one step further and clean between the links, take a soft-bristled toothbrush, dip it into the solution, then gently scrub the bracelet to remove the grime (and bacteria!) that may have collected in those crevices.
5. Now, prepare another bowl with clean water for rinsing. Tracing back the steps above, slightly dampen another cloth to wipe down any soapy residue from the case, and wipe down or rinse the bracelet as required.
6. To finish up, use a clean, dry soft cloth to gently pat your watch dry. You can also use a blow dryer set on low to dry in between the bracelet links. Make sure the watch is completely dry before keeping it away.
Now you might ask: "My watch is water-resistant, can I soak the case in water?" If it is water-resistant to 30 metres, the answer is a resounding no; that means it is splash-resistant at best. Technically, watches with a 50m resistance and above should be able to take a swim, but we say better be safe than sorry – you'll be able to clean it good with the aforementioned steps anyway.
Bronze
Bronze consists primarily of copper, which makes it relatively resistant to the COVID-19 virus, but that doesn't mean it should be off the deep-clean hook. You may follow the steps above (as per gold/stainless steel) to give it a general clean, or if you'd like to remove some of the accumulated patina, toothpaste will come in handy. Apply a thin coat of toothpaste (non-gel formula works best) to the watch case, allow it to sit for five to ten minutes, then gently scrub it with a soft-bristled brush to bring back its bronze glow.
More bronze-timepieces care tips here.
Ceramic
Similarly, ceramic watches/straps can also be cleaned with soapy solution. Alternatively, you can opt to invest in a jewellery cleaner. Give the watch a good scrub with the cleaner (if it doesn't come with a cleaning brush, your trusty ol' soft-bristled toothbrush will do), wipe it down with a clean soft cloth and it'll look spanking clean and new again.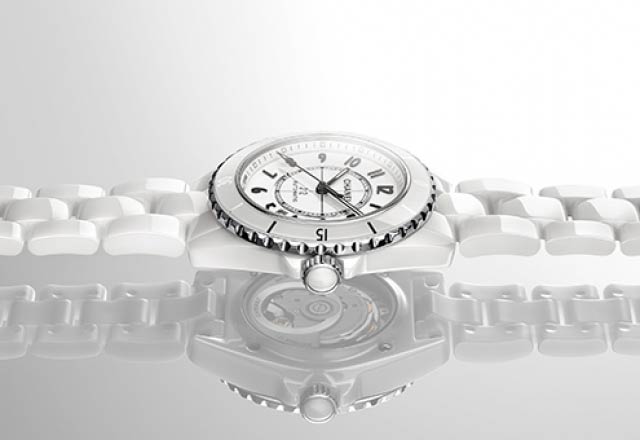 Leather straps
Leather straps should never be soaked. Instead, give them special care with the following steps:
1. If possible, remove the straps to ease the cleaning process. Then wipe down the straps with a dry cloth (microfibre or jewellery polishing cloth) to gently remove any debris to avoid scratching the surface of the leather during more intensive cleaning.
2. Prepare a gentle soap formula with lukewarm water and slightly dampen a separate cloth with it. Using small circular motions, gently wipe down the straps with the formula.
3. Remove all soap residue from the straps with a clean, slightly damp cloth.
4. Let the straps air-dry. Do not use a hair dryer or place them in direct sunlight.
5. Optional: To go the extra mile, once the straps have dried, use leather conditioner to keep them in tip-top condition.
Nylon/NATO straps
Perhaps the most fuss-free materials to deal with; either hand-wash them or simple put them in a mesh bag and toss them in your laundry.
For more stories like this, click here.
| | |
| --- | --- |
| SHARE THE STORY | |
| Explore More | |