The prospect of eternal sunshine, endless glasses of wine, and three-Michelin-starred food had me at 'Book Flight'
Vineyard after vineyard rolled on for miles until it became a blur of alternating rows of dark green and the light brown of earth. I've just gotten off a 17-hour flight and am in a car from San Francisco airport to Napa Valley—destination of choice for foodies, nature lovers, holidaymakers, and SF residents escaping the daily fog that shrouds the city. Not to mention that it's also about 10 degrees Celsius warmer out here in Napa Valley.
With about 500 wineries scattered across Napa Valley (one Uber driver thinks it's over 600), there's not enough days in a year to cover them all if you visited one winery a day. That, and the fact that it's also home to seven Michelin-starred restaurants has put Napa Valley on my bucket list of places to go to. So with bags packed, I took off right after #BuroTurnsTwo, and together with my actual appetite, I also brought along my bijourmandise, or 'insatiable appetite for the perfect fashion jewellery' (according to Hermèsistible, Hermès lexicon of 'wordelicious' fashion jewellery).
When we arrived at the house we were staying at, we were greeted by neatly-clipped hedges, a generous backyard with a swimming pool, complete with pool floats. First order of the day: sunblock, bathing suit, sunnies, floppy hat, and a glass of wine in hand, of course. Along with my necessities, I accessorised with an off-white Hermès Sellier bangle, and two hinged bracelets—one extra wide with a colourful Collier de Chien print, and a narrow plain pastel blue one. What better way to kick off my holiday than with these pool outfit-appropriate enamel bangles?
We had our first wine tasting appointment scheduled for the next afternoon at a nearby winery, a 15-minute leisurely cycle away, where we passed more wineries, and the much-photographed 'Welcome to Napa Valley' signboard, where we, of course, had to stop for some photos.
The winery had a beautiful, open-air tasting room that overlooked the vineyards, and we were each given three different types of wines to taste, with the sommelier describing and explaining the notes of each. The lush, deep green of the grape-bearing vines were perfectly juxtaposed against the bright blue sky, without a single spot of cloud in sight. That also meant that it was blazing hot, with the mercury hitting a high of 37 degrees Celsius that afternoon, so I was happy to be in an off-shoulder top, and denim cut-offs, with bright red leather Hermès cuffs for a pop of colour.
I stacked on more leather cuffs the next afternoon as we visited another winery. Called the Mini Dog bracelets, they come in either single or double tour, a spectrum of different colours (my favourite is the classic brown shade that Hermès calls 'gold'), finished off in palladium, gold or rose gold hardware. Little gilded extras like rings, round and square studs add further interest to my arm candy while I appreciate the wine in my hand.
The absolute highlight of my trip, however, was dinner at Chef Thomas Keller's highly acclaimed French fine dining restaurant, The French Laundry, for which he's been awarded the highest honour of three coveted Michelin stars. Set in a rustic two-storey stone cottage, the restaurant underwent an extensive 4-year-long renovation and expansion that cost USD10million. Unveiled earlier this year, The French Laundry now boasts a sleek new 2,000-square-foot kitchen complete with large skylights, and wraparound windows that overlook the restaurant's garden. Gleaming white with undulating ceilings mimicking white tablecloths being gently unfurled, we walked through the kitchen to the extensive wine cellar that houses 16,000 bottles, to the minimalist private room—less to distract the diner from what they've come here for: the food.
I was immediately blown away from the very first dish, 'Oysters and Pearls'—Island Creek oysters alongside a generous quenelle of white sturgeon caviar in a sabayon of pearl tapioca. Creamy, buttery, slightly sweet, with the taste of the ocean, I was in heaven.
Plated carefully on a large white plate, the bright orange of the sweet butter poached Alaskan king crab simply popped, paired with circles of green and red from the accompanying delicate slices of garden cucumbers, cherry belle radishes and radish sprouts, with an elegant dollop of La Ratte potato purée by the side. I couldn't help but notice that the vibrant colours of the printed enamel bangles I wore that evening complemented that particular dish very well. Thomas Keller has plans to open a small hotel at The French Laundry, and while dates have not yet been set, that's definitely where I'll be staying next—I can only imagine what it'll be like to wake up and discover what's on the breakfast menu.
The following days went by in blissful daze, fuelled by a mix of sunshine, great food and wine, cycle trips in and around town, and lazy afternoons by the pool. Napa Valley has certainly earned three-stars in my list of holiday, and food, destinations—now I'm back looking at when I can next book flights to SFO for.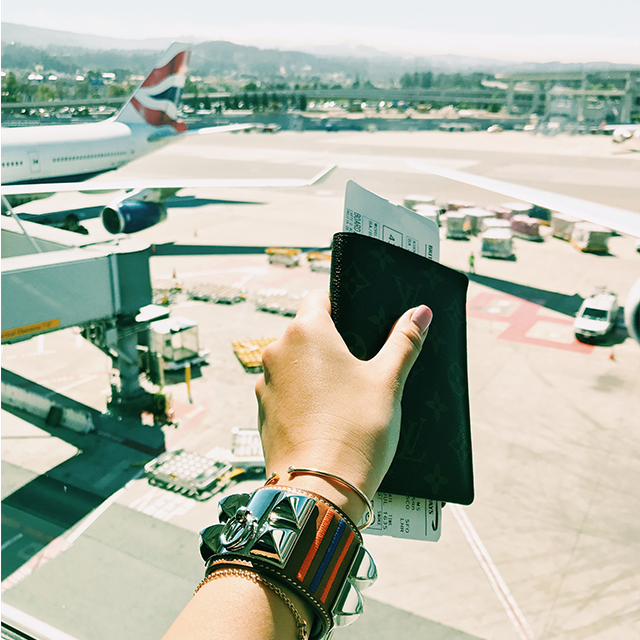 Hermès store is located at Lot G-203A, The Gardens Mall, Mid Valley City, Kuala Lumpur. Opening hours are from 10am to 10pm, Mondays to Sundays. 
Related stories:
Hermès celebrates the launch of Hermèsistible with a pop-up store at Pavilion KL
Buro's City Guide to Bali: The #BuroGetaway edition
These Insta-stars have ditched the bikini and they have one-piece (of) advice