Well, mostly because Song Saa is made up of two pristine islands, Koh Ouen and Koh Bong, that are merely connected by a footbridge. Beneath this very footbridge is Cambodia's first Marine Reserve where one could easily see the island's reefs teeming with marine life such as turtles, seahorses and exotic species of tropical fish.
But the magic begins the minute the speedboat docks at the jetty and several things greet you: The warm staff ready with friendly smiles, a cool towel and a drink meant to help with the sea travel; an abundance of tropical plants and oh-so-soft sand as far as the eye can see. Karen, the General Manager at Song Saa added, "Feel free to walk barefoot all over the island. We all do it!"
At that moment, a thought came to mind, "Ah, I really am on a private island." One that has barely been touched and still very much a gem of nature in this part of the world.
GETTING THERE
Only a few hours away from KL, getting to Song Saa Private Island is easy yet an adventure. Fly into Sihanoukville (1 hour 45 minutes), a shuttle van will take you to the port (30 minutes) and a luxury speedboat will sail over the emerald, but choppy, waters of the Gulf of Thailand (45 minutes but you'll have champagne for company).
THE ROOMS: OCEAN-VIEW VILLA
As mentioned, Song Saa is really two islands but one is where all the villas, restaurants and facilities are rooted at – Koh Ouen. The other, Koh Bong, a virgin rainforest with possible sightings of Hornbills, Flying Foxes, Sea Eagles and a variety of native plants, is where you go for an easy hike. Essentially, it doesn't take too long to walk from one end of Koh Ouen to the other end of Koh Bong and thus, the resort offers a humble number of 24 luxury Jungle, Ocean-View and Over-Water villas.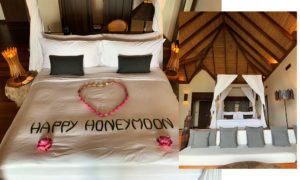 We checked into the Ocean-View Villa, which features a more than ample space of 200m2 with a private pool, a sun lounger, private dining gazebo and a mini elevated beach complemented by a spectacular view of the open ocean. Within the villa is a host of luxury comforts such as a King size bed, twin vanity bathroom, oversized sunken bathtub, fully stocked personal bar, 40-inch flat screen TV and Bose surround sound system. It's a room you'll never want to leave and for couples on their honeymoon, you can opt to have it decked up for the special occasion. On our first night, it was such a treat to return to the villa to see the bathtub prepped with warm water, lotus flowers and lit candles surrounding it. Also, they use Aesop for their bath amenities.
DINING: ALL-INCLUSIVE
At Song Saa, there are basically two types of rates: Villa & Breakfast and All-Inclusive. Having a certain affinity for all-inclusive resorts which ensures a stress-free holiday, we opted for the latter. This means you can order an unlimited number of dishes, drinks and snacks from any of their dining venues, including the All-Day In-Villa Dining Menu and mini bar in the room.
The main dining establishment on the island is the Vista Overwater Restaurant & Lounge, which is especially a popular spot at sunset for its vast views. Imagine sitting at the open air deck and raising a toast to the cotton candy skies with a glass of cocktail. For a more relaxed feel, Driftwood Bar & Kitchen literally sits on the beach and offers pizza and tapas-style menus. The pizzas are so good that we ordered one every night for supper.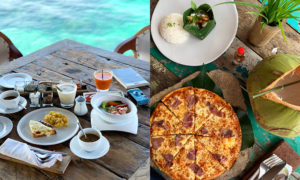 Dinners are usually a bit more special if you opt for it. By late afternoon, a tiny scroll will be attached to your front door, detailing the Destination Dining of the night chosen for you. Every night is a different experience. It could be at the beach with the sound of the waves or it could be by the poolside where your feet are literally dipped in the water as you sit at the table placed in the pool. The best hideaway spot on their list is The Point, a romantic and more intimate location surrounded by the ocean.
FACILITIES & THINGS TO DO
For a private and intimate island, there are countless activities for all kinds of travellers, be it a family with children, a group of friends or a couple looking to either relax and do nothing, or do everything. For starters, there's actually a Play House for parents to leave children there while they go off on more adventurous activities. Alternatively, take them along to hike Koh Bong where you could end up at the Meditation Rock for sweeping views of the ocean or the Lookout Point for a more sheltered stop.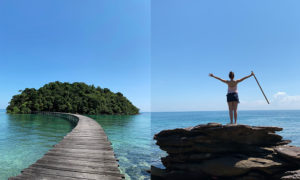 You can also sunbathe or take a dip at either the beach or infinity pool; snorkel around the islands or kayak to explore unspoiled mangroves, coves and bays; sign up for the bioluminescence swim; be pampered with various treatments at the Spa Sanctuary; join a morning yoga session or just go at your own pace at the gym which faces the ocean; travel by traditional long tail to visit the neighbouring village of Prek Svay. The list is endless. Note: All-Inclusive rates include free use of the snorkelling gear and there is a chance of
SONG SAA FOUNDATION: IT'S MORE THAN JUST A RESORT
There's a reason why Song Saa is described as pristine and beautiful. The people there have kept it that way from day one. The people behind its concept have planned it to be that way from day one. Beyond just offering a unique getaway for those looking to disconnect, Song Saa is heavy on conservation and humanitarian efforts from three important aspects: water, people, and land. These all come under what they call the Song Saa Foundation and is the reason why we name it one of the best luxury eco-resorts in Asia.
Karen mentioned that fishing boats are prohibited from entering a large perimeter surrounding the island, which explains why the surrounding island is rich with marine life that's easy to spot as you walk across bridges and such. The resort also does beach cleanups by the month, though we still spotted a variety of plastics floating by the shore (and did our part by picking them up!).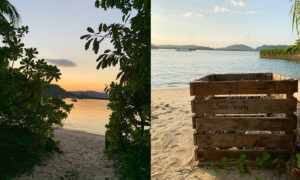 Pack for A Purpose. From general school supplies to text/reading books to clothes to first aid items, feel free to bring these along to drop them off at the island. These will help the schools of the Koh Rong Archipelago to supply the educational needs and more of over 520 students.
The majority of the resort was actually built sustainably while providing work to the locals – recycled timber from disused fishing boats, furniture made from driftwood collected from local beaches and coves, and floors made from timber salvaged from old factories, warehouses and demolition yards around Cambodia and Thailand. The list of efforts go on and they do accept monetary donations as well, which could go from helping a child receive a one year's supply of toothpaste, brushes and soaps to purchasing a water filter for a family to receive clean, drinking water. You can find more info here.
THE FINAL VERDICT
Song Saa Private Island has been high on our list of gorgeous resorts and the fact that it is super eco makes it an even more enticing destination for a true guilt-free getaway. The resort is intimate in both size and nature, making it truly a romantic escapade especially come evening when the candy floss skies are swapped with a dark canvas littered with more stars than you can ever see in KL, accompanied by the calm ocean waves. If you're prone to motion sickness, however, be prepared with your meds or brace yourself for a rough 45-minute ride.
All photos within this review were taken with an iPhone XS Max.
Rates start from an average of USD$1,290 a night. For more info, or to book a stay, visit Song Saa Private Island's website.
| | |
| --- | --- |
| SHARE THE STORY | |
| Explore More | |