Travel
10 Fun outdoor activities for thrill seekers located within an hour from KL
Living on the edge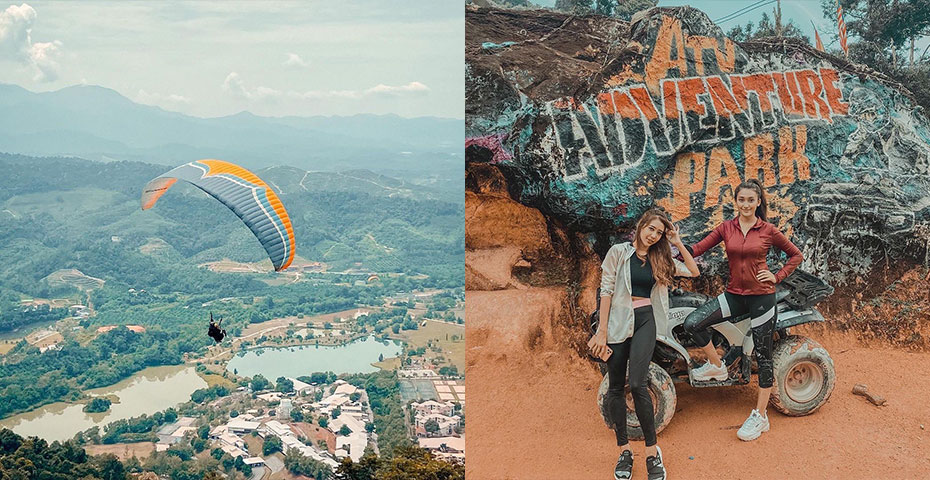 Do you consider yourself an adrenaline junkie or thrill seeker? Or perhaps you're just looking for something fun to do with your friends and family besides visiting a new cafe or restaurant and going to the mall? If you answered yes, then you're on the right page.
With Malaysia's unique topography offering lakes, rainforests, hills, and rivers to explore, we're blessed with a plethora of adventurous things to do. Check out some of the most exciting outdoor activities located within an hour's drive away from KL for your next adventure!
1. Abseiling and rock climbing, Batu Caves
View this post on Instagram
Tried indoor bouldering and ready for something more challenging? Give rock climbing a go at Gua Damansara Extreme Park in Batu Caves! The eco-recreational site boasts more than 120 routes, where you can learn obstacle rope management, test your climbing skills, and appreciate the views from the cliffs. There are different packages depending on what you're interested in, including trekking, abseiling, caving (AKA spelunking), and gliding through the park's zip line.
Address: Jalan Fairuz Off Jalan Zamrut, Kampung Melayu Wira Damai, 68100 Batu Caves, Selangor
Opening hours: 8.30am to 6pm
Website | Facebook | Instagram
2. White water rafting, Kuala Kubu Bharu
View this post on Instagram
If you enjoy water theme park rides, wait until you get a splash of nature's very own adventure. Kuala Kubu Bharu's white water rafting experience will take you through rapid currents across a 7km river, complete with scenic views of the riverbank along the way. During the two-hour journey, you'll work with your companions to steer the boat—making for a fun team-building activity!
Address: 12, Jalan Mat Kilau, Kampung Paya, 44000 Kuala Kubu Baru, Selangor
3. ATV riding, Ampang
View this post on Instagram
For something less strenuous yet fun and engaging, try ATV riding. The ATV Adventure Park in Kemensah is the only permit holder with a licence to operate in Kampung Kemensah Forest Reserve as issued by Jabatan Perhutanan Negeri Selangor, ensuring an exhilarating time without compromising safety. Riders can choose from a range of packages that will lead you along different trails of varying difficulty levels, some of which may include a stop by a waterfall for a refreshing dip in the water.
Address: Kampung Kemensah, 68000 Ampang Jaya, Selangor
Opening hours: 9am to 6pm daily; close from 11am to 3pm on Friday
Contact: 019 244 8544
Website | Facebook | Instagram
4. Bungee jumping, Sunway Lagoon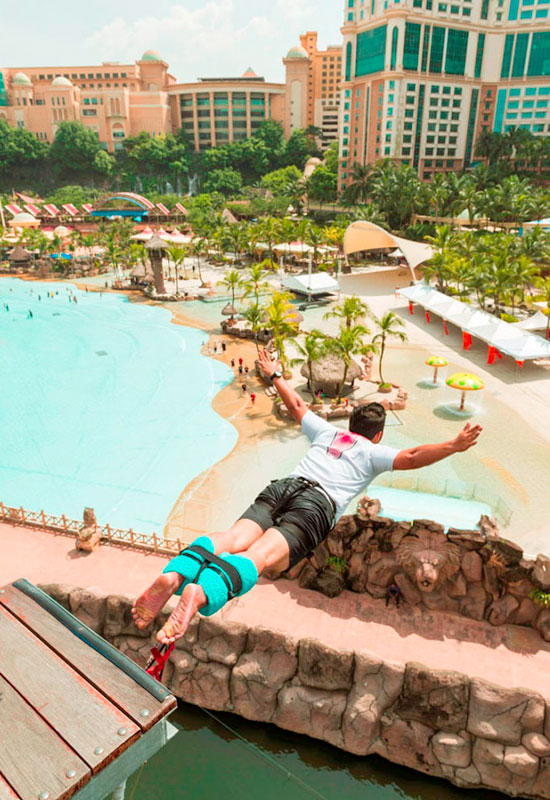 Arguably the best way to overcome your fear of heights is to defy it—may we suggest bungee jumping? There are several places around the Klang Valley to try this, but one of the more popular spots is at Sunway Lagoon Xtreme Park. There, you'll be able to bungee jump off a 22-metre elevated platform, which is equivalent to a nine-storey building. And if you're up for another challenge, try the G-Force X located within the same park. It's the highest slingshot ride in Asia, also known as a reverse bungee jump, reaching heights of 72 metres in just two seconds—at speeds of up to 120km/h. Definitely not for the faint of heart.
Address: Sunway Lagoon Theme Park, Bandar Sunway, 47500 Subang Jaya, Selangor
Opening hours: 10am to 6pm daily
Website | Facebook | Instagram
5. Paragliding, Kuala Kubu Bharu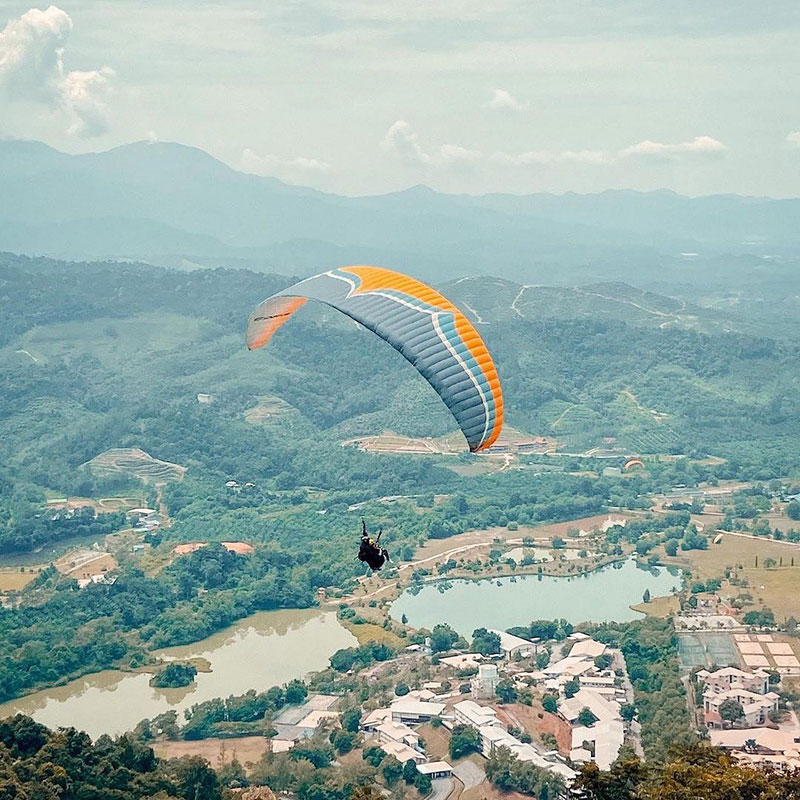 Enjoy a bird's eye view of the charming little town of Kuala Kubu Baru in Selangor as you paraglide from a hilltop to a wide open field below. You can either hike up to the peak of Bukit Batu Pahat or hop on a four-wheel drive to the take-off spot. To help you commemorate the experience, the package will also include videography for the duration of the flight.
Address: Taman Millenium Sports Complex, 44000 Ampang, Pechah Road, Kuala Kubu Bharu, Selangor
Opening hours: 10am to 6pm daily
Contact: 019 431 1737
6. Standup paddle boarding, Rawang
View this post on Instagram
If you enjoy kayaking, standup paddle boarding may be a bit more stimulating as it requires you to balance yourself on your feet and steer the board with a long-shafted paddle. At the Tasik Widuri Adventure Park in Rawang, you can either opt for a beginner-friendly package with standup paddle lessons or rent a SUP board with your friends and try it for yourself!
Address: Jalan Widuri 3, Bukit Beruntung, 48300 Rawang, Selangor
Website | Facebook | Instagram
7. Flyboarding, Putrajaya
View this post on Instagram
Flyboarding is one of the more recent extreme water sports activities that has been rising in popularity—thanks to the invention of a cool jet-like equipment we now know as the flyboard. It basically looks like a hoverboard with a connected hose that draws water in and diverts them through a jetpack, thus propelling riders over the surface of the water. If you've ever wondered what it's like to be a human rocket, book yourself a flyboarding instructor and head over to Marina Putrajaya for a first-hand experience!
Address: Marina Putrajaya. No.1, Jalan 5/5, Presint 5, 62200 Putrajaya, Wilayah Persekutuan
Opening hours: 9am to 7pm daily (by appointment only)
Website | Facebook | Instagram
8. Go-karting, Shah Alam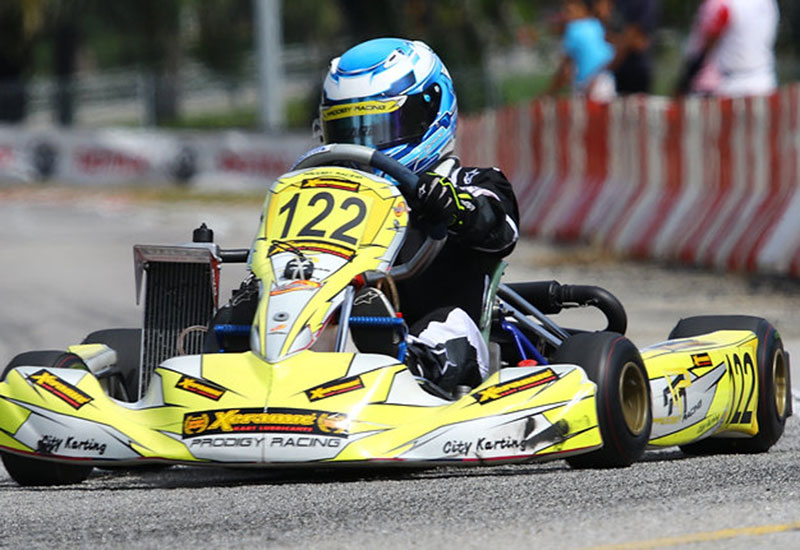 Live out your Fast and Furious dreams and race your friends on the track with a fun go-kart ride! There are several tracks around KL and Selangor, including indoor and outdoor circuits. As the first outdoor go-kart track in Malaysia, Shah Alam's City Kart remains a leading option, offering a variety of beginner-friendly (regular and double-seater) to members-only karts (125 cc) and even cadet cars for children to race across the 1.16km track.
Address: Stadium Car Park, Western 5, Seksyen 13, 40000 Shah Alam, Selangor
Opening hours: 10am to 7pm on Mondays | 10am to 10pm, Tuesdays to Sundays
Contact: 03 5512 5868 | 017 377 5868 or 012 658 1969 (WhatsApp)
Website | Facebook | Instagram
9. SkyTrex Adventure, Sungai Congkak
View this post on Instagram
Put your climbing, swinging, jumping, and gliding skills to the test as you take on the SkyTrex Adventure in Sungai Congkak. Situated in a cool, hilly area of Hulu Langat, this obstacle course offers a River Thrill package for intermediates and a Rapid Extreme option for advanced groups. Both options will involve thrilling flying fox rides and different obstacles, with picturesque views of the river, forest, and waterfalls along the way.
Address: Batu 20, 1/2, Jalan Sungai Congkak, Kampung Padang, 43100 Hulu Langat, Selangor
Opening hours: 9am to 6pm daily
Website | Facebook | Instagram
10. Wakesurfing and wakeboarding, The Mines
View this post on Instagram
Interested in surfing? Get a headstart with wakeboarding first, where you'll get to ride in the wake of a boat while holding on to a boat-towed rope. Alternatively, wakesurfing has a similar concept, but typically involves the user letting of the rope to ride out a wake. Try them both at The Mines, while basking in the serene waterfront views there.
Address: Mines Waterfront Business Park, Jalan Tasik, Seri Kembangan, Seri Kembangan
Contact: +60123246677
Website | Facebook | Instagram
Other activities you may be interested in:
| | |
| --- | --- |
| SHARE THE STORY | |
| Explore More | |