In the grand scheme of things, 'booking a cruise vacation' really shouldn't be that difficult, yet, it's one of those things that has been sitting pretty on my travel bucket list for a few years now. Long story short, my motion sickness comes with a personal tagline, 'land, sea, air – anytime, anywhere', which has largely contributed to my procrastination when it comes to going on a cruise adventure – until now.
Newsflash: Cruise holidays are having a major moment – this year alone, Royal Caribbean International will be bringing approximately 300,000 guests to Malaysia from Voyager of the Seas, Spectrum of the Seas and Quantum of the Seas!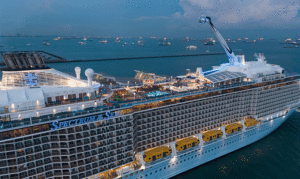 When Royal Caribbean International reached out with the opportunity to experience Spectrum of the Seas, its newest and largest ship – at over 347 metres long – to sail the Asian region, I was not about to let seasickness stand in the way of me living my best cruise life. If you've got a cruise getaway on your mind, here's a play-by-play of my experience and highlights to look out for on board the 16-deck luxury cruise, plus all insider tips to ensure you get the most out of your next cruise.
CHECK IN
On board the 3-night Malaysia tour cruise, I checked in the Marina Bay Cruise Centre Singapore – the process was relatively quick and easy, but a quick note for first timers, you'll still have to check in large bags for safety screenings. Also, for security reasons, your passport will be withheld for the entire trip and will be distributed back to you on the final day of the cruise.
Insider tip: Keep in mind, it is the largest cruise ship in Asia; at full capacity, Spectrum of the Seas accommodates over 7,000 people (including crew) so luggage delivery can be anytime between after checking in, all the way to 9.00pm. Pack a change of clothes and toiletries into your carry-on to freshen up for your first day on board.
STATEROOMS
My cosy ensuite stateroom came with a private balcony and is the perfect size for two. If you want something more deluxe, Spectrum is the first Royal Caribbean ship with an exclusive suites-only area, complete with private elevator access and dedicated restaurant and lounge areas. Planning a big family trip? The 2,809-square foot Ultimate Family Suite comes with three bedrooms and a kid-friendly space on the upper level to accommodate up to 11 guests.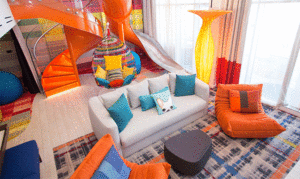 The Ultimate Family Suite
Insider tip: Basic in-room amenities include simple toiletries, a mini fridge, hair dryer and an electric kettle. Bring your own toothbrush and bedroom slippers but leave small travel appliances or extension plugs at home – these are among items, which may be withheld at screenings until the end of your trip for collection.
For a quick room tour and a sneak peek of other cruise adventures, click on the Royal Caribbean pinned highlights here.
DINING OPTIONS
Fact: You'll never go hungry on a cruise, especially on board the Spectrum. Executive Chef, Daniel Ledo Trujillo heads up a team of 306 staff across seven complimentary dining options and 13 speciality restaurants, cafes and tea salons. Using only the freshest produce from local suppliers, meals are delicious (important) and freshly cooked (crucial) on board each day. Chef reveals over 9,000 rolls are freshly baked on site daily, and thousands of kilos of meats are consumed on an average 7-day cruise!
Insider tip: Make space for a meal at Jamie's Italian – opt for the freshly made pastas and don't leave without desserts – the chocolate brownie is TDF. Also, check out the Bionic Bar, where robots don't only serve you drinks, but also make a mean cocktail.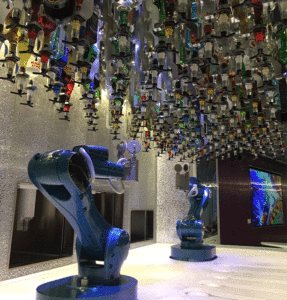 Robot waiters at the Bionic Bar
HIGHLIGHTS
Not only will you never go hungry on board the Spectrum, you'll also never get bored. The ship almost never sleeps – daily activities and facilities operate from as early as 7.00am. I highly recommend a cruise getaway for your next big family trip – there is literally something for everyone and completely lifts the stress from having to plan (and please) fussy family members – you know the ones I'm talking about.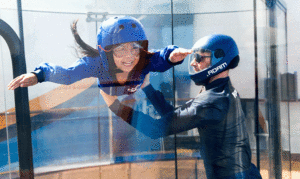 RipCord by iFly Skydiving Simulator
Key highlights on the Spectrum you shouldn't miss:
North Star: Hop into a glass capsule, which takes you over 90 metres above the ocean to enjoy stunning views of the city – it's a short ride in total of about 11 minutes with a slow and comfortable ascend and descend.
Seaplex: The largest indoor sports and entertainment complex at sea is great for all ages – bumper cars, roller skating, augmented reality walls and floors, high-tech interactive experiences – you name it.
SkyPad: Also great for all ages, but especially for the kids, this virtual reality, bungee trampoline is a favourite. If you've got surfing on your mind, get a quick lesson on riding waves at FlowRider. There's also the iFly, a skydiving simulator experience you've probably seen too many funny videos on YouTube, but should really try IRL – it's loads of fun but two words of caution: jelly legs.
Star Moment: This one's for the grandparents – let's be honest, karaoke is for everyone – but if you're worried about the old folks while you're busy having fun, my bet is they'll feel right at home in no time.
Insider tip: There's always a lot happening at different parts of the ship – I find the daily newsletters, which gets sent to your stateroom, super helpful. Besides the standard highlights, there are also things like evening trivia, outdoor screenings, spa tours, rock climbing, laser tag, friendly sports matches, live bands and so on, which you'd otherwise miss.
ENTERTAINMENT
Probably my favourite part of the cruise, the entertainment line-up on board the Spectrum exceeds expectations. World-class talents and aerialists put on spectacular, immersive signature productions each night using robotic programming and state-of-the-art technology unlike any you've seen. I highly recommend:
The Silk Road: Created exclusively for Two70, the ship's next-gen auditorium featuring Vistarama technology, which transforms 270-degree panoramic windows into a projection surface measuring 135 feet wide and 22 feet tall, coupled with Roboscreens – you'll be mesmerised by how this musical, rich in culture and colours, is brought to life.
Showgirl! Past. Present. Future: Presented at the Royal Theatre, which seats 1,300 guests, the stunning journey of the iconic showgirl is not to be missed. If you're into old-school song and dance, lavish costumes dripping in diamonds and adorned with feathers – Showgirl serves you all the drama, and then some.
To watch quick show teasers, click on the Royal Caribbean pinned highlights here.
Insider tip: Exclusive shows at the Two70 will require bookings, same goes to selected key highlights on the ship so it's best to make bookings ahead of time at the Guest Services counter if you already know which ones you're keen to check out.
And if like me, motion sickness is a concern for you, this is where it gets even better. Being the largest ship in Asia, also means it's super steady – I barely noticed the ship started sailing – it was only when I looked out into the ocean that I realised we were on the move, and what a view that was for a couple of days. Safe to say, I found way more than my sea legs on this adventure. Cruise adventure – check. Next up, swimming with manta rays.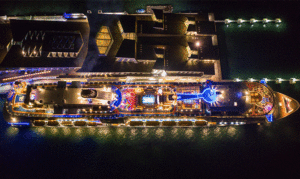 5 More fun facts about the Spectrum you might enjoy:
Spectrum is 28 times longer than the massive 12-metre whale shark.
Standing upright at 347 metres, Spectrum is 2.5 times taller than the Tianjin Eye.
Spectrum's width is nine times wider than the Great Wall of China (at Mutianyu).
Spectrum's four bow thrusters produce 4,694 horsepower (each), which is still twice the horsepower of a five-car subway in New York City.
At 347 metres long, Spectrum is five times longer than the Tianamen Gate in Beijing, China.
Spectrum of the Seas is now sailing from Shanghai (to Japan) or Hong Kong (to Taiwan, Japan & Philippines) and is available for bookings. If you want something closer to home, check out Quantum of the Seas, which feature similar facilities and will be sailing from Singapore from November 2019 to April 2020.
| | |
| --- | --- |
| SHARE THE STORY | |
| Explore More | |