Bryan Nickson Lomas. Pandelela Rinong. Yeoh Ken Nee. Ooi Tze Liang. These are just some of the most well-known and accomplished divers in Malaysia. These professionals have inspired many Malaysians to pay attention to the aquatic sport. Through their various successes in the sport, diving isn't just a hobby any more—it's more than that. It's a way of life. Yes, it looks real frightening. The sight of falling athletes from 100 metres off the platform isn't for the weak-hearted. However, it is that tenacity that made them so inspiring. Whether you like platform diving, scuba diving, or just diving away from responsibilities, there are numerous dive sites in Asia and beyond that are sure to influence new adventures and points of view on history, cultures, and the natural world around you. This roundup highlights seven you should know (and go headfirst to).
1. Active, submarine volcano off the Island of Mahengetang, Indonesia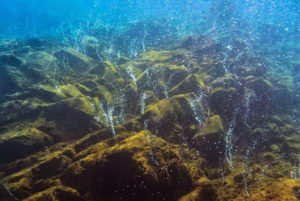 Banua Wuhu volcano dive site Indonesia
Read it once, then read it again. The volcano is still active, but is that going to stop you from experiencing one of the best dive sites in the world? The volcano, Banua Wuhu, is the only one of its kind—and the only one where diving is allowed (or encouraged). At 400 metres above the seafloor and four to 10 metres below surface (tide-dependent), Banua Wuhu's crest appears as an unusual dive spot for those who seek adventure. What makes diving there even more exciting? The diversity of marine life, coral reefs, and geological formations. There might be constant rumbling and emitting of hot, sulphur-filled bubbles, but just treat them as part of the whole volcanic package.
For more information, visit this website.
READ MORE:  Why not check out these unique Airbnb homes?
2. The lost city of Yonaguni, Japan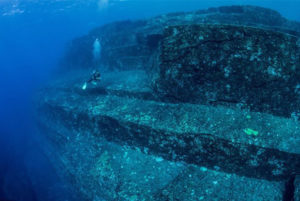 Yonaguni Monument in Japan dive site
If you're searching for an awe-inspiring diving experience, the tiny island of Yonaguni is the spot for you. This site might be a tad difficult if you're inexperienced because of the strong currents and unpredictable conditions (as well as hammerhead sharks that tend to travel in groups of 100 or more). However, if you're still determined to take on the challenge, you will be rewarded in the form of the mysterious Yonaguni Monument—that is said to be either part of an ancient civilisation or a natural phenomenon of irreplacable geological structures. Often in life, you will have to go beneath the surface for the finer things. The Yonaguni Monument is as fine as it gets.
For more information, visit here.
3. A Boeing 747 jumbo jet in Bahrain's new underwater park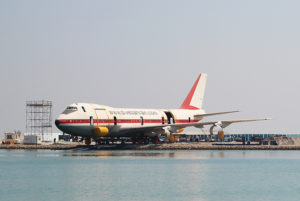 Bahrain dive site with Boeing
Yes, it's a Boeing 747 jumbo jet. At the recent opening of the world's biggest underwater theme park in Bahrain, a 70-metre long decommissioned Boeing 747 (the largest plane to ever be submerged) was unveiled as its centrepiece. Scheduled to be open for divers in August 2019 (real soon), you should head to the dive site located about 30 kilometres to the North of Amwaj to not only get wet, but also to explore an area of over 100,000 square metres. If that isn't cool enough, you will also get to witness a replica of a traditional Bahraini pearl merchant's house, artificial reefs, and sculptures concocted from eco-friendly material. Scuba diving can be fun and immersive, and this is the prime site to visit for a genuine great time under water.
For more information, visit this website.
READ MORE: These fascinating water sports can be done in Malaysia
4. Between continents at Silfra Fissure in Iceland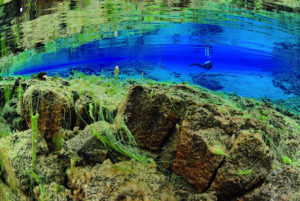 Silfra Iceland dive site
What comes to mind when you think of Iceland? The Blue Lagoon? For sure. Terribly freezing weather? No doubt. The Northern Lights? Definitely. You might not know that you can also dive in Iceland—between the North American and Eurasian tectonic plates to be exact. How's that for a cool plunge? The water at the massive rifts at Silfra are crystal clear and they come from the second largest glacier in the country. This will be a world class adventure with boulders covered in neon algae and visibility that exceeds 100 metres. Just remember to get your dry suit certification before you begin your unique and unforgettable time at this site.
For more information, visit this website.
5. An evening with manta rays in Kona, Hawaii, USA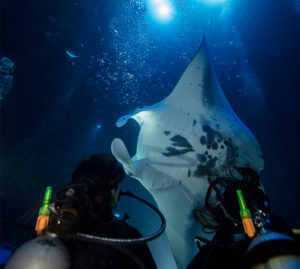 Kona Hawaii dive site with manta ray
From colourful reef fish to underwater lava formations to healthy coral reefs, the Kona Coast of Hawaii is an excellent dive destination. It gets even better after the Sun sets. You can descend to a sandy bottom about 9 metres below the surface where giant manta rays soar overhead while feeding on plankton. The experience isn't just spectacular—it's thrilling too!
Fun fact: Manta rays feed on rich plankton attracted to the illumination of a diver's light.
For more information, visit this website.
READ MORE: This is why you should use reef-safe sunscreen
6. A submerged ancient Roman city in Pozzuoli, Italy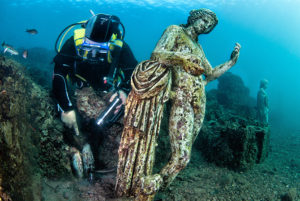 Baia ruins dive site in Italy
Buongiorno, or hello in Italian, is probably a greeting you won't hear when you're diving through the ruins of Baia. However, you don't need formality to have a great time underwater. Here, expect to get a glimpse of the ancient civilisation at the Archaeological Marine Park of Baia (northwest of Naples). In addition to that, you will be able to swim down Roman streets leading to Villa a Protiro for algae-covered structures and mosaic tiles. Italy is an amazing country with numerous attractions, and this dive site is at the upper echelons of the nation's offerings. Even though the city sank in the 16th century, the dive site will rise to the occasion for an experience of a lifetime.
For more information, visit this website.
7. Explore the Cenotes near Tulum, Mexico
Cenotes in Mexico dive site
What's a cenote? It's a natural pit—when the roofs of limestone caverns collapse and are filled with water, deep, freshwater-filled sinkholes are formed. The cenotes were considered the gateway to the afterlife by the Mayans who revered the cenotes as spiritual wells. Why do divers frequent this dive site so much? That's easy—intricate cave systems and underground tunnels that show off rich turquoise waters and a stunning set of stalagmites and stalactites. However, if you're planning to head to Tulum, you have to ensure that you have proper scuba diving training.
For more information, visit this website.
READ MORE: Do you think these travel destinations are underrated?
Some of these dive sites are well-known and frequented by divers from all over the world, but there are also dive sites that aren't just underrated but are often overlooked. If you're seeking recommendations and inspiration for your next diving trip, why not head over to PADI Travel? Now you're all set to go deeper. Real deep.
| | |
| --- | --- |
| SHARE THE STORY | |
| Explore More | |