We've seen their films, and listened to their music. It goes without saying that celebrities are adored and many of us would love to meet them in person. Here's the vision: picture yourself walking by a white sandy beach while sipping on pîna colada. Surrounded by clear blue skies and turquoise waters, you look to your right only to notice Lady Gaga shoveling sand with her Oscar statue trophy while in the midst of building a sand castle on Johnny Depp. That's just one of many bizarre sights one might stumble upon at these luxury resorts adored by celebrities. This listicle might help you plan your next glitzy getaway and hopefully, you'll find yourself among the stars.
1. Laucala Island, Fiji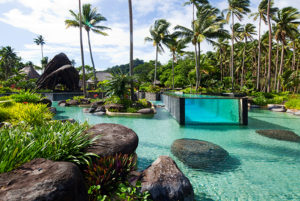 Celebs that have stayed here: Oprah Winfrey, Elle Macpherson, Leonard DiCaprio, Ludacris, and Tony Hawke
Celebrities often describe Fiji as a destination you should definitely include in your bucket list—Laucala Island is one of the many reasons why. Set over 1,400 hectares, Laucala Island is a private island in the South Pacific that offers unparalled privacy and luxury, with white sandy beaches, rainforest-laced landscapes and its sustainably-built Fijian-styled villas as some of its winning components. Together with its turquoise lagoon and exuberant green mountains, it's no surprise that Laucala Island is said to resemble the Garden of Eden.
Fun fact: You can rent the whole island for $267,000 a night and enjoy the seclusion while spotting rare animals. This is where true luxury resides.
READ MORE: Learn more about Laucala Island and the dining experience there
2. Iniala Beach House, Phuket, Thailand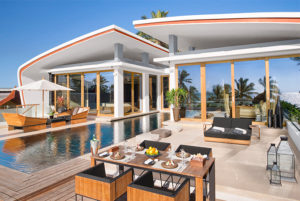 Celebs that have stayed here: The Kardashian clan
If you have been keeping up with the Kardashians, then you might have heard of this unique resort in Phuket where almost literally every thing you would need would be handed to you on a silver platter. All villas come with a butler, chef, spa therapist, a housekeeper, and if you love fine wine, a personal sommelier. At $1,850 a night for an ultra-exclusive beachfront villa, this is bound to be an indulgent experience.
Fun fact: 10 per cent of room revenues and 5 per cent of other revenues are channeled to the Inspirasia Foundation that's committed to funding health and education projects throughout Asia.
READ MORE: Check out other destinations in Southeast Asia for a getaway
3. Le Bristol Paris, France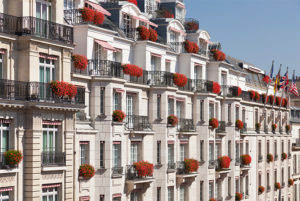 Celebs that have stayed here: George Clooney, Charlie Chaplin, David and Victoria Beckham
You know a place is iconic when it's often favoured by the much-adored Marilyn Monroe. Located at the centre of the fashion, art, and design district in Paris, Le Bristol isn't just luxurious; its well-known architecture is historic too! If you're lucky, your room will present you with a romantic view of the Eiffel Tower, Sacre-Couer, and Grand Palais. But it's not known as France's first "Palace Hotel" for nothing—a night at Le Bristol could range from $1,350 to around $12,350.
READ MORE: If you're a design-conscious traveller, these are the most beautiful hotels in the world
4. Beau-Rivage Palace, Lausanne, Switzerland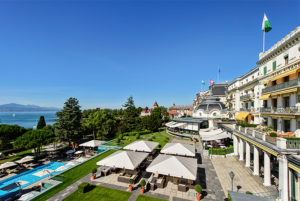 Celebs that have stayed here: Coco Chanel, Audrey Hepburn, and Victor Hugo
Icons, icons and icons have made this exemplary refuge their home away from home during their respective zeitgeists. Located on the banks of Lake Geneva, the Beau-Rivage Palace has been a renowned institution since 1861. Classed as one of the best hotels in Europe, the 5-star accommodation is ideal for anyone looking for a piece of serenity as well as that top-notch hospitality that the Swiss are known for. At the terrace, beckoning vineyards and picture-perfect swans will instantly transport guests into the pages of a fairytale.
Fun fact: Eleanor Roosevelt worked on the Universal Declaration of Human Rights in this hotel and there is a suite named after her. 
READ MORE: Need an iconic watch to complement your time here? This is for you
5. Trisara, Phuket, Thailand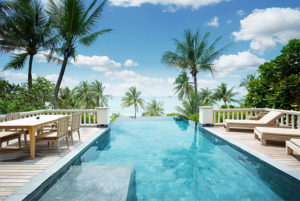 Celebs that have stayed here: Kate Moss, Sophie Monk and Maroon 5's Adam Levine
Nicknamed "the garden in the third heaven", celebrities flock to Trisara for a unique resort experience that easily doubles as a sort of retreat. Nestled within a private bay far from Phuket's main city, and with pool-facing villas, exotic gardens, and a tropical forest, guests can easily find tranquility here. It's also an aqua-ception as guests can swim in their private infinity pools overlooking the Andaman Sea. This is the perfect spot for staying in and spending time with the people you love. Be prepared to fork out at least $2,563 per night for this luxury retreat.
READ MORE: Hotels are interesting. Find out more about the first Shangri-La hotel 
6. The Oberoi Beach Resort, Bali, Indonesia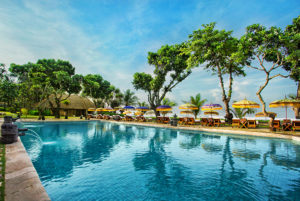 Celebs that have stayed here: David Bowie, Gianni Versace, and Julia Roberts
When it first opened in 1978, the Oberoi Bali was considered the first upmarket beach house on the island. Since then, the resort's iconic status has continued on with a distinguished guest list that includes royalty, heads of state, and celebrities. The Oberoi Beach Resort Bali was clearly created for the jetsetting clientele. Despite being located in popular Seminyak, guests will find themselves being transported away from the hectic life right outside and into a idyllic realm of peace and calm.
Fun fact: Between May and October, guests are invited to play a role in turtle conservation by releasing baby turtles into the sea.
READ MORE: Planning a bachelorette party? Check out these options
7. Soneva Fushi, Maldives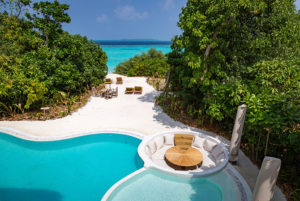 Celebs that have stayed here: Madonna, Sir Paul McCartney, Naomi Harris, and Nicole Sherzinger
There are many luxury resorts in the Maldives but Soneva Fushi is, without a doubt, one of the best. Despite the luxurious essence of the resort, you'd still be able to find a simplicity akin to Robinson Crusoe. After all, guests are encouraged to be barefoot during their stay there. According to Stanley Tucci, "unpretentious luxury, innate beauty, the genuine warmth of the incredibly efficient staff, and ecological responsiblities" are why Soneva Fushi is among the crème de la crème. With a description as dynamic as that, it's no surprise why many celebrities love being there. The coral blue waters (#nofilter needed) that surround the guests of the resort for that extra touch of paradise is a welcomed bonus.
READ MORE: Here's another option in Maldives if you can't get a slot
8. Amanpulo, Pamalican Island, Philippines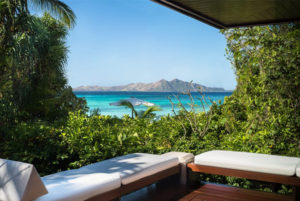 Celebs that have stayed here: Beyoncé, Tom Cruise, and Bill Gates
Located on a private paradise island in the Sulu Sea, private planes are necessary to access the resort. Amanpulo offers guests a castaway experience and celebrities need to travel quite a long distance to get to the white sand-dipped turquoise waters—but clearly, it's worth it. Being an hour away from Manila, guests will experience a sense of exclusion as they take shelter in villas built around swimming pools. One of the most interesting activities to do here is picking organic vegetables from the garden in the resort to be prepared by the hotel's chef. Time to bring out your inner Julia Child.
Fun fact: Amanpulo consists of 42 beachfront, treetop, and hillside-studded casitas, modeled after indigenous bahay kubo dwellings. 
READ MORE: Prefer Thailand? Here's an Aman for you
| | |
| --- | --- |
| SHARE THE STORY | |
| Explore More | |