When I was younger, I remember my parents mentioning Hotel Equatorial pretty often but I never understood why. It's one of those entities I knew about as a child but never really got to know—just like Maria Sharapova and Jennifer Lopez. For many Malaysians, Hotel Equatorial, which first opened in 1973, was a place filled with nostalgic memories.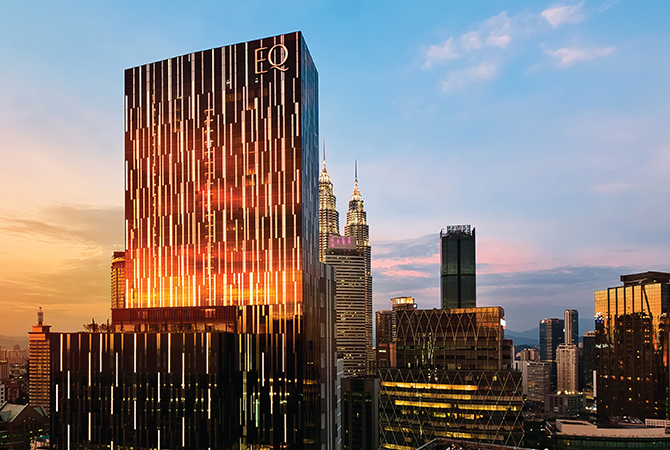 Although I won't be having the same experiences, I'm grateful to be able to carve my own at EQ Kuala Lumpur—the rebranded version of Hotel Equatorial KL. The rebranding of the hotel brand means that the legacy of one of the major landmarks in the city lives on; for some to renew their memories and for others to indulge for the first time.
With the ongoing Covid-19 pandemic and resulting travel restrictions, Malaysians are unable to go overseas. However, the good news is that the country is full of amazing places to visit and with Recovery Movement Control Order, Malaysians can now travel between states. If you prefer to do staycations in KL, there are also a myriad of brilliant options—including EQ Kuala Lumpur.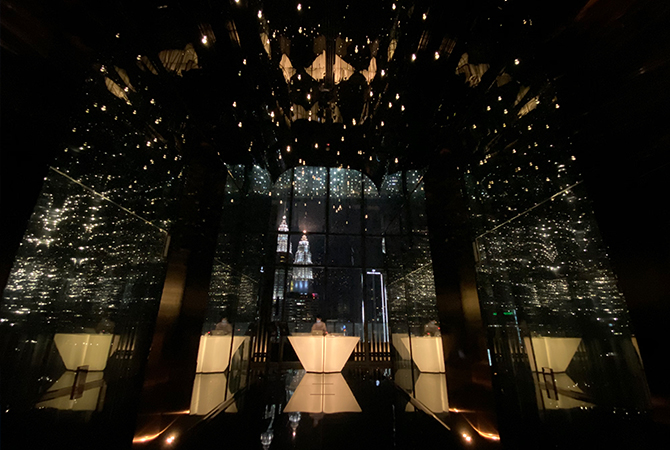 Recently, I had the opportunity to do a weekend staycation at the five-star hotel and I'll have to say that it was a pleasant staycation experience. Check out my full review below!
The Room
Deluxe King with Twin Towers views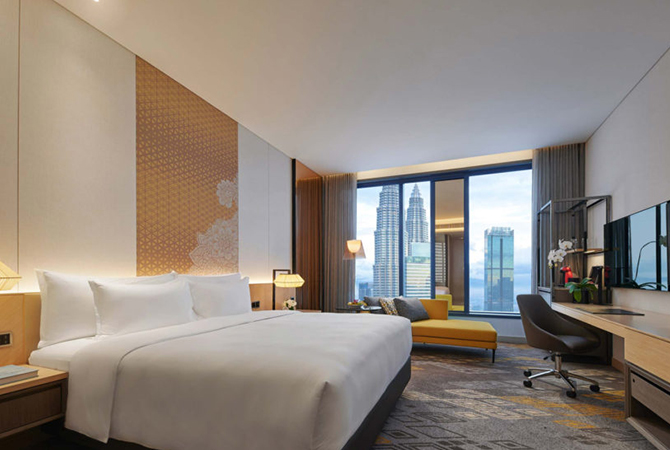 As part of the hotel's new Weekend Getaway staycation package, guests get to stay in either the Deluxe King Room or the Deluxe King Room with Twin Towers views. I had the pleasure of staying at the latter.
The Deluxe King Room comes equipped with a large 49-inch flat screen television, a massive work desk, a really cute minibar, and most importantly, a gorgeous shower and bathtub. On first glance, I noticed that the room is really spacious. At 40 square metres, I think it's a perfect size.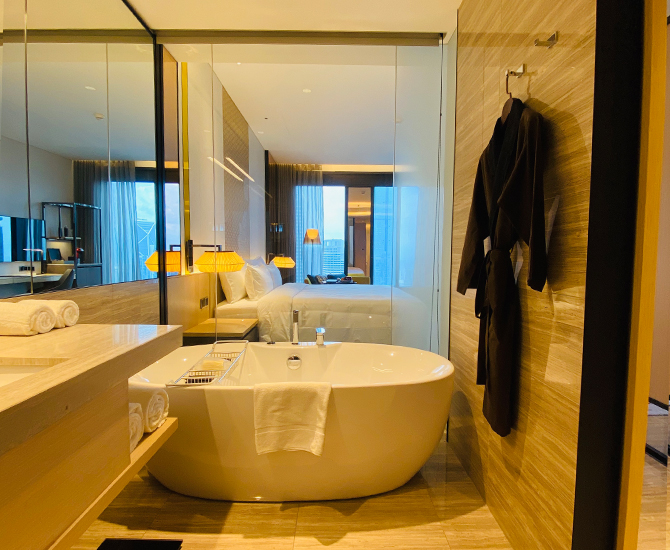 I also found that the room was really well-designed. It's contemporary and stylish. The tropical earth tones and floral patterns actually go really well with the Twin Towers backdrop. While I'm personally not into anything overtly floral, I was still amazed. First impressions really matter and for that—tens across the board.
The other thing I really liked was the massive King bed. The best thing about sleeping (or just luxuriating) on the bed is how comfortable I felt. You just can't fault it at all. Let's just say I had an amazing sleep. While I didn't get to use the bathtub, its addition to the room really ups the ante for guests. You'll be able to enjoy amazing views of the city skyline while you unwind. What else can you ask for?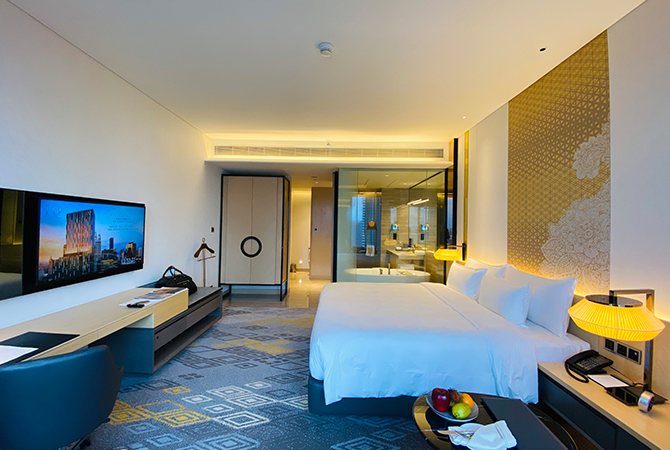 If you're looking for a room to really take the edge off things while still staying in KL, this would be a great choice. Room-wise, it really does have everything you'll need.
The Food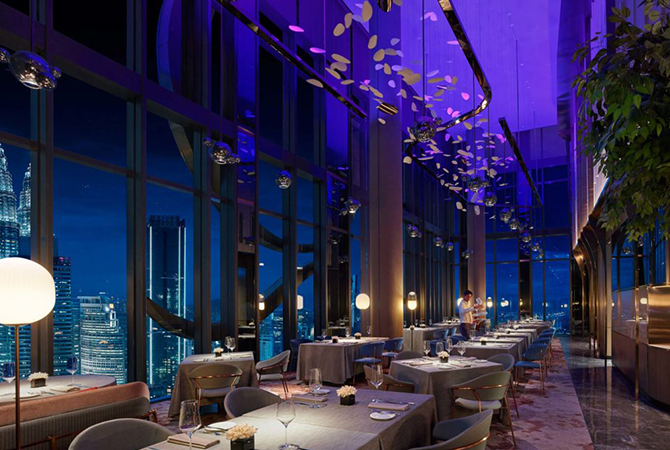 While I've never stayed in EQ Kuala Lumpur (until recently), I've dined at the F&B establishments in the hotel a few times—and I always go home happy. In EQ, you have a plethora of options to choose from: Nipah, Kampachi, Sabayon, Blue, and Étoile. During my stay this time, Blue (also known as the rooftop bar with one of the most amazing views of Kuala Lumpur) has not reopened. In fact, the bar will remain closed until 31 August 2020.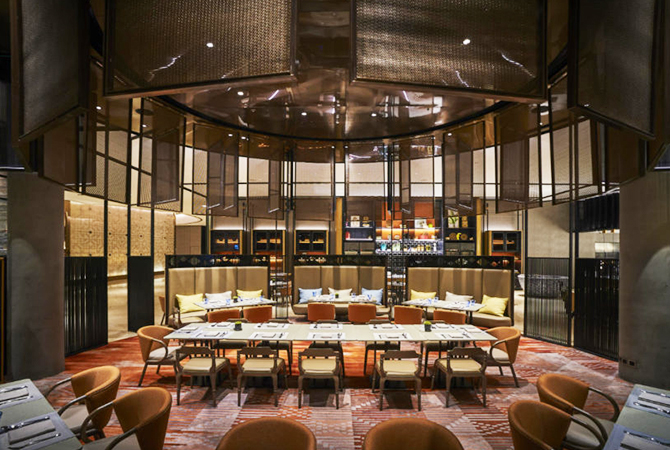 Staying at the Deluxe King Room comes with complimentary breakfast at the hotel's all-day dining restaurant, Nipah. While still utilising the buffet concept, the hotel staff help with the portion scooping. All you have to do is tell them the dish you prefer and they will serve the food on the plate for you. Are semi-buffets the New Normal?
The breakfast spread wasn't extensive but it was definitely adequate for me. You get a humble mix of Western and Malaysian options—including chicken sausages, sauté mushrooms, scrambled eggs, samosa, beef rendang, cheese platter, cold cuts with duck and chicken, as well as a myriad of pastries. My favourites were definitely the beef rendang and chicken sausage!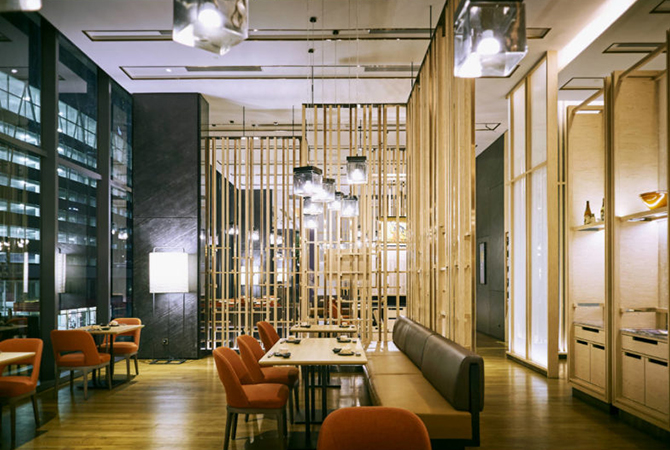 For dinner, I decided to dine at Kampachi. Did you know that Kampachi has been around since 1974? The restaurant also won the Bronze Award for Design Excellence in the Food and Beverage category by the Malaysian Institute of Interior Design Reka Awards last year.
Kampachi is known to be one of the best purveyors of Japanese cuisine in the country. With that, expectations are always high and my experience was far from disappointing. Kampachi's menu is filled with palatable concoctions—from fresh air flown sashimi to seasonal produce.
The Hotel
Guests of EQ Kuala Lumpur can swim and relax at the hotel's 25-metre long Infinity Pool. Picture yourself swimming along the blissful city skyline—especially during a hot day. To help soothe aching muscles and stimulate circulation, you can also check out the Vitality Pool with underwater jets. It worked wonders for me, by the way. After all, any day at the pool is a great day for me! Do note that only five people are permitted at the same time.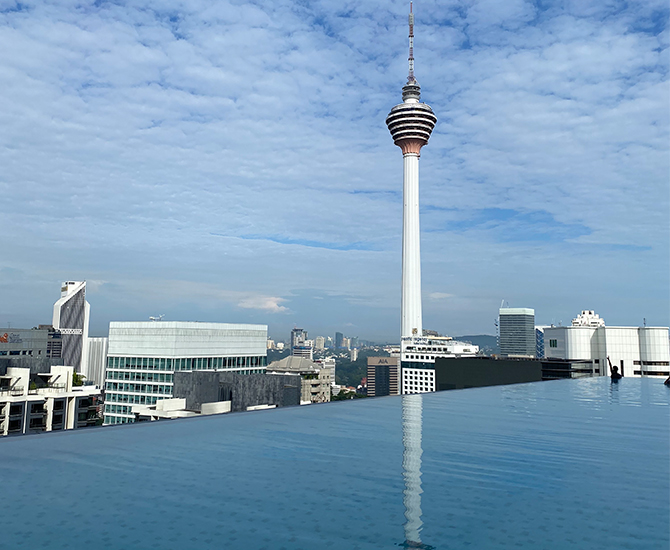 In addition to the Infinity Pool, EQ Kuala Lumpur also has the Sanctum Spa on Level 29. Although I didn't indulge this time, it's definitely worth checking out while you're doing a staycation here. Pamper yourself and spare time for some well-deserved rejuvenation.
The hotel in general is what you'd expect from a five-star hotel. The staff are always friendly and ready to help; and the cleanliness is top-notch. As for health and safety protocols, your temperature will be taken at the check-in area (instead of the hotel entrance).
The Verdict
Would I do a staycation at EQ Kuala Lumpur again? It's a resounding yes from me. What you see is really what you get here. It's comfortable, spacious, and great for some time out while still staying in the city. Its location in the Golden Triangle also means you can easily head out to Pavilion or other nearby restaurants if you prefer eating out. Without a doubt, it's a simple, no-frills staycation.
With the Weekend Getaway staycation package, you stay in the Deluxe King Room at RM788 per night or Deluxe King Room with Twin Towers views at RM888 per night; enjoy complimentary breakfast for two adults at Nipah or room service; as well as RM200 daily dining credit. In addition to that, check-in and check-out times are also flexible.
For more information, visit this website.
| | |
| --- | --- |
| SHARE THE STORY | |
| Explore More | |