West Malaysia has Penang. East Malaysia has Kuching. The two are similar especially in the sense where it is a foodie's paradise. And while Penang's biggest event is the George Town Festival, Kuching is popular for the annual Rainforest World Music Festival (RWMF). And yet the capital of Sarawak, with its lush greenery and iconic Sarawak river that snakes through town, is still considered an underrated gem. On the bright side, that means its landscape remains well-preserved and almost nought of intrusive skyscrapers and pollution. It's a quiet town still brimming with heritage and culture, and the ambience and locals are warm and friendly—a town you should soon make a trip to.
WHERE TO STAY
Kuching has its fair share of hotels. Located on the banks of Sarawak river, the Hilton Kuching is a safe bet with its central location. Otherwise, for a boutique experience, Ranee Boutique Suites offers a similar view and features a rustic interior.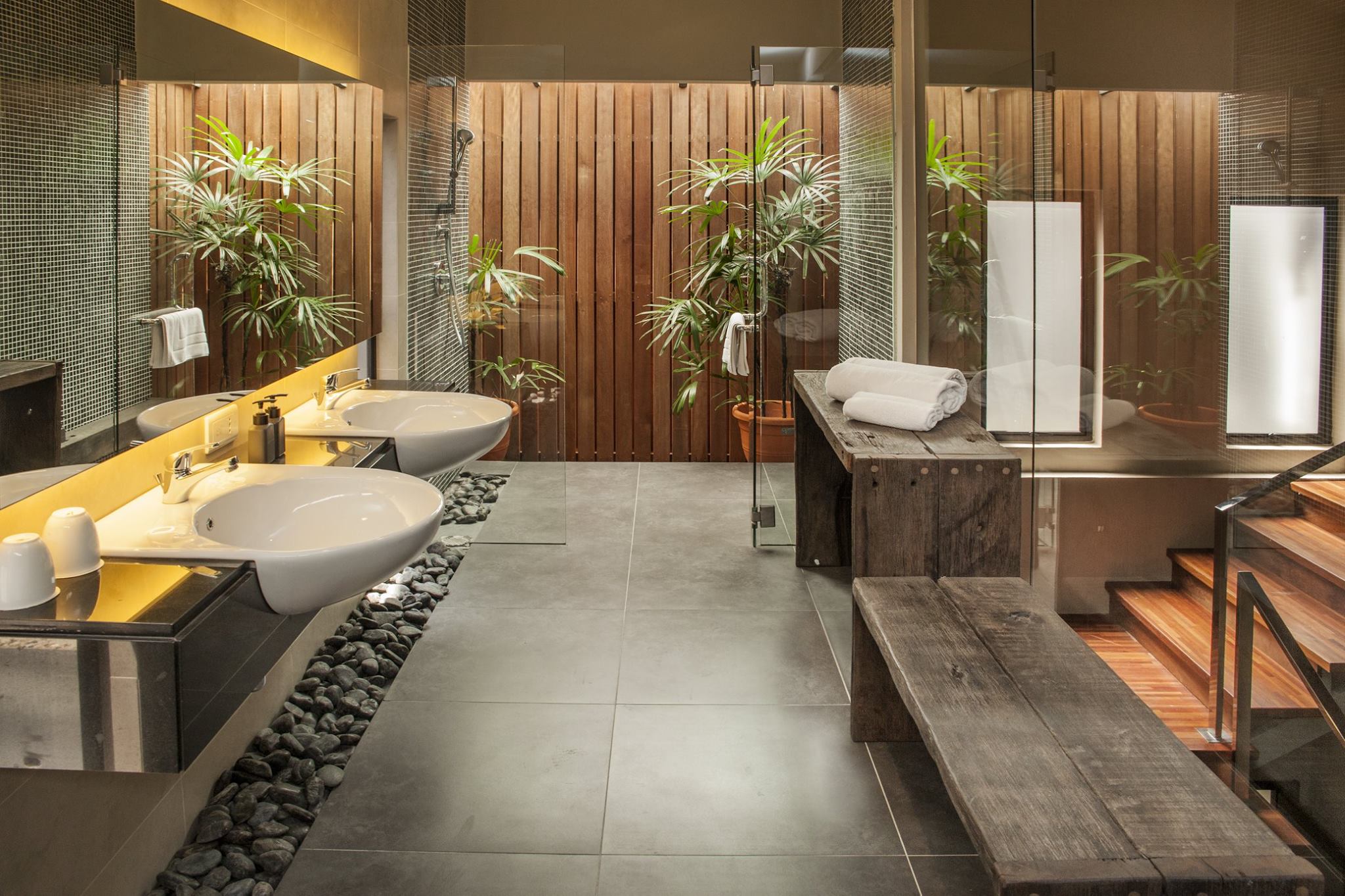 The same company recently opened The Marian, Kuching's first heritage boutique lodging house which prides itself on its history and timber architecture. Perched on top of a hill, the building was previously an all-girls boarding school and a lot of attention had been given to ensuring its original features were retained or carefully adapted during the renovation.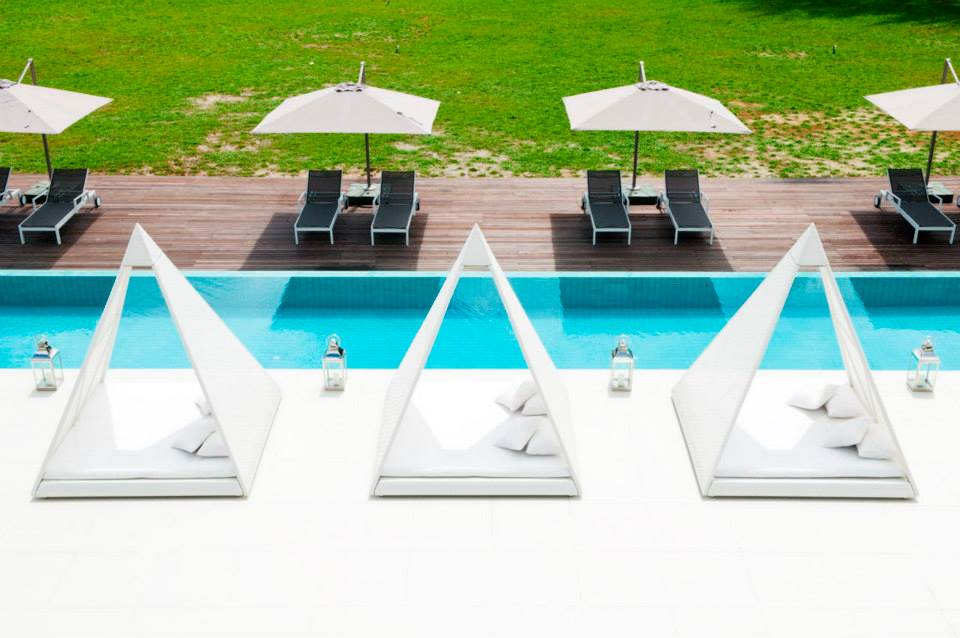 If you're planning to visit Kuching a few months from now, look out for Cove 55. It's a luxury villa for hire that boasts a minimalistic decor with traditional Iban accents, and is surrounded by a lush rainforest as its backdrop. The villa, however, has been undergoing upgrading works since February 2016 and is scheduled to reopen around mid-October 2017.
WHERE TO EAT
Now comes anyone's favourite part of every travel guide. Malaysia, in general, is rich in culture and that includes the local cuisine. When people talk about visiting Kuching, they always have two important missions: Eating Sarawak laksa and kolo mee. The former is vastly different from Penang laksa as it does not contain any curry at all. Instead, its base is made using six ingredients: sambal belacan, sour tamarind (asam), garlic, galangal, lemongrass, and coconut milk. You can also distinguish it by the rice vermicelli, shredded omelette, cooked prawns and shreds of chicken in the broth—with sambal and lime on the side.
So where's a great place to visit for a great bowl of Sarawak laksa? We have four suggestions for you: Choon Hui Cafe (Anthony Bourdain-approved where the chef/TV personality has visited it twice and even called the dish the "breakfast of gods"), Poh Lam Laksa at Chong Choon Café, Mom's Laksa on Jalan Haji Taha, and Golden Arch Garden Café & Restaurant.
For a satisfying bowl of kolo mee—springy egg noodles tossed in pork lard and shallot oil topped with minced pork, char siew (barbecued pork) and pepper—head to: Oriental Park (their char siew is really popular), Sin Lian Shin on Green Road (their egg noodles are the best) or Noodle Descendants (a favourite among the locals where they serve the noodles with pork offal soup).
If you only have time to make one more food stop on your trip, save it for Lepau. The restaurant serves authentic, traditional Kayan cuisine, which is a great way for anyone to experience a slice of culture of one of Sarawak's indigenous tribes. Expect dishes such as umai (river fish that's thinly sliced and marinated ceviche-style), manok lulun (chicken cooked in bamboo with tapioca leaves and herbs), and tempoyak with anchovies.
WHERE TO GO
Eating counts as an activity, no? On a serious note, we say make sure you bring sensible walking shoes because there's much to explore in Kuching. Starting with the attractions further away from the city centre, the national parks here are a treat—from Bako National Park (home of the rare proboscis monkey) to Gunung Gading (home of the giant Rafflesias) to Semenggoh Wildlife Centre (the best place for a chance to see a semi-wild orangutan up-close).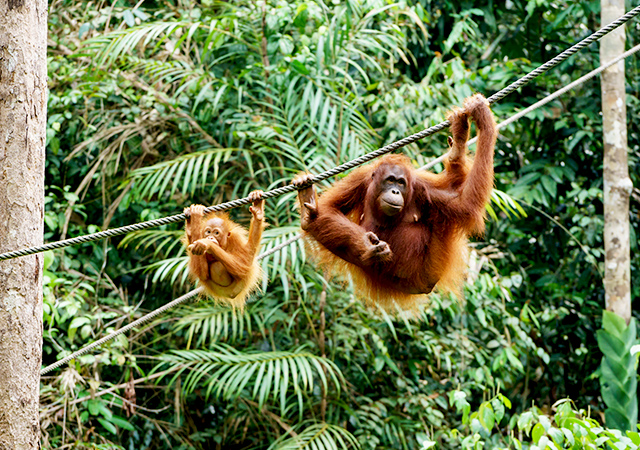 Back in the city, make sure to stop by the Sarawak Museum where time seemed to have stopped in its place since it first opened in 1891. It houses a phenomenal collection of Sarawak's flora and fauna, as well as a curated exhibition of ethnographic artefacts of the indigenous peoples. Another museum that might be of interest to feline fans is the Cat Museum with its over 4,000 artefacts related to, well, cats. They include a mummified cat from ancient Egypt, paintings and memorials, and an exhibit on the five species of wild cats found in Borneo. If you didn't know, Kuching also means 'cat' in the Malay language hence this wasn't an attraction built based on a spur of the moment. It also explains the existence of a Cat Column at a roundabout near Jalan Padungan where the monument has turned into a tourist photo op.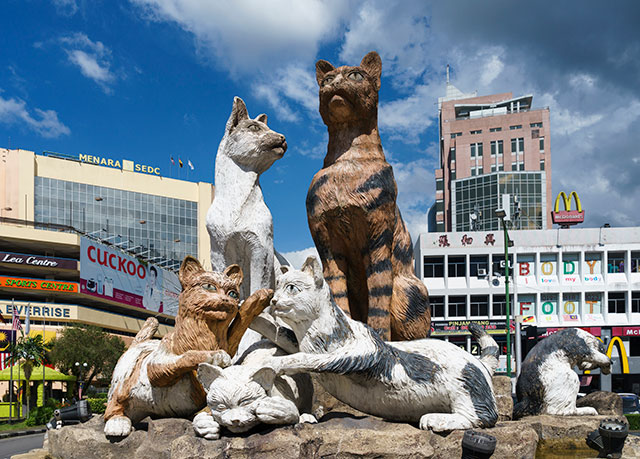 While you're hanging around the city, plan your itinerary to allow for a sunset stroll along the pedestrian promenade next to the Sarawak river. River cruises are available if you fancy but otherwise, make your way to Siniawan Old Town for the night market (only open from Fridays to Sundays) which is held in an abandoned 1860s gold mining settlement. It's a festival here with rows of food stalls (with tables and chairs all set up), red Chinese lanterns lit up, and some old shophouses that open their doors for visitors to view.
Related stories:
| | |
| --- | --- |
| SHARE THE STORY | |
| Explore More | |