Akin to a city that never sleeps, KLites would all agree that there's much to eat- er, see in Kuala Lumpur
As the heart of Malaysia—or rather, the state of Selangor—there's no truer city that deserves the title 'melting pot of cultures' than Kuala Lumpur. Despite there being three primary races, the longer you stay in this country, the more blurred the lines are when it comes to racial differences. Wherever you go, each culture has made its mark in the land we all now call home—whether it's history, food, architecture or even language.
It's common to hear a Malaysian speak using all three languages in one sentence—something which my grandfather often comments that it's not English. It isn't. And that's just how colourful tanahku is and because we're so used to this environment, sometimes we take this harmony and fusion of cultures for granted. As we celebrate Merdeka this month, it's only appropriate that we start off our new series, Buro City Guide with Kuala Lumpur.
WHERE TO STAY
For any incoming tourists (or locals looking for a staycation), accommodation here ranges from Airbnb options to luxury and mid-range hotels to quaint boutique types.
The newly opened luxury hotel is located in a prime location away from bustling Bukit Bintang but still relatively accessible by car or public transport. With a vibrant backdrop of KL and all your needs provided within the hotel, it makes for the perfect getaway.
Jalan Stesen Sentral 2, Kuala Lumpur Sentral, 50470 Kuala Lumpur
Anyone looking for an oasis within the busy city of KL can find it here as the luxury boutique villa features large, private cribs with some offering private plunge pools and private gardens. There's also a lagoon-style pool with sunbeds on stilts over water that calls for either a quick dip or lazing with a good book.
Persiaran Madge, 55000 Kuala Lumpur
Renewed and refurbished, the new Ritz-Carlton KL boasts of grandeur meets comfort, with a personal butler to attend to your needs. It's a 7-minute walk to Pavilion KL but otherwise, it's perfectly fine to stay in and indulge in their Spa Village or dine at The Library.
168, Jalan Imbi, Pudu, 55100 Kuala Lumpur
The Majestic Hotel Kuala Lumpur
Built in 1932, it is one of the oldest hotels in KL that has maintained some of its colonial touches. It was restored and rebranded by YTL, officially reopening its doors in 2012 after being closed for several years. If anything, it is more of a historical site; although, the Afternoon Tea at The Orchid Conservatory is quite popular as well.
5, Jalan Sultan Hishamuddin, 50000 Kuala Lumpur
MORE: Sofitel Kuala Lumpur Damansara officially opens this month
WHAT TO EAT AND WHERE
Food is a topic every Malaysian takes pride in; and because the cuisines here are so diverse, it's a never-ending list. In recent years, we've also started a cafe culture (#cafehopmy) but that's another story. Here are some of our local favourites if you only have 24 hours to eat them all.
Nasi lemak and teh tarik at Ali, Muthu & Ah Hock
You can't leave Malaysia without trying our (unofficially official) national breakfast. It's a relatively simple dish of fragrant coconut rice served with condiments such as ikan bilis (fried anchovies), peanuts, cucumber slices, hard boiled egg and sambal (our version of hot sauce and a staple in most Malaysian meals). The 'cherry on top' is eating it with ayam berempah (spicy fried chicken), and one of the best places to eat nasi lemak ayam berempah is Ali, Muthu & Ah Hock.
The place is especially a must-visit for its unique theme of playing on the unity of the three primary races in Malaysia. Songs in all three languages are played and the place is decked in various traditional decor and furniture. You'll also be able to find other local delights such as Chee Cheong Fun, Nyonya Laksa, and Mee Goreng. Don't forget to order a glass of Teh Tarik ('pulled tea' but essentially a hot milk tea made from black tea and condensed milk) on the side.
No 13, Jalan Balai Polis (at Petaling Street), 50000 Kuala Lumpur
Banana leaf rice at Restoran Sri Nirwana Maju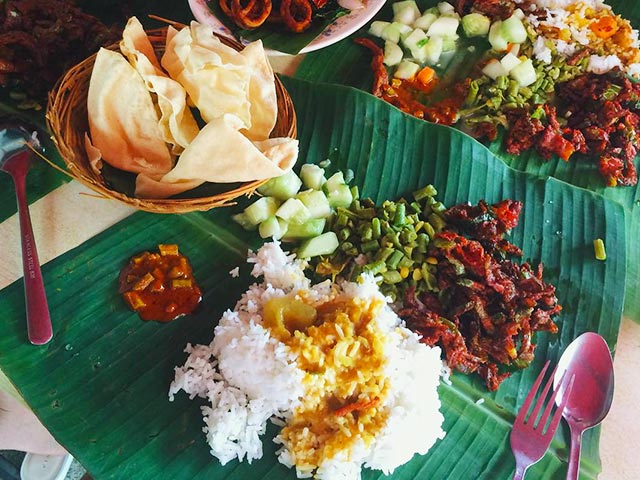 While this dish originated from India, it has become one of the most recommended foods to try when in Malaysia and this restaurant is often a popular choice to satisfy any local's craving. It is served literally on a banana leaf with rice and an assortment of vegetables, papadum (crackers), and other condiments. You can then pour your desired gravy or curry over the rice and top up with either fried fish or chicken. It is best eaten by hand. Be warned: It is extremely food-coma inducive.
43, Jalan Telawi 3, Bangsar Baru, 59100 Kuala Lumpur
Toast with butter and Hainanese kaya at Yut Kee Restaurant
Hainanese coffee shop Yut Kee has been in the local business for over 80 years at Jalan Dang Wangi but moved to a new premise in 2014. The place is still a crowd favourite to this day with popular dishes such as Hainanese Chicken Chop, Roti Babi (pork and onion-stuffed bread that has been deep fried), Roast Pork Roll (perfectly crisp), and of course, the toasted bread with butter and Hainanese kaya (coconut jam). Be sure to take away some kaya roll on your way out.
1, Jalan Kamunting, Chow Kit, 50300 Kuala Lumpur
Jalan Alor
If you're on a food hunt, nothing beats Jalan Alor where the whole road is littered with sidewalk street stalls offering a myriad of Malaysian dishes. Once the clock hits 5pm, the place changes entirely to a bustling food haven with open air restaurants that pull out plastic tables and chairs for patrons. From grilled fish to satay (seasoned grilled meat on skewers) to char kuey teow, it's best to visit with an empty stomach.
The most popular restaurant there, however, would be Wong Ah Wah for their famous BBQ chicken wings. Do also try the fried oyster egg, salted egg squid and kangkung belacan (stir fried water spinach with sambal belacan). For dessert, look for an ais kacang (also known as ABC) stall—it's basically our version of shaved ice with an assortment of toppings such as red bean, sweet corn and grass jelly and drizzled with condensed milk and rose syrup.
Jalan Alor, Bukit Bintang, 50200 Kuala Lumpur
MORE: 4 New bars to check out in Kuala Lumpur
MORE: All the latest cafes and restaurants to hit KL
WHERE TO SIGHTSEE
Ask any local and their first few suggestions would all involve food (and more food) but that doesn't mean KL doesn't have a couple of must-see attractions.
Although the 88-storey Petronas Twin Towers was completed in 1996 and officially opened in 1999, it remains the 'poster child' of Malaysia till this day—as well as the tallest pair of towers at 452 metres. It represents Tun Dr. Mahathir Mohamad, former prime minister of Malaysia's vision for the country to be a global player and was designed by master architect Cesar Pelli. Tickets for the Skybridge connection and observation deck are sold in advance online. But otherwise, head to KLCC Park beneath it for a photo-op with the towering landmark.
Sultan Abdul Samad Building (and Merdeka Square)
Historical landmarks and buildings with architectural beauty are splattered across KL and make for great photos—whether you go during the day or night. The Sultan Abdul Samad Building sits on Jalan Raja facing the Dataran Merdeka (Merdeka Square) and used to house British colonial offices, then the superior courts. It was at Merdeka Square that Malaysia (then Malaya) officially announced its independence with the lowering of the Union Flag and replaced with the Malayan flag.
Masjid Jamek
The first brick mosque in Malaysia, Masjid Jamek is a Mughal-style architectural beauty designed by British architect AB Hubback. It's not too far from Merdeka Square and is worth the walk for a great photo. Visitors are allowed inside out of prayer times but remember to dress conservatively and remove your shoes before entering the halls.
Pasar Seni (Central Market) and Petaling Street (Chinatown)
Relatively near Masjid Jamek is Pasar Seni (Central Market) and a few streets away, Petaling Street (Chinatown). You can find various souvenirs (haggling is a norm) and local street food at both places except Pasar Seni has a more artsy-craftsy emphasis with its Annexe hosting several art studios, museums, and street artists.
On the other hand, the area around Petaling Street has recently become a hotspot for Instagram-worthy cafes and bars (try Merchant's Lane—which houses a similarly quaint bar upstairs called PS150—Chocha Foodstore or The Berlin KL, which is a newly opened bar).
Otherwise, head to the popular Madras Lane (official name: Jalan Sultan) where it's a street of various hawker fare but what people really go there for is the Chee Cheong Fun (rice noodle rolls served with sweet sauce), Curry Laksa (spicy coconut-based curry noodles) and Yong Tau Foo (various vegetables or tofu stuffed with either meat filling or fish paste).
Batu Caves
Located 20 minutes away by car from the city centre, the limestone hill which consists of three main caves with temples and Hindu shrines is a popular attraction even among the locals. It is most iconic for the large statue of the Hindu God at the entrance—and the 272 steps next to it. Still, the climb is worth it once you see the stunning KL skyline at the top but within Batu Caves is a natural wonder itself.
WHERE TO SHOP
Just like eateries, there are throngs of shopping malls in KL and yet they're all still usually crowded (this is especially so on the hottest days). Whether it's Pavilion KL or KLCC, you'll find both high street brands and designer names; but if you're looking for pieces from our homegrown talent, these are a few places you can hit up.
Deemed the first fashion e-commerce site in Malaysia, FashionValet has since expanded to a brick-and-mortar store in Bangsar which features a rotating selection of both local and international labels and products from the website's 400 brands.
Lot 29&30, Level 1, Bangsar Village 2, Jalan Telawi, Bangsar, 59100 Kuala Lumpur
If you're looking for intricate, Asian-inspired items, look no further than Nala Designs, the queen of patterns. From quaint homeware to vintage-looking dresses, all designs are hand-drawn and thus the detail is impeccable.
18, Jalan Abdullah Bangsar | Ground Floor, Bangsar Village II | Isetan KLCC
Locals and travellers from afar would be able to find something they like at this lifestyle store nicely tucked away in Damansara Heights. A purveyor of artisanal handmade Malaysian crafts by Malaysians, each item is a celebration of culture and craftsmanship. Oh, and not forgetting, you can find most of the classic traditional Malay dishes at its in-store cafe, Siti Li Food Studio.
G 1.10, 1 Jalan Medan Setia, Bukit Damansara, 50490 Kuala Lumpur
They call themselves a collector of happy things. Step into their shot on Jalan Telawi and you'd feel rightly so. Items procured—homeware, plants, clothes, books, you name it—are both locally made and shipped from overseas (with worldwide shipping provided as well), and would make great additions to anyone's home or collection.
17A, Jalan Telawi 3, Bangsar, 59100 Kuala Lumpur
Related stories:
5 Gorgeous forest getaways in Malaysia
KL-Singapore bullet train: Everything you need to know
#WednesdayWishlist: Luxe local getaways for a weekend refresh