Over the years, Samsung has been a strong player in the market of smartphones with two flagship products that is the Galaxy S series and the Notes. Both of which have loyal fans with the most obvious difference between the two being the availability of the S Pen. The Galaxy S8+ was an all-round winner but it was the Note that had higher anticipation after the fiasco last year; which the brand has skilfully used it as a lesson to further strengthen their safety protocols, and reproduced some of the parts into a new phone they called the Samsung Galaxy Note Fan Edition. Moving away from this short exposition, the question is: Did Samsung succeed in making a comeback for its Note range with the latest Galaxy Note8?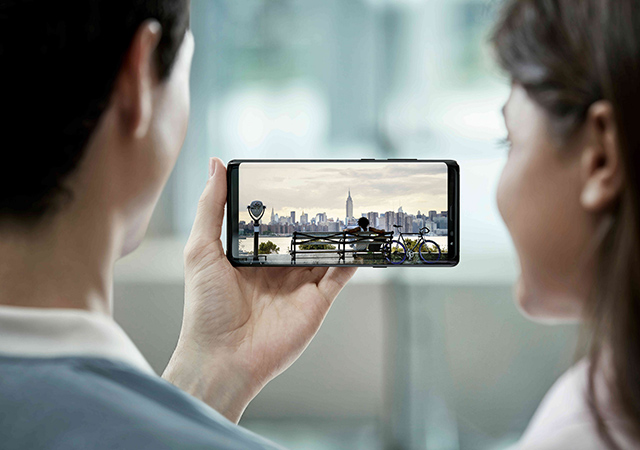 In more ways than one, the Note8 is entirely transformed, inside and out. I'll start with the feature I'm most impressed with: The camera. It is the first time Samsung has equipped a flagship smartphone with two rear cameras. And it doesn't disappoint. Both are 12MP. One is a wide-angle, f/1.7 lens while the other is a lens with f/2.4 aperture and 2x optical zoom. Sharp images are guaranteed when using the latter thanks to the optical image stabilisation (OIS).
Samsung clearly invested a lot of time in this as the next big plus point about the camera function is a feature called Live Focus, which allows users to take photos with a depth of field effect. What's even better is that you can adjust the artificial bokeh post-snap; and if you still don't like the result, don't worry because the wide-angle lens camera would have taken a shot too (for safety). This is handy for those of us who tend to take one too many shots just because of a minor (or lack of) detail.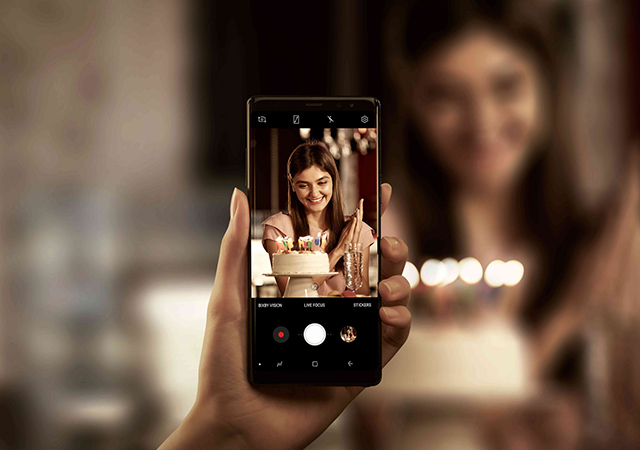 If you're a shutterbug, the camera is a great all-in-one package that gives you settings to alter—shutter speed, ISO, white balance and more—acting like a semi-DSLR in Pro mode. If you're into nifty photo apps that do the trick for you instead, it already comes with options such as Slow Mo, Hyperlapse, Panorama, Food, Stickers (essentially facial filters commonly seen on Insta Stories and Snapchat) and Virtual Shot. Last, but not least, the front-facing 8MP camera can fit at least three people in the frame.
To switch between the rear and front cameras is as easy as flicking the screen up or down, a trait that you'd appreciate because that brings us to my next peeve. Compared to the 6.2-inch display on the S8+, the Note8 is slightly bigger with its 6.3-inch Infinity Display. It's a nice, slim size that's comfortable to hold in one hand and great for scrolling up and down a social media feed, reading an email or a website. On the other hand, its 'long-ish' shape makes it hard to reach from the top to bottom of the phone. Say you're typing a message and you want to bring down the top menu; or you unlocked the phone with the fingerprint sensor home button (next to the rear camera lens) at the top and you want to choose an app from the bottom menu—it'd require quite a long stretch or using your free hand. You win some, you lose some.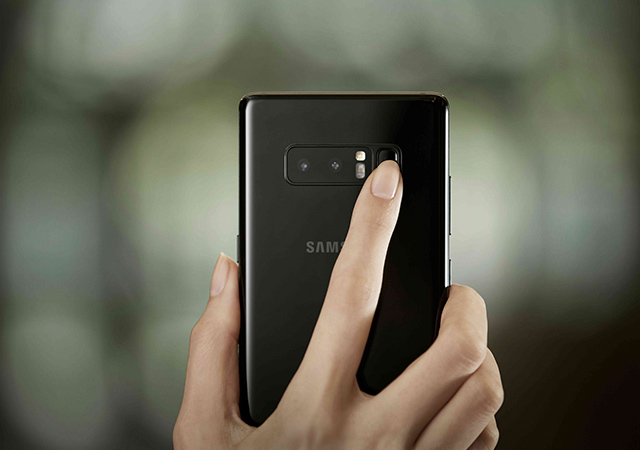 Speaking of security measures, the Note8 comes with a throng of authentication options for users to choose from: Iris scan, fingerprint scan, face recognition, and the ol' pattern, password or pin. Despite the location of the fingerprint sensor, it reacts very quickly which is a plus point. The alternative iris scan, however, didn't work for me as seamlessly. For one, I don't have great vision and it does have a disclaimer that it won't work when you have your glasses on. I felt less like an international super spy having to remove my glasses to unlock my phone, and then put them back on.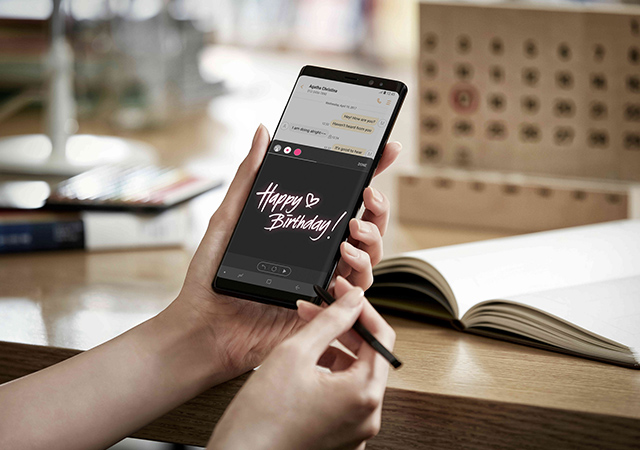 Another notable difference in the Note8 is the introduction of Live Message. Whether you write or draw on a blank canvas or a photo, it will record your S Pen movement and turn it into a GIF. Available in a handful of colours and three brush tools. It certainly adds more fun to messaging. Fingers crossed they could perhaps add more colours in the near future. But the S Pen is as impressive as ever. Fluid, natural and receptive, one can do so much more (my squiggles on Insta Stories looked more refined). My favourite bit is the Screen Off Memo. Remove the S Pen and you can immediately write on the locked screen. Unfortunately, once I save the note and turn off the screen again, I sometimes get another realisation and wish to jot it down as well. And unfortunately, I couldn't for the life of me figure out how to activate the feature again without inserting the S Pen back in its place and removing it again. Feel free to drop me a note if you know how.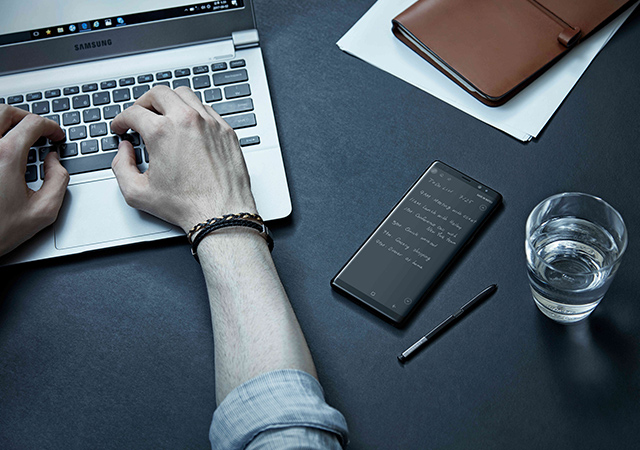 The Note8 is jammed pack with features and it'd require more of your time to read this if I were to cover everything. So I'd end here with the highlights of my time with the phone. (By the way, its 3300 mAh battery—though smaller than the 3500 mAh on the S8+—has fast charging capabilities, enabling it to reach a hundred percent in approximately 90 minutes.) Let's just say, there are so many things to play with on the Note8 and to complement it is a combination of specs that can keep up. It's powerful, that's for sure, and we don't just mean its performance.
The Galaxy Note8 retails at RM3,999. For more information, visit Samsung's website.
| | |
| --- | --- |
| SHARE THE STORY | |
| Explore More | |