Fitness enthusiasts in Malaysia, gather around because this will excite you. Whether you want to improve your lifestyle habits or start hitting the gym regularly, you'll adore these new wearables from Samsung. They're fun, stylish, and more importantly, they make pursuing wellness goals more convenient—we're talking about the Samsung Galaxy Fit and Galaxy Fit e, which are now available in the country.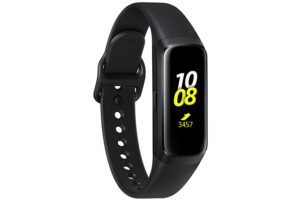 Galaxy Fit in Black" alt="Samsung Galaxy Fit device in black color
Why would you want to get them? Firstly, the Galaxy Fit and Galaxy Fit e are thin and light. This means that, in addition to being really easy to style, they are also very comfortable to wear. Furthermore, you will find it way easier to reach your fitness goals with easy and intuitive tracking enabled by the slim and fashionable Galaxy Fit and Galaxy Fit e. Every individual has different preferences when it comes to the activity that he or she likes. Thankfully, there are more than 90 different activities in the Samsung Health app for you to select, such as running, hiking, and biking.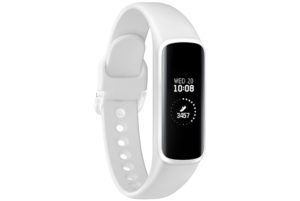 Samsung Galaxy Fit e in white colour
That's not all these wearables can do. You can also monitor your wellbeing at any time of the day with smart stress management and enhanced sleep analysis. With the user-friendly smart experience as well as the simple and intuitive UX, the Galaxy Fit and Galaxy Fit e are easy to interact with on the go. In addition, you don't even have to touch your phone to receive messages or check the calendar and weather. Travel to different time zones frequently? This is another plus for you—it will be easier for you to manage your schedule because the Galaxy Fit will automatically display a dual-clock watch face. Whether you're in London with its light drizzles, in a pool in Santorini, or taking a shower in Kuala Lumpur, the water-resistant devices (up to 50 metres) can stay on your wrist with ease.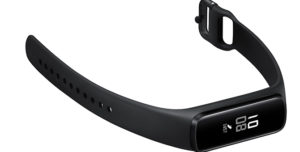 Samsung Galaxy Fit e in black colour
Differences between the Galaxy Fit and Galaxy Fit e
While they both come in black, you can only get silver with the Galaxy Fit and white with the Galaxy Fit e
The Galaxy Fit comes with 0.95″ Full Colour AMOLED display whereas the Galaxy Fit e utilises a 0.74″ PMOLED display
If you prefer a bigger device, you can opt for the Galaxy Fit (18.3 x 44.6x 11.3t) because the Galaxy Fit e is smaller (16.9 x 40.0 x 10.9t)
The Galaxy Fit has a 120mAh battery while the Galaxy Fit e has a 70mAh battery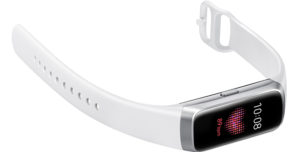 Samsung Galaxy Fit in Silver on the side
You can purchase both the Galaxy Fit (RM369) and Galaxy Fit e (RM139) in Samsung Experience stores and Samsung Malaysia Online store—from 14 June 2019 onwards.
For more information, visit here.
| | |
| --- | --- |
| SHARE THE STORY | |
| Explore More | |