Technology
iPhone 11, 11 Pro and 11 Pro Max in Malaysia: What's different, how much and when is it coming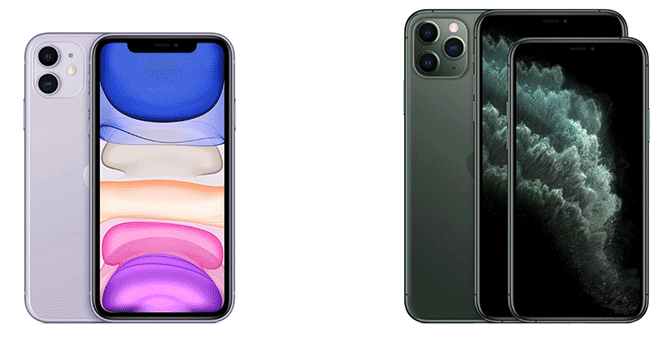 Ladies and gentlemen, Apple's Special Event—also known as the annual iPhone event—has just concluded and as previously predicted or "leaked", the new iPhones are called the iPhone 11, iPhone 11 Pro and iPhone 11 Pro Max—basically, the successors to the current iPhone XR, iPhone XS and iPhone XS Max respectively. All three of them are a square module design, Ultra Wide camera and an even more powerful chip with an even better battery pack. Also, Malaysia is getting it way sooner than usual.
It was a fast-paced, exciting hour-ish "reporting" the event live from Steve Jobs Theatre at Apple Park via our Instagram Stories but if you missed it or you're just here for a more extensive report, read on as I cover the differences between the new iPhones, debunk the rumours previously mentioned here and everything else Apple revealed (like the Apple Watch Series 5, a new iPad and the upcoming services).
THE NEW IPHONES (2019)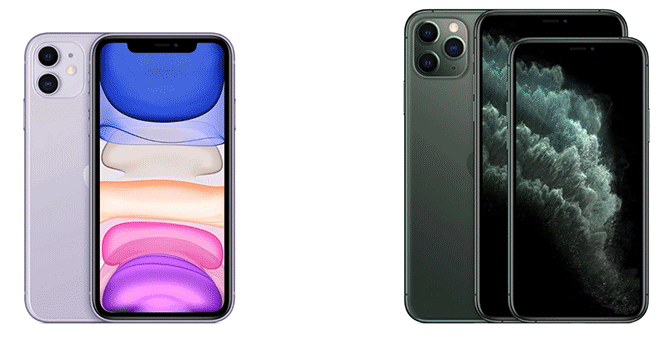 The name: Where do you go from "XS" and "XR" (which verbally is pronounced as "10S" and "10R")? The general consensus: Back to the numeral system. The successors for the XS and XS Max might be called the iPhone 11 Pro and iPhone 11 Pro Max; while the XR successor would either be called iPhone 11 or iPhone 11R.
TRUE — The people will no longer be divided between those who call it "ten-ess" or "ex-ess".
The display: Most likely, the more premium iPhone 11 Pro and 11 Pro Max would both still follow their predecessors in terms of size and OLED display. To maintain its slightly more affordable pricing, the iPhone 11 might also be retaining its LCD screen.
SORT OF TRUE — In terms of size, all three of the new iPhones don't differ too much from their respective predecessors. However, the higher spec-ed iPhone 11 Pro and 11 Pro Max now feature a custom-designed OLED which they named Super Retina XDR display for a more immersive HDR viewing experience. The iPhone 11, on the other hand, is fitted with a Liquid Retina HD LCD display.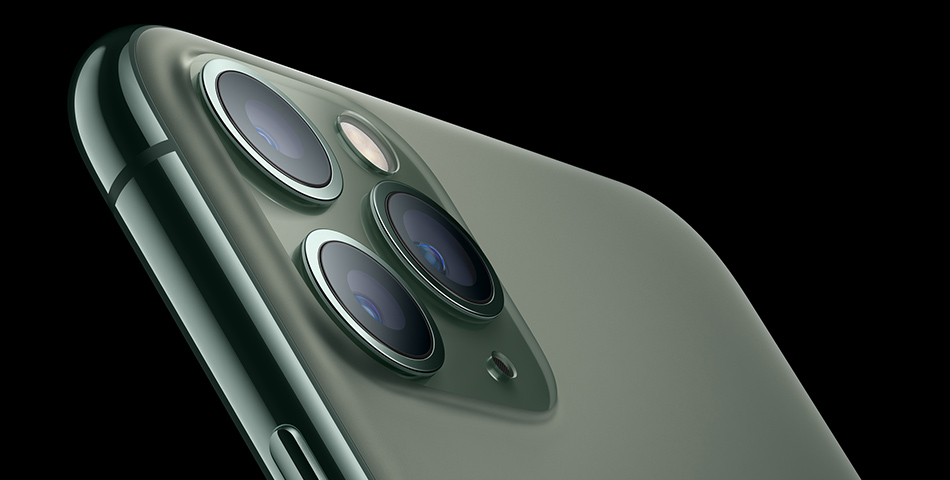 The camera on the iPhone 11 Pro and 11 Pro Max: Here's where the biggest change might happen. Rumour has it that Apple will (finally) be fitting in a new triple-camera system with a huge square module. This is highly likely as some casing manufacturers have leaked images of casings with said square camera module. Currently, Apple offers wide-angle and telephoto lenses with the XS line-up so what could the third lens be? I'm personally rooting for an ultra-wide angle lens.
TRUE — I'm happy to report that yes, the high specs models, that is the iPhone 11 Pro and 11 Pro Max have both switched to a triple-camera system. The third camera being a 12MP Ultra Wide lens. The Ultra Wide option extends to even Portrait Mode so you take a group photo with that same bokeh effect. But that's not all. All three of the new iPhones now come with Night Mode for better, brighter photos and less noise when shooting under low-lighting conditions. Colours also look vivid yet natural.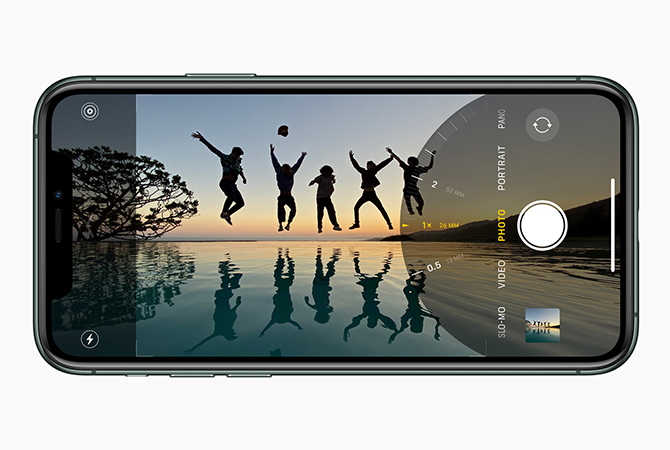 The new cameras on the iPhone 11 Pro and 11 Pro Max also promise to deliver the highest quality of video ever on a smartphone—4K video with extended dynamic range and cinematic video stabilisation. When you zoom in between each of the three cameras, Audio Zoom will follow through and match the audio to the video framing for a more dynamic sound. Thanks to iOS 13, you'll even be able to edit videos directly from your Camera Roll, be it rotate, crop, apply filters or increase exposure.
And then, there's Quick Take. For when you realised you want to take a video immediately after taking a photo. Simply hold the shutter button (while still in Photo mode) to start recording. Available on iPhone 11 as well—just like Slo-fies. Yup, Apple is introducing Slo-mo to the front facing camera and coined Slofies. But more importantly, the front-facing TrueDepth camera has been upgraded to a new 12MP camera with a wider view and the ability to shoot 4K video at up to 60 fps and 120 fps slo-mo.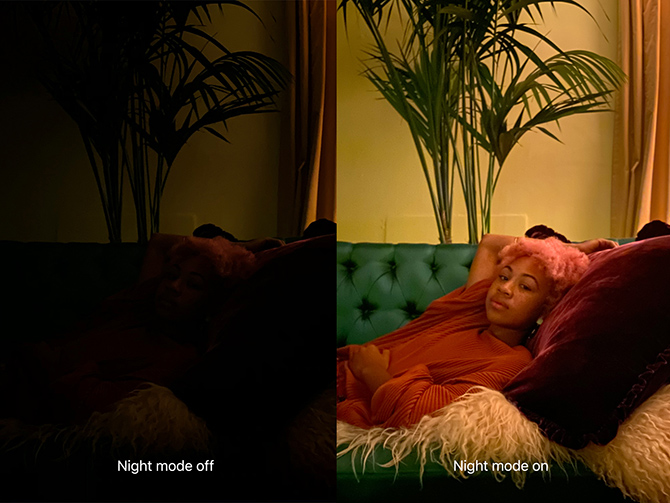 The camera on the iPhone 11: For the lower-end sibling, it's most likely getting upgraded as well—from a single-lens system to a dual one that's also housed in a square module. Maybe. Still not sure how I feel about the design for this.
TRUE — Pretty much similar to the iPhone 11 Pro and 11 Pro Max except that it's a dual-camera system, which is the usual 12MP Wide and the new 12MP Ultra Wide lenses. It supports Night Mode, Quick Take, Slo-fies as well as uses the same 12MP TrueDepth camera. Oh, also, Portrait Mode now applies to pets, objects and more.
Better, faster performance: A new iPhone is usually accompanied with a new and more powerful processor. A13 should be, like its predecessors, next-level and the most powerful yet. Again.
TRUE — The new A13 Bionic chip is, to date, the fastest chip in a smartphone. Its CPU and GPU performance is 20 percent faster than the A12 but don't worry, it doesn't compromise the battery life. In fact, the iPhone 11 lasts one hour longer than the iPhone XR. The 11 Pro lasts four hours more of battery life in a day than the XS; the 11 Pro Max lasts five hours longer than the XS Max. Also, they're all fast-charge capable.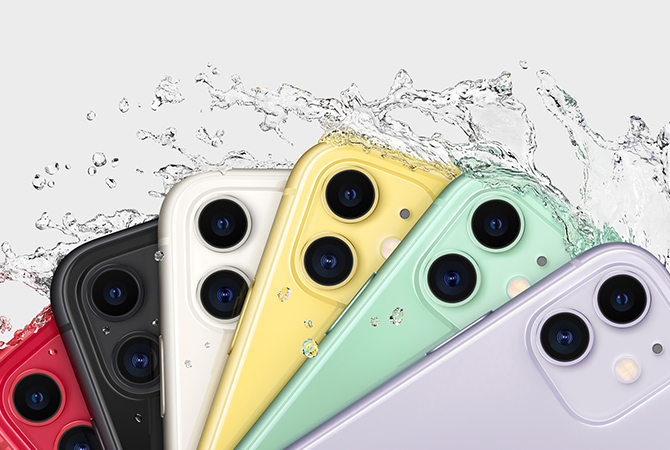 Stronger than yesterday: No one wants to break their iPhones but accidents happen and so, Apple is supposedly making the new iPhones more shatter-resistant, better waterproofing and giving it a matte finish.
TRUE — The iPhone 11 Pro and 11 Pro Max use a textured matt glass and stainless steel design while the iPhone 11 uses a glass and stainless steel design. They're all splash-, water- and dust-resistant; with the iPhone 11 Pro and 11 Pro Max rated IP68 (maximum depth of 4 meters up to 30 minutes) and the iPhone 11, also IP68 (but maximum depth of 2 meters up to 30 minutes).
Hello better Face ID: While the Face ID on my iPhone XS Max now works fine, it doesn't always detect my face at odd angles. Perhaps the new iPhone 11 lineup would change that as the feature is expected to get an upgrade where it's sure to work at more angles—even when the phone is just lying flat on the desk.
TRUE — "Gets up to 30 percent faster and easier to use with improved performance at varying distances and support for more angles."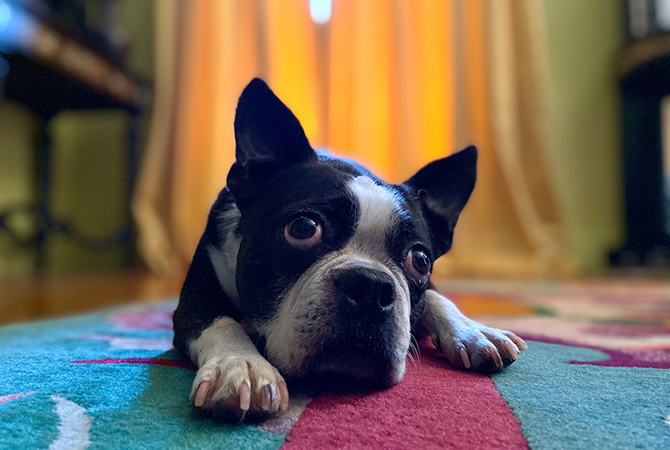 FALSE Reverse wireless charging: I first saw it on the Huawei Mate 20 Pro, then Samsung. And soon, the iPhone. Apparently, you'll be able to charge your AirPods with it.
FALSE What else: Many analysts and usually-reliable sources (mainly Twitter feeds that often accurately "leaked" images or info prior to the event) have cited that it's unlikely that Apple would fit the new iPhone lineup with 5G yet. There are also whispers of perhaps an in-screen Touch ID but again, all these flashy goodies might be saved up for iPhone 2020.
*iOS 13 will be available on September 19 as a free software update for iPhone 6s and later.
Pricing in Malaysia:
iPhone 11 (64GB, 128GB, 256GB) — Starting at RM3,399
iPhone 11 Pro (64GB, 256GB, 512GB) —Starting at RM4,899
iPhone 11 Pro Max (64GB, 256GB, 512GB) —Starting at RM5,299
Availability in Malaysia: Beginning September 27
You can get the new iPhones in Malaysia via apple.com/my, in the Apple Store app, through Apple Authorised Resellers and select carriers (prices may vary).
WHAT ELSE IS THERE?
It's coming soon. Tap below to get reminders and news around the #AppleEvent. Watch it live on 10 September at 10:30 pm IST on https://t.co/yLa2e4Xr2R pic.twitter.com/43Uc1MRCxw

— Apple (@Apple) September 4, 2019
While Apple's September event focuses a lot on the iPhones, it's not the only thing that the tech giant would be unveiling. A new Apple Watch is most certain, based on previous patterns of the event. A new MacBook or iPad—I wouldn't place my bets on them. Maybe Apple Tag? It's like Tile—a tiny device that uses Bluetooth tracking. You attach it to keys, wallets and so forth and ping it with your phone when you're looking for them. Some of the announcements made during WWDC 2019 have led me to believe that the September event would be highlighting its upcoming services—Apple TV+ and Apple Arcade.
FALSE — No Apple Tag. No MacBook.
TRUE — Yes, new iPad. Yes, new Apple Watch Series 5. Yes, updates on Apple TV+ and Apple Arcade.
Let me break it down:
APPLE WATCH SERIES 5 (2019)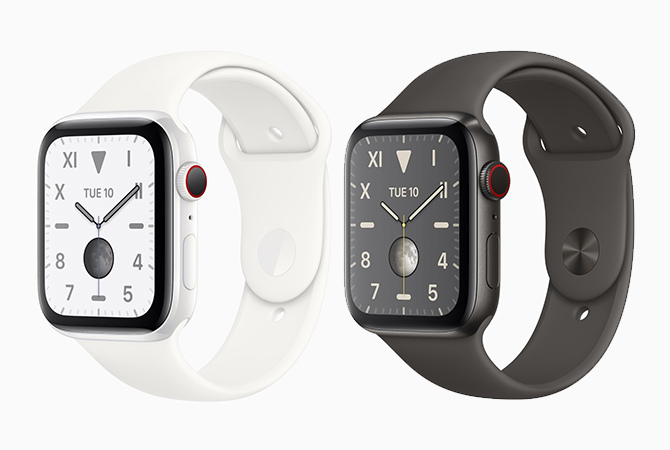 The design: Probably nothing much about it would change seeing as it had already received a redesign in 2018 but there's talk (or an early leak) that suggests there might be new titanium and ceramic case options.
TRUE — The titanium cases come in two finishes: natural and space black. The ceramic case comes in a brilliant white option. Also, fun fact: The new cases would be made from 100 percent recycled aluminium.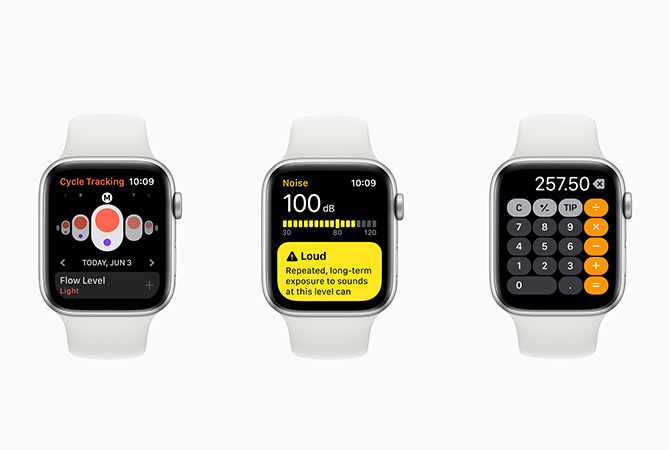 New health-tracking feature: The Apple Watch Series 4 received a pretty cool ECG feature. What's next? Sleep tracking.
FALSE — No sleep tracking but watchOS 6 will see new health and fitness features such as the new Cycle Tracking app for logging important information related to their menstrual cycles to help predict the next period or fertile windows. In addition, the Noise app helps users to know if they're in an environment that would negatively impact their hearing. There's also Activity Trends, viewable via the iPhone to see a long-term view of activity patterns to log progress.
On a safety end, users with the cellular models of Apple Watch Series 5 can make international calls to emergency services—great for users who are travelling and in need of help.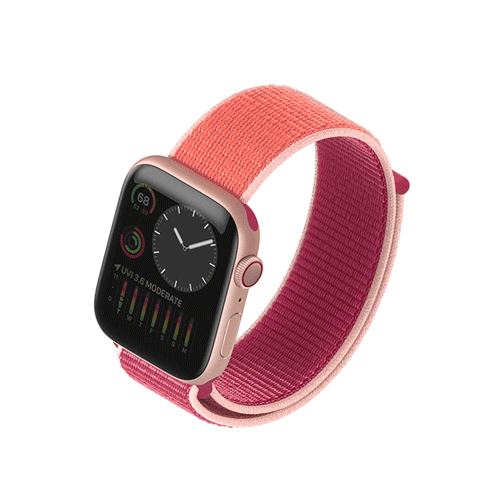 New processor: It'll probably be faster and have a more powerful battery.
FALSE — What is new, however, is the Always-On Retina display so you can view your watch face (and complications) whenever, without raising or tapping the display. The best part is that this does not affect the battery life at all. Also, there's now a built-in compass (great for hikes or viewing Maps on the Apple Watch).
watchOS 6: WWDC 2019 had already announced that the upcoming watchOS 6 would see an introduction to a standalone App Store, allowing more apps to be downloaded and installed directly via the watch. That alone would change how the new Apple Watch will work and that's something I'm pretty excited for as the apps on mine right now seem limited.
TRUE — Available for Apple Watch Series 3 and later beginning September 19.
Pricing and availibility in Malaysia: The Apple Watch Series 5 will start at RM1,749 and for the first time in Malaysia, the Cellular version will also be available. The new Watch Series 5 will be available beginning 1 November 2019 and for those who love customisation, you can purchase it via Apple Watch Studio so you can pick your choice of case and band.
At the moment, Digi is the first telco to provide AirSIM for the Apple Watch Series 5 (Cellular).
APPLE TV+ & APPLE ARCADE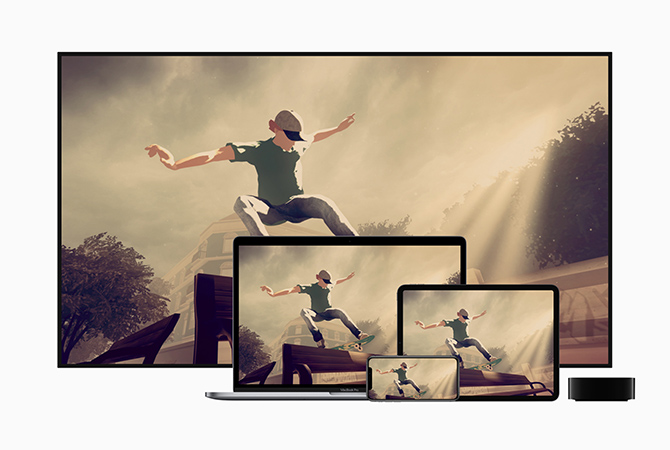 Put the two together and there might just be a new Apple TV coming—especially as the current one is overdue for an update. In case you haven't heard, Apple Arcade is basically the company's offering of a game subscription service. Pay a monthly subscription fee and get access to all the games, on- and offline. And that means, Apple TV is going to need a faster processor. Just saying.
TRUE AND FALSE — No new Apple TV but the keynote did preview some very exciting (and exclusive) original shows and games coming your way.
Pricing and availibility in Malaysia:
Apple Arcade will be available for RM19.90 per month (family subscription, which means shareable among maximum six family members with Family Sharing) via the App Store beginning September 19 along with iOS 13. The first month is available as a free trial.
FYI: The subscription will allow users unlimited access to a catalogue of over 100 new and exclusive games (and counting!), playable across iPhone, iPad, iPod touch, Mac and Apple TV. No ads, no in-app purchases, and all completely playable offline. Apple Arcade will be available on iPadOS and tvOS 13 on September 30; and in October on macOS Catalina.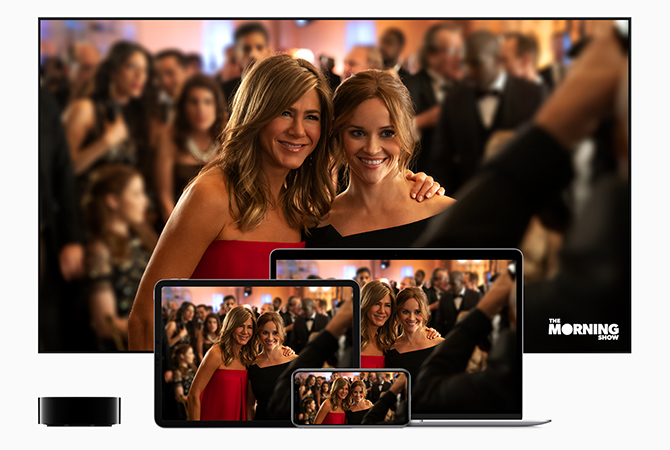 Apple TV+ will be available, also, for RM19.90 per month (family subscription) beginning November 1 via the Apple TV app. There's a 7-day free trial or any new purchase (beginning today) of an iPhone, iPad, Apple TV, iPod touch or Mac can enjoy one year of Apple TV+ for free.
FYI: Subscribers can watch the Apple TV+ originals both online and offline, ad-free via the Apple TV app, which is available on iPhone, iPad, Apple TV and iPod touch and soon, Mac with macOS Catalina. You can find the app on select Samsung smart TVs, and soon, LG, Roku, Sony and VIZIO platforms. Alternatively, sign up and watch Apple TV+ originals on the web at tv.apple.com/my.
THE 7TH GEN IPAD (2019)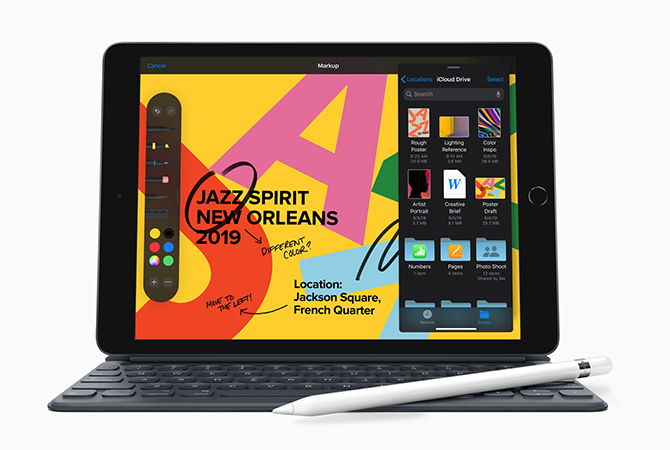 The size: 10.2-inch with a Retina Display and more screen area
What's new: Now with Apple Pencil and Smart Keyboard support.
For the first time ever: The enclosure is made from 100 percent recycled aluminium.
It's the most affordable iPad: With the upcoming iPadOS (multi-tasking takes its meaning more seriously this round) and now the ability to pair with the Apple Pencil and Smart Keyboard, the new iPad can do your everyday tasks and a little more. It's fitted with the A10 Fusion chip (for comparison's sake, the iPad Pro is equipped with a more powerful A12X Bionic chip) which is more than sufficient for the average user.
Colours and storage options: Silver, space grey and gold finishes in 32GB and 128GB.
Price in Malaysia: Starts at RM1,449 for the Wi-Fi model and RM1,999 for the Wi-Fi + Cellular model from apple.com/my, in the Apple Store app, and will also be available through Apple Authorised Resellers and select carriers (prices may vary).
Availability in Malaysia: No word yet but I'll be sure to update the minute we get the official news.
Which of these new products are you most excited for? Check out Apple Malaysia's website for more info.
| | |
| --- | --- |
| SHARE THE STORY | |
| Explore More | |