I love Dyson's vacuums and I absolutely hate mopping floors. So imagine my joy when Dyson announced its first all-in-one wet-and-dry cordless vacuum: the Dyson V12s Detect Slim Submarine. 
The real question is if it can really mop and clean floors as well as the hard work of a traditional mop. Over the years, I've fallen "victim" to products that claim to be an easy replacement but none have given the OCD in me that satisfaction. So, expectations for the Dyson V12s Detect Slim Submarine were high when I first received the review unit to try. 
Here are all my quick takes for your consideration.
WHAT'S THE SAME?

   
"V12? Didn't they release a different 'V' earlier this year?" Yes, Dyson last released the Dyson V15 Detect Absolute back in January 2023, which has a much more powerful suction power of 240AW and a bigger bin size at 0.54L—versus the Dyson V12 Detect Slim's 150AW of suction power and 0.35L. 
So, the Dyson V12s Detect Slim Submarine is an improved version of 2021's Dyson V12 Detect Slim with the added superpower of being a wet vacuum too. Don't get me wrong, the 150AW of suction power is more than enough to do the trick of deep cleaning your home. 
Compared to the Dyson V15 Detect Absolute, it's also lighter at 2.2kg (minus the wet roller head, which I'll get into later) versus the former's 3.08kg. The run time remains the same at up to 60 minutes on Eco mode. It's also fitted with the same Dyson Hyperdymium motor that spins at up to 125,000rpm. 
WHAT'S DIFFERENT?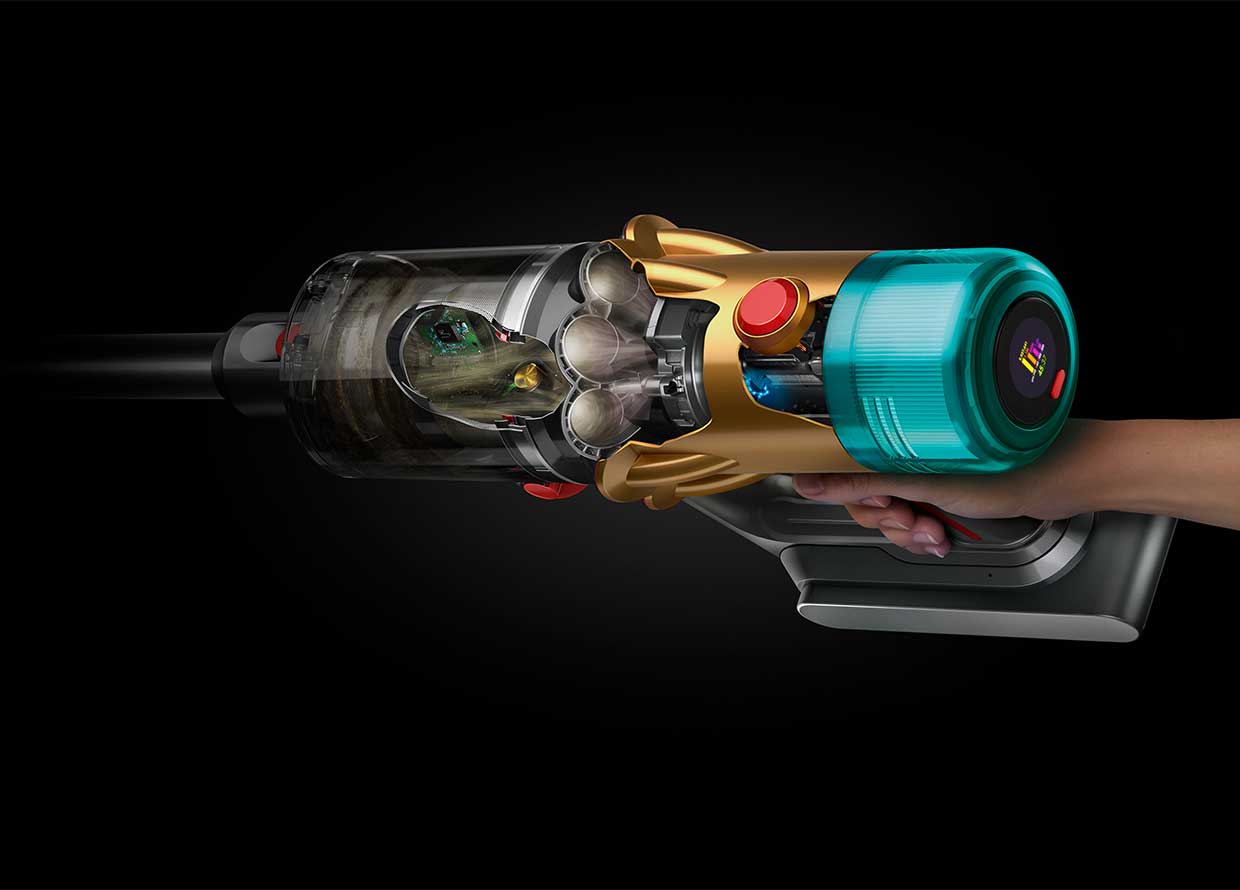 Besides the obvious Dyson Submarine wet roller head, Dyson V12s Detect Slim Submarine comes with the familiar Optic Fluffy Cleaner Head, except it has kicked up its laser illuminating abilities to twice its power, making it even easier to spot the faintest of dust particles. In addition, with the HEPA filtration system, it can capture 99.99 per cent of particles as small as 0.1 microns (previously only up to 0.3 microns) and expel cleaner air in return. 
And if seeing is believing, the piezo sensor (also more casually known as 'Acoustic Dust Sensing') will share all that proof in real-time via the LCD screen, detailing the size and number of particles. The sensor, like before, will also automatically adjust the suction power according to the floor type and dust amounts. Side note: The wand is also slightly longer than its predecessor. 
DYSON SUBMARINE WET ROLLER HEAD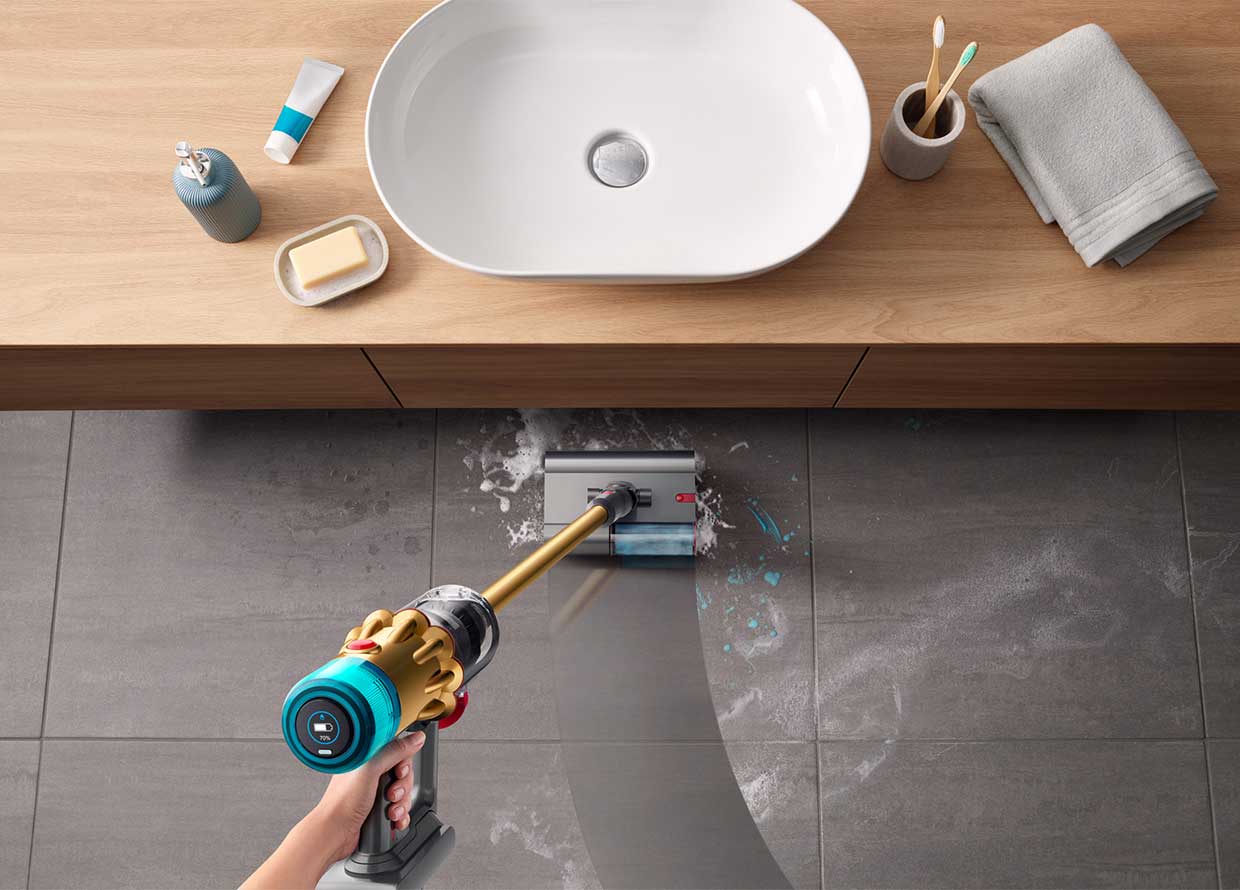 Designed to deliver that 'clean floor finish', eliminating even spills and tough stains, Dyson's engineers used a combination of hydration, absorption and extraction technologies to produce an eight-point hydration system. In English: eight water jets line along the roller, releasing 18ml of water every minute to wash floors evenly without drenching them instead. They then combine that with a motor-driven microfibre roller to remove spills, tough stains and debris, letting a durable plate extract any contamination (water or otherwise) into a separate waste-water tray. 
The Dyson V12s Detect Slim Submarine's accompanying 300ml clean water tank sufficiently covers a floor size of up to 110m². I live in a double-storey terrace house and a clean sweep of my second floor left me with two-thirds of that water tank so there's no need to constantly change water like in the "old days". You can also add diluted detergent—no bleach!—into the clean water tank. Meanwhile, the 360ml dirty water tank keeps all the nasties well within it—so long as you lift the whole attachment straight-up, vertically and not swing it around lest it spills out.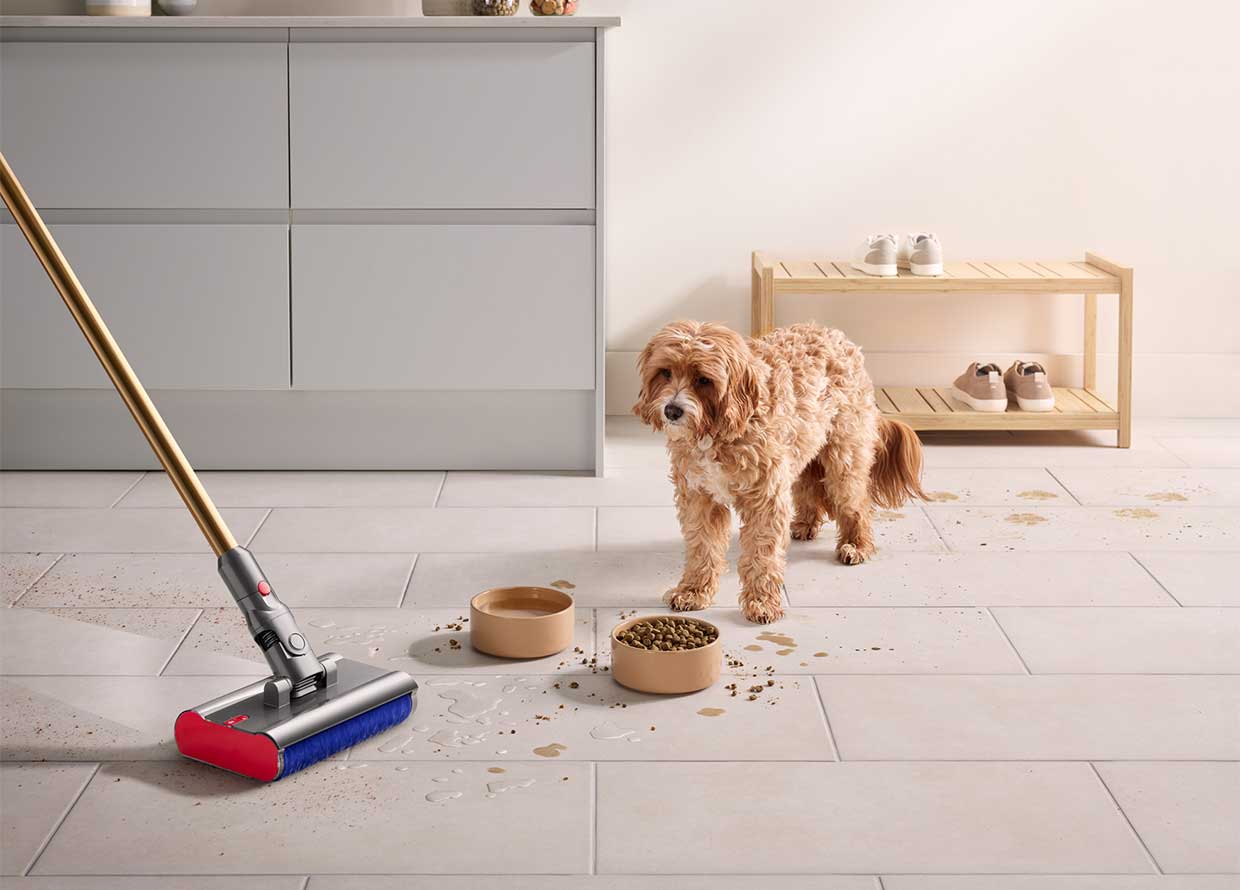 It works on all floor types and with water alone, it did leave that clean finish I so love. It is highly recommended that you dry vacuum first before mopping or applying water. After all, "dampening dust on floors—even fine dust invisible to the naked eye—could mean that you're creating a habitat more favourable to dust mite and mould proliferation," as revealed by the Dyson Global Dust Study. 
Here's where the Dyson V12s Detect Slim Submarine gets a teensy bit less desirable. On Eco mode, you do get up to 60 minutes of run time but I leave it on Auto and let the acoustic piezo sensor do the work of adjusting its suction power automatically. As such, a weekly clean gives me about 25 minutes of run time and after dry vacuuming my top floor, I was left with just 10 minutes for the wet vacuum part. This was just enough to finish cleaning (dry and wet) my second floor (albeit not very thoroughly for the wet part) and meant needing a four-hour charging interval to finish my ground floor for a full-house clean-up.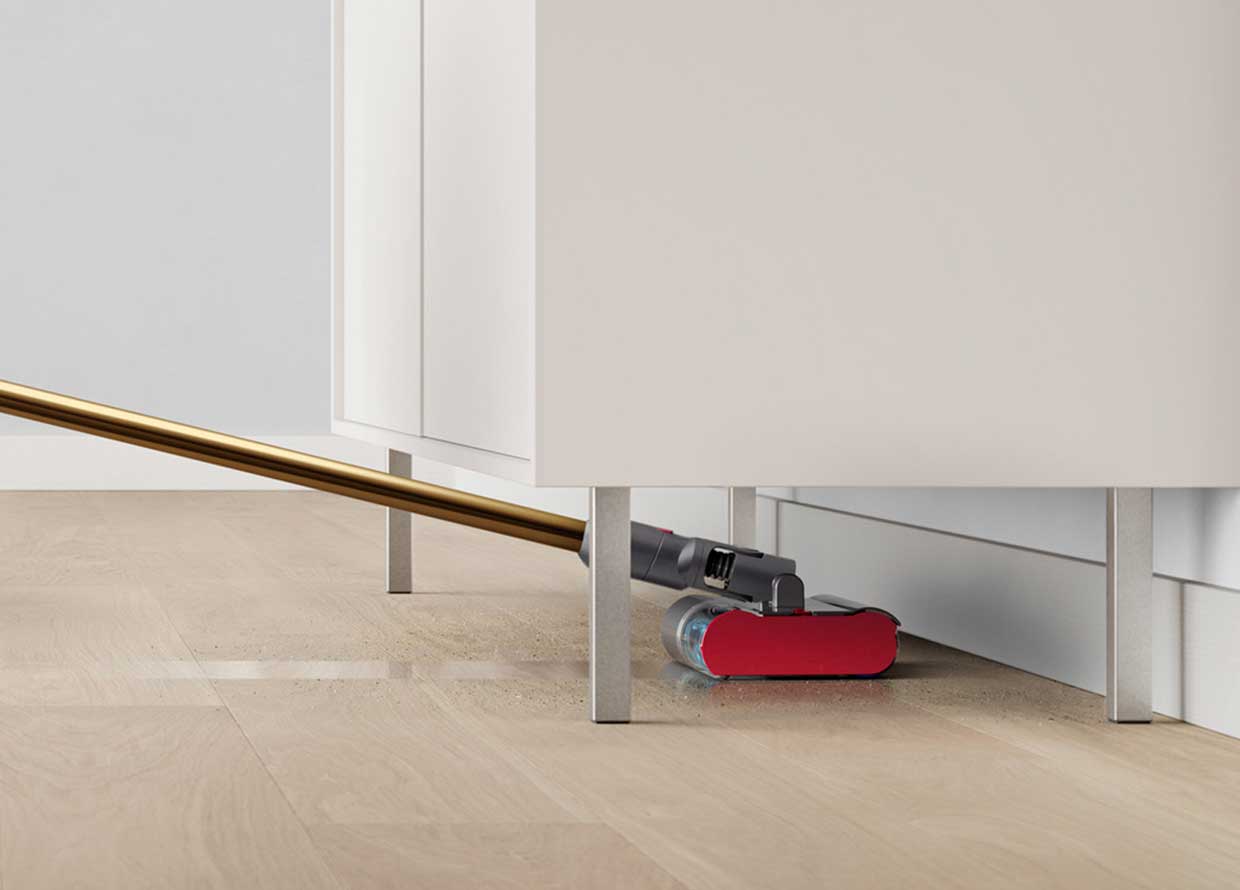 Another con of the Dyson V12s Detect Slim Submarine is that it's rather bulky, heavy and, due to its build, the wet roller head doesn't reach all edges as it's blocked by its shell. The wet roller head alone weighs 1.5kg before adding water to its tank.
That being said, I was very impressed with how it cleans up messes—be it mustard, chilli sauce or the thick orange cordial—the Dyson V12s Detect Slim Submarine proudly mopped it all off till a non-sticky, mess-free surface. Yes, it took a few runs over the splash of stains but it did the trick. Everything was then deposited into the tray thanks to the plate. As per Dyson's standard push-and-click mechanics with its attachments, cleaning the tray and wet roller head was as easy as disassembling each part of the Dyson Submarine Wet Roller Head, washing with a common household anti-bacterial detergent—I use a dishwashing liquid—and then leaving it to dry.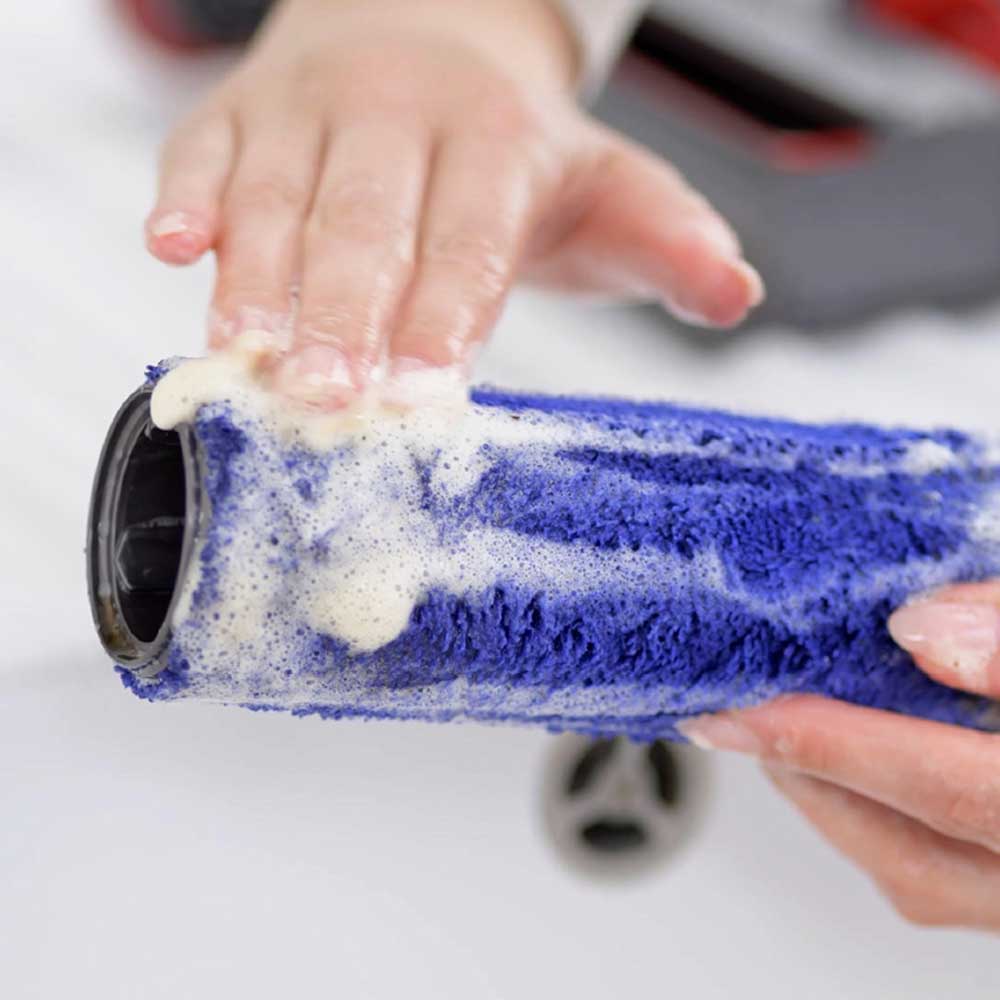 I personally don't have the heart to run it over a pile of sauces or pet messes so, alternatively, the tip is to first wipe over spills with a cloth or tissue before using the Dyson V12s Detect Slim Submarine.
FINAL WORDS
View this post on Instagram
The Dyson V12s Detect Slim Submarine isn't without its flaws, but for its first wet-dry vacuum, I'd say it has gone above and beyond. It does the work. It's all-in-one, easy to use and easy to clean. In fact, the motor-driven microfibre roller is giving me the potential of, perhaps), an upcoming Dyson robot vacuum is in the works since it felt quite powerful to let the Dyson V12s Detect Slim Submarine run over my floors. Is it too much to also hope they add the laser technology to the wet roller head too? I've been too spoilt by it. Finally, know that the Dyson Submarine wet roller head is not compatible with Dyson's other vacuums. Till then, I'll be happily 'mopping' my floors (for once).
---
Dyson V12s Detect Slim Submarine
Price: RM4,499 (Dyson V12s Detect Slim Submarine)| RM4,899 (Dyson V12s Detect Slim Submarine Complete)
Availability: Dyson Demo Stores, authorised retail partners, and www.dyson.my
What's in the box: Fluffy Optic cleaner head, Submarine wet roller head, Combination tool, Crevice tool, Hair Screw tool, charger, wand clip, wand, wall dock
| | |
| --- | --- |
| SHARE THE STORY | |
| Explore More | |