Everyone loves a clean home, especially in Asian households where it's a norm to walk around barefooted on wooden floors or sit crosslegged on cool marble. It's easy to feel or see the dust otherwise.
No thanks to the pandemic, people have become even more adamant about keeping their houses a clean and healthy haven to return to—to the point where some even spray disinfectant or wipe down items they receive in the mail or bought at the mall. Statistically, nine in ten people globally are cleaning just as much—if not more—as last year.
But what are the "motivators" for cleaning? Fifty-seven per cent of Malaysians only clean their home when it's dusty or if they see dirt or dust on the floor. The other 53 per cent do it because they already have a scheduled routine.
Both aren't enough. Because there's dust that you can see, and then, there's dust that you can't—like dust mites and dust mite faeces. Gross, we know.
A total of 32,282 respondents from 33 countries participated in the latest Dyson Global Dust Study, revealing plenty of interesting insights such as the above. Insights that show we might have been cleaning our homes less efficiently all this while. Read on to find out if you've been making the same cleaning mistakes.
1. Mopping or wiping over dust with water first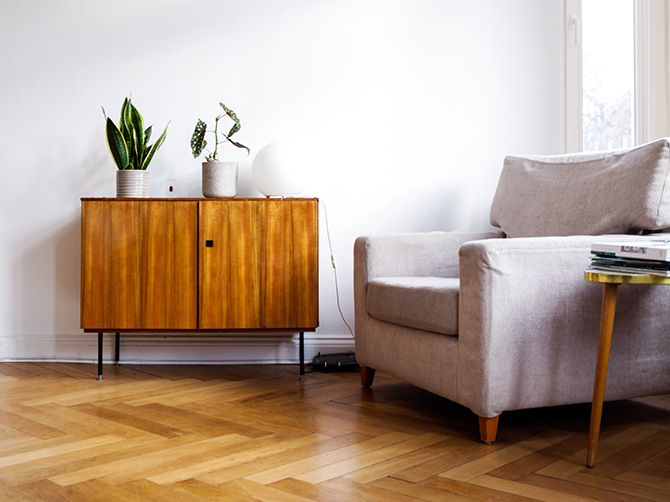 Skipping a step and using a wet mop or cloth to clean over surfaces entirely is actually counter-productive. According to the Dyson Global Dust Study, many agree that vacuum cleaners are the most effective when it comes to removing dust, but brooms (75%), wet mops (71%) and wet clothes (69%) remain popular choices. The vacuum cleaner comes in fourth place at 68 per cent.
"Using a wet cloth to clean surfaces is fine, but the sequence of cleaning tools matters. Dampening dust on floors—even fine dust invisible to the naked eye—could mean that you're creating a habitat more favourable to dust mite and mould proliferation," explains Monika Stuczen, Research Scientist in Microbiology at Dyson.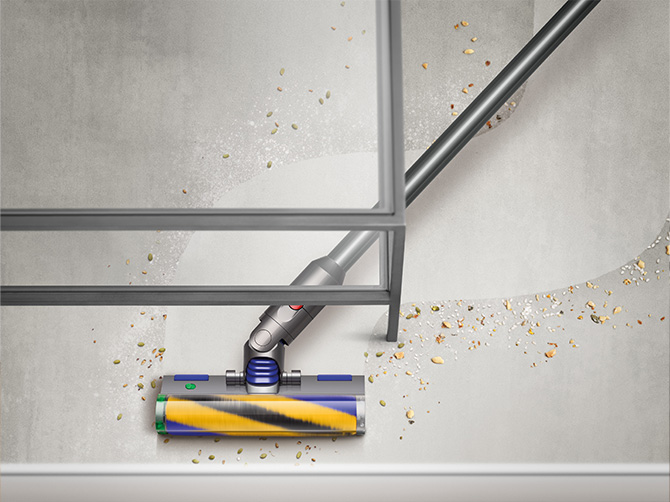 CLEANING TIP: "Dust is most effectively removed with a vacuum cleaner first, before going on to wipe surfaces. Even then, it is important to use a vacuum cleaner with effective filtration and sealing technology to ensure that whatever you vacuum remains trapped and is not expelled back into the home," says Stuczen.
2. Cleaning only when there's visible dust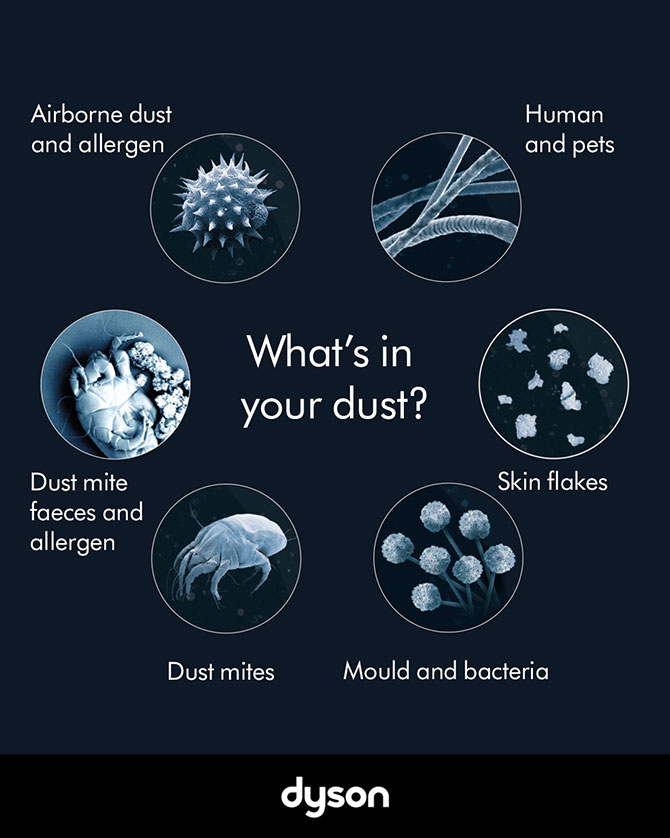 By the time you spot the dust, dust mites would have already invaded your home. Stuczen elaborates that many dust particles are microscopic in size. Eighty-five per cent of Malaysians know that "household dust" can contribute to illnesses like asthma, except "household dust" is more than just those white specks floating under a sunbeam or when you slide your finger across a dusty window sill. It's also dust mites, their faeces, bacteria, viruses, pollen and other allergens. However, only 26 per cent know that those faeces can trigger allergies.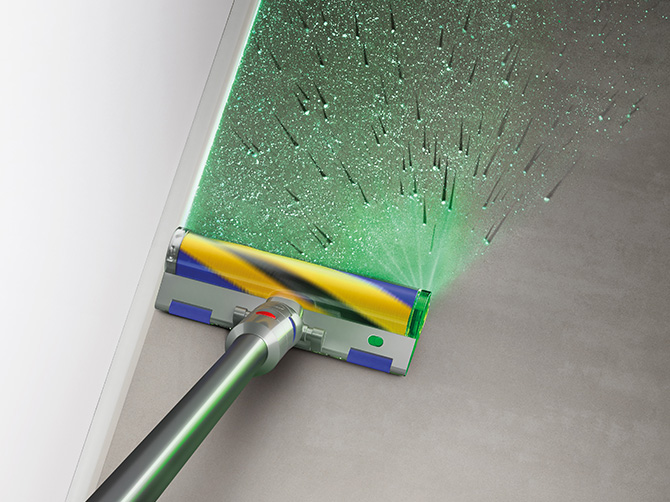 CLEANING TIP: The Dyson V12 Detect Slim, with its laser detect technology integrated into the Fluffy cleaner head, is the best for spotting (and capturing) "hidden dust" as small as 10 microns. Under the green laser light, you'll see even tinier specks of dust but look to the LCD screen, and you'll find shocking results. Equipped with an acoustic piezo sensor, the Dyson V12 Detect Slim can calculate the size and quantity of the microscopic particles. Expect to see seven-figure numbers of various particle types—pollen, pet allergens, dust mites, and more—that had otherwise been lurking around your home.
3. Not vacuuming your mattress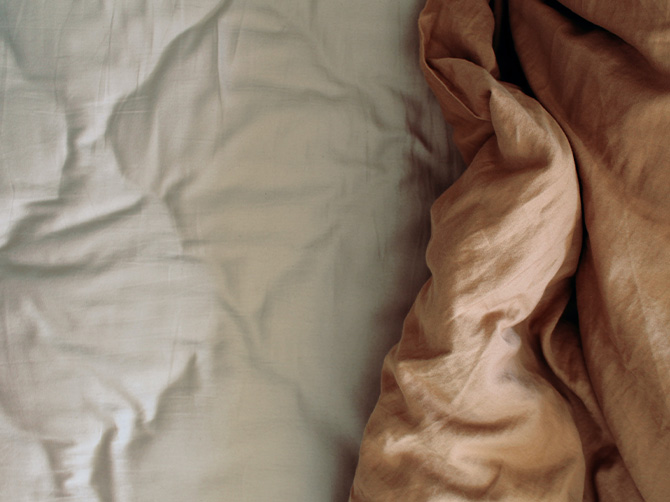 It's okay—it's not just you. According to the study, seven in ten Malaysians don't do it too, and it's a cause for concern. Mattresses are a potential hotbed of microscopic life—millions of dust mites could be sleeping with you. "Wherever you spend the most time and shed the most skin, that's where you're most likely to find dust mites," says Gem McLuckie, Lead Research Scientist in Microbiology at Dyson. Plus, humans can shed 2g worth of skin per day, which is food for dust mites. In their average lifecycle of 65 to 100 days, their saliva and faecal pellets can trigger allergies and affect your wellbeing.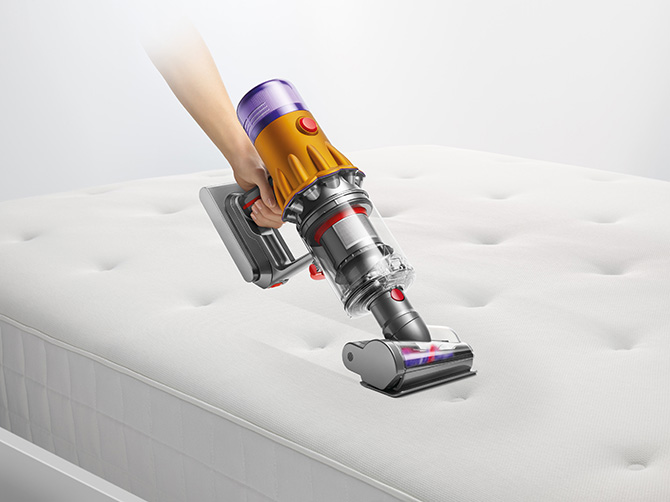 CLEANING TIP: It's best to wash your bedding once a week to remove microscopic skin flakes. Then, vacuum over your mattress for a proper deep clean. Attach the Hair Screw tool and use the Dyson V12 Detect Slim's Boost mode to get the job done efficiently without damaging the surface of the mattress, thanks to its stiff nylon bristles.
4. Letting your pets sleep on your bed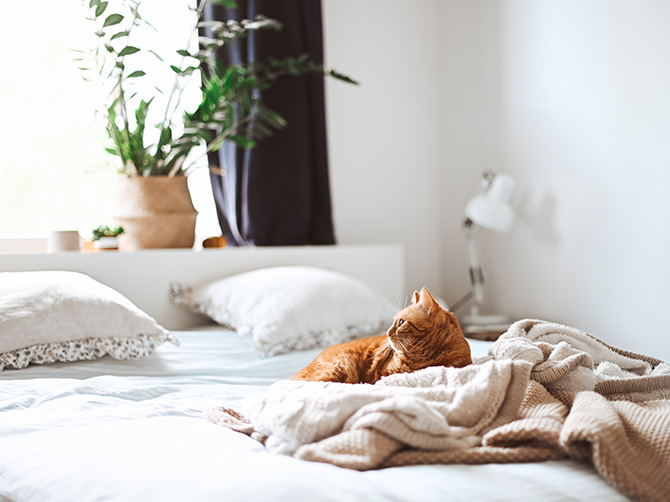 Interestingly, the pandemic saw the rise of new paw-rents, and two out of five Malaysians allow their dogs or cats to sleep on their beds. Of course, there's nothing wrong with it per se, but many believe they only have to worry about pet hair. More than 60 per cent of pet owners are unaware that food residues, dust mite faeces, viruses, bacteria and skin flakes can also reside on their fur babies. Those, along with pet dander—tiny, microscopic skin particles shed by pets with fur—can trigger allergies too.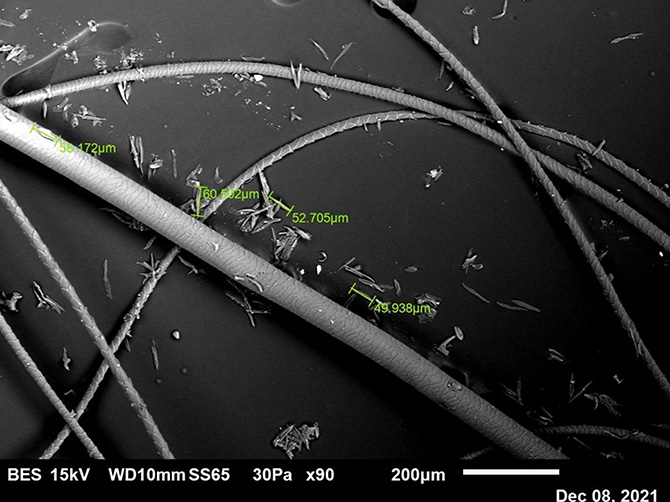 CLEANING TIP: Frequent grooming can help, even if it's just a little bit, but only one in three Malaysians do it at least on a weekly basis. Beyond using just a brush or comb, opt for de-shedding or vacuum pet grooming tools. Make sure to wash their blankets, cushions and beddings often to remove the microscopic dander lest it becomes a buffet spread for the dust mites. As pet hair and dander can become airborne, vacuum often to avoid an excessive build-up and start cleaning from high to low surfaces. Consider using a purifier like the Dyson Purifier Cool to capture the pollutants and remove pet odour for maximum effect. For ceiling corners or dark, narrow spaces, the Light Pipe crevice tool with LED lights will help you reach them easily.
5. Not cleaning carpets often or thoroughly enough
Carpets and rugs hold a treasure trove of microscopic life, and they can hide dust, dirt, and pet dander between their fibres. Rather than cleaning them when they look dirty, it's best to vacuum at least once a week with some engineer-approved tricks.
CLEANING TIP: First, vacuum slowly as this will allow the airflow and brush bar to properly "agitate" the dust and dirt between the carpet fibres, as well as capture invisible allergens hidden deep in the carpet pile. Then, go over the same spot at least two or three times—just in case.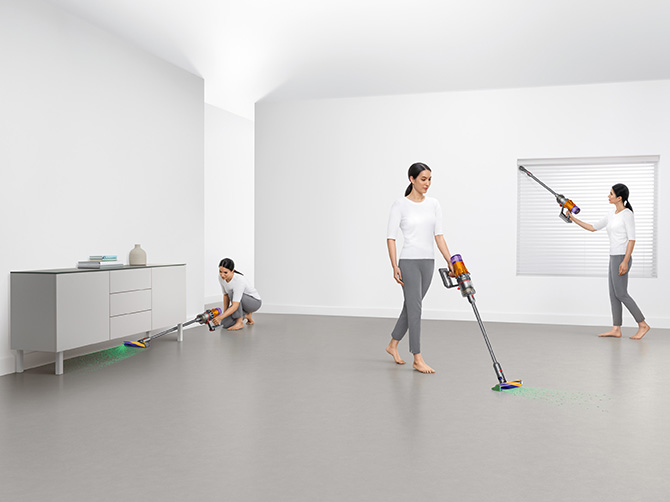 If you're looking for a new vacuum, the Dyson V12 Detect Slim has everything you need in one machine. It's compact, cordless, and powerful, offering up to 60 minutes of fade-free suction power with zero drop in performance when using it over prolonged periods. At its core is the lightweight Dyson Hyperdymium motor that spins up to 125,000rpm to suck up, well, pretty much everything, from large debris to microscopic dust. None of it escapes either, as its fully-sealed five-stage filtration captures and traps 99.99 per cent of microscopic particles and allergens as small as 0.3 microns before expelling cleaner air. Combine that technology with its host of attachments, and that's really all you need.
Dyson's Trade-up programme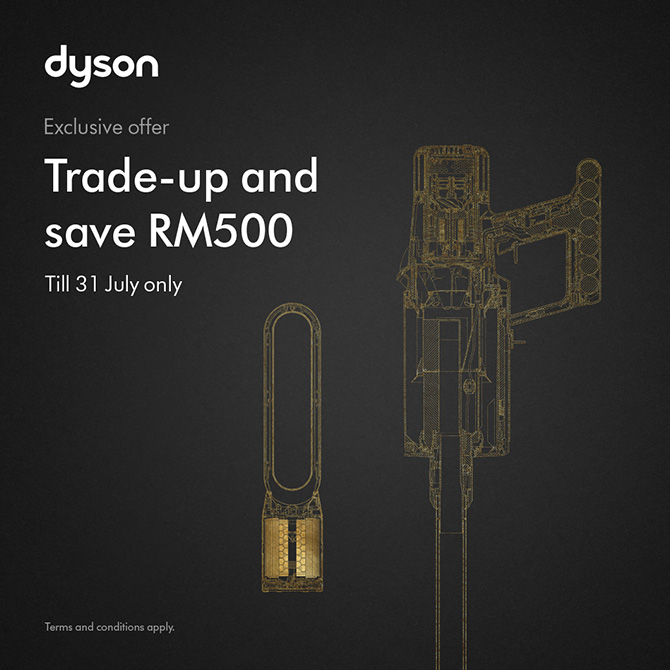 Trade in any vacuum, purifier or fan and upgrade to Dyson's latest home technology —like the Dyson V12—and enjoy RM500 off! For more info, visit Dyson Malaysia's website.
| | |
| --- | --- |
| SHARE THE STORY | |
| Explore More | |