Who lives in the pineapple under the sea? Spongebob Squarepants! While the residents of Bikini Bottom survive underwater without the need for gadgets, the same cannot be said for us human beings. In order to live the subaquatic life, there is a heavy reliance on underwater gadgets. Fortunately, in the zeitgeist of advanced technologies, all sorts of innovative underwater gadgets are available in the market. Whether you intend to capture picture perfect photos and videos of sea life, improve your diving gear, or thrill your friends with a brand new water toy, these accessories and devices will ensure a great time under the sea. Thinking of getting a gift for Father's Day? These might interest you too, especially if dad loves being underwater. Check out this roundup of some of the best underwater gadgets available.
1. GoPro Hero7 Underwater Camera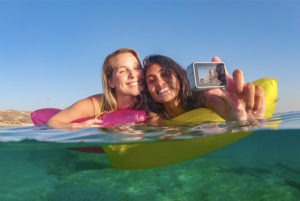 In the current diaspora, filming and capturing moments are essential. That is why the GoPro Hero7 is one for the books. Known as one of the best underwater cameras available, it captures videos in stunning 4K; has a user-friendly touchscreen interface; and is built-in waterproofing for up to 10 metres. The goodies don't just stop there though. There are many other innovative features—from a simple one-button control to electronic image stabilisation to voice control. Your next scuba diving and snorkelling adventure is bound to be perfect. Now you get to share the beautiful marine sights you see with everyone else above water.
For more information, visit here.
READ MORE: These are the best spots for water sports in Malaysia
2. H2O Ninja Mask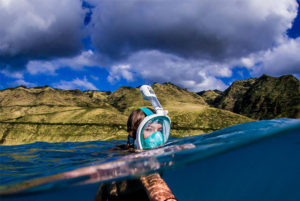 Be honest. This caught your attention. It's intriguing and unique. The H2O Ninja Mask is probably the only snorkelling gear you will ever need. You will be able to breathe as usual underwater with this revolutionary device that covers your entire face. It has polycarbonate lens which are designed to resist fogging and is shatterproof. Fall face first onto a rock kind of shatterproof? Just try not to. Even better, the H2O Ninja Mask provides unobstructed 180 degree views of the sea life around you. It is definitely a high-quality full-face snorkel mask that you won't get enough of after your first try.
For more information, visit here.
READ MORE: Plastic isn't the only threat to the ocean—there's more
3. AirBuddy Tankless Dive System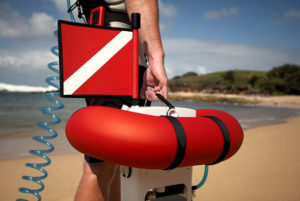 Diving is fun but can get really troublesome (and heavy). Traditionally, a tank is required when going underwater but the revolution has arrived. The AirBuddy is the smallest and lightest diving gear at the moment. With the AirBuddy, expect unrivalled subaquatic adventures with the amalgamation of the ease and simplicity of snorkelling with the thrill of diving. First of all, it has a rechargeable battery, which equals to approximately 45 minutes of diving up to a depth of 12 metres. Secondly, it comes with a floating air compressor and is independent of air refills. The AirBuddy is perfect for reef diving, underwater photography, dive training, underwater maintenance, and so much more! Who doesn't fancy an unrestrained diving experience?
For more information, visit here.
READ MORE: 6 Best diving spots in Malaysia
4. ReefBoard
If you are into the water but dislike getting (too) wet, the ReefBoard is about to be your best friend. As a dry alternative to snorkelling, you will be able to capture and observe sea life without the need to stay fully submerged in the water. The big clear window that comes with the board rewards you with a full 14-inches wide view of the ecosystem below. The ReefBoard is also made for everyone of all ages and is a sustainable product—it's made from the same material as a kayak. The fact that it is now available everywhere highlights the ReefBoard's prominence in the underwater tech gadget market.
For more information, visit here.
READ MORE: Buro Tries doing a reef check survey in Tioman
5. FiFish V6 Underwater Robot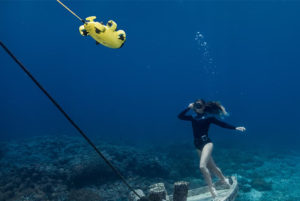 Is it a bird? Is it a plane? It's not Superman and it's not Aquaman either. It's the FiFish V6 Underwater Robot, the world's first Omni 4K underwater drone. It has six patented thrusters that power its operations, allowing you to probe and take in the depth of the ocean like you have never seen before. There are many features that stand out but one you should really know is its ability to move like a fish. Yes, a fish (it's all in the name). The FiFish V6 will end up becoming your perfect underwater photographer. Why? Well, it has powerful lighting, video sharing, and exceptional 4K quality with 30 frames per second. A whole new world, indeed.
For more information, visit here.
READ MORE: Check out some of the best beach holiday destinations around
6. Mahina Mermaid MerFin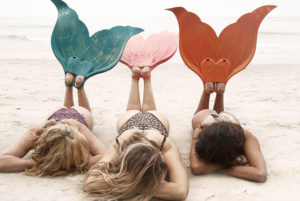 If The Little Mermaid is your favourite Disney film or you're looking for environmental-friendly gadgets, here is something fun for you. The Mermaid MerFins are made from natural and recycled rubber. Hence, it is perfect for the earth-conscious dwellers (which should include everyone). In addition to being functional, the Mermaid MerFins are, ultimately, fashionable too. Expect speed and easy propulsion when gliding through the water. Regardless of usage (pool toy, snorkelling fin, or aquatic fitness equipment), the Mermaid MerFins are safe and perform brilliantly. If a genuine mermaid swimming experience is what you desire, this is it. Make them part of your world.
For more information, visit here.
READ MORE: How much do you know about eco-cruising?
Whether you are looking for gifts for dad this Father's Day or something for your underwater adventures, this round-up of underwater tech gadgets is sure to help you make a decision. From the AirBuddy to the Underwater Robot to the H2O Ninja Mask, live it up (or down). Here's to your future subaquatic adventures.
| | |
| --- | --- |
| SHARE THE STORY | |
| Explore More | |