Editor-in-Chief, Cai Mei Khoo, along with Friend of Buro, Vanessa Tevi, head to Tioman Island to try a reef survey with Reef Check Malaysia
It was perhaps little coincidence that the days across which we planned for this episode of Buro Tries overlapped with both World Oceans Day (June 8) and Coral Triangle Day (June 9). The Coral Triangle is the name given to the so-called lungs of the Earth, a marine area that includes the waters of Indonesia, Malaysia, the Philippines, Papua New Guinea, Timor Leste and Solomon Islands. This region sees over 2,000 species of reef fish, nurtures six of the world's seven marine turtle species, and hosts over 76% of all known coral species. Roughly 130 million people live in the Coral Triangle and are dependent on marine natural resources for their livelihoods.
Reef Check Malaysia (RCM) is a non-profit organisation that aims to raise awareness on the importance of, and threats to our coral reefs. This comprises setting up coral reef conservation programmes, which include the establishment of Marine Protected Areas—areas that are protected from over-fishing or destructive fishing methods, and tourism development. 
One of the core programmes that RCM runs is the EcoAction programme, where divers are trained to help conduct Reef Check surveys at about 200 dive spots around Malaysia. Surveys are done on a yearly basis and the data collected helps RCM keep track of the status of our coral reefs. "In a nut shell, Reef Check Malaysia collects scientific data, which is then used to promote co-management and the sustainable use of marine resources," says Alvin Chelliah, Programme Manager at Reef Check Malaysia.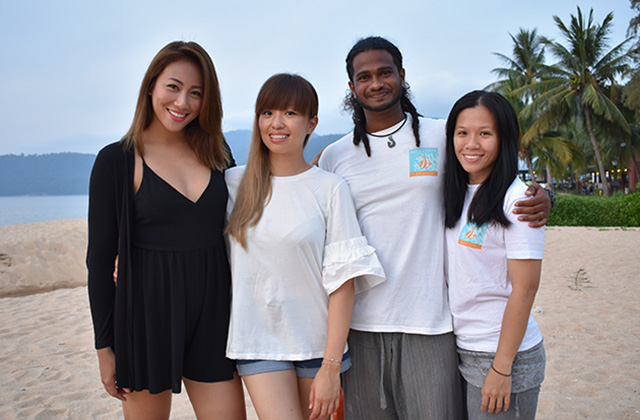 To give us a taste of what a Reef Check survey entails, Alvin briefed Vanessa and I about the different types of substrates (coral, rock, sponge etc.), fish and invertebrates (9 in total, including sea cucumber, giant clam and a few types of urchins) that are taken into account during the surveys. Essentially, a Reef Check survey is carried out by a total of 5 divers at a time; 2 to count fish, 2 to count invertebrates and 1 to count substrates. A line of 100m in length is laid out and the survey is done on either side of the line with each diver looking at a field that spans 2.5m from the line.
Watch the video below to see how we did in our Reef Check survey:
To find out more about Reef Check Malaysia and how to get involved, please click here.
Special thanks to Tioman Dive Centre, the only Reef Check-certified dive shop on Tioman Island for letting us dive with them, Berjaya Tioman Resort, and Audi Malaysia for making this trip possible.  
Related stories:
Celebrating World Oceans Day 2017 with La Mer
7 Malaysian personalities pledge to #SayNoToSharkFins
6 Best diving destinations in Malaysia
A brief travel guide to Tioman Island