Besides a typical movie and dinner date, here are some other ideas of romance—in our opinion, at least
In the movies—as stereotypical as it can be—the guy and the girl often grab a coffee, dinner or even a show for their first few dates. In reality, however, everyone has a different take on romance and sometimes, we end up doing the same activity (or picking the same restaurant even!) for a special date. But isn't it nice to do something a little unlike the usual here and then? When we were casually discussing among ourselves as to what would be an ideal romantic date, we realised we had very different answers. And so, if you're looking for some fun yet unique date ideas, this could help (just please don't judge us too much)!
TERRY SAW, editor-in-chief
"A glorious weekend of diving in the great blue ocean! I'm all for it. The calm breeze, the sound of crashing waves and the deep blue teeming with surreal marine life. If you (or your S.O) are not already certified, diving is a wonderful hobby to take up together for some quality time in the great outdoors. The buddy system in this sport is also a great teacher of patience, support for each other and more importantly, keeping each other safe (read: not swim off and leave your S.O behind, which should also apply IRL). Plus, it is worlds of fun when it comes to adventuring underwater with your partner. My best dive trip to date: checking off the great Moalboal sardine run, swimming amongst millions of sardines in Cebu, Philippines last year."
GWEN ONG, deputy editor
"Romance is dead, they say. Well, I think we just have a different way of showing our love today. My idea of a romantic date involves going on an impromptu road trip with my better half and exploring the streets for sight, sound and smell. By that, I mean something like tracking down the uncle with his modest cart, frying up a fiery plate of char koay teow as its delicious aroma waft through the air. It's love when you finally get to satisfy your craving together."
JOAN KONG, fashion editor
"My boyfriend and I love to travel as we get to explore new cities and try different types of food together. But when we're back home, we actually like being homebodies and just hang out at home. Those who know me will definitely be aware of my love for all things horror and true crime, and so if I were to describe a perfect date—while it may not be most people's idea of a romantic activity (which includes my partner)—it would be having a scary movie marathon. To be able to watch my favourite genre the whole day with my "anything but horror films" S.O. who gives in to my request—that's the best! The icing on top? A fast food feast to enhance our movie-watching experience! #sorrynotsorry"
STEPHANIE BOEY, fashion writer
"Take a relationship out of the bedroom and conversation is the next sexiest thing. I love a night in with Netflix and discussing the most recent series drop as the next person, but getting out of the house has its perks (sometimes). A great way to start a stimulating exchange would be a quick trip to a museum or an art gallery. It's a great way to understand the history and culture of the city you and your S.O. are in, and to explore new ideas together. Kuala Lumpur has some great gems around the city. My current favourites are Balai Seni Negara, Ilham Gallery and the Islamic Arts Museum to get up to speed with local artists and sculptors. You won't have to worry about a hefty entrance fee either—they're all free of charge. If you're looking for something more than just pretty pictures on a wall, head to The Zhongshan Building, an independent arts and research hub catered to creatives. Constructed in the early 1950s, the old shophouses now host a diverse group of talent thriving in the local art scene. If you're a music lover, start at Tandang Store for their collection of vinyl records and then head to Tommy Le Baker for freshly baked bread."
READ MORE: A creative's guide to KL
WEI YEEN LOH, senior fashion & beauty writer
"My idea of a romantic date isn't particularly conventional—having been in a long-distance relationship for the past three years means that we constantly have to find creative ways to go for "dates". Thankfully (for my S.O. at least), I'm not a stickler for corny poems, tear-jerking movies or extravagant displays of affection i.e. flowers wilt very quickly, so there you go. Spending a night in FaceTime-ing each other over dinner while catching up on the past week's events sounds just about right when it comes to making romance possible across 300km. Every minute of every phone/video call means more than usual when we're apart, but if we aren't separated by distance, I'll be contented enough to do just the same thing (sans the FaceTime sesh, obviously.) Can't fault me for being a homebody!"
RACHEL AU, lifestyle editor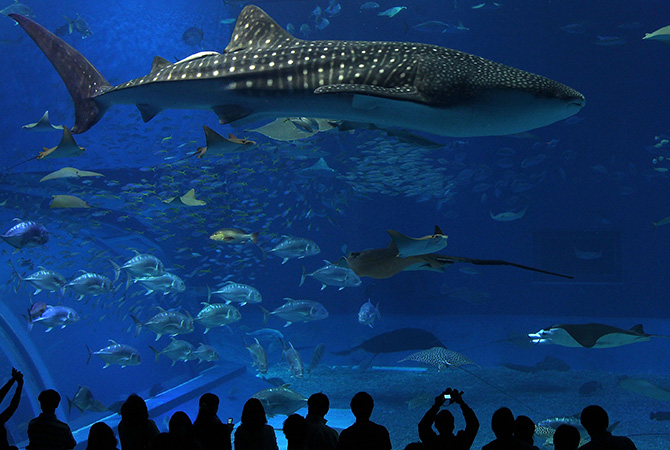 "Fortunately—or unfortunately—I'm a fan of doing traditional activities. By that, I mean the kind you often read about or watch in the movies a decade or so ago. Think: Going for a hike, visiting the zoo (my husband and I did this for an anniversary once!), going to the aquarium, you name it. Anything that doesn't involve going to the mall. On the regular, we're movie buffs. But on special occasions, we tend to do something out of the usual routine. But in terms of romance, nothing beats watching the manta rays elegantly glide across a giant tank while various schools of fish (in different sizes and colours) swim across like they're all part of a huge dance underwater. My husband and I—from when we were just friends till we started dating—has actually visited four to five aquariums and that includes Aquaria! Our favourite so far is the S.E.A. Aquarium in Sentosa where he surprised me by making a reservation at the restaurant which gives a grand view of the Open Ocean Habitat—though we did agree it made us feel guilty about ordering seafood. Considering my travel wish list for 2019 is Okinawa, I'm adamant that we conquer Okinawa Churaumi Aquarium next!"
SU FEN TAN, senior writer
"As a thrill ride junkie, spending the day at a theme park is always a good idea. Plus, it'll always take me and my S.O. back to the time when we spent the summer in the U.S.—fresh out of uni, living next to and working at Cedar Point a.k.a. the roller coaster capital of the world! I will never say no to a good ol' movie date either but since that's done on the regular, perhaps it's time we went to check out Genting's new indoor theme park."
ALYSSA LEE, special projects writer
"Being in a relationship that is built on understanding, love, and an intense propensity towards pulling silly faces and sharing inside jokes, finding an activity that facilitates silver screen worthy romance is quite a tall order. My fiancé and I have long accepted the fact that walks by the beach will end in us sketching provocative caricatures in the sand; road trips are usually just an off-pitch karaoke marathon, and candlelit dinners become private auditions for a judging role on Masterchef. So we find romance in the everyday, in the little moments. For instance, a bookstore hide-and-seek. Catching a glimpse of the love of your life between tall wooden bookcases—nose in book, brows furrowed and mouth slightly gaping—really does set the heart aflutter for reasons unknown. Perhaps it signals the promise of an intellectual life partner; or that it sets off a slight voyeuristic thrill; or maybe it is knowing that seconds later, there will be stolen kisses between those very bookcases followed by a frantic scan for security cameras, and lots of muffled laughter."
YISUEN CHONG, art director
"What could beat the comfort of our own home? The ideal date for me would be to stay at home and whip up a nice homecooked meal with the significant other. I don't usually fancy cooking but I definitely wouldn't mind getting my hands dirty for the special occasion. And if you're like me who's totally clueless, here are some sites that I often look to for some inspiration:
1. If you fancy some home cooked Japanese food: Tastmade Japan
2. If you're into healthy eating: Goodful
3. For everything else: Tasty"
READ MORE: Find other easy-peasy (yet delish!) recipes