With the recent release of Finding Dory, we suddenly have a desire to visit these beautiful aquariums around the world
There's just something about aquariums that are absolutely enchanting; whether it's the clear blue waters or the rich and colourful sea life that we could only otherwise see while diving or snorkelling, one could really spend all day staring at them. Of course, they're only that magical if the marine life is well taken care of. Here are five of the best aquariums in the world to put on your must-sea list.

1. S.E.A Aquarium, Singapore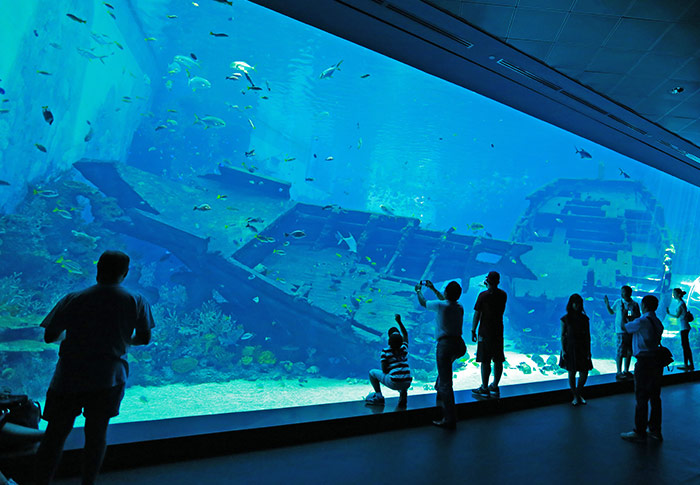 One of the best aquariums in the world is available just next door to us and it's easily one of the largest ones too. The stats? Tanks totalling up to 12,0000,000 gallons of water, 100,000 marine animals of over 800 species and 49 habitats for your viewing pleasure. The highlight of the aquarium is, of course, the Open Ocean exhibit where it had the world's largest viewing panel until 2014 when China's Chimelong Ocean Kingdom opened. You can also dine at the restaurant facing the Open Ocean exhibit – or spend a night at their Ocean Suite. 
2. Okinawa Churaumi Aquarium, Japan
The Okinawa Churaumi Aquarium was opened in 2002 as part of the efforts to revive the island's Ocean Expo Park while also celebrating Okinawa's marine tradition. The name 'Churaumi', which means graceful ocean in the local dialect, was selected after a public vote. It was the largest aquarium in the world until it was surpassed by Georgia Aquarium in 2005. It is one of the few aquariums in the world that houses whale sharks, and there are currently efforts to breed them. On the other hand, there have since been four manta rays born in the aquarium. 
3. Dubai Aquarium and Underwater Zoo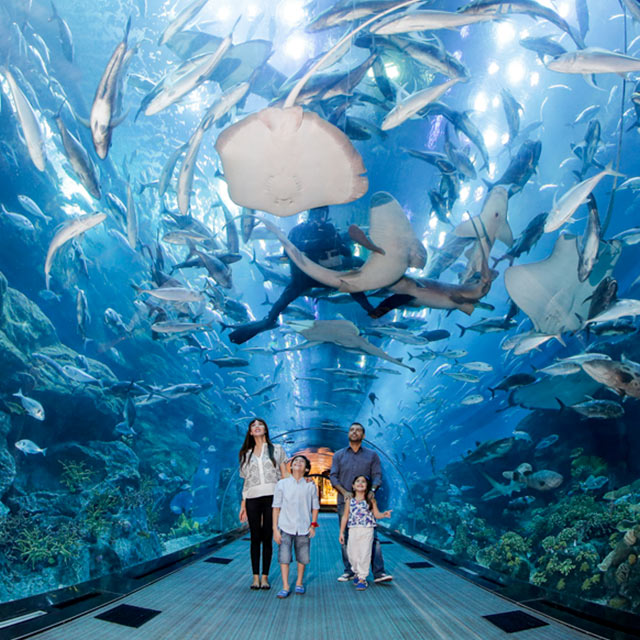 At 10 million litres, the Dubai Aquarium is one of the largest suspended aquariums in the world and houses more than 33,000 living animals – including sharks and rays – of over 485 species. The aquarium has various activities and interesting exhibits such as the Kraken's Lair where you'll get to view the ocean's most cryptic creatures, the Octopus and its Cephalopods family; a recently added King Croc exhibit and you can try diving or cage snorkelling with the sharks.
The Deep may be humble in size but its self-titled 'world's only submarium' makes it a unique addition to this list. The tanks are filled with 2.5 million litres of water and are home to over 3,500 kinds of animals, including seven species of sharks. It is funded by the general public and doubles as a marine research centre. The aquarium is also known for having a scenic glass lift through the tank and Europe's deepest viewing tunnel.

5. Georgia Aquarium, United States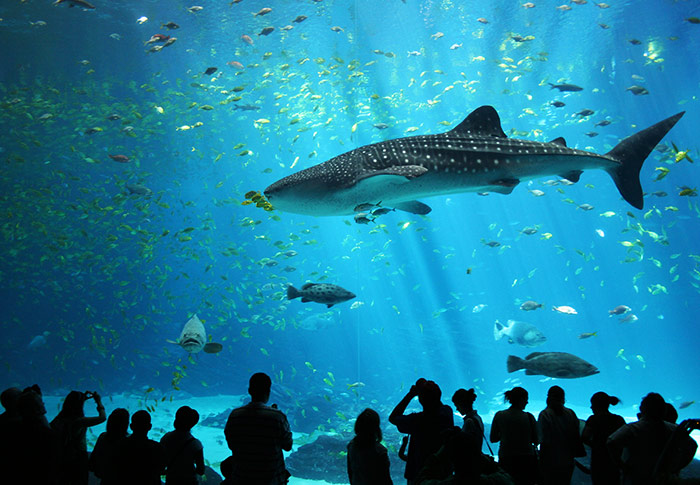 Known for its vast size, the Georgia Aquarium in Atlanta has thousands of animals of several thousand species, all residing in 10 million gallons of marine and salt water. They're the only aquarium outside of Asia to house whale sharks, which were taken from Taiwan's annual fishing kill quota (Taiwan has since banned the fishing of whale sharks), showcasing one of their first efforts at conservation.
Related stories:
Dive anywhere in the world with Google's Underwater Street View
There is a new museum being constructed in the ocean 
6 Amazing underwater hotels to visit