This MCO/lockdown has been a difficult period for many of us who are stuck at home. With the lack of human interaction, to the work-from-home arrangements, finding a hobby may be the solution to feeling more fulfilled. Picking up a new hobby to add to your daily routine always helps to make things more exciting. The next time you're working long hours, you can also take comfort in having something to look forward to when you're done. Just because we're stuck at home doesn't mean we can't have fun.
To help you with finding your new obsession, we're revealing the hobbies that have been keeping us entertained: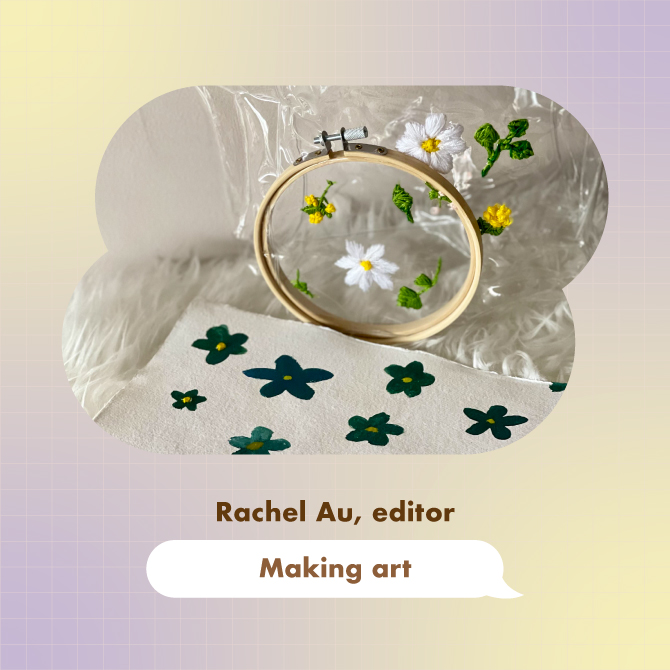 "As someone who has always aspired to live out my homebody dreams (I eat my words now), I could think of plenty of things to do at home. But one that can be considered a "hobby" is probably my attempts at art. From doodling on the iPad with the Apple Pencil to painting (it only took one virtual event with Jo Malone, especially since they sent a kit) to embroidery, I've become a "master of none".
"Embroidery, however, is pretty easy and you can find starter kits online. I bought one and decided to make life difficult by first doing it on a transparent plastic bag. Boy, my fingers hurt but it was fun. Based on the picture, you can tell it's a long journey till completion. My second WIP (still stubborn to do it the normal way) is to embroider parts of the painting I did. Easier but still tricky to put the needle through.
"If you're looking to try your hand at embroidery, look to Pinterest, YouTube and even Instagram for both inspiration and tutorials. Here's a tip I learnt from my colleague, Weng Yan (who has also picked up embroidery): Poke all the holes first before pushing the needle through with the thread."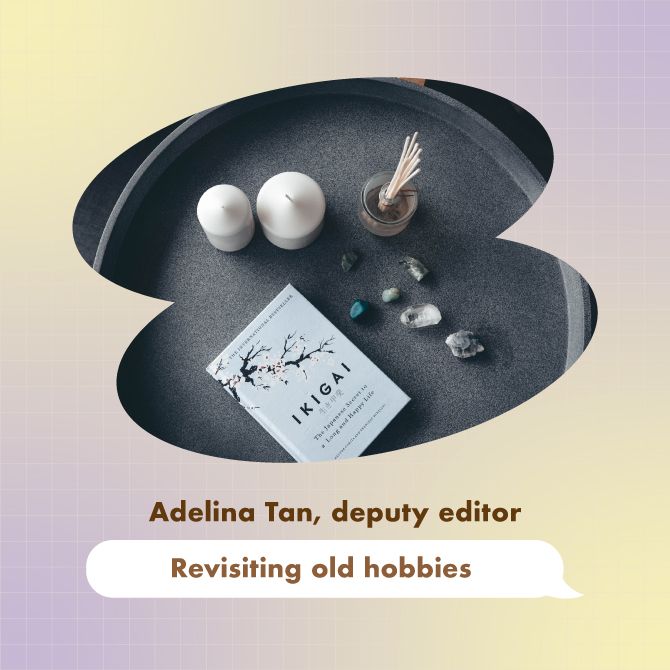 "Without plans to meet up IRL with friends and my close-knit extended family, I'm redirecting all that extra time towards rediscovering old hobbies. Nothing fancy; just things I can always count on to spark joy and keep me grounded. Rule of Wolves, Leigh Bardugo's latest Grishaverse book, got me out of a reading funk. It kept me on the edge of my seat (or bed) and "reuniting" with the characters whom I've grown fond of was a comfort, especially in these uncertain times.
"Something else I've enjoyed doing again is restringing the crystal bracelets in my collection. It's almost meditative, requiring concentration and being present—smaller beads have tiny holes that really test your patience. I've also been inspired to redesign some of them from pictures I came across on Pinterest, adding charms and different beads to create more personalised pieces. Lighting a scented candle while doing this sets the mood and leaves my room smelling amazing!"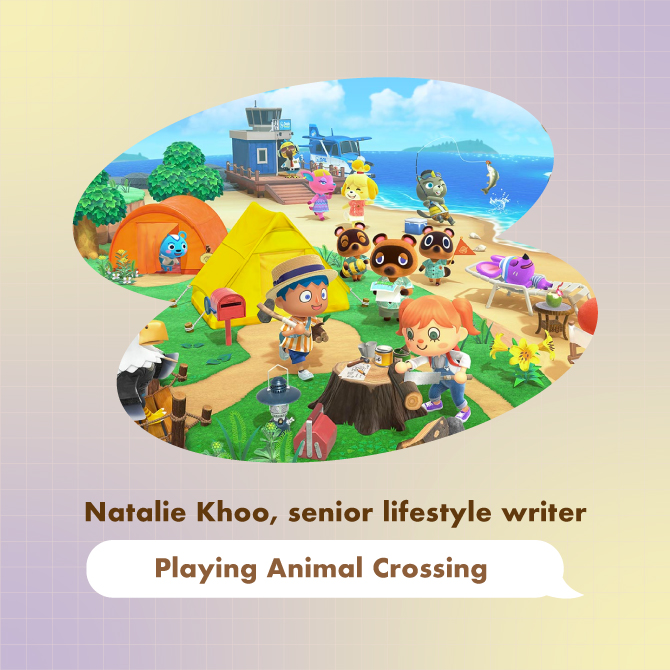 "I was late to jump on the bandwagon, but I've been hooked on Animal Crossing: New Horizons this MCO 3.0 ever since I received it as a birthday present late last year. It's a laid-back, non-competitive life simulation video game with adorable animal villagers chilling on a deserted island of my imagination. I particularly enjoy the design process—although my island is still only a fraction of how I envision it to be—but there are also cool seasonal events; fun trivia about fossils, fish and insects; plus trips to explore other islands by the ACNH community.
"There's just something about that simple island life that appeals now more than ever—no violence, no pandemic, no care in the world…simply paradise."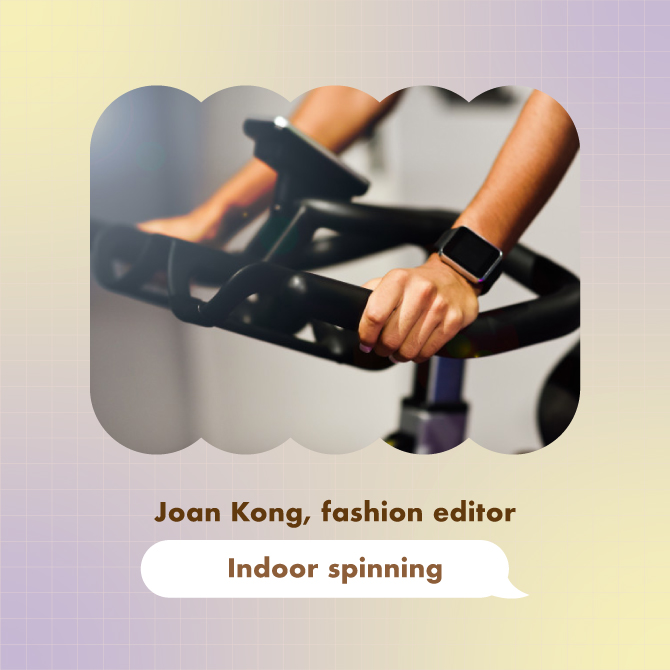 "After toying with the idea of buying a spin bike for the first 10 months of the pandemic, I took the plunge and purchased one earlier this year, and the rest is history (pun intended). ICYMI, I've been relying on workouts to help ease stress and anxiety (IYKYK), and spin classes have always been one of my favourites—a party on a bike, what's not to like? My only regret? Purchasing a cheaper alternative instead of splurging on one from a reputable brand, as you really get what you pay for."
"While I'm a little apprehensive to call this my hobby, I have been spending a lot of my MCO downtime playing mobile games— particularly, escape room games. My go-to at the moment is the episodic Cube Escape series by Rusty Lake (which is available on the Apple App Store and Google Play for free!). It's a classic point-and-click puzzle game, but what I like about it so much is the gratuitously eerie (and sometimes violent) visuals as well as challenging yet fun gameplay. The themes and storylines are often dark and enthralling while most of the puzzles require some critical thinking and observational skills—making it the perfect time killer for me. My personal favourite episode is "Theatre" but for first-timers, I'd recommend the "Samsara Room" episode, only because it's the least disturbing of the series.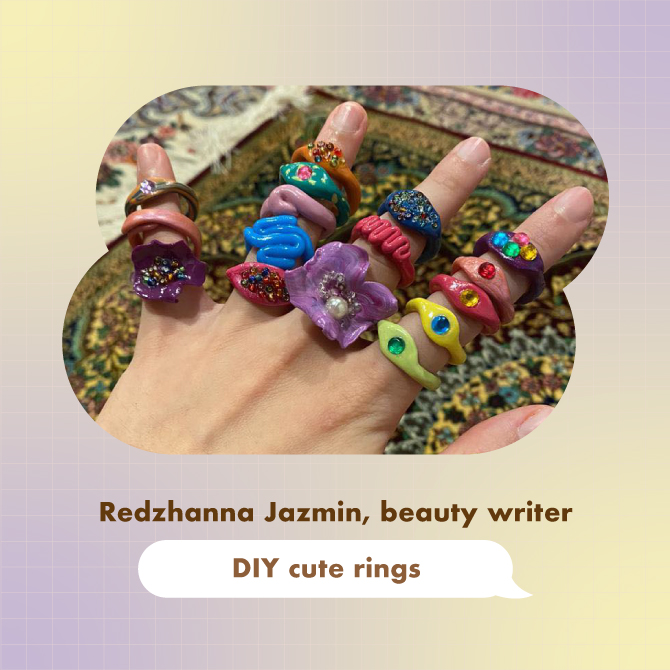 "If there's one thing I'm grateful for in this pandemic era, it's working from home. No more jam-ridden commutes to work, no more cold office lunches, and—best of all—so much extra time for me to spend with my loved ones. That said, it's kind of a double-edged sword: Unfortunately, after over a year of me working from home and yet another full MCO put into effect, my loved ones have apparently gotten very tired of me.
"As a result, my schedule has opened right up. Now, while gaming does fill my weekends, my weekday evenings are pretty much wide open—it's hard to coordinate playtime when half the group is scattered across the world and/or working at odd hours. So, my latest hobby is making ugly-cute polymer clay rings, inspired by the chunky creations of La Manso and Blobb. For the record: It's not technically a new hobby of mine, but it has quickly become a full-blown obsession thanks to MCO 3.0 and I now physically cannot stop making them. You see, unlike my grandmother, my art supplies have absolutely nothing else going on, so it's pretty much craft time all eve, every week."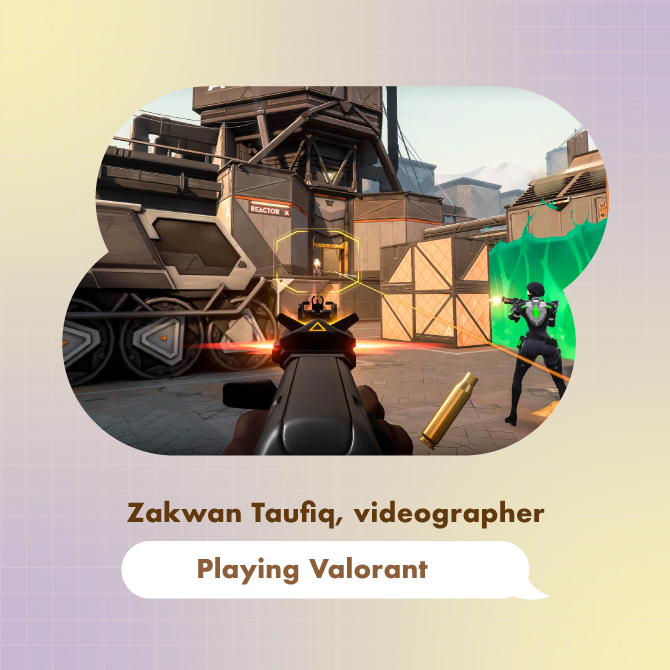 "I am an avid gamer who prefers FPS (First-Person Shooter) games. I enjoy playing CSGO, Rainbow Six Siege, Apex Legends and many others in this genre, with the exception being battle royale games like Fortnite. During MCO 1.0, I kept playing Rainbow Six with my friends and this continued until around last November when Valorant came out.
"It's a free game you can download from the internet. I tried it at first in "solo queue" (a term referring to when a player queues for a game in a ranked online game). What I love about Valorant is how each agent (the character you choose) has different skills/powers. You can also buy weapon skin sets for different animations whenever you kill another character in the game."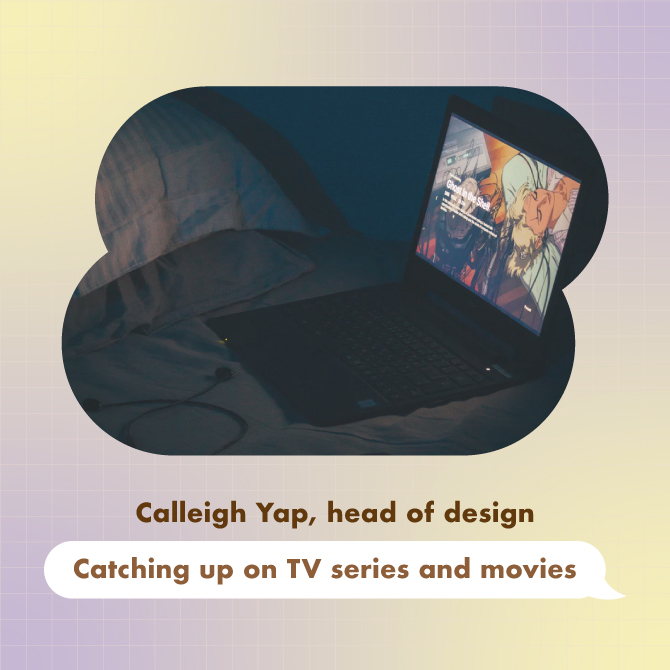 "Sadly, I did not pick up any interesting hobbies during the MCO but I managed to spend more "me time" by getting comfy in bed and watching all the TV series and movies that I'd missed out! Netflix has been such a lifesaver. Whenever I feel the need to block out all the horrible things happening in the world, I turn to comedies like Brooklyn 99, Modern Family, Friends and yes, even the Twilight Saga (it's a form of comedy to me).
"I've been catching up on reality shows too such as Love Island (Team Australia!), Hell's Kitchen, RuPaul's Drag Race, The Circle and more! HBO Go is an investment that I recently signed up for and I did not regret it at all. It has lots of amazing series that everyone should watch (The Handmaid's Tale, Euphoria, Westworld and of course, Game of Thrones). When l have no idea what to watch next, I turn to BURO's TV Guide for awesome recommendations!"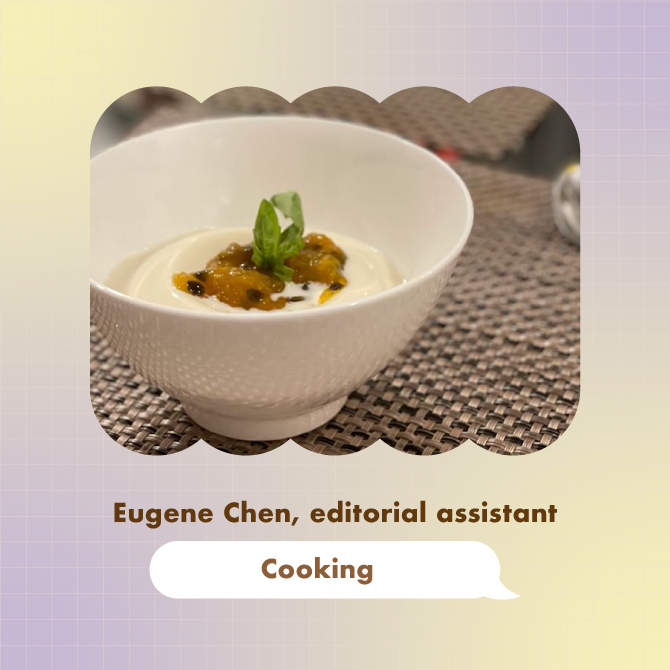 "Ever since the start of MCO, I haven't been able to go out and explore new restaurants, so I've started to spend more time cooking over the weekends, to save money and develop my chef skills. I've always had an interest in the culinary arts—watching Michelin star chefs construct complex dishes fascinated me. Over the Mother's Day weekend, I got to cook a three-course meal consisting of Caprese with Balsamic Reduction, Rigatoni Alla Vodka, and a Panna Cotta with Mango Passionfruit Compote. I'll definitely be exploring more recipes and attempt creating my own until MCO gets lifted."
Find more Team BURO Answers here.
| | |
| --- | --- |
| SHARE THE STORY | |
| Explore More | |