Beauty
11 Made-in-Malaysia scented candle brands that will transform your home to a slice of heaven
Malaysian-made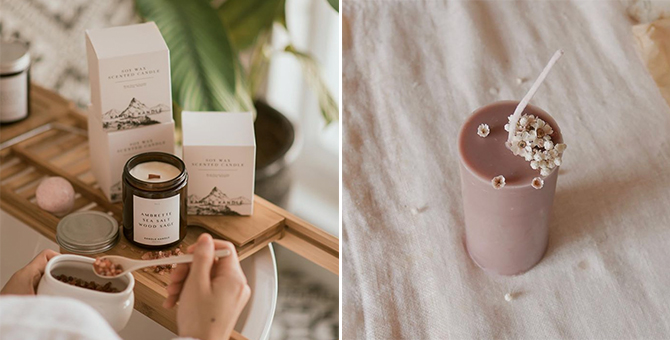 Upgrade your space with these made-in-Malaysia scented candles that are sure to spark joy in your self-care routine.
Looking to transform your home into a calming slice of heaven? Consider these locally-made scented candles that offer more than just an indulgent scent. From cosy additions that could very well give you a forest therapy session from home to birthday cake candles (literally) that will make the perfect gifts, bookmark these made-in-Malaysia candle brands for your next haul:
3Rituals
View this post on Instagram
Founded in 2020 by interior designer Datin Catherine Lai, 3Rituals is a brand that seeks to balance art and design with the calm serenity of nature's best offerings. This brand's scented soy-wax candles aren't your run-of-the-mill home fragrance lineup—each product is made using an ethically-sourced crystal, gemstone or other natural minerals, sourced from Brazil, Madagascar and South Africa. In short, it's an indulgent treat for your space and your senses alike.
PS: 3Rituals also offers reed diffusers and home accessories to decorate your space with!
Shop 3Rituals here.
View this post on Instagram
Self Supply is a two-man operation that specialises in handmade candles, candle accessories and tile furniture. While their selection of soy wax-scented candles is something to behold (you should get a whiff of their jasmine, lemongrass and white musk candles!), the real highlight is their candy-coloured range of artisanal candles. From joyful twists to cheeky butts and beyond, this local brand's wares are guaranteed to spark joy.
Available online here.
Kandle Kandle
View this post on Instagram
Penang-based candle and essential oil brand Kandle Kandle offers nature-soaked scents that may pique your olfactory senses if you're a fan of woodsy, earthy notes. The hand-poured soy wax candles come in an amalgamation of scents (not just one scent per candle), with bestsellers including No. 1 (pear, freesia and patchouli) and No. 2 (ambrette, sea salt and wood sage) that are often out-of-stock.
Available online here, Sixth Sense and Flint & Steel Borneo
Nudecco
View this post on Instagram
Another Penang-based brand on our radar is Nudecco, which offers 100 per cent vegan and natural soy wax candles that are infused with scented oil. All products are free of paraffin and harmful chemicals, and you can also find home decor knick-knacks from the brand to spruce up your abode. Bestselling candles include those in quaint vintage mugs (perfect to be repurposed after your candles burn out), picture-perfect pyramid ones and the cutest calico shell variations.
Available online here
View this post on Instagram
This list won't be replete without bespoke and handcrafted candle maker Lilin+Co, founded by two partners in 2016. All candles are made of 100 per cent premium soy wax and hand-poured in small batches, so you can trust that each is made with TLC. If you're new to the brand, score a gift set of three to sample a trio of scents.
Available online here
View this post on Instagram
Borneo Candle Studio was founded in 2018 by a Malaysian and Bruneian duo who sought to provide eco-friendly, vegan and non-toxic candles at accessible prices. Find a variety of unique scents that are inspired by its name, from Borneo Oudh (agarwood, elemi and leather) to Santan Cabin (coconut, vanilla and musk); along with customisable options for your personalised scent.
Available online here.
View this post on Instagram
Down with a case of wanderlust? Light a candle or two from Fluffy and Co. to lull you away on an olfactory escape. All scented candles are handcrafted and made of soy, and our personal favourite is the Wanderer collection. The brand also takes bulk orders and customised candles for special occasions—perfect for wedding favours!
Available online on Shopee
View this post on Instagram
Looking for candles that aren't encased in the usual amber/glass jars? Check out the Korean-inspired label Candle Lab + Co. for 100 per cent natural soy wax candles that are almost too delectable to burn. You'll find candles in the most creative designs (from cheese blocks to macarons), and even DIY kits and birthday "cakes". There's just one catch: These aren't edible, sadly!
Order through WhatsApp.
View this post on Instagram
Local candle brand Håndlavet (which literally translates to "handmade" in Danish) specialises in—you guessed it—handmade soy candles that come with natural wooden wicks. Options are aplenty with classic favourites (lavender, chamomile, lemongrass etc) and nuanced picks (bergamot and hazakura, dried fruits and buchu leaves) for those who prefer unconventional scents.
Available online here
View this post on Instagram
Candles that don't just smell good, but look so stunning you can't bear to light them up? Soap and candle studio Pause is checking all the boxes on our list. The brand's soy pillar candles are decorated with flowers and spices—pretty enough to be used as decorative pieces, and you can also opt for their beeswax candles in bell jars for special occasions.
Available online here.
View this post on Instagram
Johor Bahru-based Eye See You Studio is known for its extraordinary candles (made of soy wax and beeswax) that can easily be passed off as works of art, including Mariko Kusumoto-inspired ones and unique candles that resemble crystal clusters. Apart from scented candles, the brand also carries its signature essential oil blend, roll-on scents and reed diffusers.
Available online here.
Anbo
View this post on Instagram
Each Anbo candle is handcrafted in KL using only 100 per cent natural beeswax, wood wicks, as well as premium phthalate-free fragrance oils and essential oils. The brand even makes the refillable vessels for its Concrete Series by hand. Coffee lovers should definitely check out the candle that resembles an iced latte, right down to the marbled milk!
Available online here.
Don't miss out on our favourite homegrown all-natural beauty brands here.
| | |
| --- | --- |
| SHARE THE STORY | |
| Explore More | |