Lifestyle
Raya 2022: The ultimate gift guide for kuih raya, hampers, and lifestyle gifts
The season of giving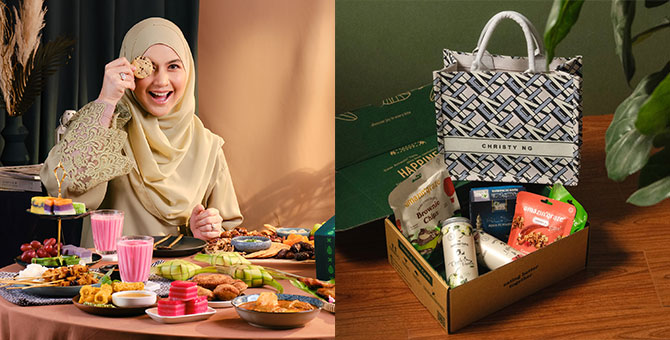 Looking for gifts to bless your loved ones this Hari Raya 2022? Shop our gift guide of unique hampers, kuih raya, festive snacks, and more lifestyle gift ideas below
It's always more blessed to give than receive, especially so during the Ramadan and Raya season. Be it to show your love and appreciation for your friends and family or to share a portion of your blessings with others, gifting is synonymous with the holy month and the festivities that follow immediately after.
In case you're looking for gift ideas, take a gander at our selection of kuih raya, festive snacks, gift sets, and lifestyle hampers for your gifting pleasure this Ramadan and Raya 2022.
Signature Market X Lisa Surihani Suri Ramadan Platter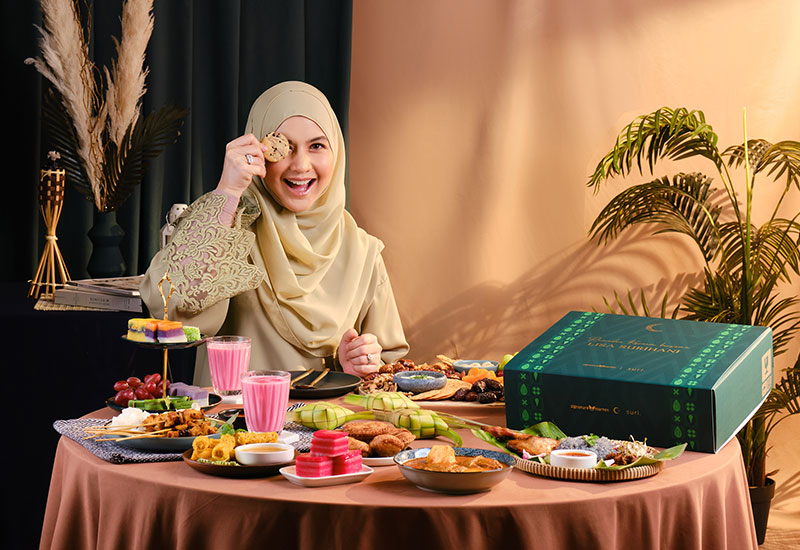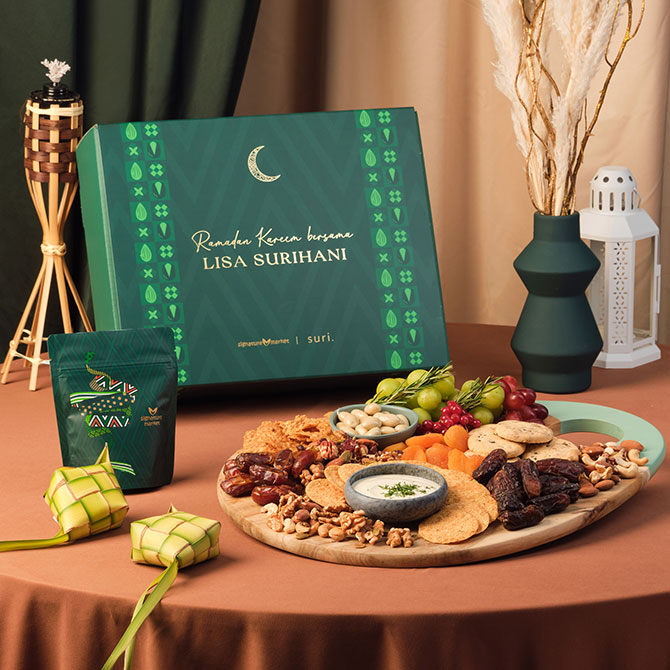 Signature Market has teamed up with renowned Malaysian actress Lisa Surihani to launch an exclusive gift box filled with festive snacks for the holy month of fasting. Called the Suri Ramadan Platter (RM109), each gift box contains a variety of the brand's healthy bites that have been carefully selected by the actress herself, including Tempeh Bites, Tangy Tomato Chickpea & Lentil Chips, Omega-3 Trail Mix, Mini Sun Dried Apricot, and more. The platter is housed in a deep green box with understated checkered patterns that symbolise 'luxury in simplicity', complete with a greeting card signed by Lisa Surihani.
Sunway Resort Jemput Makan Gift Box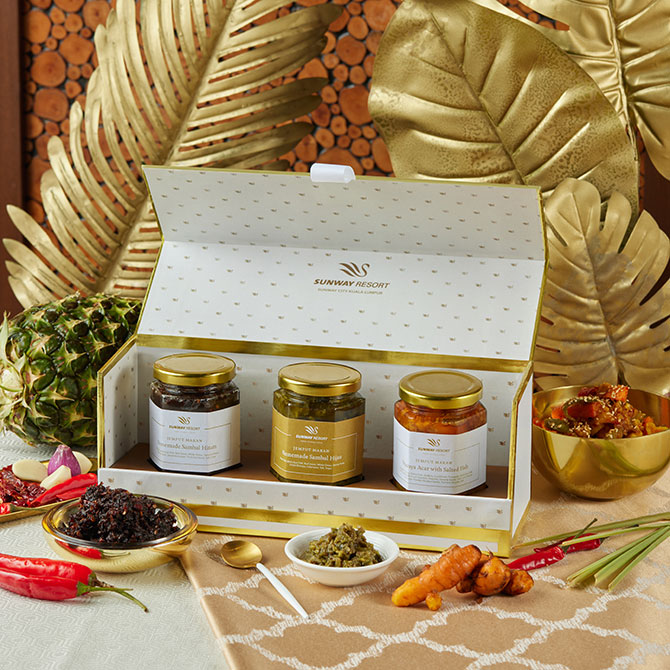 If you enjoy the rich flavours of Sunway Resort's Jemput Makan buffet, you'll want to order this gift set to bring home and/or share with your loved ones. Each set comes packed in bespoke white and gold boxes with a personalised greeting card and bag, consisting of a jar of Nyonya Acar with Salted Fish, Homemade Sambal Hijau, and Homemade Sambal Hitam prepared based on time-honoured recipes. These condiments are made to enhance any buka puasa meal or Raya snack enjoyed throughout the festive season.
Price: RM108 nett per box of three
For more information or to order, call +603 7495 2009, WhatsApp +6019 381 5568 or email [email protected]sunwayhotels.com.
Godiva Ramadhan & Hari Raya 2022 collection
View this post on Instagram
This festive season, Godiva has curated a special catalogue of Belgian chocolate treats to complement your iftar, sahur, and gatherings. The extensive collection includes chocolate gift boxes, luxury chocolate biscuits, and gourmet gift hampers that are ideal for gifting to large groups and parties. Browse the full collection here.
For orders and enquiries, email [email protected]valiram.com or WhatsApp +6018 254 0847 (Klang Valley) / +60 18 327 6357 (Northern Region).
Elevete Patisserie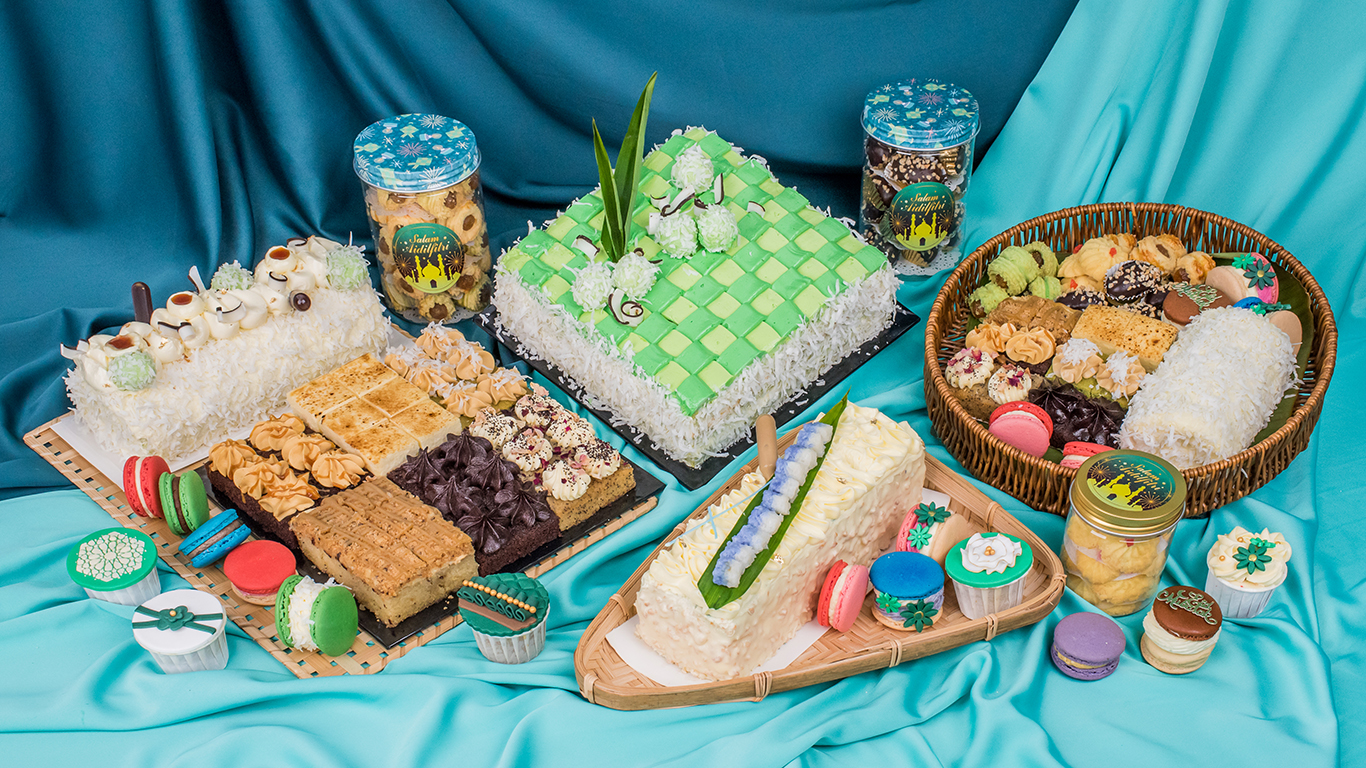 Elevete Patisserie's seasonal AidilFitri Fatcarons come in all-new flavours of sago gula Melaka, pulut tai tai, and sirap bandung. There's also a mouthwatering medley of festive cakes with a local twist, Raya cookies, cake bites, and sharing plates—for gifting and to sweeten up your own dessert table. Check out the ketupat-inspired weave, and coconut gula Melaka chocolate truffle in the shape of ondeh-ondeh, on the pandan chiffon sponge cake that's sure to go down as a 'Sweet Memory'.
Kuih.Co
View this post on Instagram
Did you really celebrate Raya if you didn't have kuih? Whether you're hosting a corporate event, catering for a family gathering, or making a simple gesture for someone special this Raya, Kuih.Co can customise a kuih gift set for you. You can also choose from the curated kuih platters and gift boxes, which include a rainbow of traditional kuih such as Kuih Talam, Seri Muka, Bingka Ubi, and more.
READ: 9 Best places to order your favourite Malay and Nyonya kuih in the Klang Valley
BloomThis Raya 2022 collection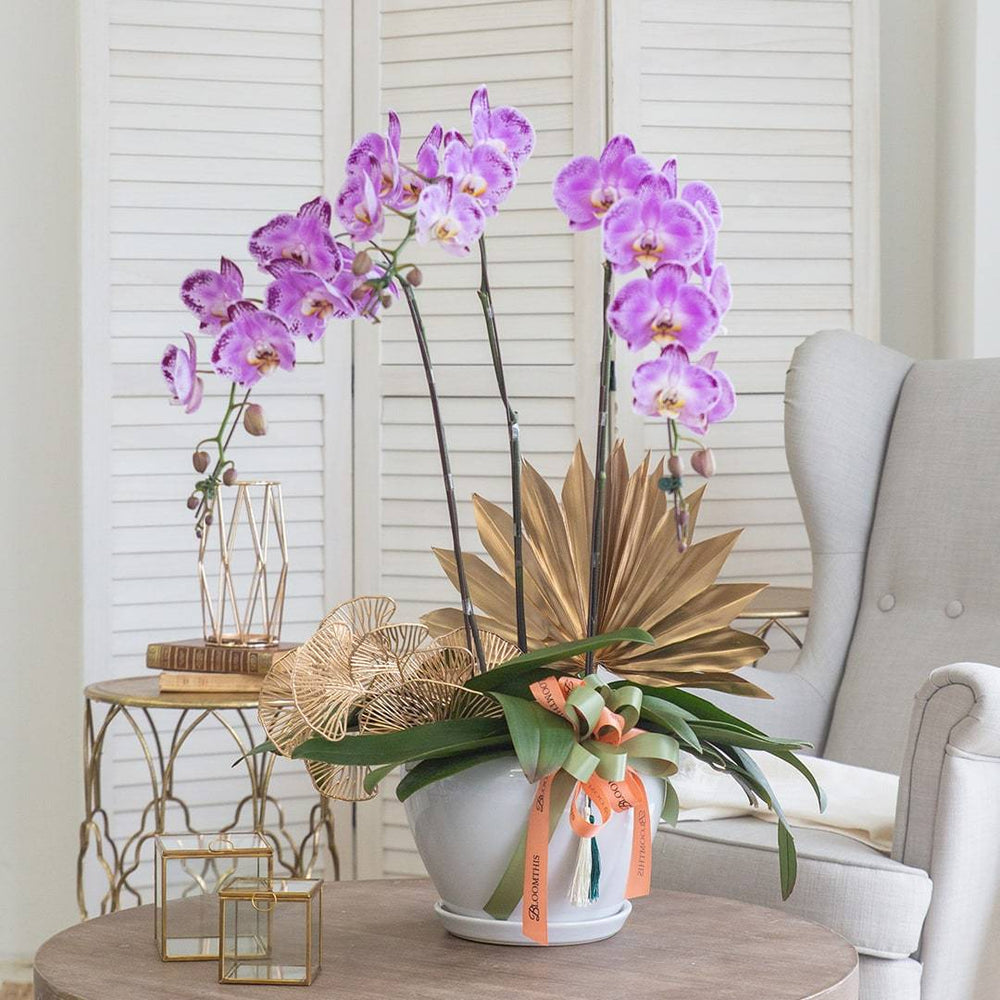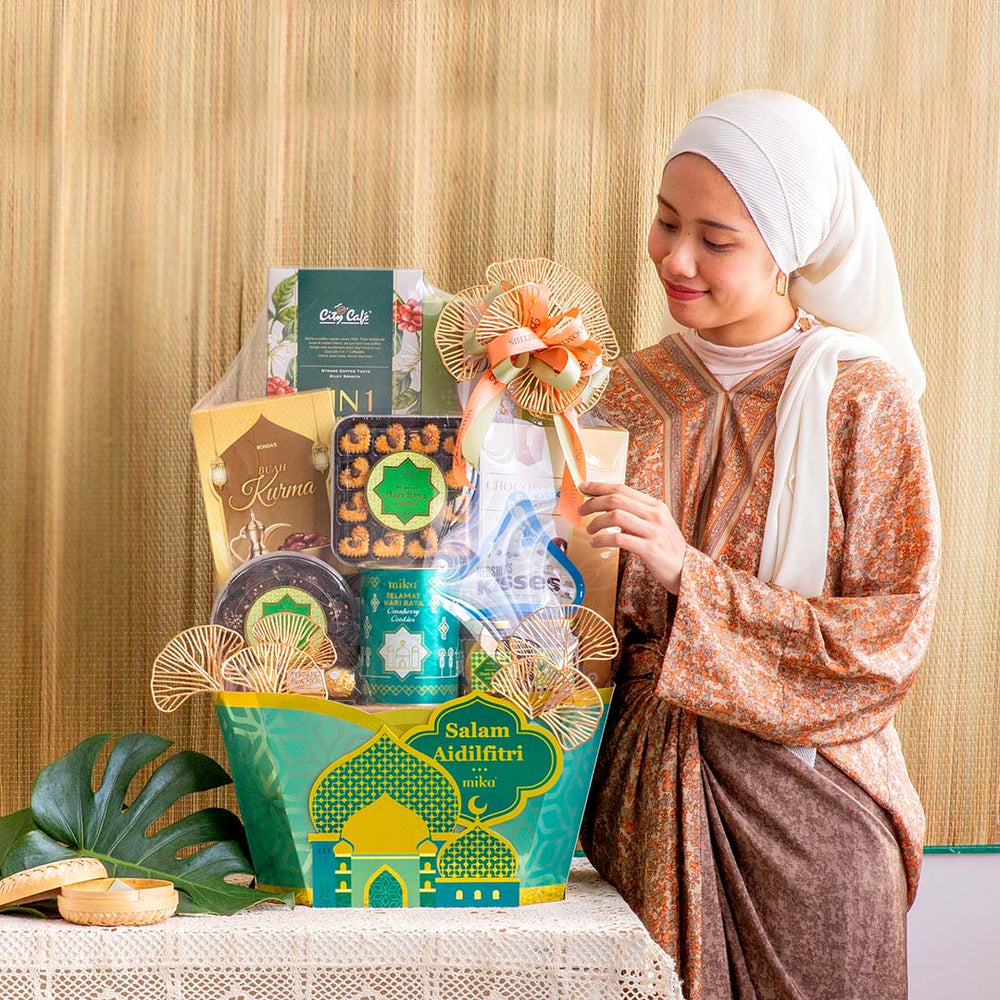 Brighten a loved one's day with some fresh orchid arrangements from BloomThis, designed specially for the Raya season. You can also add on chocolates, desserts, and snacks or choose from a plethora of carefully packaged Raya gift sets and hampers housing delicious festive treats and all-time-favourite snacks.
TWG Tea Ramadhan & Hari Raya 2022 collection
View this post on Instagram
TWG Tea has a wide array of gift hampers and gourmet sets that are sure to please tea enthusiasts. There's a range of classic flavours such as the refreshing Morrocan Mint Tea or the spicy Arabian Night-esque Alexandria Tea that will make a perfect pairing with iftar, sahur, or Raya feasts. Alternatively, take your pick from an assortment of Arabic and Mediterranean loose leaf teas, beautifully crafted tea accessories, or luxurious hampers to gift those with a taste for finer things. Browse the full collection here.
For orders and enquiries, email [email protected]valiram.com +6018 262 0837 (Klang Valley) / +6018 327 6057 (Northern Region).
Christy Ng Raya Bundle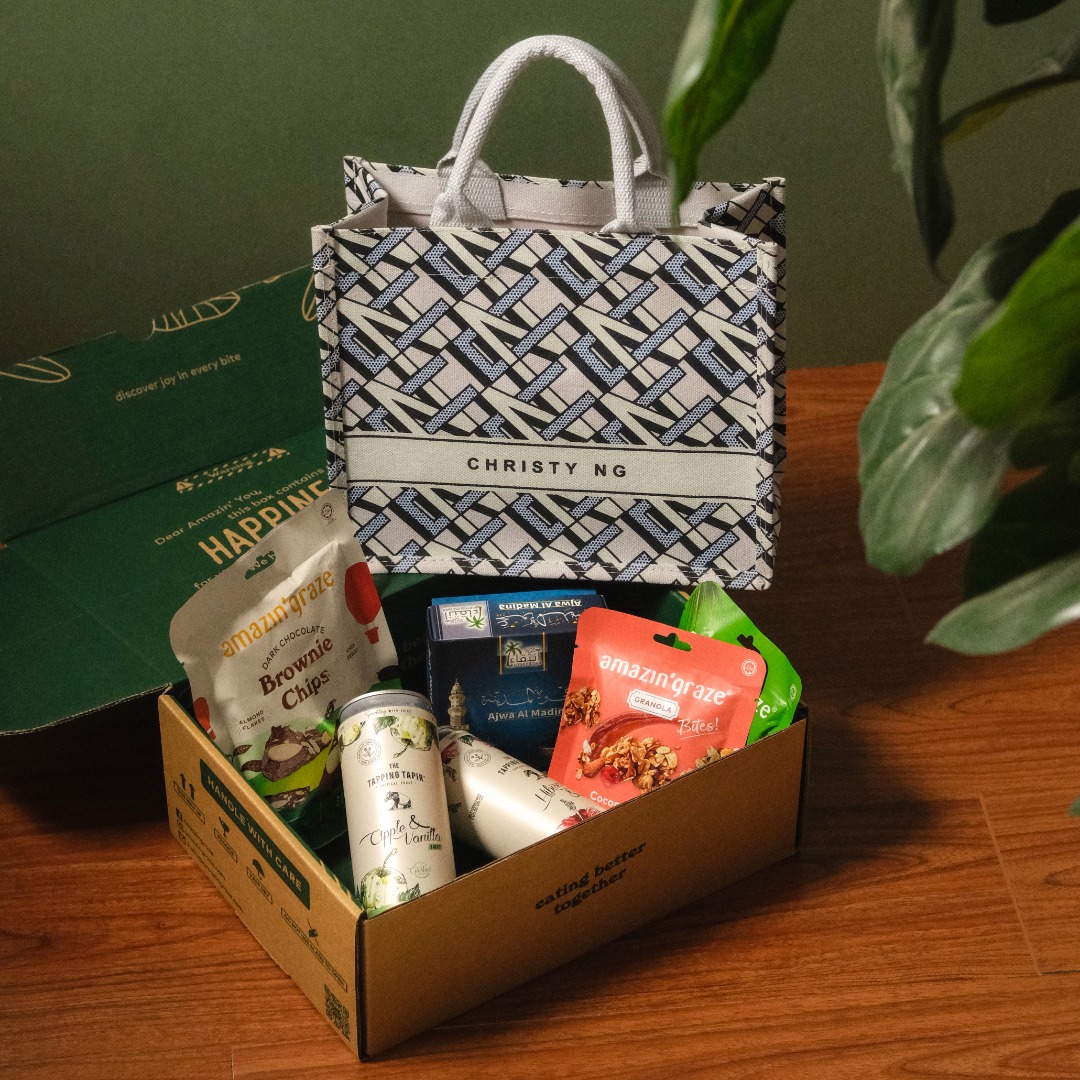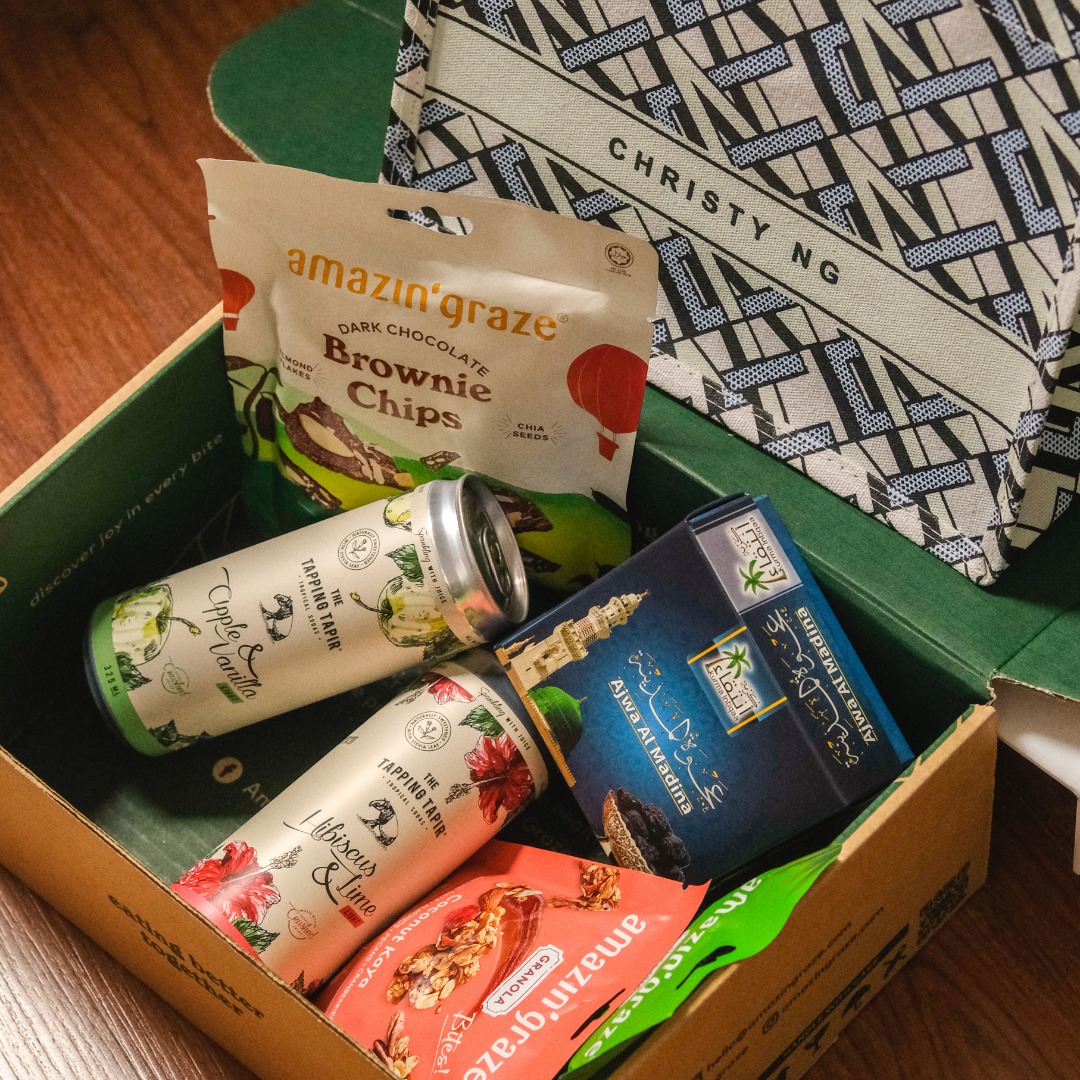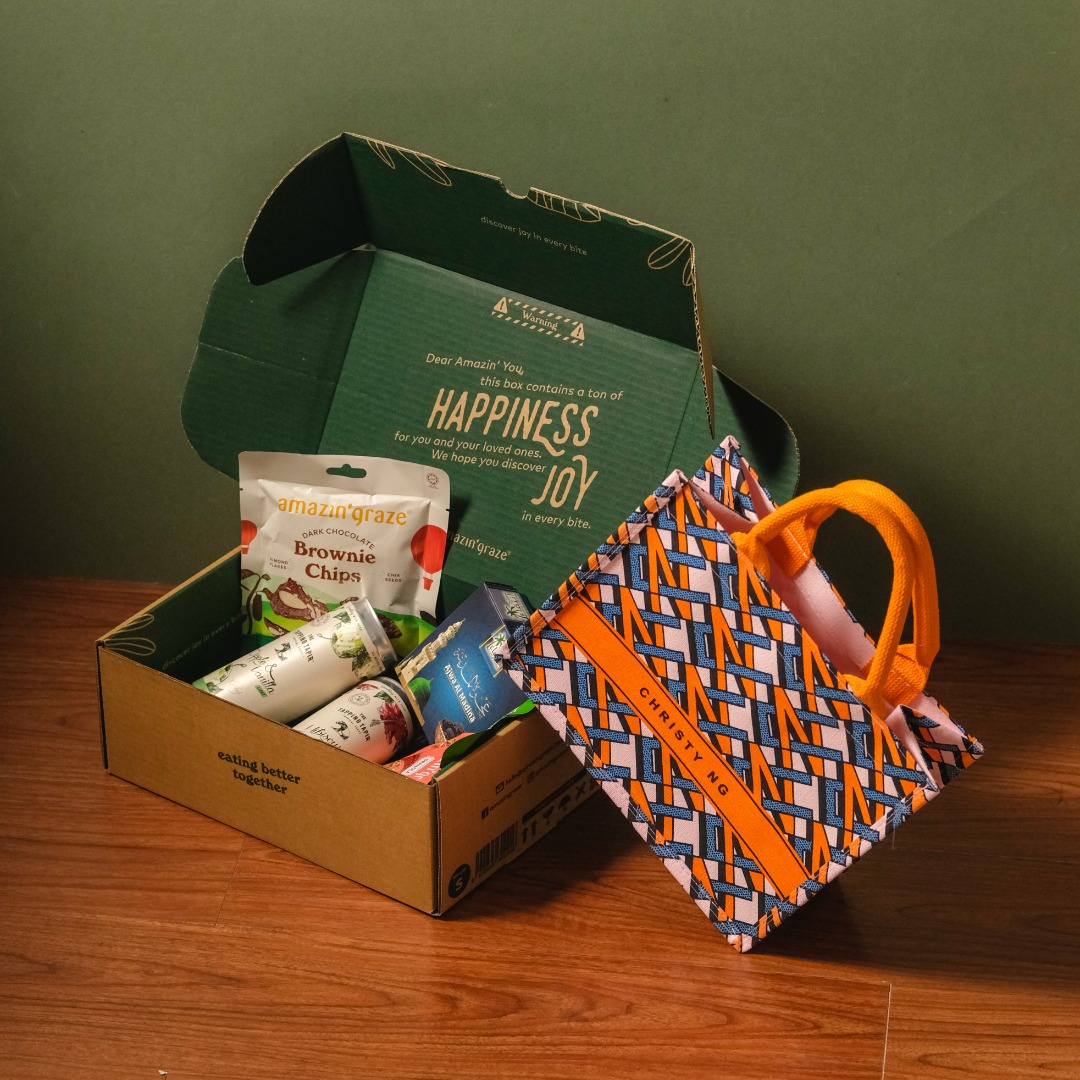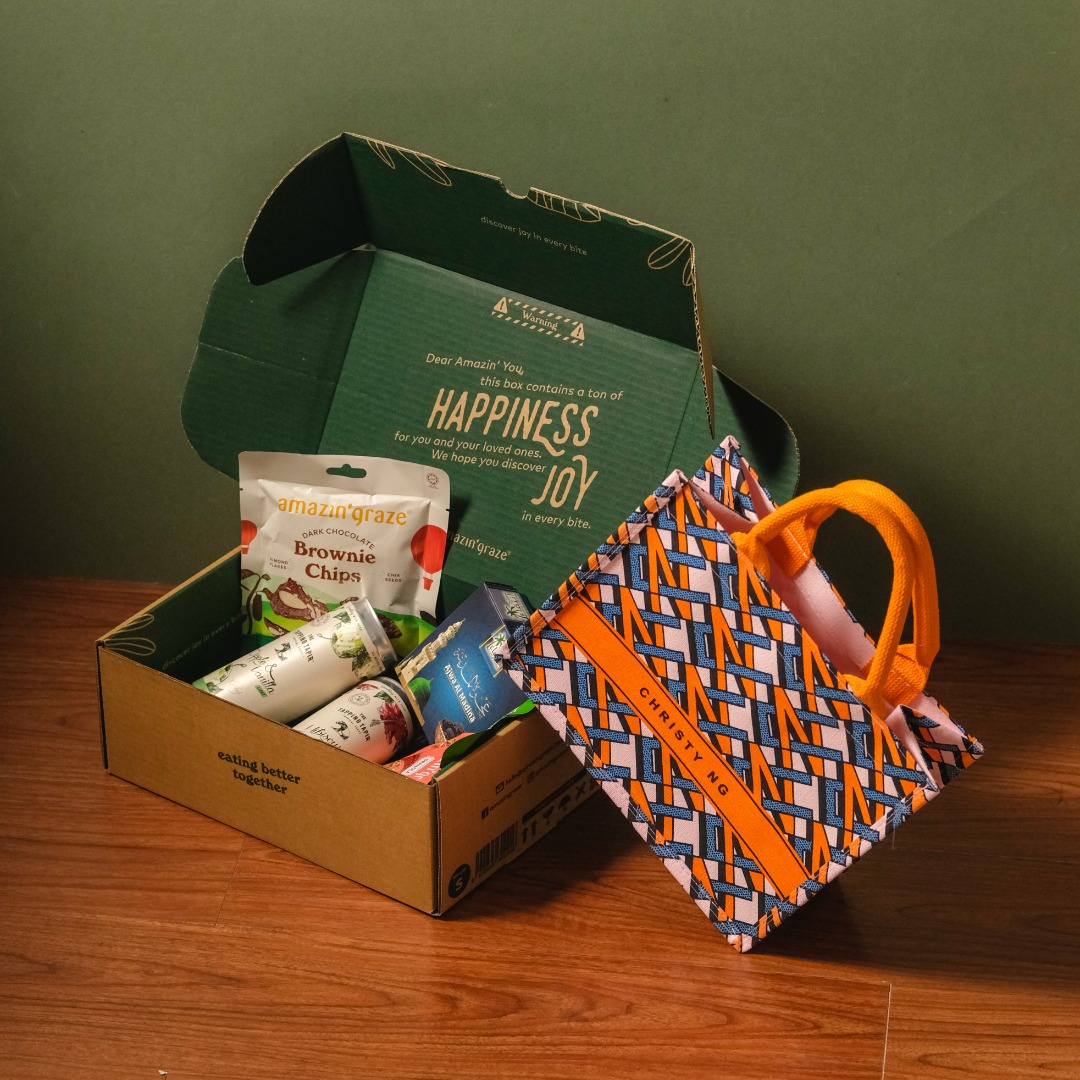 To celebrate Raya this year, local fashion designer Christy Ng has partnered with a few F&B brands to present a collection of Raya Gift Sets. Each set features the season's new Fillmore canvas tote along with a variety of snacks such as Amazin' Graze Minis and Brownie Chips, Tapping Tapir beverages, and premium dates. The bag is available in a splash of vibrant and timeless hues for your gift recipient to match their Raya outfit!
dUCk x Baskin Robbins collection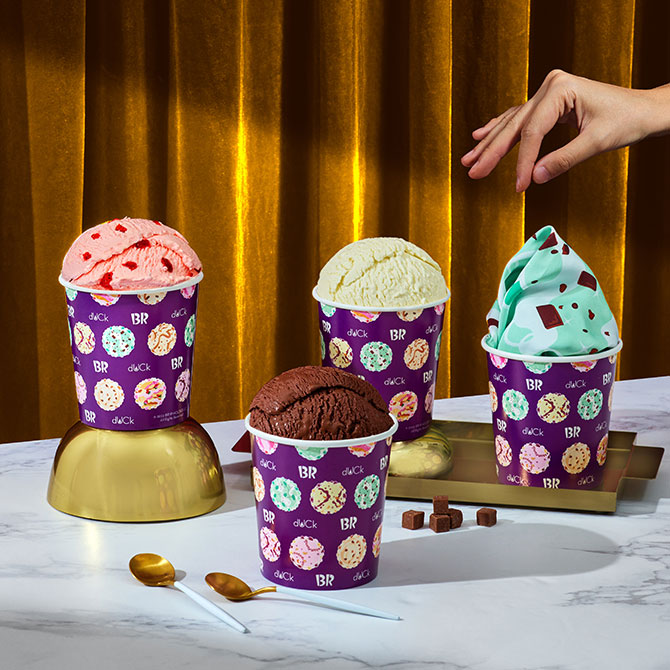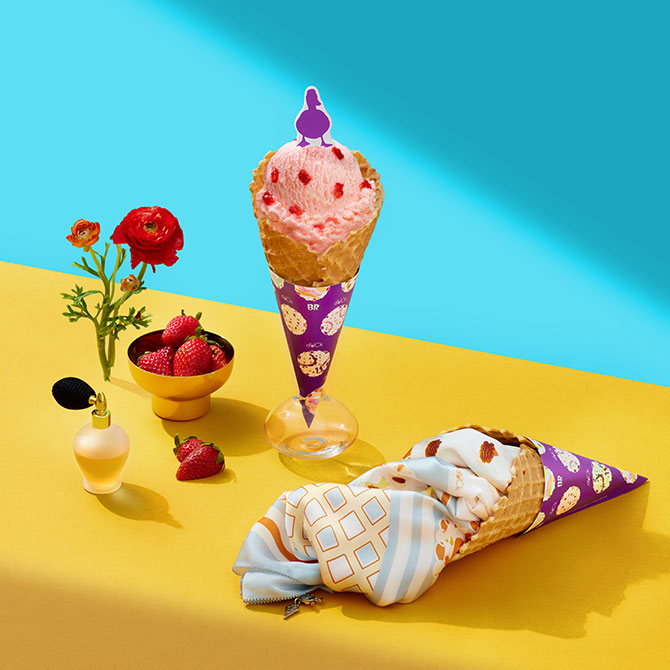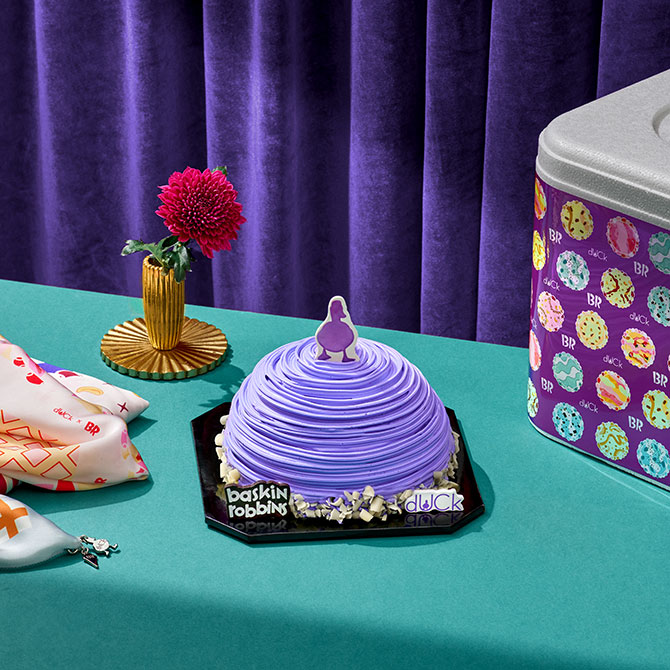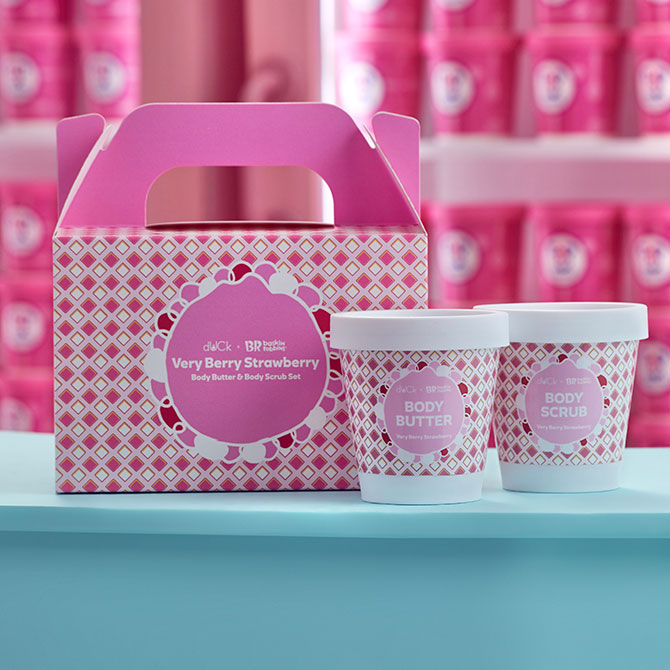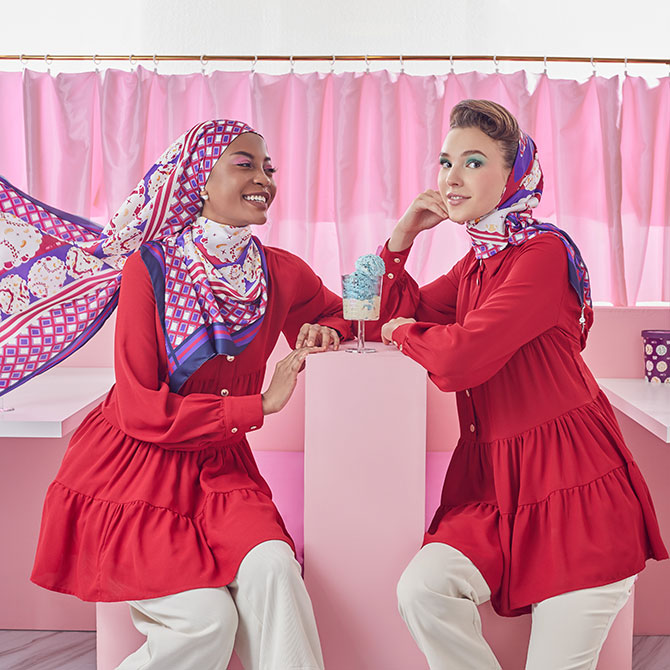 Homegrown modest fashion label dUCk has launched its first collaboration of the year with well-loved ice-cream brand Baskin-Robbins®, just in time for the Raya season! The collection presents a series of Baskin-Robbins® ice cream and dessert offerings inspired by dUCk, alongside a limited-edition series of chic and modest dUCk silk scarves and ready-to-wear designs featuring print motifs inspired by the ice-cream brand. There's also a limited-edition Body Butter & Body Scrub Set created based on popular Baskin-Robbins® ice cream flavours. In addition, customers who purchase any four Pint or Quarts of Baskin-Robbins® ice cream will receive a limited-edition Baskin-Robbins® dUCk cooler bag, while stocks last.
The collection will be available at dUCk stores or Baskin-Robbins®️ outlets from 9 April 2022 until 12 May 2022. For more information about the ice cream offerings, click here. 
EQ Premium Nipah Collection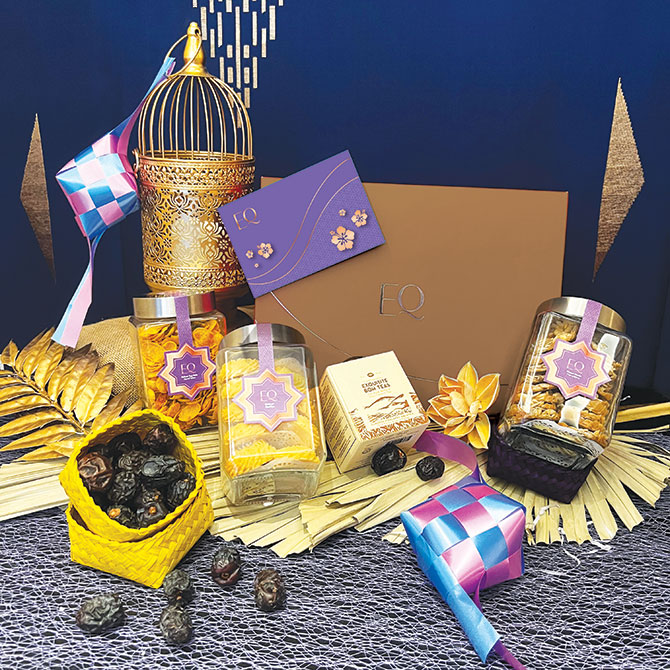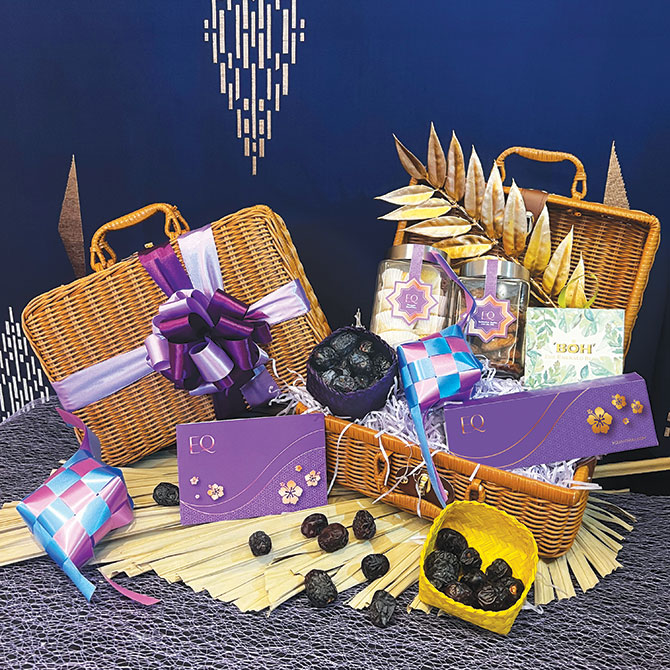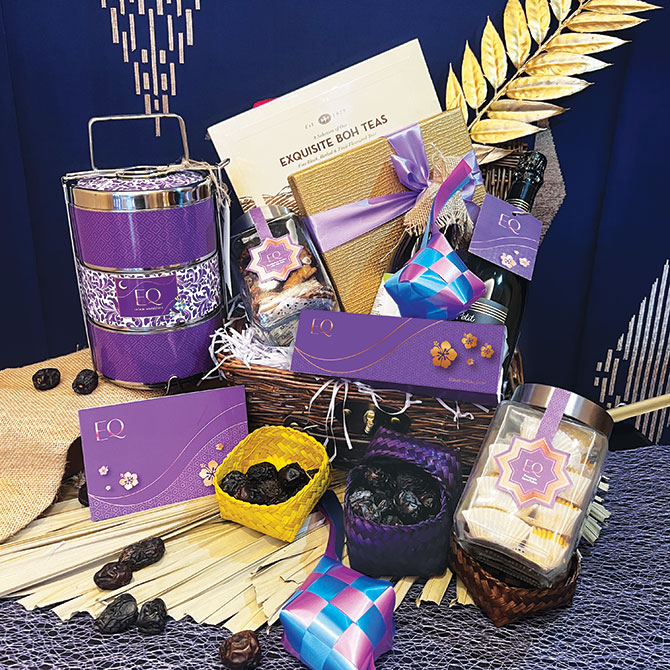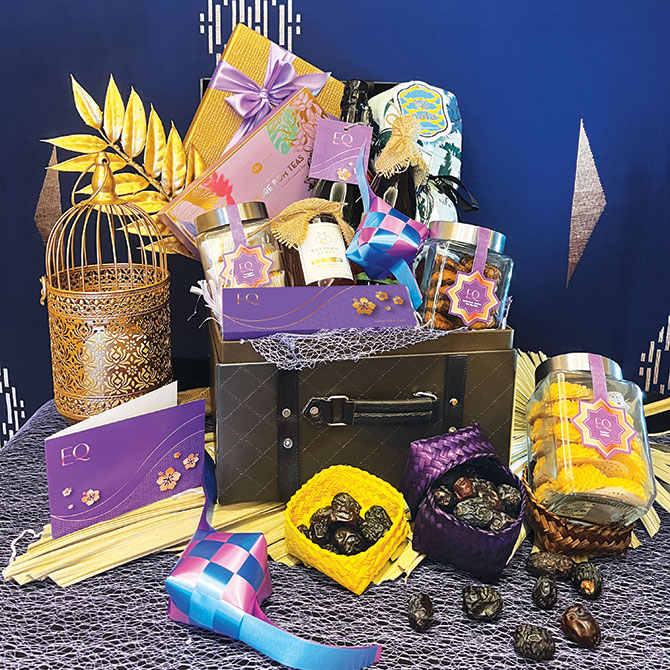 EQ has curated four hampers featuring a variety of edible treats and goodies, each arriving with the hotel's limited-edition sampul Raya (festive packets) for this season of gifting. The four hampers include Kenanga Lestari (RM288+), Rindu Seroja (RM388+), Seri Tanjung (RM688+), and Kasih Cempaka (RM888+), which are carefully packaged with goodies such as house-made Raya cookies, dodol asli, and tea.
For more information or to order, email [email protected]kul.equatorial.com, WhatsApp +60122789239 or visit TableApp. 
Cocova Raya 2022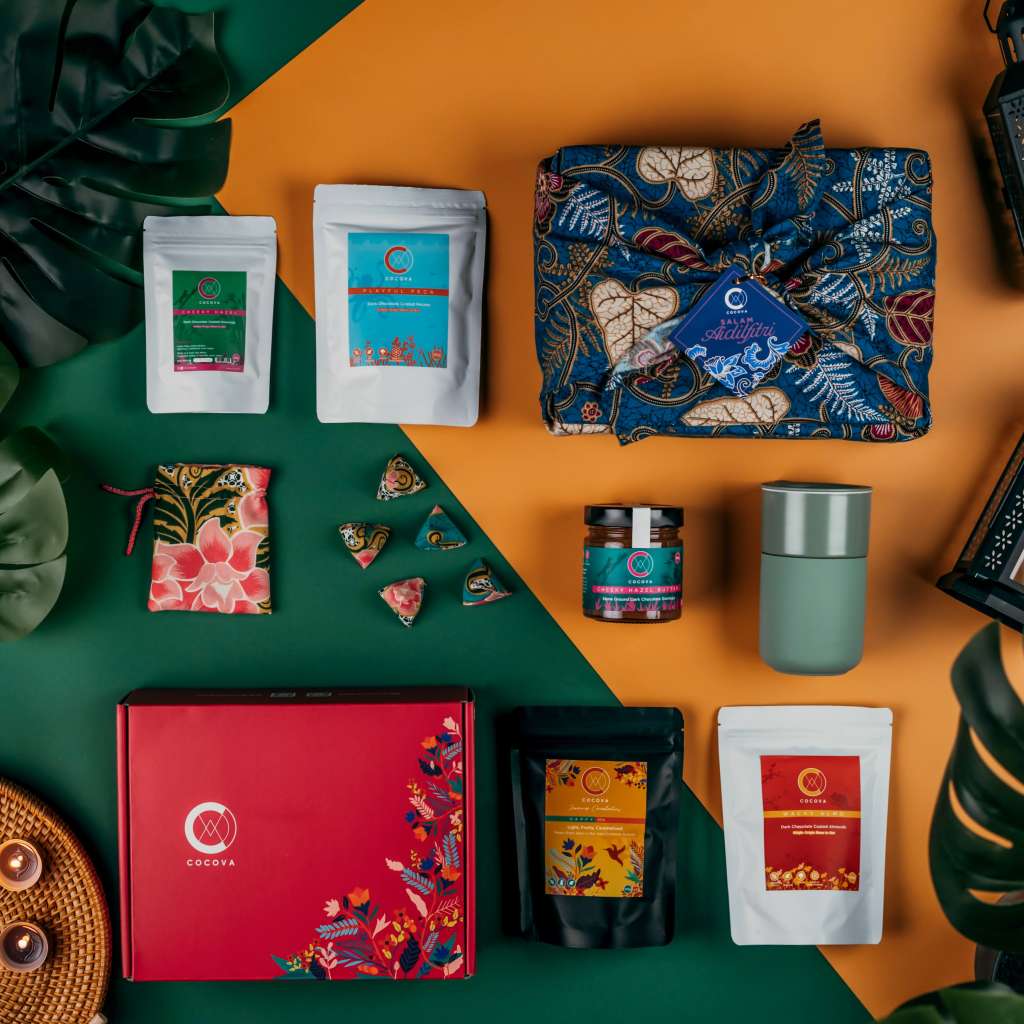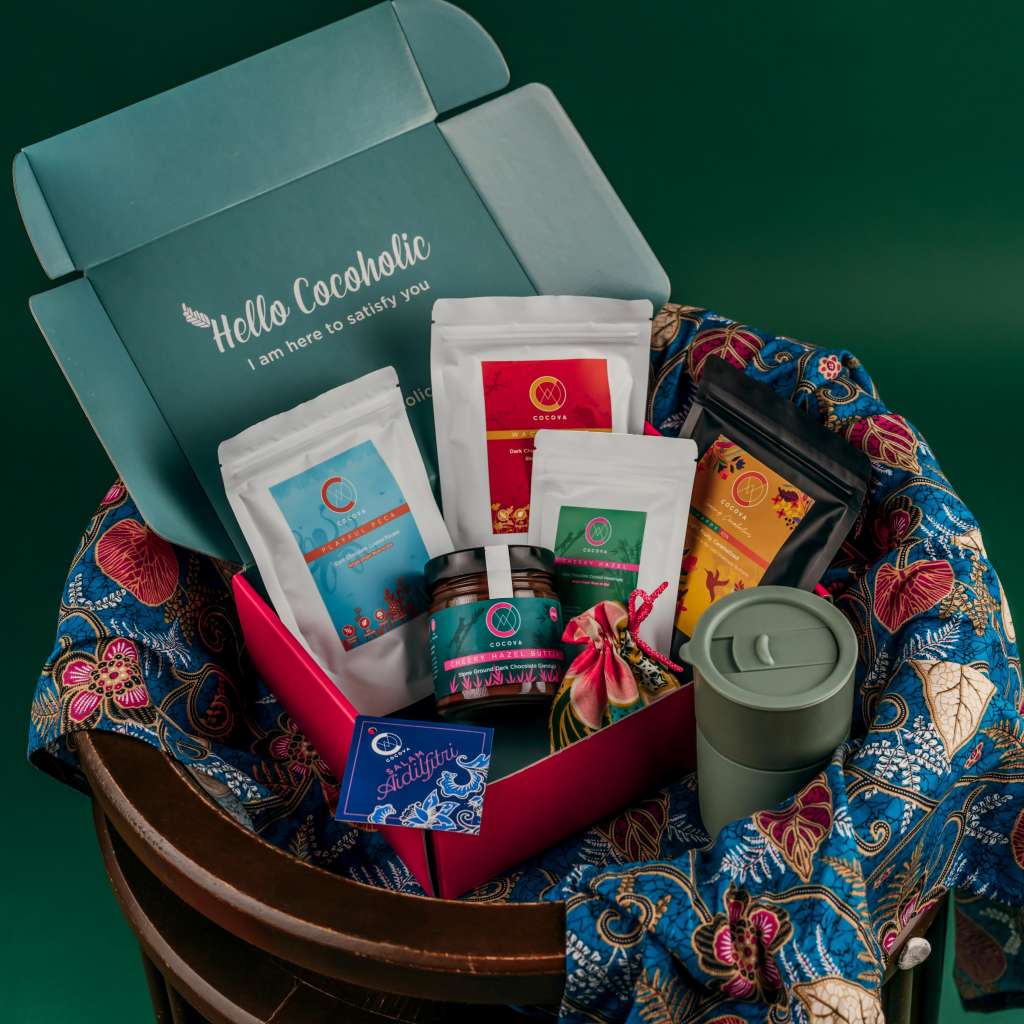 Cocova is celebrating Raya 2022 with a cause, featuring gift sets that come wrapped in a beautiful batik fabric table runner that's handsewn by the B40 women, single mothers, and OKU group from Komuniti Tukang Jahit. The collection focuses on sustainability and practicality, with each set consisting of the brand's artisanal chocolates and a personalised mug. For a nostalgic gift, opt for the Ikhlas Gift Box that comes with a beautiful set of Batik Batu Seremban.
Kami Wilderness collection
View this post on Instagram
Possibly one of the most beautiful (and delicious) gifts one could receive this Ramadan and Raya season, the Kami Wilderness Collection (RM99 per box) by design and gifting connoisseur Kami Design features five limited-edition madeleines that were created with Jaslyn Cakes. Expect lush flavours such as Coconut with Coconut Praline, Orange, Orange Blossom & Hazelnut, Rosewater, Earl Grey with Caramel Filling and Chocolate with Caramel Filling—and best of all, they're strictly vegetarian and alcohol-free. Each set comes housed in a beautiful box with a forest-themed design. You can even opt to customise the wilderness postcard—included with each set—with a calligraphed name.
Find more Raya/Ramadan stories here.
| | |
| --- | --- |
| SHARE THE STORY | |
| Explore More | |