Our guide to satisfying your cravings for angku, kuih talam, tepung pelita, and more Malay and Nyonya kuih in the Klang Valley
Ask any proud local what's a quintessentially Malaysian tea time snack and chances are that kuih is among the most popular answers. These bite-sized sweet and savoury desserts have been passed down by Malay and Peranakan households for generations, picking up influences from historical and cultural affairs along the way.
There's a literal kaleidoscope of Malaysia kuih today, made in various shapes and colours that form part of their appeal. From bright, chewy ang ku kuih to grilled, fragrant pulut panggang, here's where to order your favourite Malaysian kuih in the Klang Valley.
1. Kuih.Co
Kuih.Co offers an assortment of Nyonya kuih including angku, kuih talam, kuih lapis, bingka ubi, and kuih koci, just to name a few. Founded by event planner and antique collector Jeff Henry, who hails from Indonesia, Kuih.Co distinguishes itself by packaging authentic Nyonya heritage kuih in curated gift sets and platters that are perfect for gifting. These come in beautifully designed boxes or rattan baskets and trays, some of which can also be reused for your home.
For orders and enquiries, contact/WhatsApp +6012 918 7683.
2. Baba Beng
Baba Beng is famous for its homemade Malaccan-style Nyonya kaya, loved by many for its authentic recipe that takes hours to prepare. "Baba" refers to the term for Peranakan males, while "Beng" is the part of the founder's Chinese name, Quek Beng Chee. The kaya serves as the perfect complement to his other key offerings: Nyonya kaya. Among the types available include kuih kochi, pulut tekan, and kuih lapis, which can be purchased as a set together with the star kaya.
For orders and enquiries, please contact/WhatsApp +6012 288 7449.
Website | Facebook | Instagram
3. Nyonya Lab
With 32 types of Nyonya kuih to choose from, Nyonya Lab is sure to satisfy your cravings of both sweet and savoury options alike. Take your pick from pulut panggang, pulut tai tai, seri muka, kuih kosoi, curry puff and many more—you name it. Better yet, order a gift set to treat yourself or to surprise your loved ones with carefully packed kuih selections.
For orders and enquiries, send them a DM on social media.
Facebook | Instagram | Website
4. Kueh Café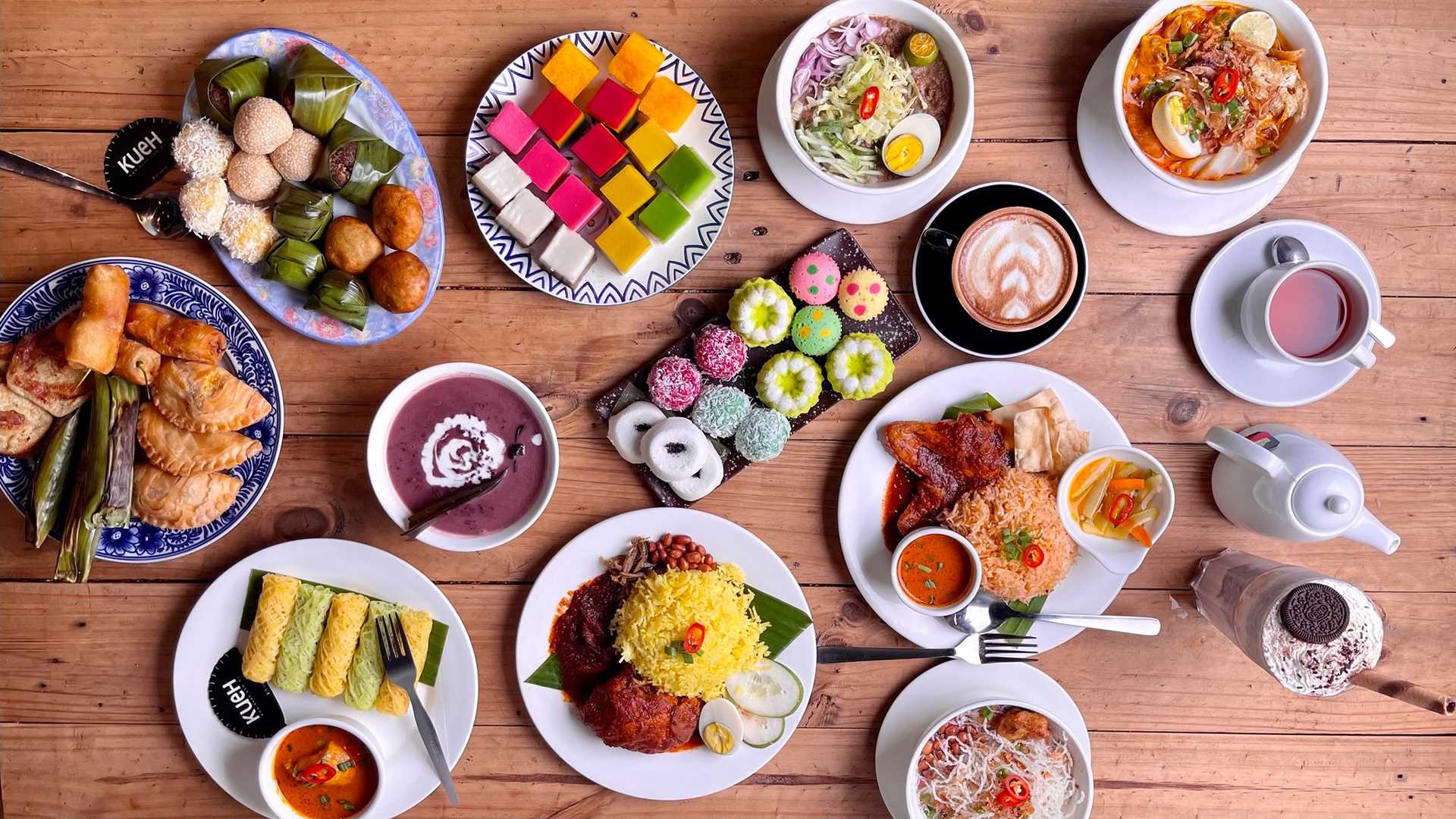 For those living around the Shah Alam and Bukit Jelutong area, Kueh Café has got you covered. Living up to its name, the café offers a wide selection of Malay kuih including cucur badak, kuih ketayap, bingka ubi, tepung pelita, onde-onde, and at least a dozen more options. Aside from kuih, it also offers a variety of classic Malay dishes, drinks, and desserts for a satisfying meal.
Takeaways and deliveries are available via GrabFood, Beepit, Oddle, and Foodpanda.
[SEE ALSO: What does your favourite kuih Raya say about you]
5. Madam Yong Delight
One of the OGs (read: internet speak for veterans) in the business, Madam Yong Delight has been a supplier/wholesaler of nyonya kuih since 1983. Aside from the common kuih, there's also kuih apam beras (fatt ko), kuih bakar, and ubi sago, if you're looking to try something different. There are also special "Surprise Me!" platters that feature either 35 or 50 assorted kuih served in bamboo trays.
For orders and enquiries, Whatsapp +6012 2381396 or visit the website. Pre-orders are required two days in advance.
Facebook | Instagram | Website
6. Nina Kitchen
This home-based business in Taman Melawati has developed a loyal following for its mixed boxes that are great for sharing with your family, friends, and colleagues. Each box is sure to impress with vibrant colours that promise to taste as good as they look! All-time-favourites include kuih talam, lapis pelangi, cara berlauk, kuih lopes pandan, and seri muka durian.
For orders and enquiries, WhatsApp +6010 253 7584.
7. My Asian Kitchen
Chef and restaurateur Dinesh Rao is the co-owner of Tray Café and the man behind My Asian Kitchen, a platform to share his love of Asian cuisines. Over the course of the pandemic, he started experimenting with ways to refresh the look of kuih to appeal to the current modern generation. As a result, he created bamboo baskets of angku kuih shaped as flying fish, lucky cats (maneki-neko), and colourful tortoiseshells. He even makes 10-inch kuih cakes for the ultimate indulgence—a unique alternative to conventional birthday cakes for true kuih addicts!
For orders and enquiries, contact +6019 222 6914 or DM Dinesh on Instagram.
8. Kuih Malayaa
Every day brings a different menu at Kuih Malayaa, which also includes main dishes and other desserts in addition to kuih. If you're living near the Bandar Mahkota Cheras area and you're craving local flavours, the options here won't disappoint, such as keria gula melaka, pudding caramel, and onde-onde to finish off your tauhu begerdil or popiah sira.
For orders and enquiries, WhatsApp +6017 2058800.
9. Secawan Tepung
While it's translated from Malay to mean "a cup of flour", Secawan Tepung offers more than just flour-based treats. Nor Zarina Abdul Aziz, the woman behind the KL-based online shop, makes kuih-muih such as kuih lopes, kole kacang, and talam ubi, on top of Lotus Biscoff desserts, premium brownies, and decadent cakes. Bulk orders are also available for sharing and gifting your loved ones!
For orders and enquiries, WhatsApp +6017 2573138.
[READ: IG-worthy cookies to order form online bakers around the Klang Valley]
Check out more food and drink stories here.