YouGov, a British market research firm, finally released the results for its annual online poll. The 42,000 people from 41 countries who were interviewed by the company were simply asked "Thinking about people alive in the world today, which man or woman do you most admire?".
While Dato' Sri Siti Nurhaliza topped the poll as the most admired woman in Malaysia with an 'admiration score' of 20.01%, the singer and businesswoman is closely followed by our ever inspiring Prime Minister, Tun Dr Mahathir, who achieved a score of 16.01%. His wife, Tun Dr Siti Hasmah Mohd Ali also made the list as the second most admired woman in Malaysia. Other Malaysians among the top 10 are Dato' Dr. Sheikh Muszaphar Shukor (Malaysia's first astronaut), retired professional badminton player Datuk Lee Chong Wei, Dato' Seri Dr Wan Azizah (the first female Deputy Prime Minister of Malaysia) and Datin Vivy Yusof (co-founder of FashionValet and The dUCk Group). See the full list below: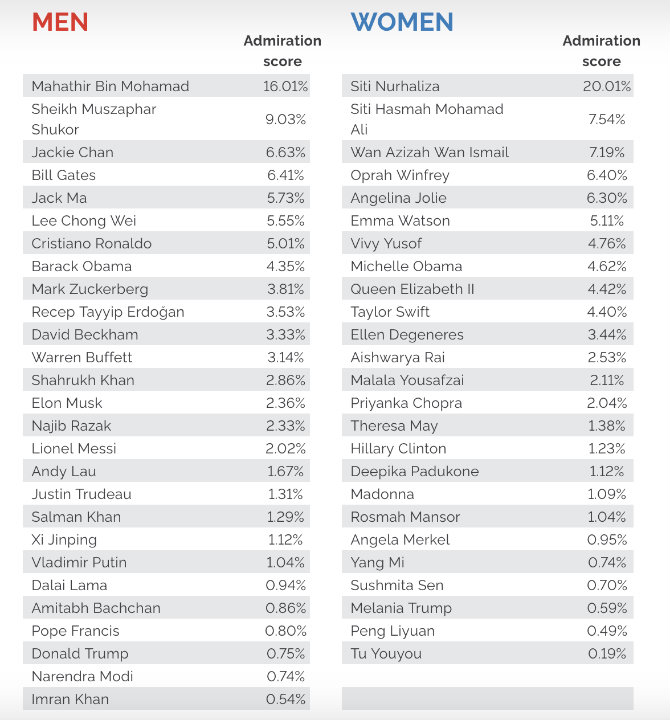 According to YouGov, Microsoft founder Bill Gates (who remains the world's most admired man) has topped the list every time they've conducted the survey. They also revealed that the top five men on the 'World's Most Admired' list remains unchanged since last year. Former US president Barack Obama comes in second, actor Jackie Chan in third, president Xi Jinping in fourth and businessman Jack Ma in fifth. However, the same can't be said for the ladies.
Former First Lady of the United States, Michelle Obama, dethroned Angelina Jolie, who dropped two places on this year's YouGov list. She is joined by Chinese singer Peng Liyuan, (who is also the wife of president Xi Jinping), Chinese scientist Tu Youyou, Indian actress Sushmita Sen and US talk show host Ellen DeGeneres.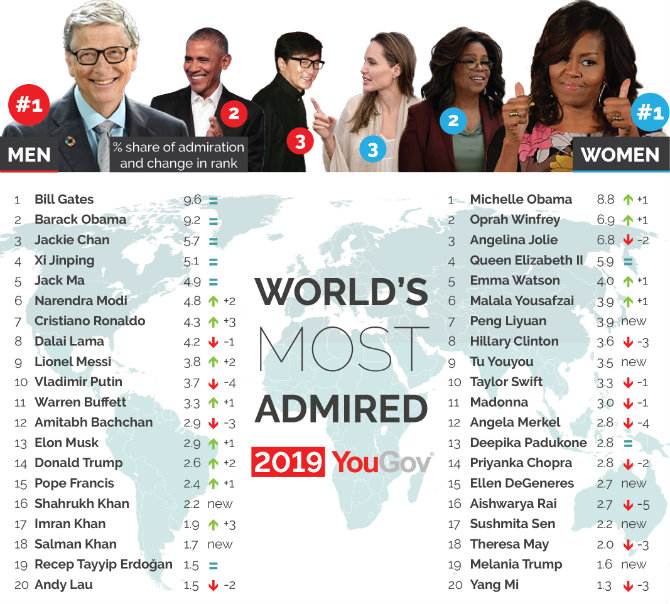 Fun fact: The top six most admired women in the world all share a dedication and passion towards humanitarianism and philanthropy. The future is female.
Visit YouGov's official website for more info on how the survey was conducted or if you'd like to see who made the list for other countries.
| | |
| --- | --- |
| SHARE THE STORY | |
| Explore More | |