Over the years, Tun Dr Siti Hasmah has proved that she's not just the wife of Prime Minister Tun Dr Mahathir
The political scene in Malaysia has been buzzing with news ever since May 10 and it ranges from serious topics such as the 1MDB case to fluff pieces such as Tun Dr Mahathir and Tun Dr Siti Hasmah's portrayal of #relationshipgoals. You can't say it's not exciting. 
We previously noted down some of the things you should know about Malaysia's first female Deputy Prime Minister. This time, we want to talk a little about the woman named Tun Dr Siti Hasmah Mohd Ali. The woman who is the wife of the 4th and 7th Prime Minister of Malaysia. The woman who has relentlessly been an advocate of education, women's health and their rights as well as humanitarian efforts. The woman who has earned the respect of many Malaysians. Here are some fun facts about Dr Siti Hasmah for your reading pleasure. 
1. Her parents believed in the value of education, regardless of gender
Born in 1926 in Klang, Dr Siti Hasmah is the sixth child of ten siblings. Her father was a government officer while her mother, a housewife. All three girls and seven boys were equally sent to receive an education. "He used to say, 'If I give education to a son, I'm educating an individual, but if I give education to a daughter, I'm educating a nation,'" said Dr Siti Hasmah to Esquire Malaysia.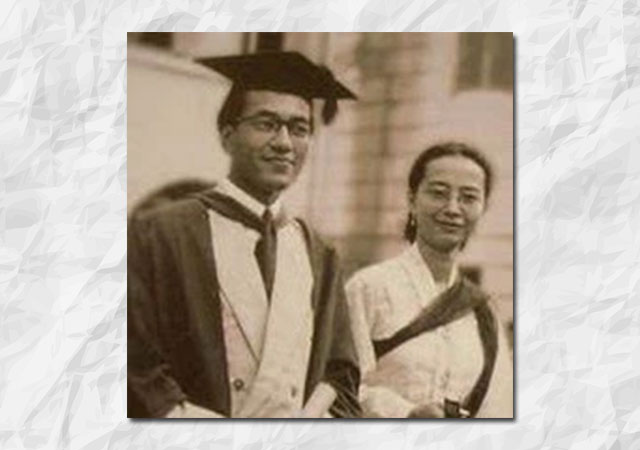 2. She was the only Malay female student in her college
Today, women can be anything they want to be but back then, it was rare for females to hold a position in any establishment—even doctors. It was so rare that for Dr Siti Hasmah, she was the only Malay female student at King Edward VII College of Medicine when she was studying in Singapore under a scholarship program. She later also became known as the second Malay woman to become a doctor. 
3. How she met Dr Mahathir and the secret to their marriage
They met in college and started dating early on. But the two only got married in 1956 when they were 31 and 30, which was considered late. According to Marina, this was because her maternal grandfather Mohd Ali Taib had insisted to hold off marriage until Dr Siti Hasmah has graduated.
"My parents entered into marriage knowing and accepting each other's character very well. I think that's the secret to their long, affectionate and happy marriage," she wrote in a Facebook post dedicated to her parents' 60th wedding anniversary.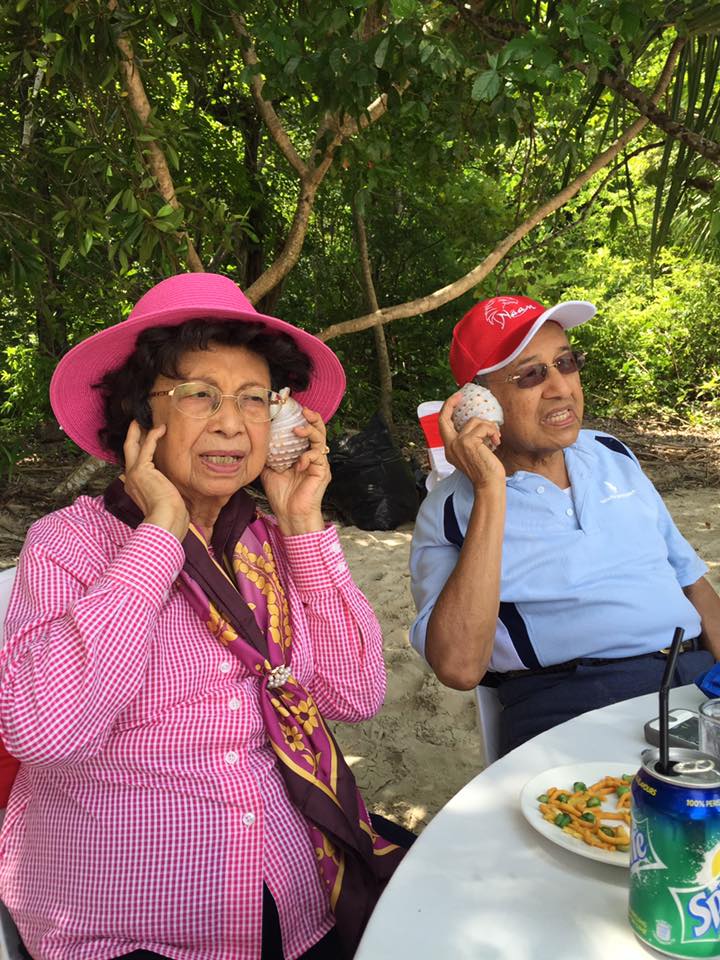 "My parents set a standard for what makes a happy relationship for us all. It's based on a great deal of respect, trust and of course, love for each other. He respects her opinion as much as she does his.
"I remember one aspiring female politician once saying to him, 'Men are so lucky, they don't need their wives' permission to enter politics.' And Dad turned around and said, 'Who says?!' she continued. 
4. Age shouldn't be a factor when it comes to learning
We've always believed that nothing should stop you from doing what you want to do—not gender, not what people might think of you, not age and certainly not failure. Dr Siti Hasmah probably holds the same ideal. After all, she struggled with her medical studies but persevered till she passed. 
In a heartfelt note by Marina and published in Astro Awani, we learn that Dr Siti Hasmah took up French in her 70s and even passed the exams. We learn that she took up the violin again after almost six decades of not touching it—to the point where she became good enough again to play at the Dewan Filharmonik Petronas. In 2015, she picked up the er-hu. 
5. She is the first Prime Minister of Malaysia's wife to receive a Tun-ship
Dr Siti Hasmah holds many accolades, mostly for her work in public health, but in 2003, she was awarded the distinguished Federal Award of Seri Setia Mahkota Malaysia (SSM), which carries the title of Tun as well, by the Yang di-Pertuan Agong.
6. Behind every great man, there is a great woman
Even after retirement, Dr Mahathir's name would sometimes come up in the news and sometimes, it's nothing nice. Dr Siti Hasmah admitted in an interview back in 2016 that it does affect her but the impact is more on her husband. "I don't want to show him that I'm affected too and cause him to worry more. The less problem I give him, the better for him. So I just make sure to be by his side," she said. 
Fast forward to today, Dr Mahathir is once again Prime Minister and she's once again the First Lady of Malaysia (although we don't officially use that title here). In April 2018, amidst the general election campaign, she said, "It was not an easy decision for me to 'give up' my husband again to politics, especially when it means he has to take up an active role, running in the coming general election."
In an interview she did with Today Online, she admitted that she personally feels tired and has mixed feelings about Dr Mahathir's return to politics. "I can't deny that at first, I was very disappointed because I thought we would have a good retirement period. But now that he is back in politics, I have to support him and look after him," she continued. 
"I cannot hold him back because he said it is his duty to go back into politics and lead the people. Since he decided to be involved, I just have to be with him and go along with him. And I'll give whatever help I could give him—not politically—and be the support behind him and see that he is in good condition." 
A few years ago, Dr Siti Hasmah also told Malaysiakini that her role as the Prime Minister's wife was to play the middle person between her husband and the people. She said, "As the prime minister's wife, do not compare (yourself with anyone). Generally, you have to support your husband, you have to be knowledgeable, you have to know what is happening around you and you have to make sure that you are together with your husband to meet with the people."
7. Her humility
Of late, Malaysians on the Internet have kept an eagle eye on the kind of humble life some of the politicians lead. From Dr Mahathir and his Bata sandals to recently, Dr Siti Hasmah's choice of arm candy. A Facebook post yesterday claimed she was only carrying an RM125 Marie Claire handbag versus a designer one such as a Birkin.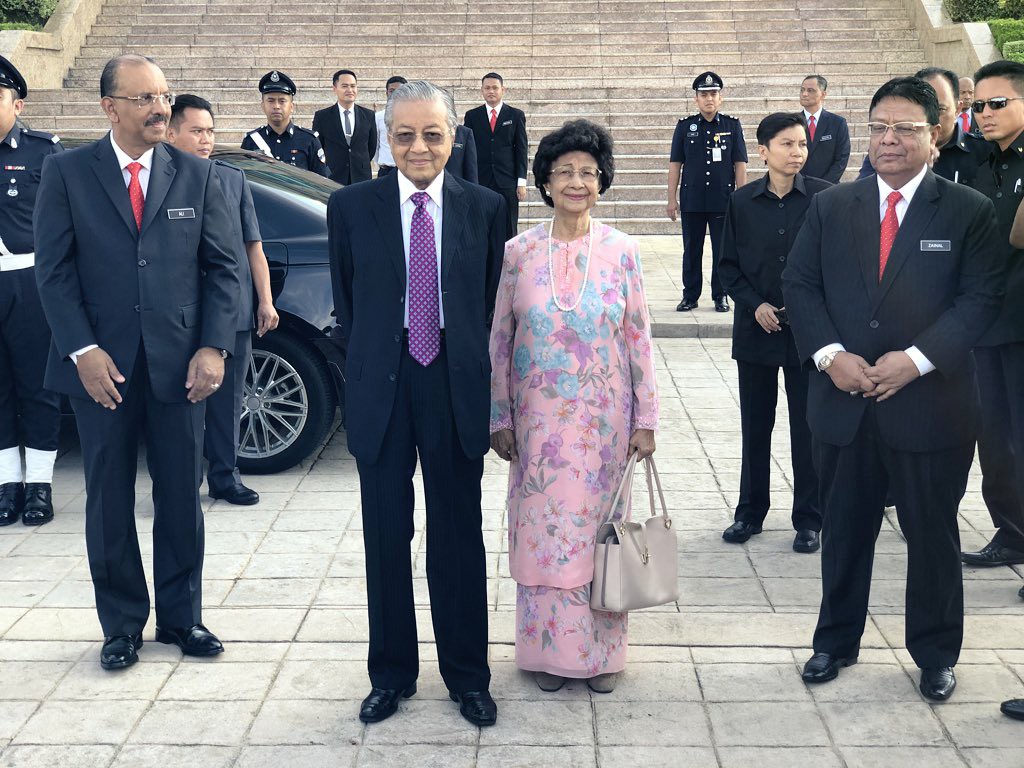 It garnered over 30,000 likes. However, an even more keen eye on Coconuts KL found that her bag is actually from a Japanese leather bag heritage brand called Hamano, which is priced at around US$533 (approx. RM2,122). Interestingly, someone on Twitter noticed she carried the same bag in 2014.
Tun Dr Siti Hasmah recycled her outfit. She even carried the same bag. So relatable. pic.twitter.com/QJGmHxCvpz

— Zandra Elandra (@zandra_elandra) May 22, 2018
On the same day, she asked Marina to pass on a message via Facebook to thank the people for their kind thoughts and prayers since her husband became the Prime Minister again. However, she requested to stop sending them congratulatory gifts of any kind but instead donate to charity. 
No matter how many years have passed, Dr Siti Hasmah remains ever so graceful and humble. In that same interview with Malaysiakini back in 2015, she said, "You may be a doctor or you may be a minister's wife but if you are arrogant, they (the people) won't accept you."
Psst...You can read more about her life and views in her autobiography My Name is Hasmah.