Like the stars in the skies, celebrities are a different kind of stars that could be difficult to meet; and so, when we do get the chance, it's quite something. Being in the media industry, however, it's a perk that comes with the job, and one that we're quite grateful for. But a memorable celebrity encounter is not just about being star-struck or the fact that they're famous (okay, this one might not be entirely true because meeting someone famous does automatically deserve bragging rights). Some of them is memorable because of the stories they had to share. Either way, let's just get straight to sharing our stories, shall we?
TERRY SAW, editor-in-chief
One of the first things that come to mind—an intimate luncheon in Shanghai with designer Tory Burch a few years back. I've always been in awe of her quiet power and this personal encounter with her was one of the highlights of my career. Tory is the epitome of a modern-day woman who wears many hats, but always a mother first to her three sons, before kicking goals on the daily as the founder and designer of her fashion empire. She also heads up the Tory Burch Foundation, which supports women entrepreneurs, among her many philanthropic initiatives. Meeting Tory in person was very much like catching up with an old friend who is extremely well-travelled, has a keen sense of adventure, and was never short on wonderful stories surrounding travel, culture and art. I still find myself constantly looking out for 'Easter Eggs' in her new collections, which usually pay homage to some of her fondest family or travel memories.
GWEN ONG, deputy editor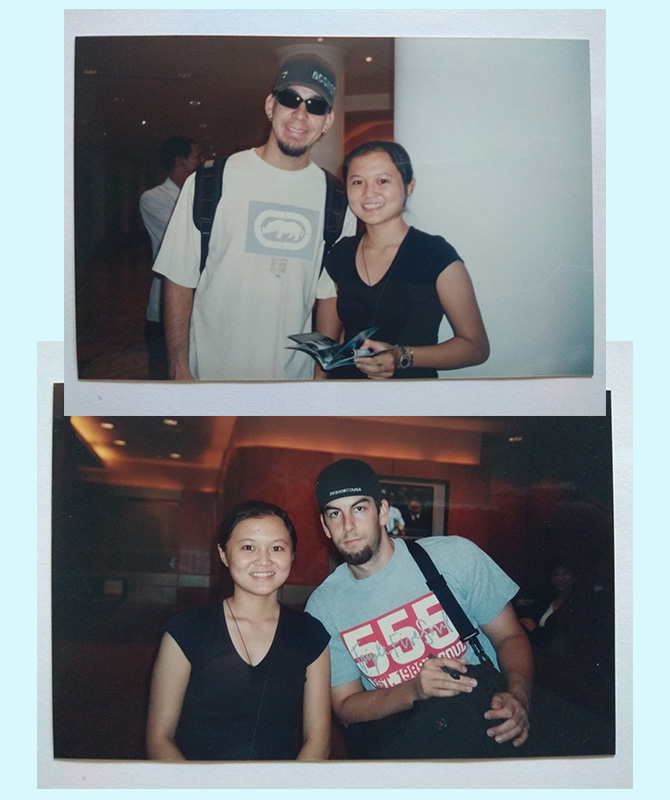 linkin park concert malaysia encounter
Back when I was more in tuned with the latest music scene, pop culture and whatnot, I was also more in touch with my (emo) feelings. Rock music and alternative bands were my go-to because they understood me more than anyone else could. When Linkin Park announced they were performing in KL for the first time in 2003, I knew I had to be there! It was my virgin concert and what a rush it was. However, being vertically challenged meant that my view was pretty much s**t. But being petite also meant I could snake my way through the crowd in the mosh pit and get myself to the front row. Together with my best friend and the other 25,000 fans at Stadium Merdeka, I screamed my voice hoarse to every song I know by heart. The whole atmosphere was electrifying. It's true when they say you will always remember your first time. It was enthralling! Oh, my best friend and I did camp out at the hotel that night to catch a glimpse of the band but nothing beats seeing them perform live.
JOAN KONG, fashion editor
I've met a fair share of celebrities thanks to my job, and I generally have nothing but good things to say about them (their managers? Not so much). That being said, there are two stars in particular who stood out for being the sweetest, and they are Bella Hadid and Kiko Mizuhara. I got to interview Bella when she made a pit-stop in Malaysia for the TAG Heuer event, and although she has amassed over 24 million followers on Instagram, she was genuinely happy to be able to meet us (and her fans who waited outside the store for hours) on this side of the world. Needless to say, my interview with her went really well, and she even dished on some personal stories too. A month after that, I met Kiko Mizuhara at the Coach Pre-Fall 2019 party in Shanghai, and she's definitely one of the most down-to-earth celebrities I've encountered throughout my career. She divulged that she'll be swinging by Malaysia sometime this year for the premiere of a new film, and even asked for food and bar recommendations!
STEPHANIE BOEY, fashion writer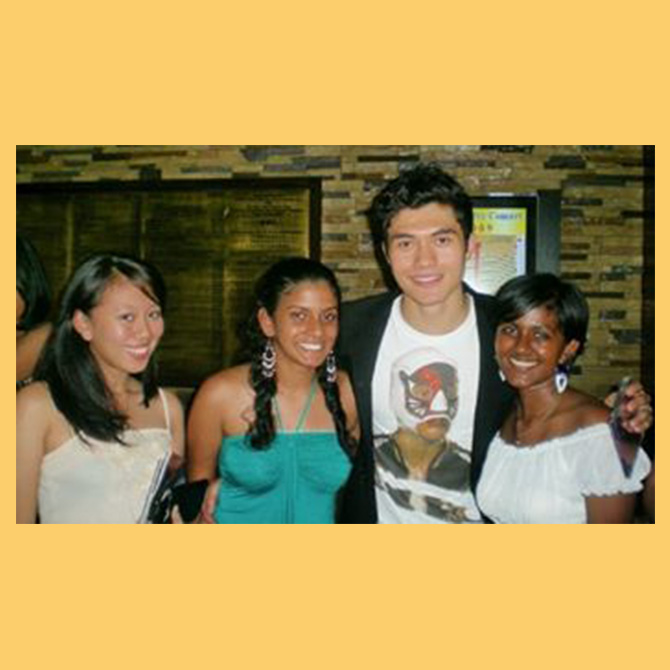 meeting henry golding
Remember the #10YearChallenge that went wild on the internet? As I was searching for milestones in a sea of embarrassing photos on Facebook (cause that's where we all were before Instagram, let's be real), I uncovered a photo of me, my best friends in high school (where my Assuntarians at?) standing next to Malaysia's current leading man…Henry Golding. It was 2009, my friends and I were at the Interact Charity Concert (which is basically a social mixer for the secondary schools in the district), grinning next to a then-22-year-old Mr. Golding, who was one of the hosts for the night. He was already a budding celebrity, with his hosting career taking flight, after moving back to Malaysia a year prior. I remember him being charismatic, approachable and having the most infectious smile. And although already a local celebrity, he was incredibly down to earth. Ten years on and it's safe to say he has not lost that humble demeanor. From high school concerts to landing a lead role in Crazy Rich Asians and attending the Met Gala, Henry Golding definitely wins the #10YearChallenge.
WEI YEEN LOH, senior beauty writer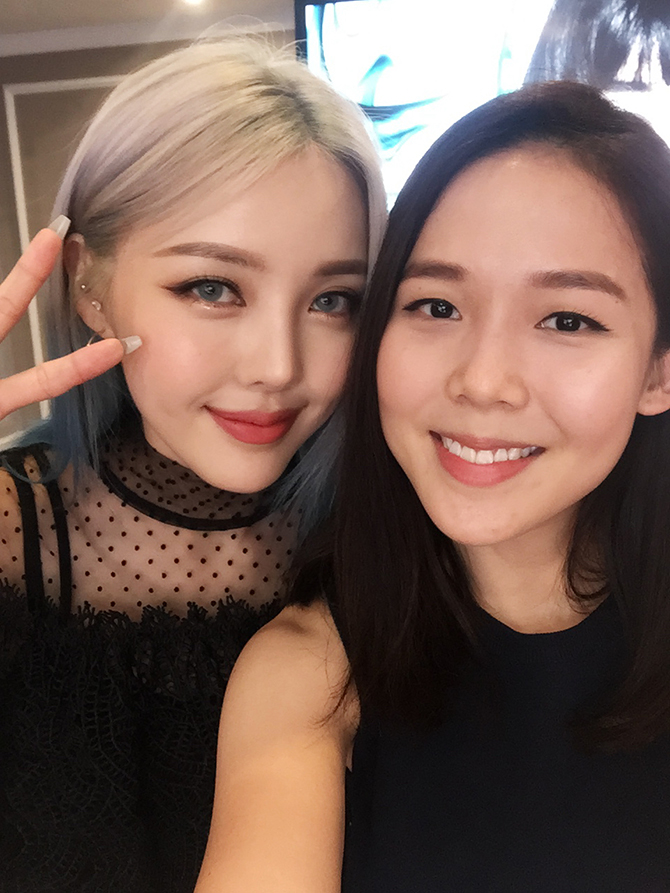 best celeb encounter Pony-MUA
Seeing Korean YouTube star and celebrity makeup artist Pony of Ponysmakeup in person induced a number of different reactions from my being, varying from a jittery state of nerves to my voice reducing to a timid pitch (almost inaudible, and I was about to interview her). Talk about celebrity makeup inspiration and the first thing that comes to my mind is Pony—her YouTube tutorials straddle the line between far-fetched and realistically attainable, whether it's transforming to Taylor Swift or the less-is-more makeup look. Scoring a spot at her media interview was basically a makeup lover's dream come true, and this is coming from someone who doesn't really believe in fangirling. Surprisingly, I found my voice right when the interview started. She held herself with class, answering all questions professionally and even giving us a chance to score a selfie with her (might have fangirled a little more inside when she agreed to this).
RACHEL AU, lifestyle editor
Dear Taylor Swift, I'm still waiting for my Secret Sessions invite. Please and thank you. Till then, my answer would have to be Hannah Yeoh, Malaysia's Deputy Minister of Women, Family and Community Development, and a notable female politician in her own right since she was 29 years old. Gosh, what was I doing when I was 29? Oh, right, I interviewed her. I've met my fair share of global celebrities over the course of my career (Justin Bieber, Jason Mraz, Hyuna, etc.) but none of them has made me as nervous, star-struck and in awe as Hannah Yeoh. I was never really into the Malaysian politics scene until two years ago and following it stirred something in me. Perhaps also because, growing up, I didn't really see women in the political field but what a time to be alive now, where women's voices are louder and stronger than before; where women have fought for a chance and grabbed it; and where women are helping to make a difference and being acknowledged for it. Hannah Yeoh, despite being a YB, and despite having a larger jurisdiction and responsibility, is still able to see through her vision, juggle the multiple roles she has, and stay humble. It was the longest interview I've ever had but what an inspiration! Not really a celebrity, but it still counts, right?
SU FEN TAN, contributor
I was already an avid admirer of Yuna's many talents, so getting to catch her in an intimate acoustic session at The Andaman and speak to her after was definitely one of my work highlights last year. Most importantly, with Yuna, what you get online/on-stage is what you get in person too—down to earth and just radiating good vibes; she's the real deal.
ALYSSA LEE, special projects writer
Many things can happen in the span of a few minutes—an intimate encounter is not one of them. Then again, there is nothing like 120 seconds of exhilaration to get the heart pumping. And boy, did that heart pump during a strict two-minute interview session we scored with Formula 1 driver, Lewis Hamilton. The man may be fast on the tracks but off it, he's got a penchant for leisure. While he took his time to ponder things like alternative careers and biggest phobias, I was sweating, laughing and close to tears in fear of bombing my interview. I'll never forget having to scream my final question, "Favourite Malaysian food??" to him, while being held back by security personnel as he was escorted off. In case you care, his answer was roti canai.
RONN TAN, editorial assistant
Mariah Carey, hands down, the best celebrity encounter in the history of encounters. Back in 2014 when I was at the Louis Vuitton boutique in KL, I noticed a rather unusual sight. There was a strange frenzy outside. Eerily big men dressed in black were approaching the store entrance. I was confused. I was intrigued. Then, it hit me. Who was performing in KL that night? The one and only Mariah Carey—the Songbird Supreme herself! Her mere presence gave me life. I didn't get the opportunity to speak to her, but I remember that iconic smile of the Elusive Chanteuse. I've never seen anything like that, and like her—and that's what made the encounter so memorable. It was an experience so ethereal that it left me stunned. Though I'm not as Obsessed with her as Eminem was, she's still a Hero and definitely a Vision of Love. It was rather sad to say Bye Bye and I was filled with Emotions.
| | |
| --- | --- |
| SHARE THE STORY | |
| Explore More | |