3 April 2020, Friday
8:00am
Today, my journey to finally "adulting" begins.
I knew I had a conference call with the Editor, Rachel and Deputy Editor, Wei Yeen at 9:30am so I give myself ample time to calm my nerves and mentally prepare for what was to come—8am is also the best I can do because if it is any time earlier than that, I'm afraid my brain will still be in power saving mode (seriously, how does Rachel do it?)
8:15am
After quadruple-checking that I didn't mess up the times and accidentally overslept, I wash up and officially start my day with some hydration. I always fill up my trusty water bottle with lemon water to kickstart my morning the night before so I can glug it down first thing in the morning. Ever since I switched over to drinking water strictly from a water bottle instead of cups, I find myself drinking a lot more.
While you're in lockdown, do remember to keep yourself hydrated at all times. Water is your best friend!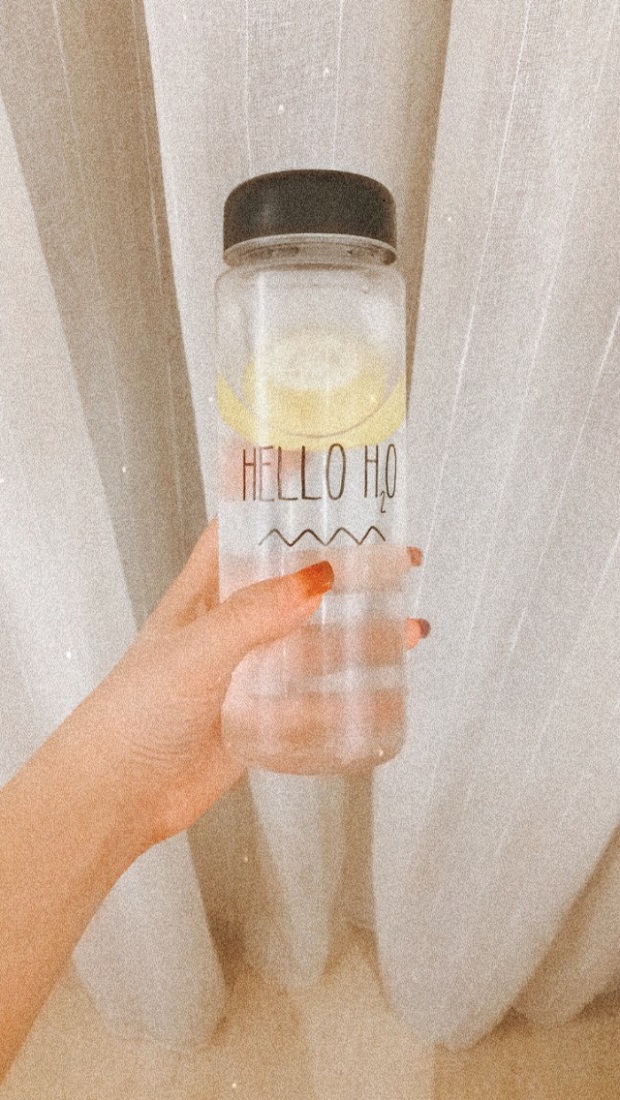 8:30am
Breakfast in the morning is almost always the same thing: overnight oats. I added about half a cup of rolled oats and almond milk into a glass container the night before with some chia seeds.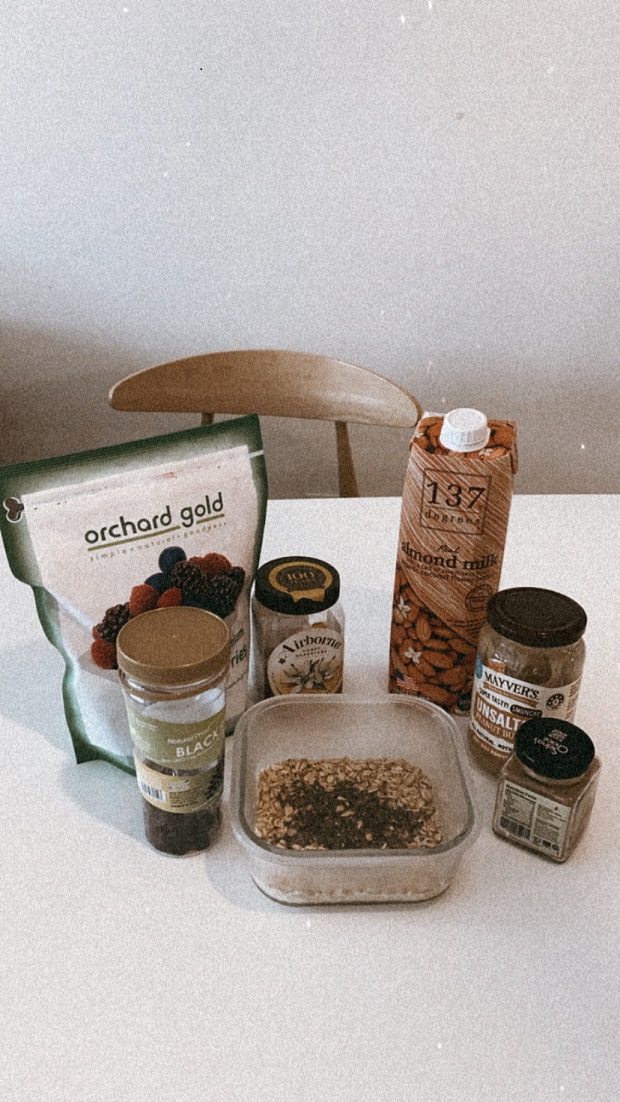 Here are some of my go-to toppings to add some pizazz to my oats: a dash of cinnamon, drizzle of acacia honey (my favourite for oats and tea), frozen berry mix, dried fruits, granola or nut mix (I only had walnuts) and a nice big dollop of peanut butter. I usually add some cacao powder and organic cacao nibs but I didn't have any on hand—trust me, it'll make your oats go from 10 to a 100.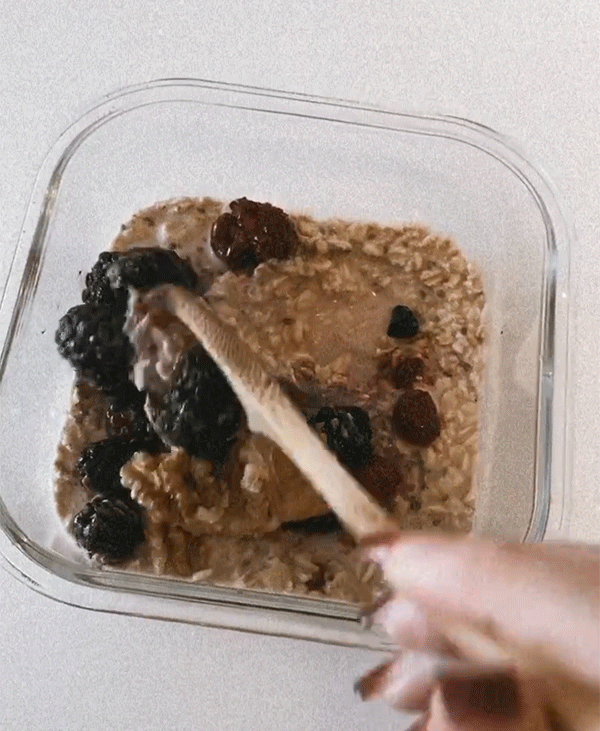 Voila! A fuss-free, healthy breakfast.
9:00am
Now's when I'm really feeling nervous. What do I even wear for my first ever conference call on my first day of work? Is the dress code more lenient now that we're working from home? Do I still take out the preppy outfit that I set aside months ago? Do I bother with makeup? Luckily, reading this really helps and I decide on a simple black and white blouse.
9:15am
I remind my parents and siblings for the nth time that I'm about to start my conference call and no, they can't come out from their rooms.
9:30am
After turning to a fresh page in my journal and getting all my pens in a neat row, I enter the video call with my editor and deputy editor.
We end up talking for about an hour (no pictures because I'm already nervous as it is!) going over what type of content I would be writing, brainstorming possible ideas and the like.
10:30am
Then comes the time to meet the rest of the editorial team. I give a wave as good as any with my subpar internet connection and hope for the best. Luckily, everyone is just as friendly, warm (and impressed that I'm in a proper blouse—first day impressions, check!).
Cue more brainstorming and non-stop note taking.
12:00pm
Call ends and I doze off from exhaustion.
12:45pm
Mom wakes me up for lunch and I eagerly replenish my energy.
1:30pm
I go through the notes I've taken down from the editorial meeting and organise them more neatly in my bullet journal. What can I say? I'm a Virgo and we live on organisation and straight lines.
I can't show you this week's spread since I don't want to spoil some of the awesome content we have in store for you guys but here's a simple quadrant-style weekly spread layout I'm trying out for next week.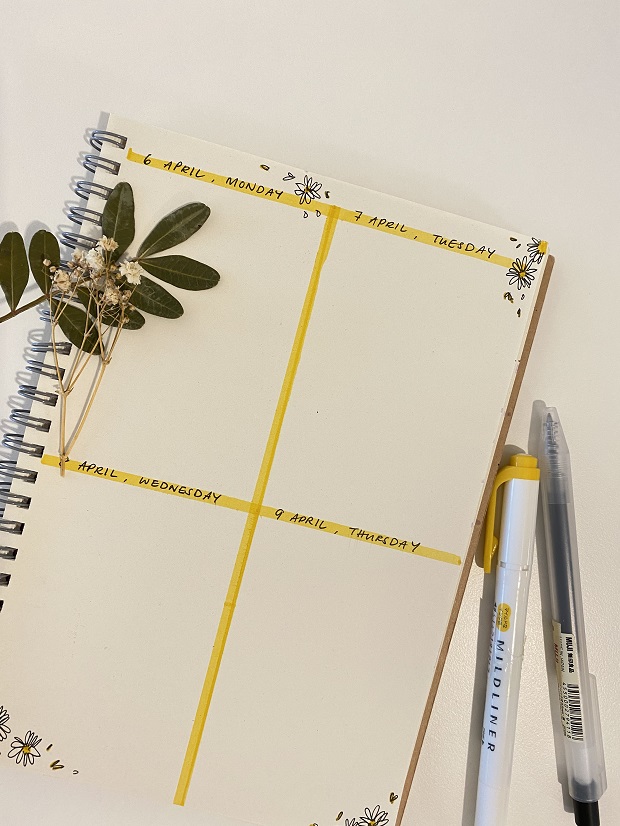 2:30pm
Going down the research rabbit hole for my first article.
4:00pm
Another video call with Wei Yeen showing me the ropes of their website, process of posting articles and all that jazz. More furious note-taking.
5:30pm
Research and writing continues. (Are you sensing a pattern here?)
8:00pm
After dinner, I finally try out the ever-so-popular Dalgona coffee trend that's been making the rounds lately. I'm not that much of a coffee drinker but my parents are so it's my little dessert for them. If you have a gym rat of a brother (which I do), make sure you ask him for help to speed up the process.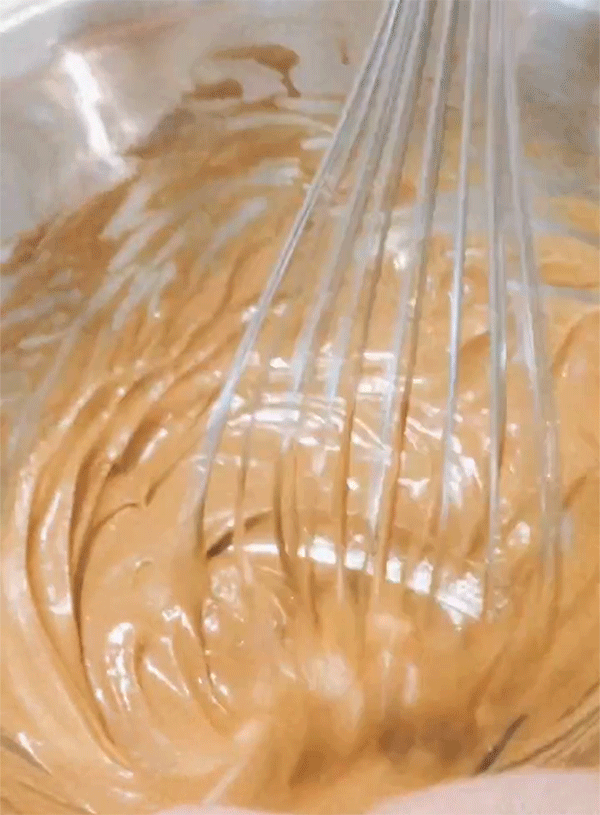 Bad news: No final shot of the drink—it's actually pretty hard to make the light brown cream topping look Insta-worthy if you catch my drift. It isn't long before I succumb and mix the whole darn thing.
Good news: My skeptic of a father who drinks nothing but Americano is successfully converted.
Here's how you can make this simple yet delicious drink too!
9:30pm
To wind down for the night, I'm continuing with Emily Bronte's Wuthering Heights.
One of the goals I set for myself is to read more classics—you would think as an English Literature graduate, I wouldn't go near any form of classics within a 10-feet pole. But it's refreshing to be able to read something without critically analysing it for psycho-Freudian clues.
Of course, my brain is hardwired to scrutinise every book in some way but now for the most part, I just read to read. I'm only about 60 pages in but a few pages a day goes a long way ( plus I'm living for Mr Lockwood's sass).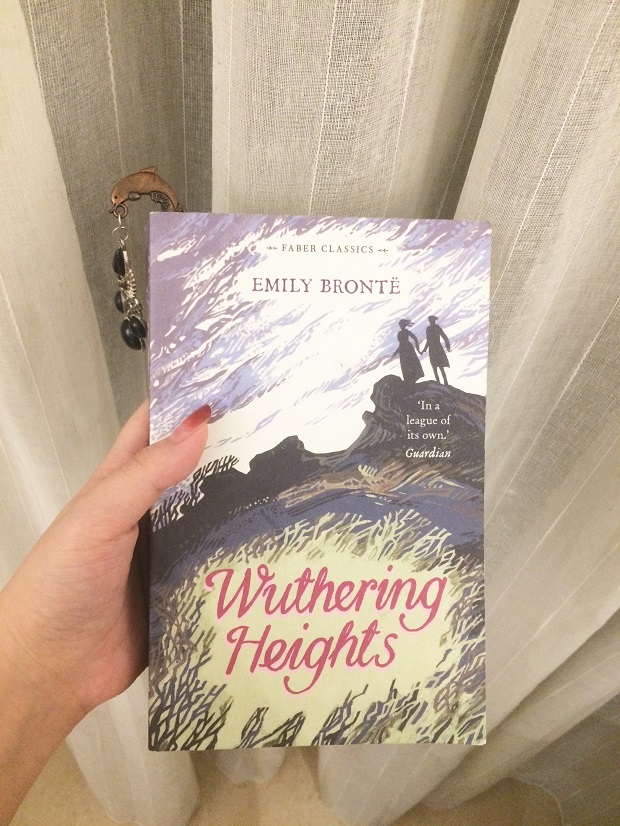 So that's how my first day of work went down. There were many ways I thought my first day could possibly go: getting the location wrong, turning up at an entirely different place or walking into a glass-door Ugly Betty style (it has happened).
But just like everything else at the moment, little Miss Rona loves throwing us curve balls left and right.
So let's do our bit to help #flattenthecurve. Remember, we're all in this together. Stay home and stay safe!
| | |
| --- | --- |
| SHARE THE STORY | |
| Explore More | |