May 9 and the GE14 elections will forever be marked down in history as one of the most significant moments in Malaysia. We claimed our right, dipped our fingers in indelible ink and voted. Those who were staying overseas sent their votes back or had friends help bring said votes back. Some even volunteered at the polling stations to lend a hand.
We made sure our votes counted, and counted well. So many of us dared to hope with bated breath till the wee hours of the morning for the final count of the votes. Such was the fire on the day of the elections and such was the beautiful unity of Malaysians—there was nothing like it.
9th May 2018 was the day we Malaysians took our country back. The rallys that we had before #GE14 transcends all races, religions & social strata #neverforget Here's the rally in Hulu Kelang which i will always remember. pic.twitter.com/PPegSHBsyn

— Hadi Harun (@hadiharhar) May 8, 2019
For the first time in history, we had a new government after 60 years—the Pakatan Harapan government—and the return of Tun Dr Mahathir Mohamad as the Prime Minister of Malaysia (at 92 years old, no less!), as well as our first female Deputy Prime Minister. There was a flurry of changes, and more to come as the days continued.
But that wave of anticipation, hopes and expectations soon began to recede. A still-weakening currency, foreign investors pulling out and investments coming in at a decreasing rate, SST and the recent digital tax, are just some of the news that have slowly, but surely, broken the spirit of these spirited Malaysians.
A survey of Malaysian voters by research firm Merdeka Center gave the new government an approval rating of 79% in end-May 2018. In March 2019, that rating fell to 39%. So today, one year later, the question is: What has changed with New Malaysia that truly made a difference? More than you think, and more than it seems—if we think about it.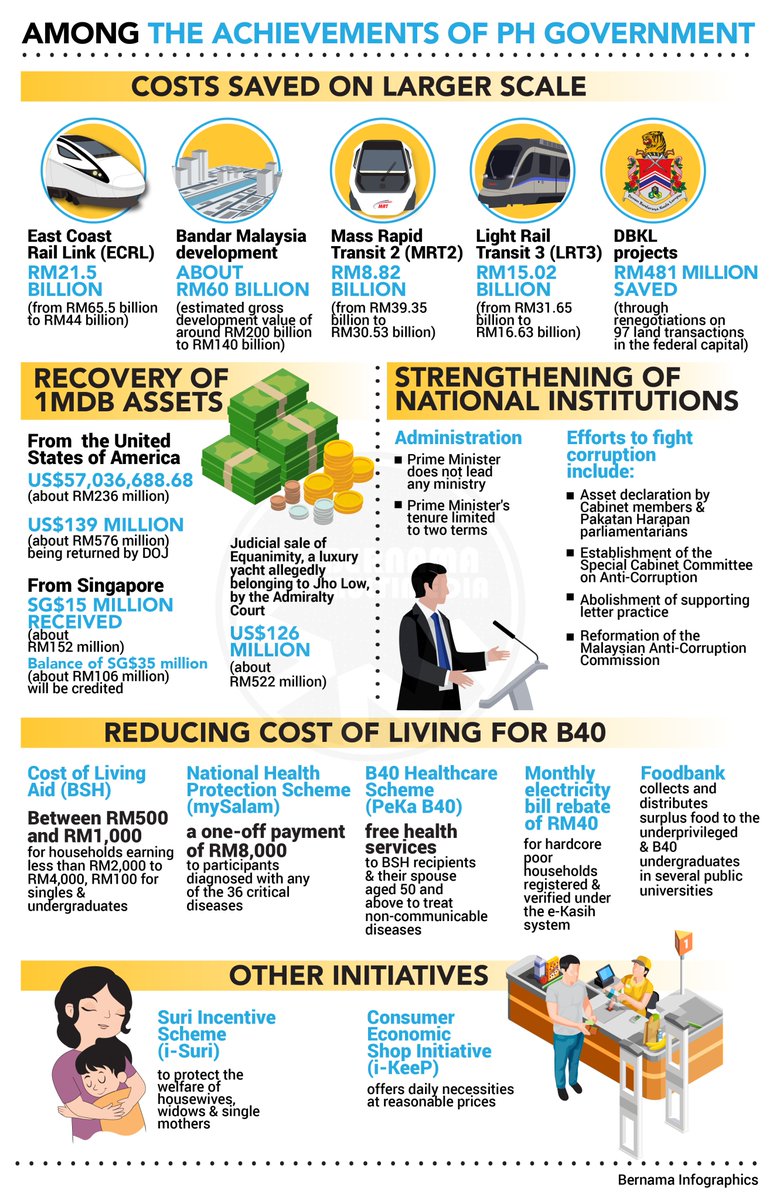 achievements of pakatan harapan infographic
Source: Bernama Twitter
Yes, the economy isn't great but credit should be given where credit is due. The costs of the East Coast Rail Link (ECRL) didn't help and thus to renegotiate with China to reduce it by RM21.5 billion is a feat. The infographic by Bernama above further illustrates the billions we're saving/cutting down. And what about the corruption cases? With Pakatan Harapan in power, more is being done to remove corrupt people and corruption.
"We will do it the proper way, not through corruption, not through giving contracts to cronies, [and] not by asking contract prices to be hiked in order to take money. Those were the things they did," said Dr Mahathir in a special interview with The Edge Financial Daily.
"The previous government used to give money to all kinds of groups. [For example,] fishermen got paid RM300 a month even if they didn't catch fish. Bachelors got RM450 a month. BR1M (Bantuan Rakyat 1Malaysia) gave money also … if we practise this, we will be just as corrupt [as the previous government]. To buy support with money, that's bribery. We can't do that and we don't have the money to do that because we don't steal money," he continued.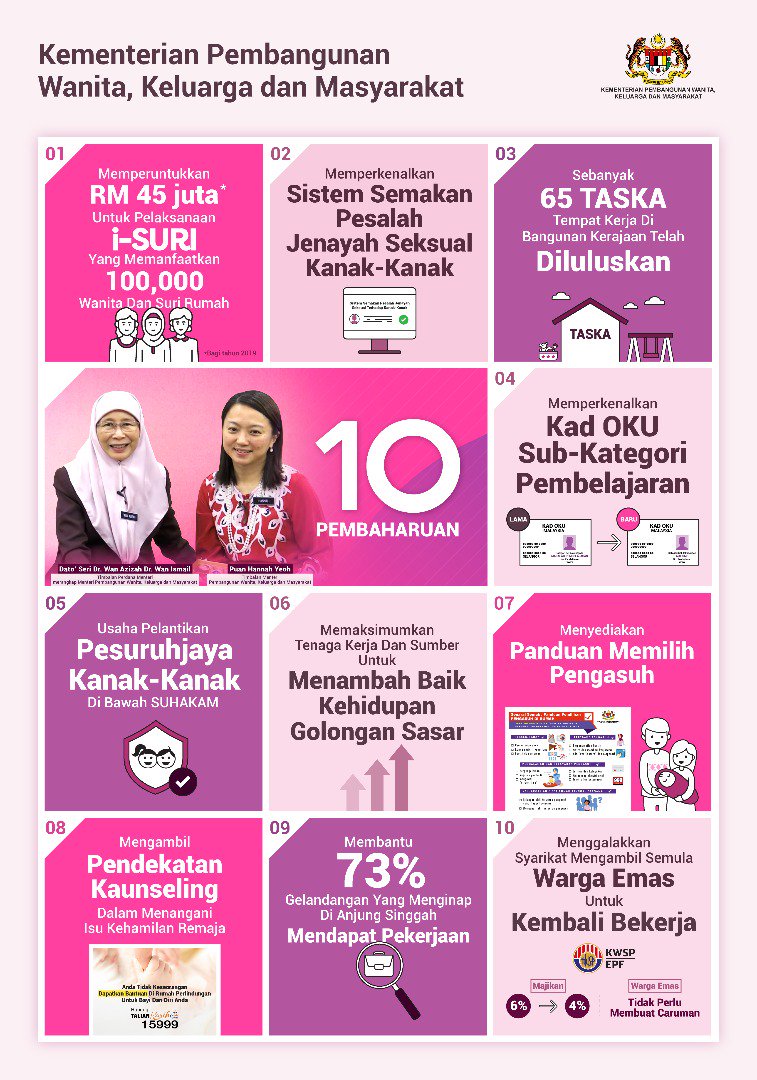 changes after pakatan harapan for women infographic
Source: @KPWKM
More too is being done to support the women, children and society in general. For starters, The Ministry of Women, Family and Community Development (KPWKM) has managed to fulfil the federal government's policy to provide jobs for at least one per cent of the disabled in the civil service.
"KPWKM is studying new methods and strategies with NGOs and other relevant agencies to improve the implementation of the 1 per cent Disability policy in the public service and several private industries so that disabled persons are not left behind in the development of the nation to be more inclusive and progressive," read a statement by the ministry back in April 2019.
There have also been various programmes and initiatives introduced such as the Suri Incentive Scheme (i-Suri) to help provide financial stability to (mostly) housewives—this will soon be extended to the Orang Asli as well; and the Child Sex Offenders Registry. But financial aid aside, educating the public is just as important. Deputy Prime Minister Datuk Seri Dr Wan Azizah Wan Ismail had said her ministry is also focused on improving parenting skills and preventing social problems in neighbourhoods. The ministry is also planning to create a sex education subject in schools.
She explained, "We want a developed and progressive nation for all. I am always for the equitable distribution of the country's wealth when we develop this country where every citizen gets to enjoy the benefits, but of course, we must also contribute towards this cause."
Banyak yang telah kita lalui bersamaKitalah yang akan menentukan nasib kitaTidak ada orang lain yang boleh menentukan nasib kita.

Bangunlah dan berjuanglah untuk mencapai matlamat negara tercinta ini.

SETAHUN PAKATAN HARAPAN9 Mei pic.twitter.com/2uXHHls18R

— Dr Mahathir Mohamad (@chedetofficial) May 9, 2019
This sentiment seems to ring true with Dr Mahathir's more recent statement after announcing a new theme under his administration: "Shared Prosperity 2030".
He elaborated that, "Shared prosperity means improving the people's buying power and eliminating the income and wealth gap between classes, races, regions and extreme disparity in the supply chain."
And so, policies and programmes must be needs-based. "We do not want some people to be left behind in our pursuit for national prosperity. But this does not mean we will spoon feed them but rather upgrade their capabilities," he added.
"To date, he said 39.01 percent of its 464 initiatives have been carried out, including suspension or repeal of draconian laws, press freedom, upholding the Malaysia Agreement 1963 and the rule of law, maintaining economic stability and rolling out specific policies for the Felda and Indian communities," as reported by Malaysiakini.
May 9, 2018: The day that shook Malaysia https://t.co/6sHz5TQHkG pic.twitter.com/TtxSMqOrba

— theSun (@theSundaily) May 8, 2019
And Pakatan Harapan aims to fulfil all, if not most, of its promises. Except change takes time. It's true that change doesn't happen overnight or in a year. If one ends up taking the wrong direction on a highway, one would need to go on till they find a U-turn before they can head back on the right track. This is the same. It took the previous government so many years for us to fall into this mess together, and so, it would take as much as a fair few years (at least) to get out of it.
As much as we're anxious for a better standard of living, a healthier and more prosperous economic growth for the country and so much more, all these take time. Have patience, Malaysia. We're in this together—just like a year ago, when we were all vying for change, blind to colour, religion and statuses. Just us being Malaysians together, loving our tanah air together.
Happy anniversary, Malaysia Baharu.
| | |
| --- | --- |
| SHARE THE STORY | |
| Explore More | |