It's 2022, but the fight against Covid-19 is not quite over yet. While the endemic phase has allowed some semblance of normalcy back into our daily lives, there is still a need for all to remain vigilant and responsible to prevent the spread of the virus, especially with growing concerns over the Omicron variant.
One measure that the Malaysian government has taken is to address this concern is to administer Covid-19 vaccine booster jabs. This ensures that immunity against Covid-19 is maintained for an optimal period.
The booster rollout began on October 13, and a total of 6,865,812 booster jabs have been administered as of 5 January 2022. The Health Ministry has announced that the vaccines that will be used for the booster doses are from Pfizer-BioNTech, AstraZeneca, and Sinovac. Like the previous two doses, the booster dose will be given on a voluntary basis for free under the National Covid-19 Immunisation Programme.
Ahead, we break down all the FAQs to know about getting your booster jabs:
(Note: The information below is accurate at time of writing, but may be subject to change should new SOPs arise. This article will be updated with the times.)
Who is eligible for a booster shot?
All Malaysian residents aged 18 and above
Priority will be given to:
Individuals aged 40 and above
Those aged 18 and above with a history of comorbidities
Residents and workers of long-term healthcare facilities
Those who need to travel abroad
When should you get a booster jab?
If you were previously administered with…
Johnson & Johnson: Two months after your second dose
Sinovac, Sinopharm, AstraZeneca, Pfizer, CanSino, Sputnik V: Three months after your second dose (Note: The approved interval for AZ and Pfizer has been shortened from the previous 6-month interval)
Pfizer is recommended as booster. AstraZeneca is second choice. #PICKBooster pic.twitter.com/UlgfttFBBk

—(@ayshardzn) December 30, 2021
Can I choose my booster vaccine?
No. Generally, you will be administered with one of two recommended Covid-19 booster vaccines by the Ministry of Health, which are Pfizer-BioNTech and AstraZeneca. However, Sinovac boosters will be available only for those with allergic reactions to other Covid-19 vaccines or those with other health complications, as advised by a qualified medical practitioner.
How do I get my booster appointment?
Those who are eligible will receive their appointments via the mySejahtera application. The appointments will be prioritised according to age de-escalation and health risks (see priority list above)
Those who are eligible but have not received an appointment and are urgently seeking a booster shot may also register on the waitlist at their preferred PPV private vaccination centre (PPVs) as listed on the ProtectHealth website. (ProtectHealth is the government-appointed implementer of private medical practitioner participation in the immunisation programme.)
Alternatively, you may opt to get a booster jab at a private clinic at your own expense
Steps to obtain booster dose#ProtectHealth#PICKBooster #DosPenggalak #LindungDiriLindungSemua pic.twitter.com/yaWFTEmvNA

— ProtectHealth Corporation (@protecthealthco) December 31, 2021
How do I register with my preferred PPV on ProtectHealth?
Fill in the details to search for your nearest PPV registered under ProtectHealth
Call or email your preferred PPV to register
Individuals are advised to register at only one PPV in a private health facility to avoid double booking
Those who have successfully registered will be on a waitlist after registration and contacted by the PPV in the event of an appointment cancellation or no-shows by others who have appointments via MySejahtera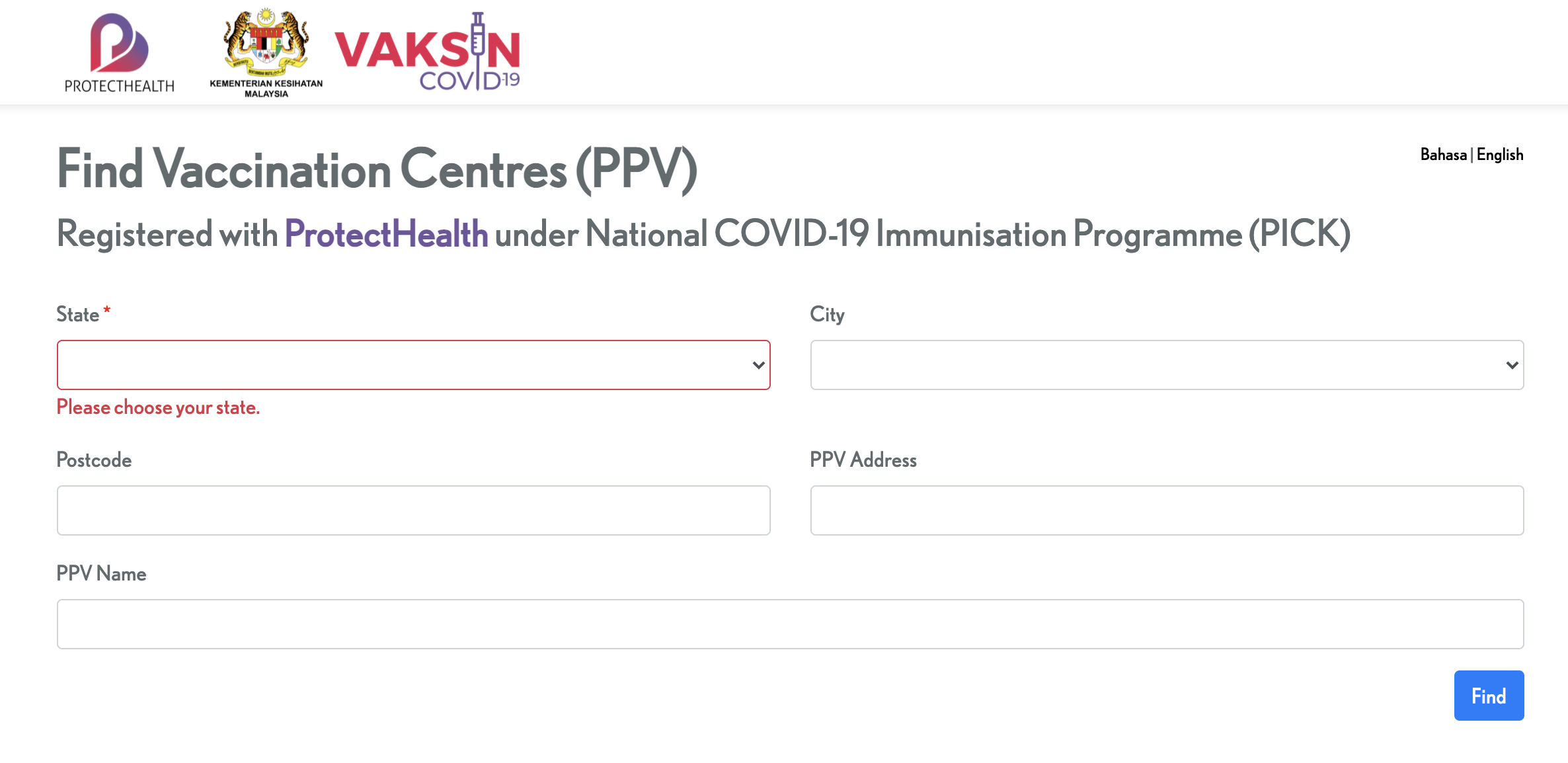 Can I walk-in to an approved PPV without an appointment?
Effective 4 January 2021, walk-ins to an off-site PPV will no longer be allowed to prevent large gatherings and overcrowding at PPVs. Individuals are advised to wait for an appointment or register to be on the waitlist at their preferred PPVs (as mentioned above).
---
Other Covid-19 and vaccine-related news to know:
| | |
| --- | --- |
| SHARE THE STORY | |
| Explore More | |