Lifestyle
CNY 2023: Limited edition liquor bottles, snacks and hampers for gifting
Hopping into a prosperous new year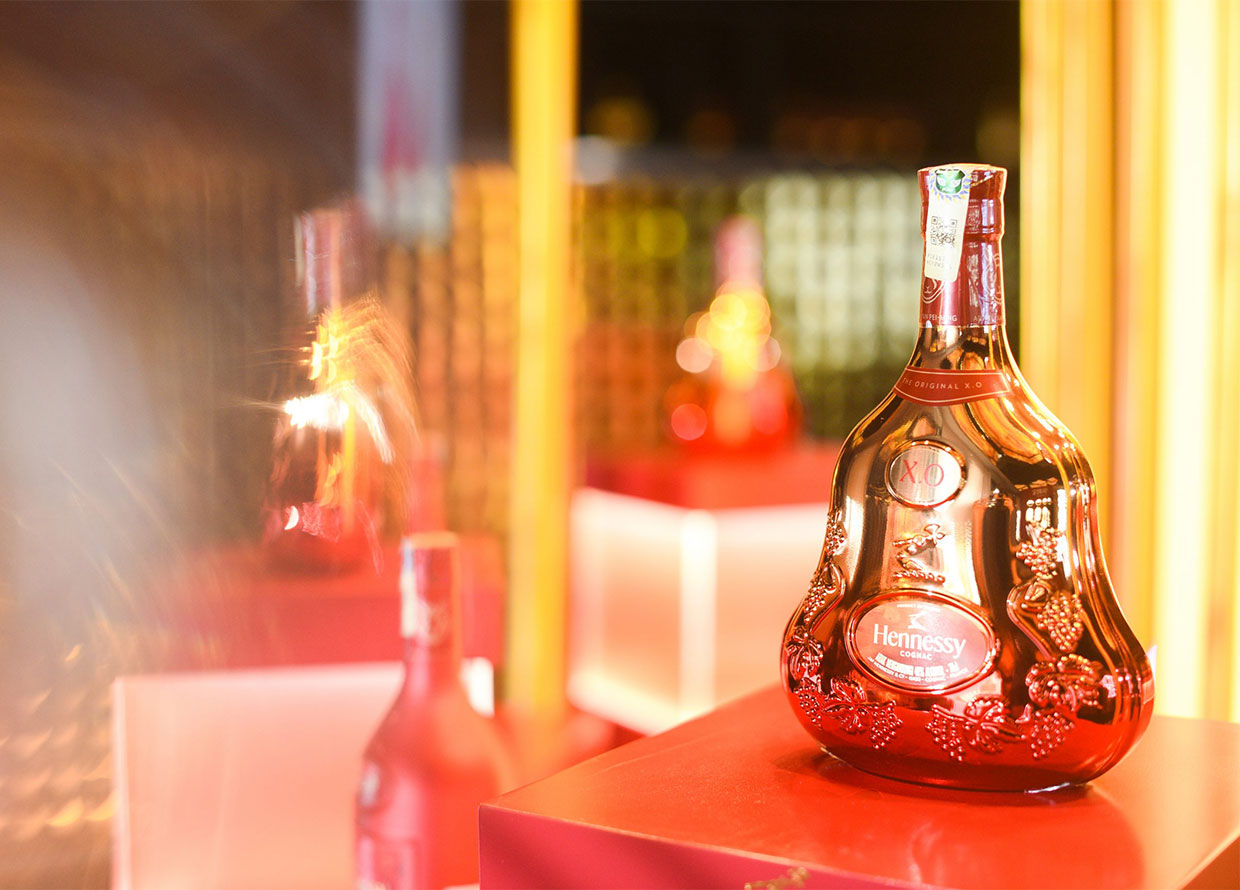 In Chinese culture, it is customary for guests to bring gifts when visiting a relative or friend's house during the Lunar New Year season. This tradition is also known as bai nian, which means to greet and wish each other Happy New Year and good luck. The act of bearing gifts is a way to share wishes of abundance, prosperity and good fortune; while also showing appreciation and respect for loved ones, especially elders. 
With that said, we have put together a gift guide of limited edition alcohol gift sets, seasonal snacks, festive-themed beverages and treats, and gift hampers to shop for your Chinese New Year visitations this Year of the Rabbit.
ALCOHOL GIFT SETS

Glenfiddich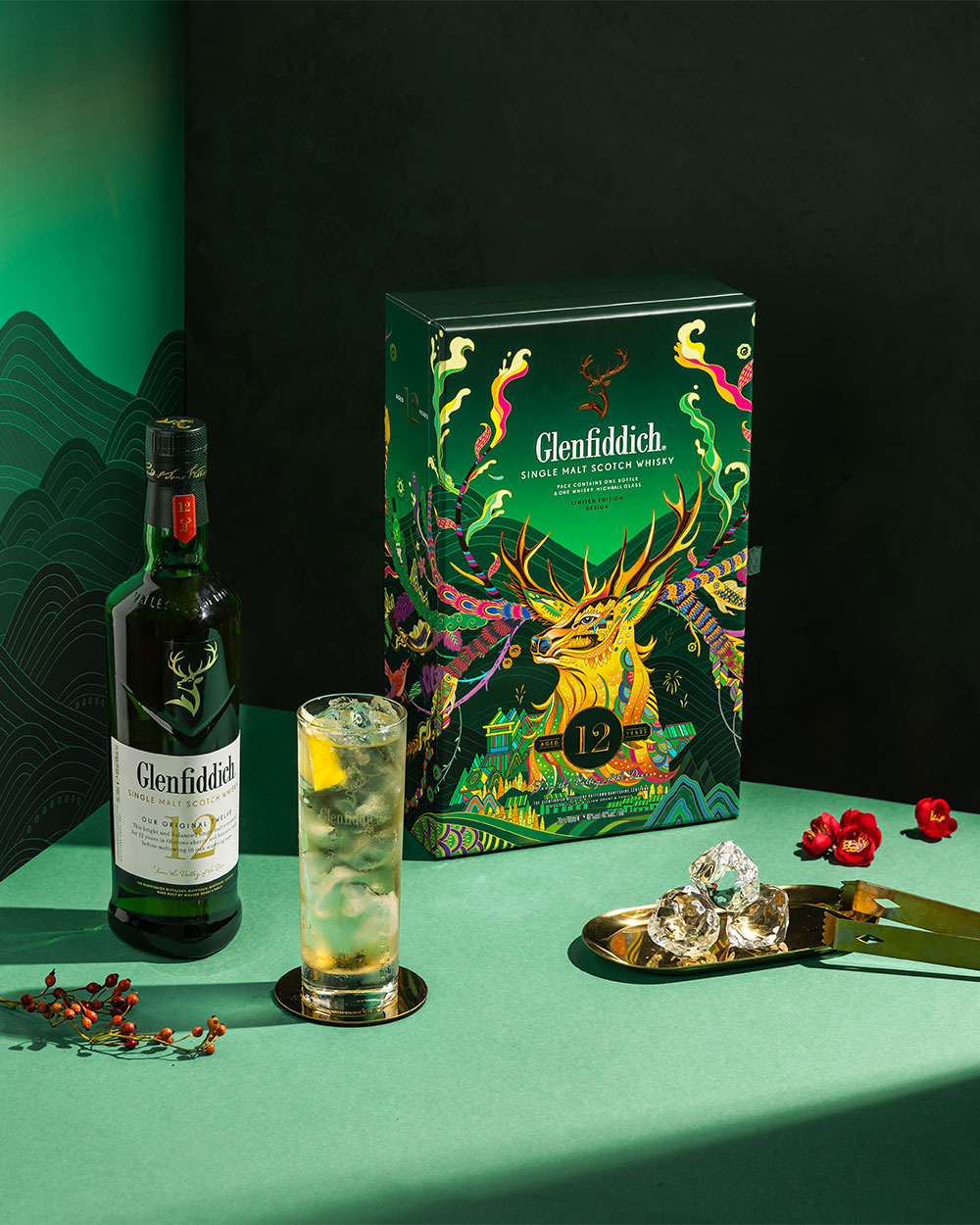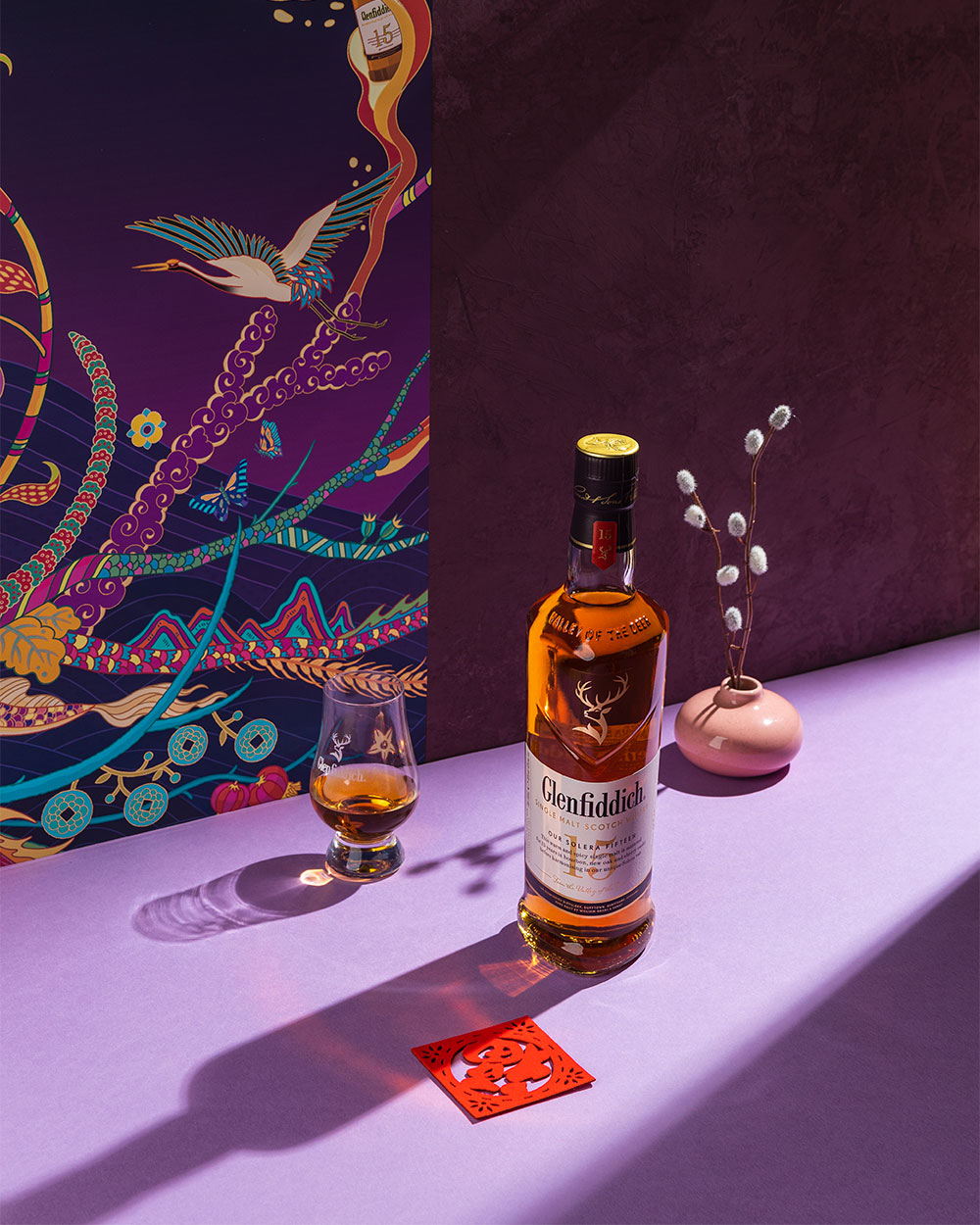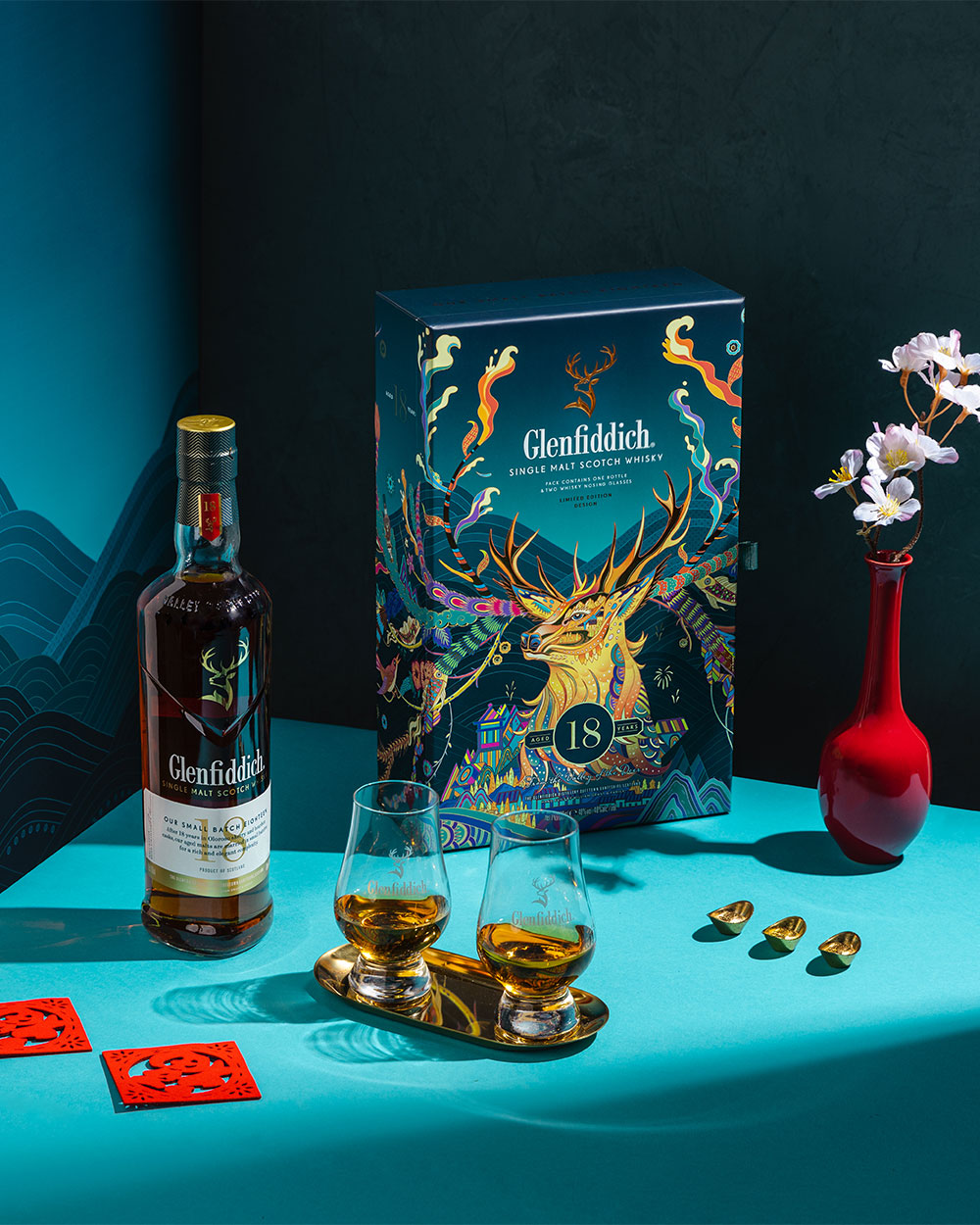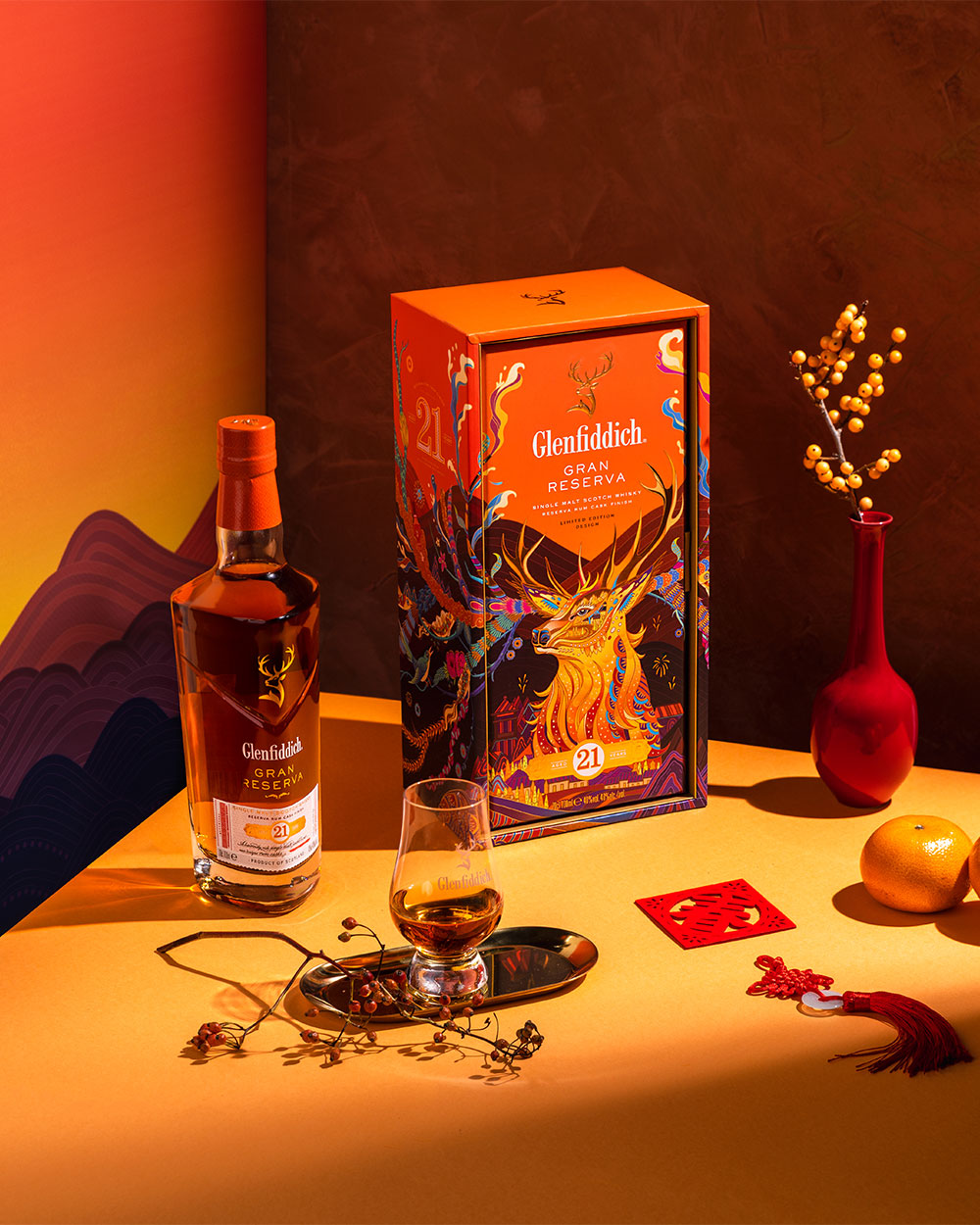 This Lunar New Year, Glenfiddich has collaborated with award-winning Chinese illustrator Yixin Zeng to design four unique gift packs. The vibrant designs feature the iconic Glenfiddich Stag—which represents wealth, prosperity and longevity in Chinese culture—with colourful antlers to mark the auspicious celebrations. Each gift pack houses a bottle of exceptional Glenfiddich whisky, including the Reserva Rum Cask 21 Year Old as well as the 12, 15 and 18 Year Old variants. 
These limited edition bottles will be available in selected speciality fine spirits retailers such as Jaya Grocer, Urban Fresh and Boozeat, and at the Glenfiddich Chinese New Year Pop Up. 
The Balvenie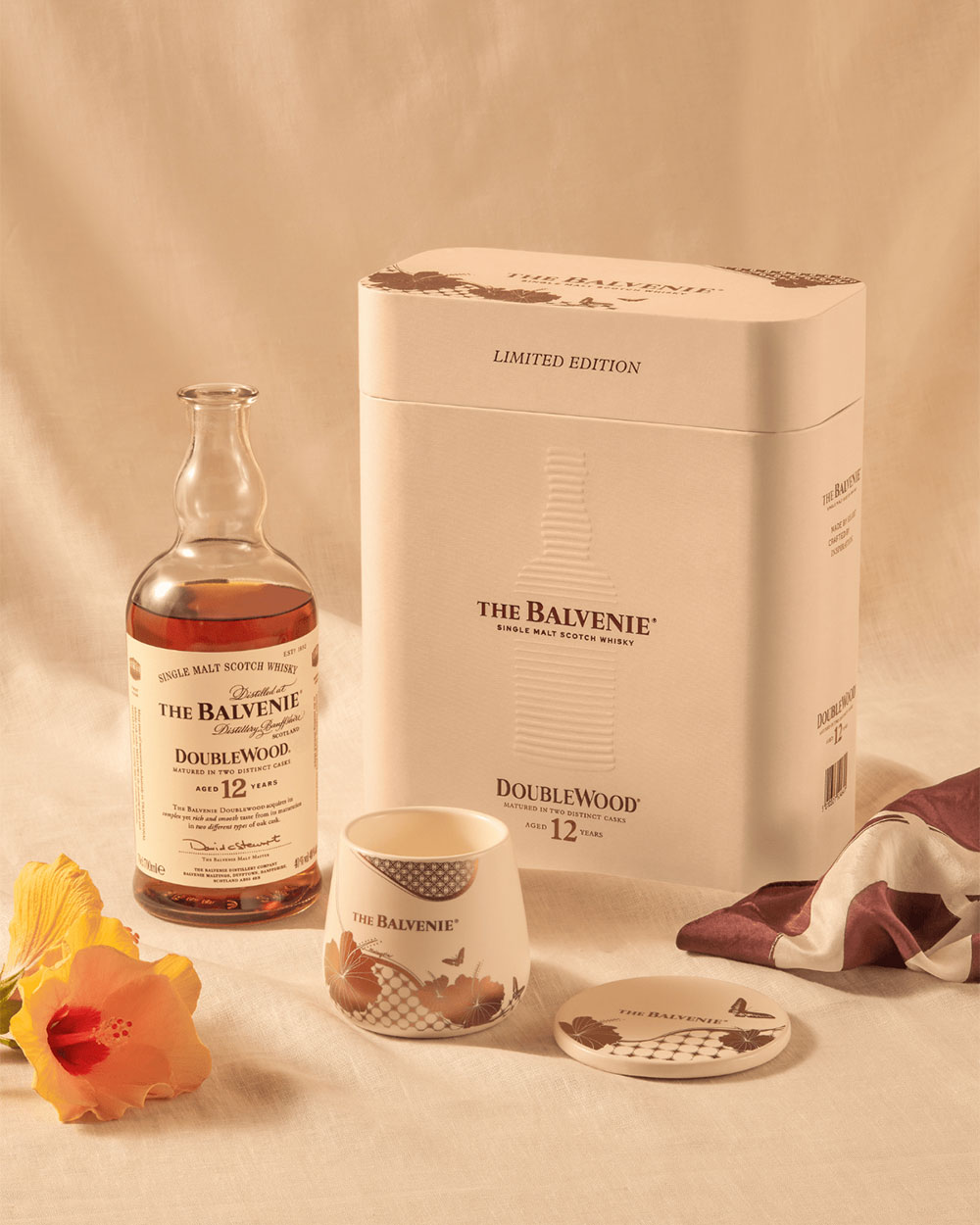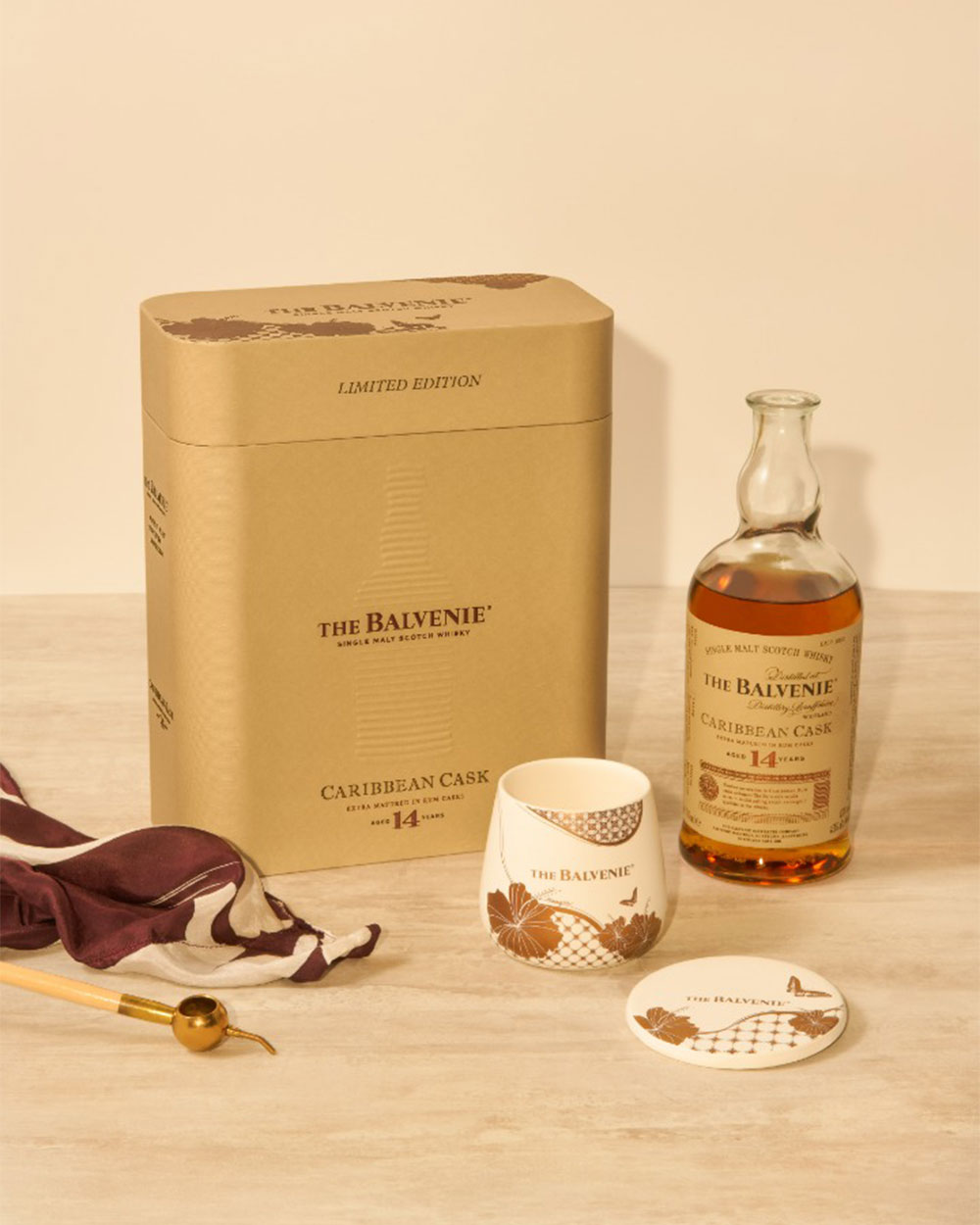 As part of the ongoing Makers Project initiative, The Balvenie has once again partnered with local batik designer Fern Chua to infuse her artwork into illustrated limited edition gift sets that are perfect for collecting or gifting. One of the core elements of her illustration is the hibiscus flower, capturing the Heart of Malaysia whilst showcasing traditional Batik motifs and fluid patterns that connect the past and present—true to the spirit of The Balvenie. There are two limited edition gift sets available, one housing the The Balvenie DoubleWood 12 and the other encasing The Balvenie Caribbean Cask 14, along with a ceramic cup and coaster. 
The limited edition artist gift sets are currently available for purchase online at The Meat Experts, Wholly Spirits and Cellar18. 
Hennessy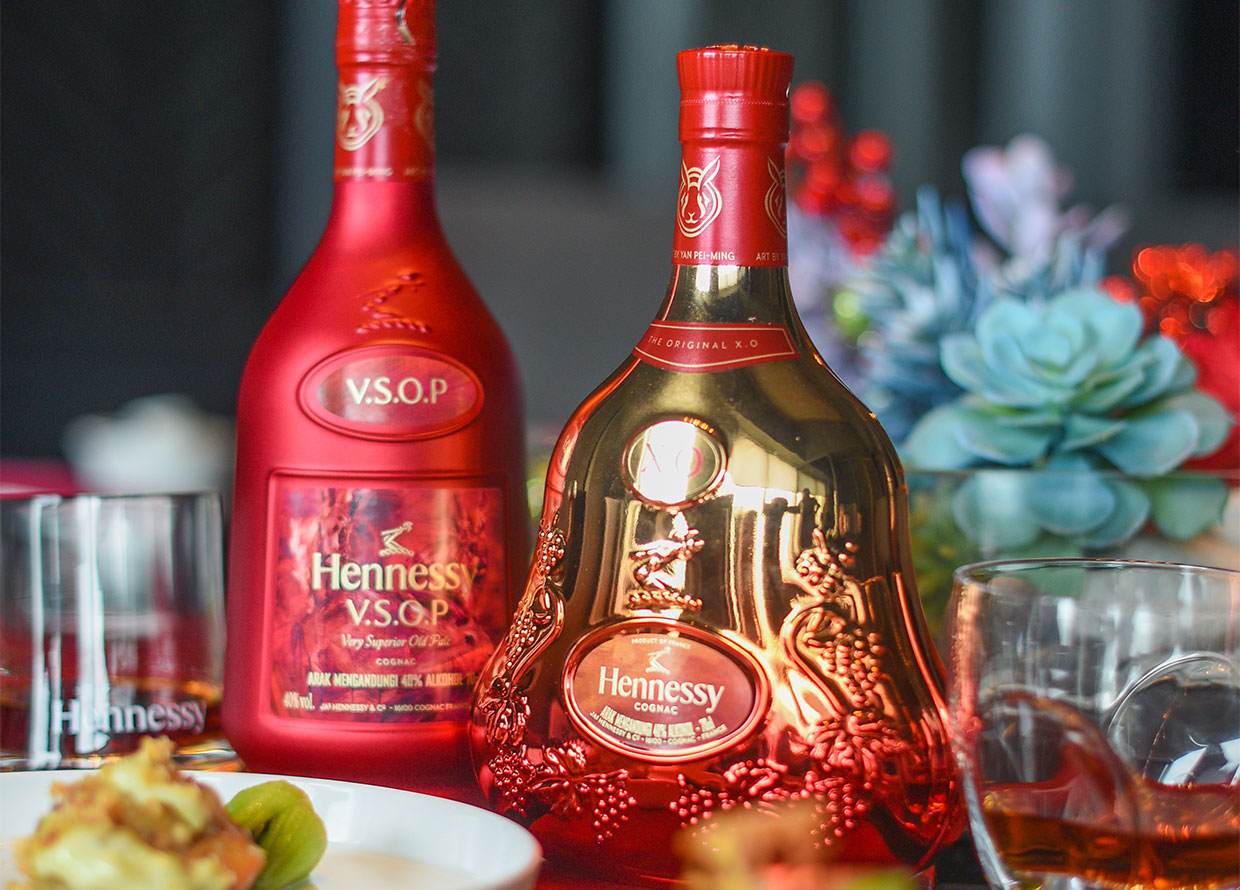 To celebrate the Lunar New Year, Maison Hennessy commissioned iconic contemporary Shanghai-born Chinese painter Yan Pei Ming—distinguished worldwide for his expressionistic and monumental works—to translate his zodiac painting onto the brand's limited edition bottle collection. Lending his signature big brush strokes to the Hennessy V.S.O.P, X.O, and Paradis bottles, the collection embodies the essence of inclusivity, in line with the Maison's mission to spread the message of togetherness. 
Hennessy's Chinese New Year 2023 Limited Editions  are available for purchase via the official Moet Hennessy Shopee Page here. For more details, visit Hennessy's Malaysia Facebook page.
Johnnie Walker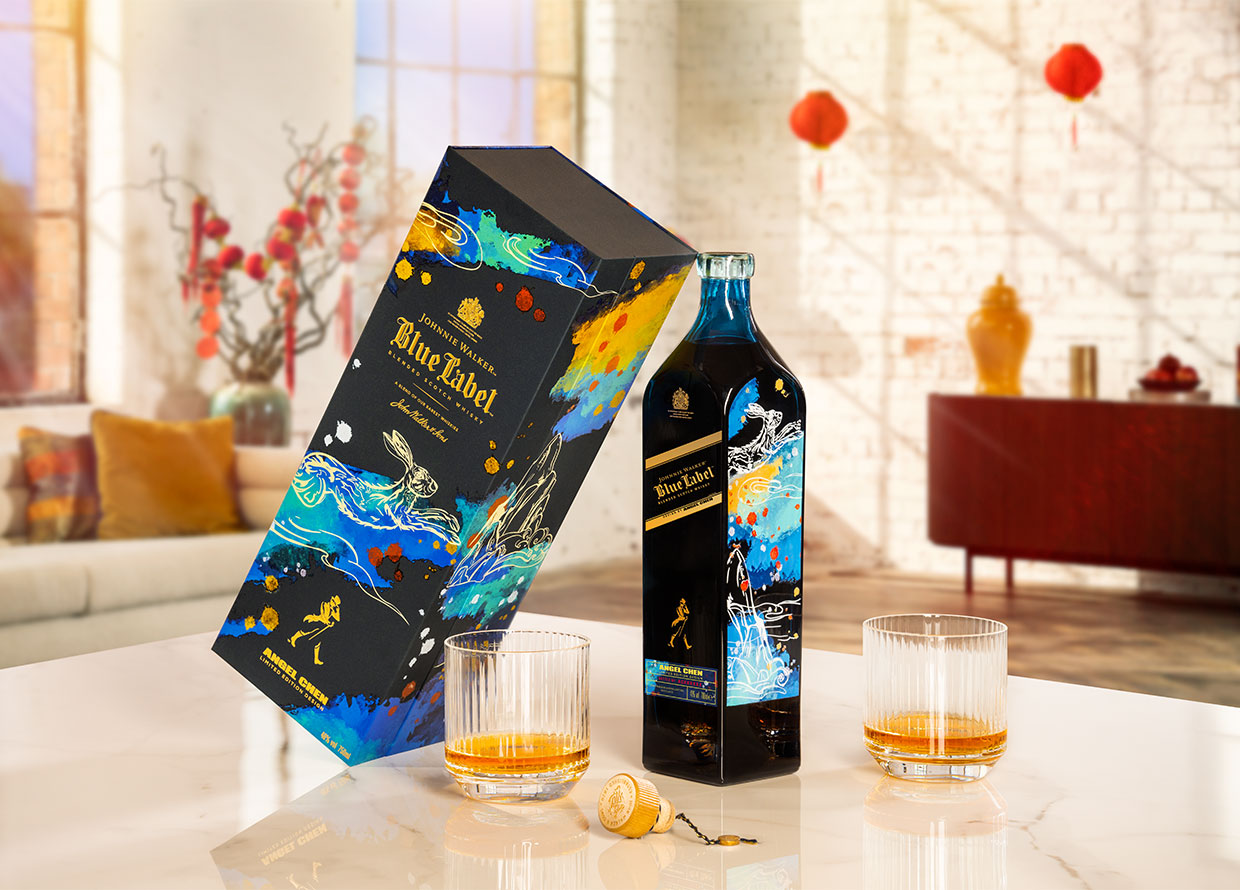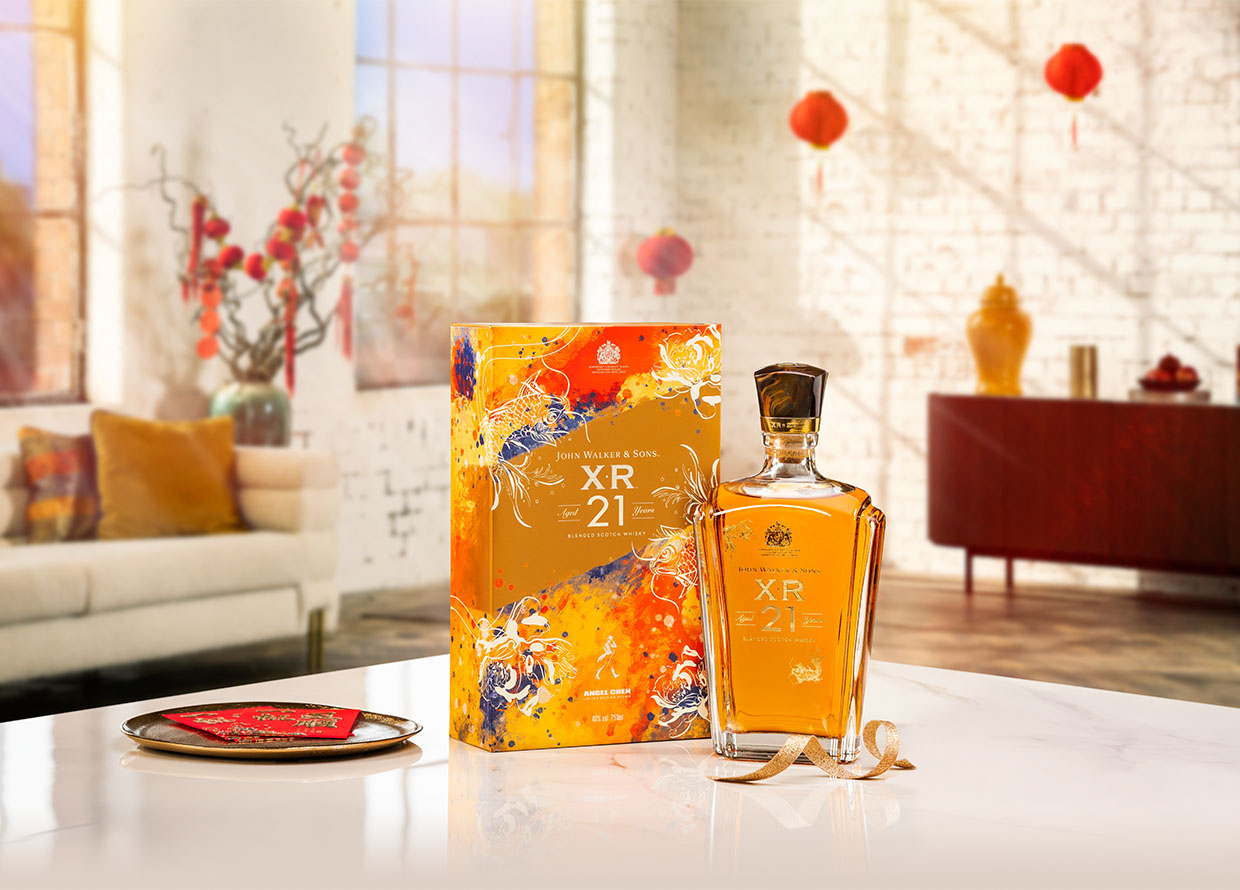 Whisky collectors will surely appreciate receiving one of Johnnie Walker's Lunar New Year limited edition designs in collaboration with Shanghai-based designer Angel Chen. Celebrated for her colourful approach to fashion and fusion of Eastern and Western aesthetics, Chen lends her inspiring illustrations to the Johnnie Walker Blue Label and John Walker & Sons XR 21 bottle packagings. The former features prancing rabbits with mountainous peaks in the background, symbolising the need to "keep walking" forward in the year to come. Meanwhile, the latter features goldfish swimming across an abstract design, representing good luck. 
For more information or to purchase the Lunar New Year limited edition designs, visit the official website or Facebook page. 
Carlsberg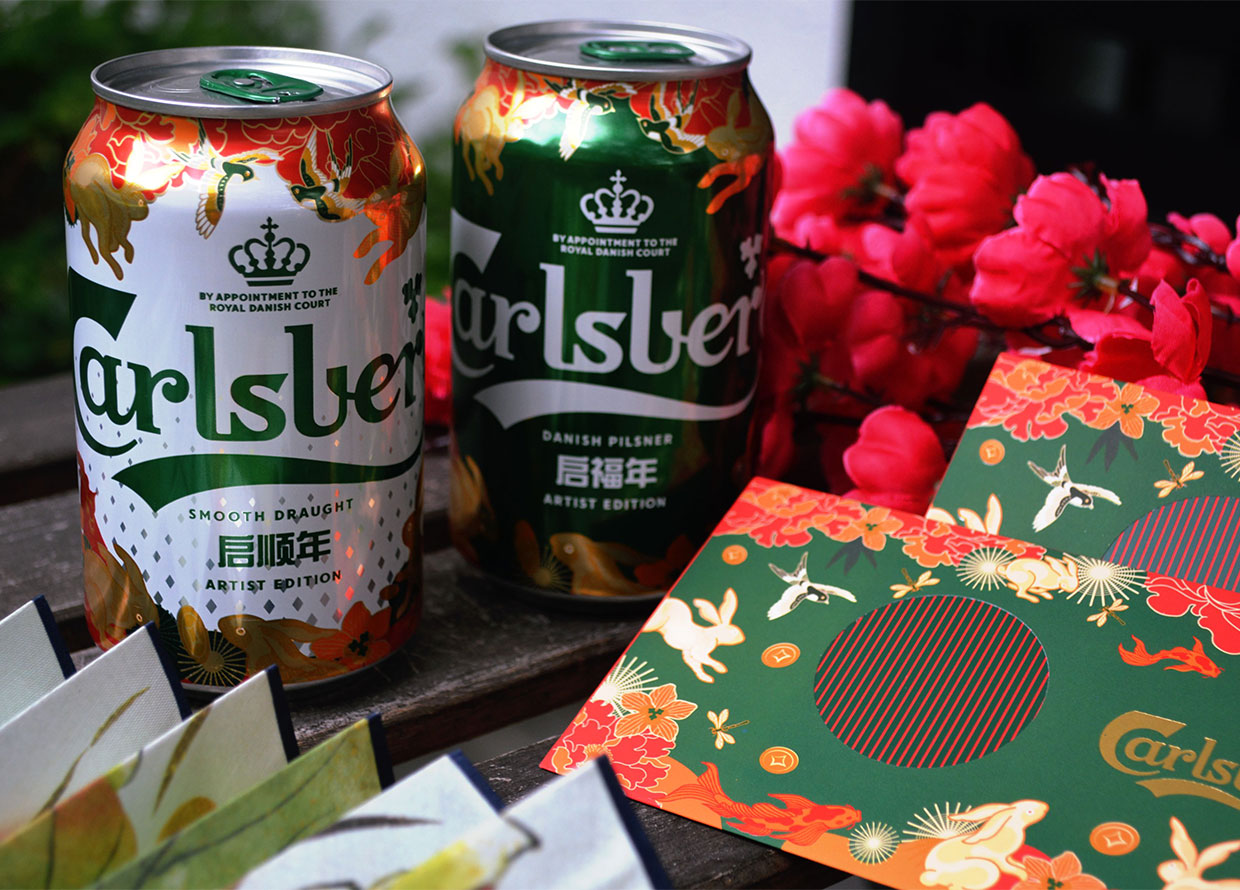 In conjunction with its Chinese New Year campaign themed 'Brewing Prosperity Together', Carlsberg has launched an exclusive collection created by multi-award-winning illustrator Feifei Ruan. The campaign masterpiece is based on the concept of a spring wonderland with eight magical rabbits transformed from the golden liquid of Carlsberg, gathering in the beer forest and evoking happiness, wellness, and prosperity as they reunite. Other symbolic elements also adorn the design, including elegant koi fishes to signify luck and good fortune; flying swallows to welcome spring; dragonflies to represent harmony, prosperity and good luck; as well as gold coins and blooming peonies to symbolise wealth. The exclusive artwork adorns the Carlsberg Danish Pilsner and Carlsberg Smooth Draught cans and bottles to ring in the new year with a fresh brew alongside family, friends and colleagues. 
The 'Brewing Prosperity Together' artist editions are available at hypermarkets and convenience stores nationwide. For more news and information on Carlsberg's Chinese New Year celebrations, promotions and locations, visit www.carlsbergcny.com.my. 
COFFEE & TEA

Nespresso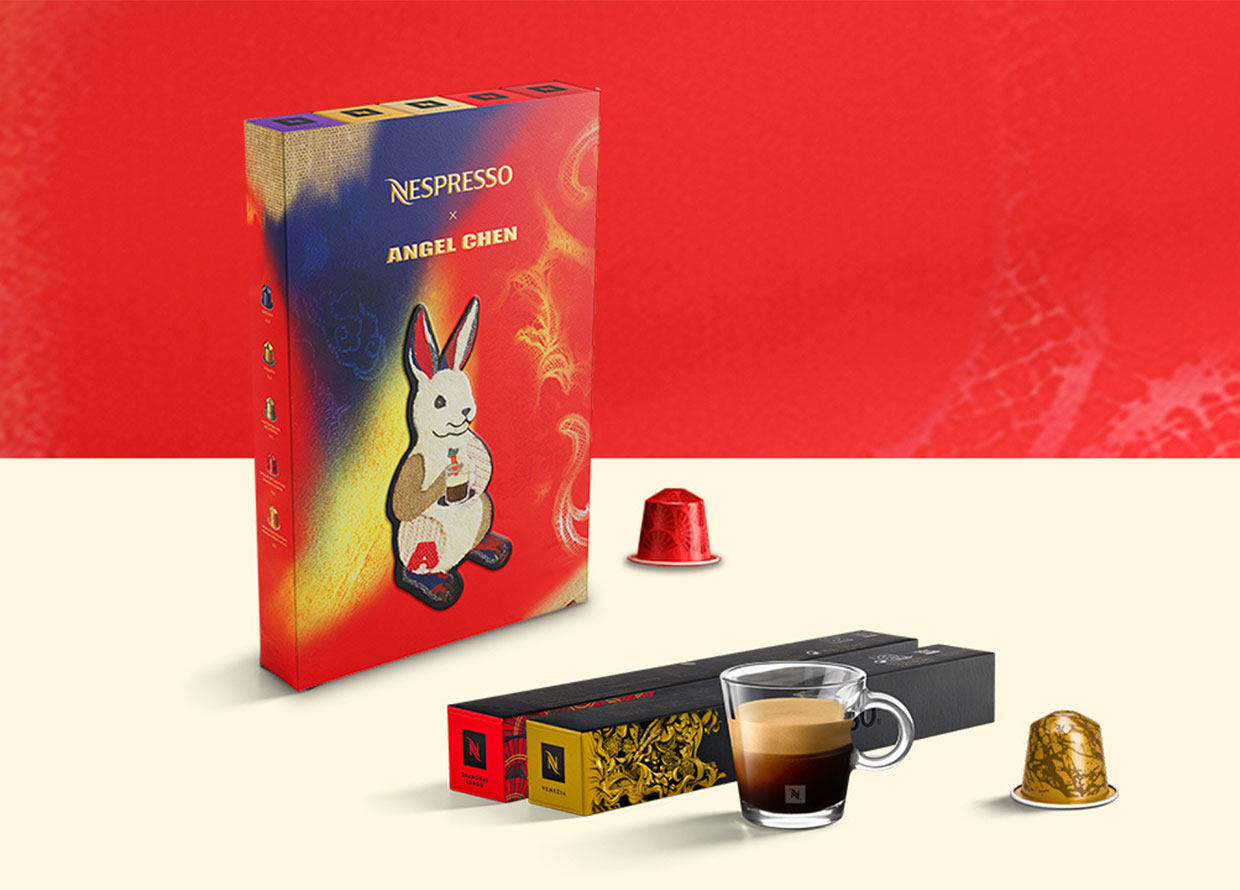 If you happen to be visiting a coffee addict (or if you're one yourself), then Nespresso's Lunar New Year collection offers the ideal gifts to choose from. The collection sees a collaboration with Chinese fashion designer Angel Chen to fuse Eastern and Western aesthetics into a patchwork rabbit design. The artwork is featured across the Nespresso x Angel Chen collection, including  a 5-sleeve assortment pack in the season's festive colour (RM124.50) and a limited edition Travel mug (RM129). The assortment pack consists of Nespresso's all-time classics, such as Ispirazione Arpeggio​, Ispirazione Napoli, Ispirazione Venezia, Master Origins Nicaragua​ and World Explorations Shanghai Lungo​.
The limited-edition collection is available at selected boutiques, via Nespresso mobile app, and Nespresso official site. 
TWG Tea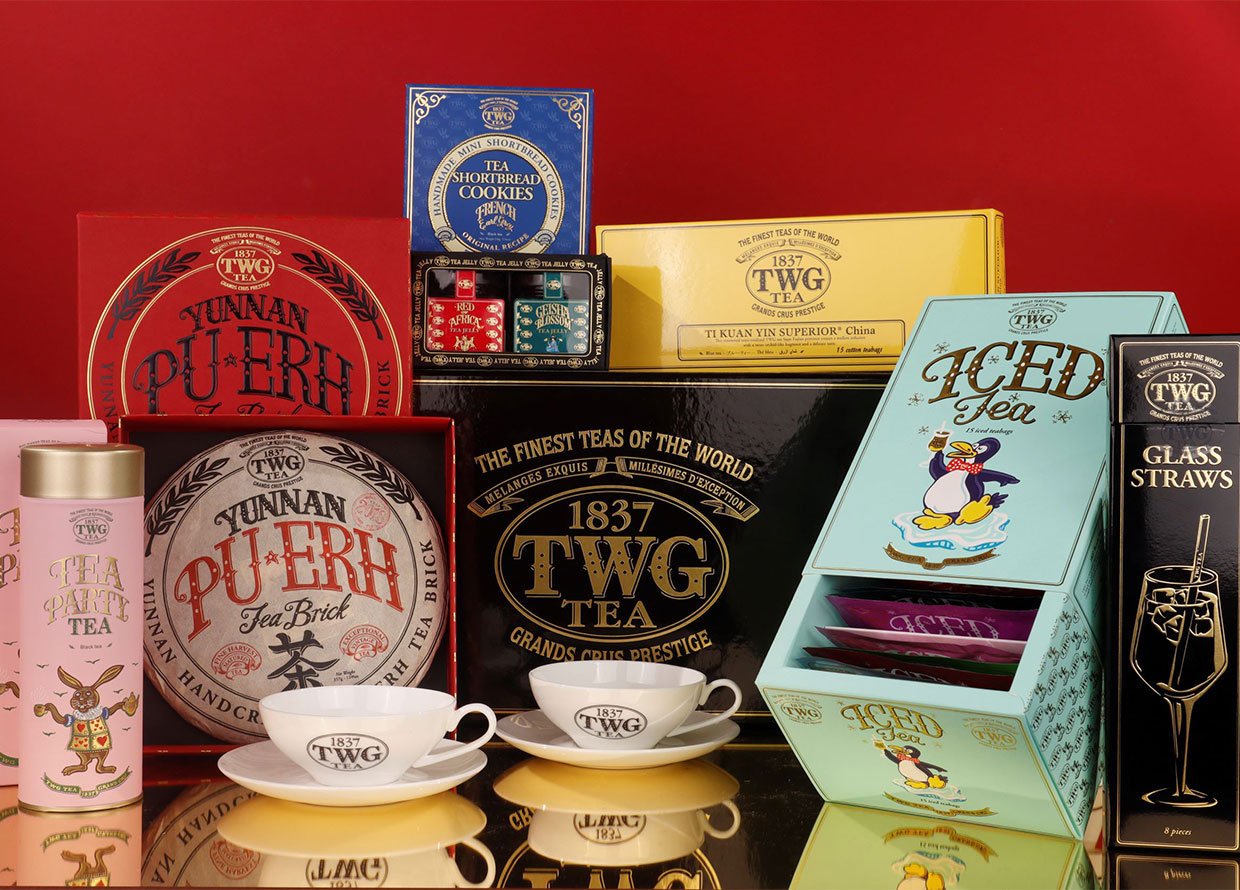 Those who prefer tea will take a fancy to TWG Tea's Chinese New Year collection, comprising an auspicious assortment of fine teas, tea sets, and gift hampers. From Destiny Tea and Yunnan Pu Erh Tea Bricks to the World Voyage New Year Tea Set, the selection is sure to offer something for even the pickiest tea aficionado. 
For more information or to shop TWG Tea Chinese New Year Hampers, click here. 
CHOCOLATES

Royce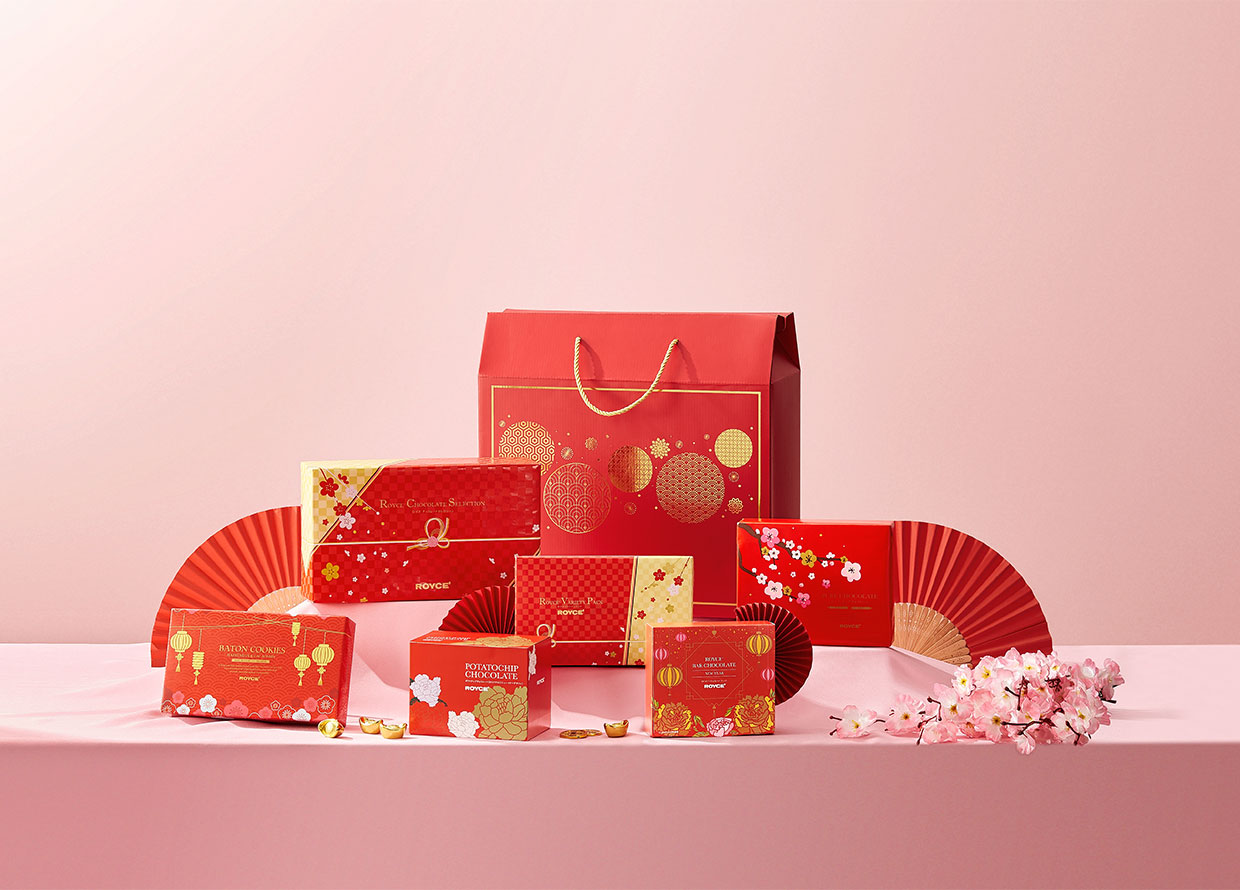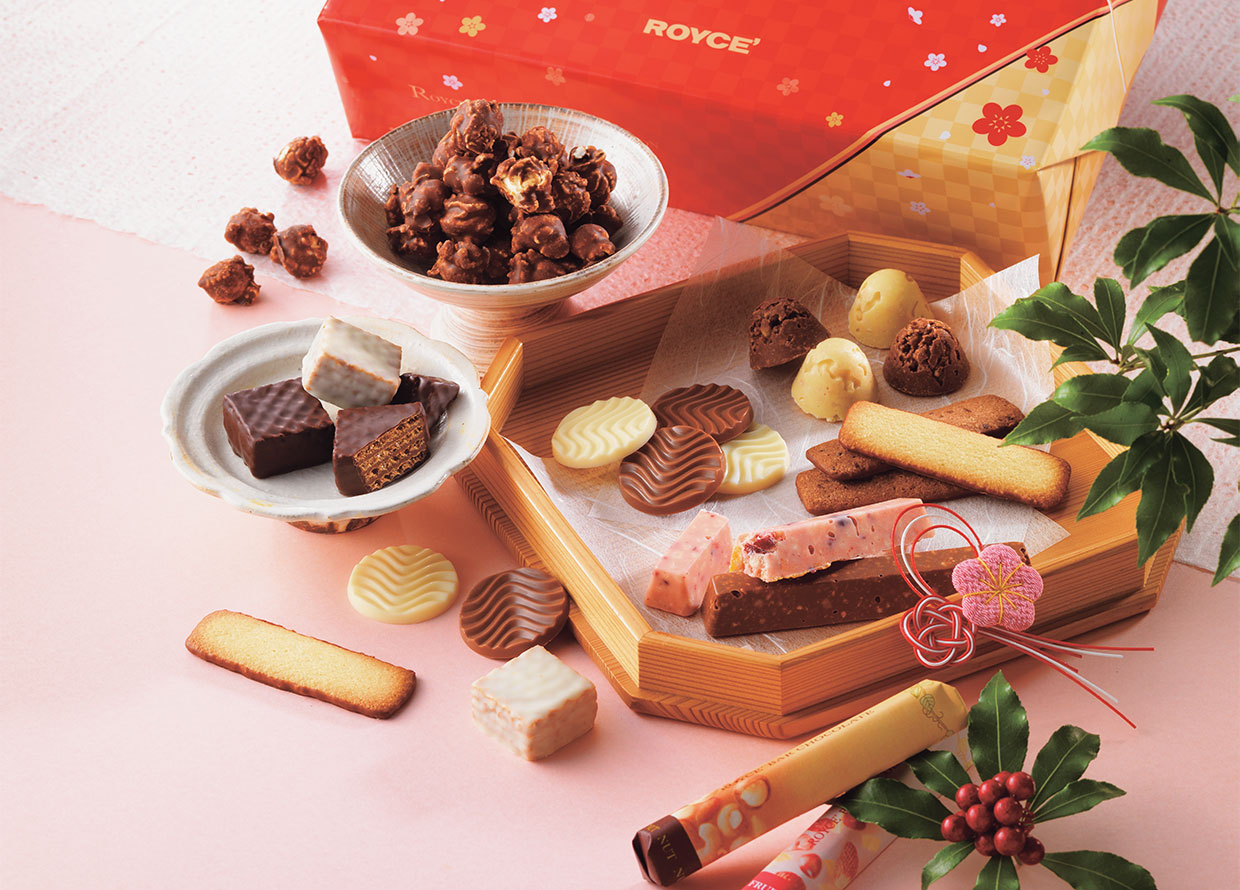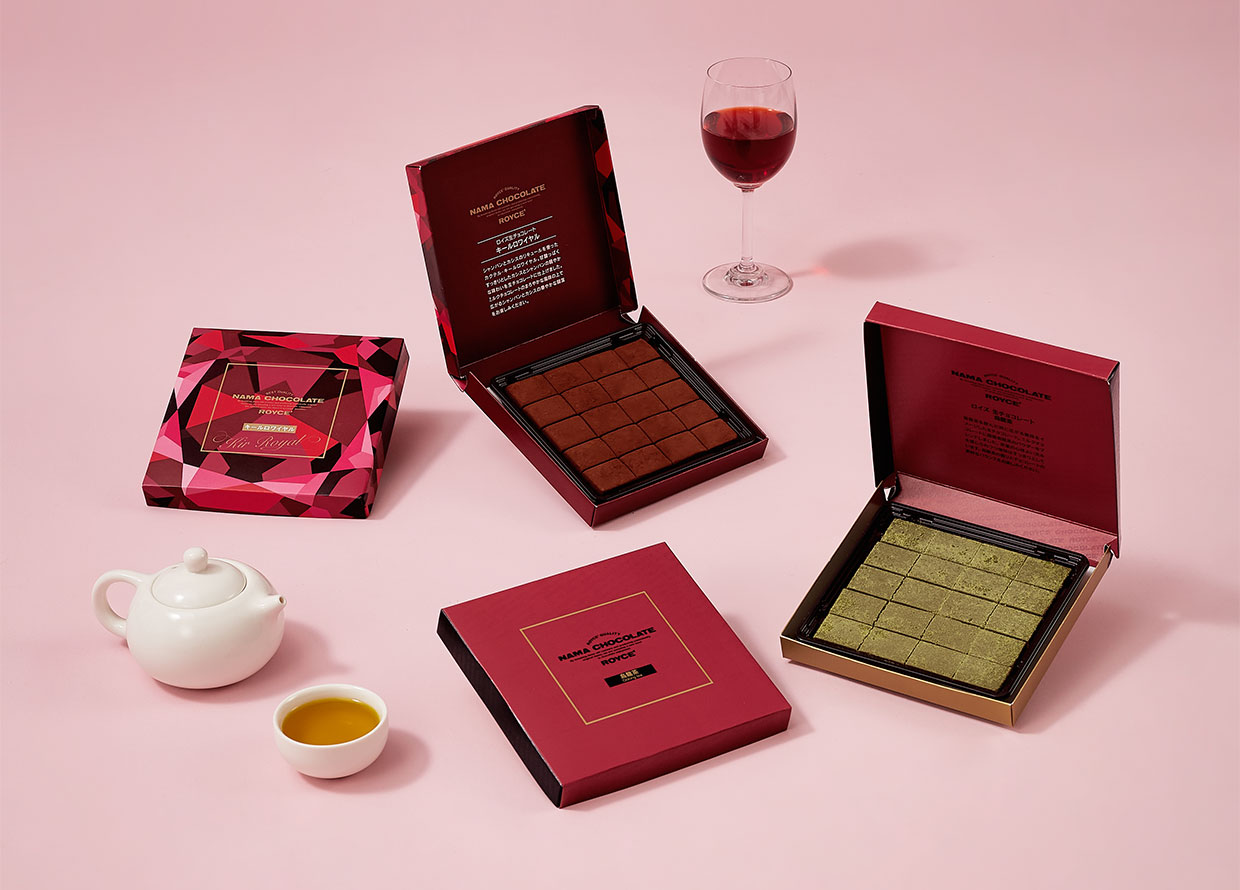 To herald the Lunar New Year, Royce presents a wide range of limited edition gift boxes in assorted sizes and varieties to meet every gifting need. Elegantly adorned in auspicious red and gold with delicate floral motifs symbolising good luck, prosperity and wealth, the collection includes Royce's signature range of indulgent Japanese confections as well as limited-edition specials like Popcorn Chocolate, Potechi Crunch, Jagaimo Chocolate, Nama Oolong Tea, and Nama Kir Royal!
The 2023 Royce Chinese New Year Collection is available at all Royce boutiques nationwide and online from 1 January 2023 to 31 January 2023.
Godiva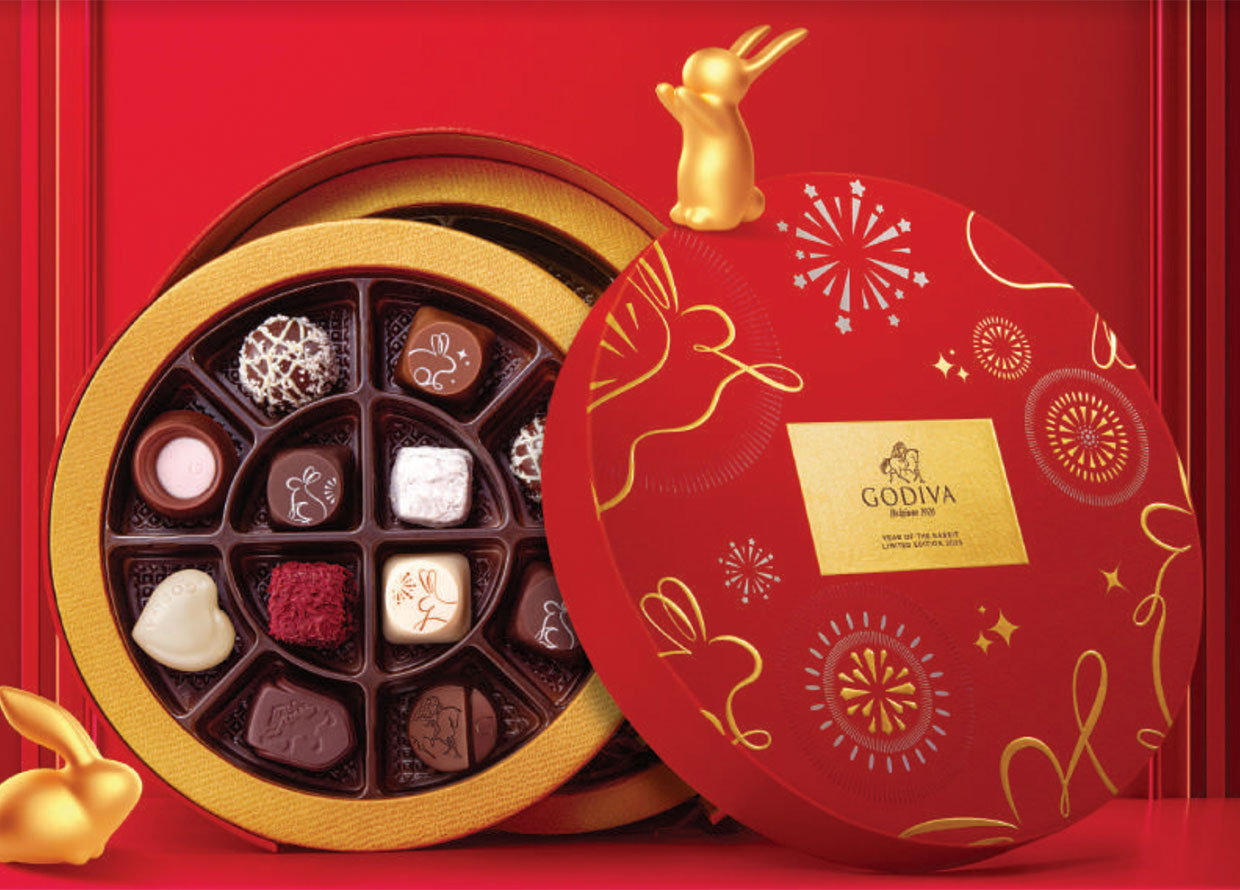 Celebrate the season of abundance with Godiva's bite-sized chocolate offerings that are inspired by Chinese tradition and ingredients. The collection includes the CNY Limited-Edition Assorted G Cube Truffle Tin that's ideal for gifting little ones, the CNY Carré Gift Box and Chocolate Gift Boxes that are perfect for sharing with families and friends, as well as hampers that are filled with a variety of milk, dark and white chocolates with classic Belgian fillings for gifting colleagues and clients. 
For more information or to shop Godiva's Chinese New Year collection, click here. 
Cocova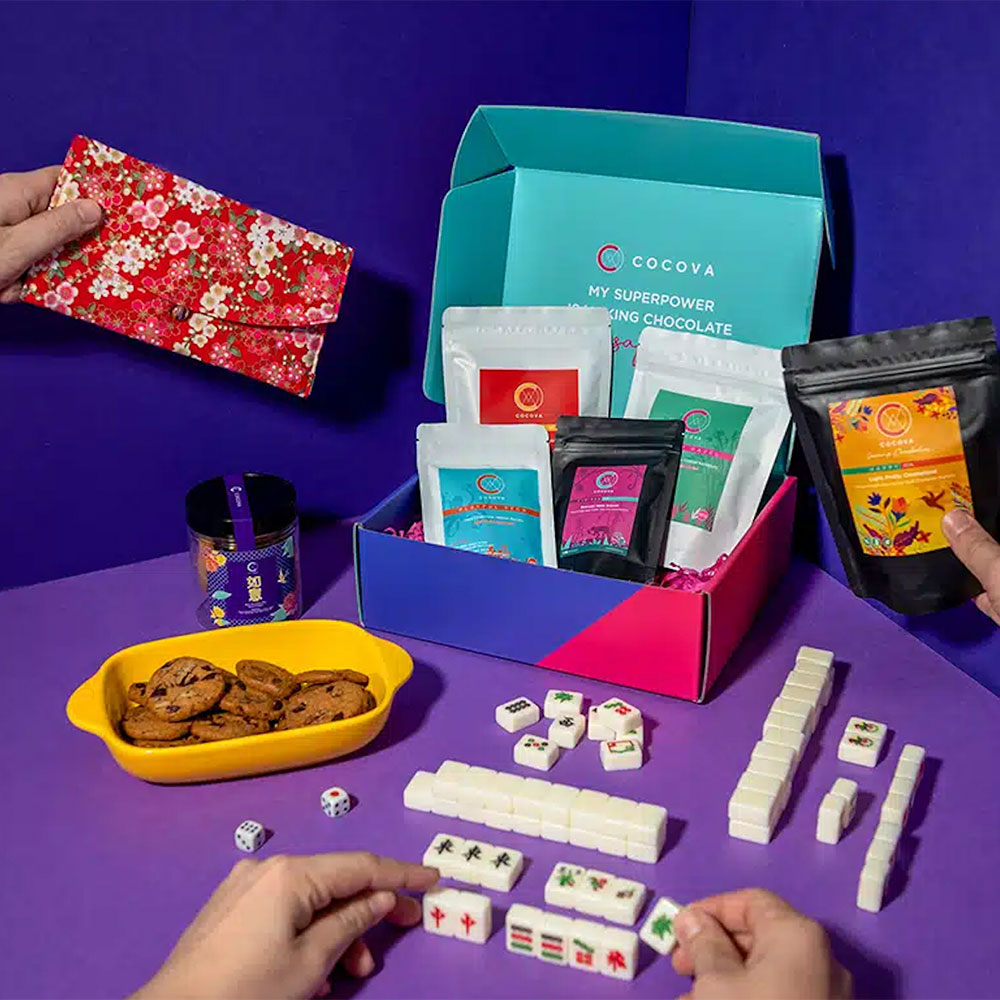 To make this Chinese New Year a meaningful one, homegrown women-owned chocolate brand, Cocova, has teamed up with Komuniti Tukang Jahit (KTJ) for its Year of the Rabbit collection. The collection consists of festive edition Ruyi chocolate chip pecan cookies, Cocova dark chocolates, and gift sets that come with a fabric angpow pouch made by single mothers, the OKU group, and stay-at-home mothers in the KTJ community. With every purchase of the collection, you'll be empowering these groups and supporting the social enterprise's good cause!
Shop Cocova's Year of the Rabbit collection here. 
SEASONAL SNACKS & TREATS

The KARLS Group
View this post on Instagram
KARLS Group, the team behind distinguished local restaurants Beta and Skillet, have launched a CNY 2023 collection comprising artisan bak kwa that is grilled over binchotan charcoal and individually packed to retain moisture and freshness. The bak kwa sets are available in three flavours: Chicken (RM98), Truffle Chicken (RM118) and Truffle Wagyu (RM148). They also come in an optional 2023 Tradition Gift Set (RM368) featuring a traditional floral arrangement that blends in with the festive boxes of Truffle Bakkwas, available in limited quantities.
KARLS CNY 2023 Collection is now available for delivery and pickup on selected dates. For orders and enquiries, visit karlslifestyle.com or WhatsApp +6013 2121 685.
Oh Cha Matcha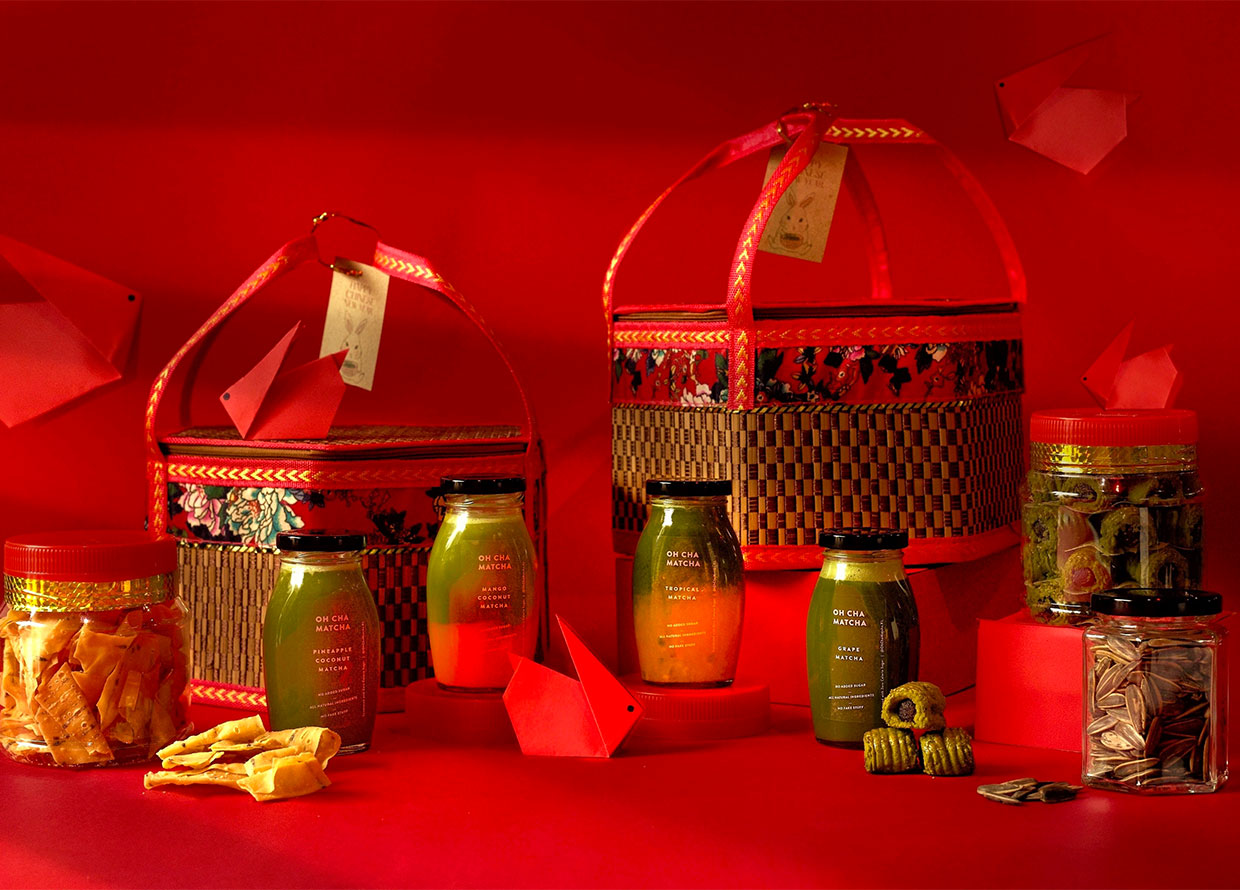 If you're looking to stock your home with drinks and cookies, Oh Cha Matcha has prepared an exclusive selection of matcha-infused drinks and snacks just for the season. The four new and refreshing flavoured matcha flavours include Grape Matcha, Mango Coconut Matcha, Pineapple Coconut Matcha and Tropical Matcha. As for snacks, take your pick from vegan-friendly and dairy-free homemade Matcha Pineapple Tarts (also sold separately for RM48), homemade Tofu Crisps, and Roasted Sunflower Seeds (kuaci). These arrive beautifully packed in a sustainable bamboo bag that's great for gifting or using as home decor too! 
The Matcha Prosperity Bag is priced at RM168 and is available for purchase online.
Elevete Patisserie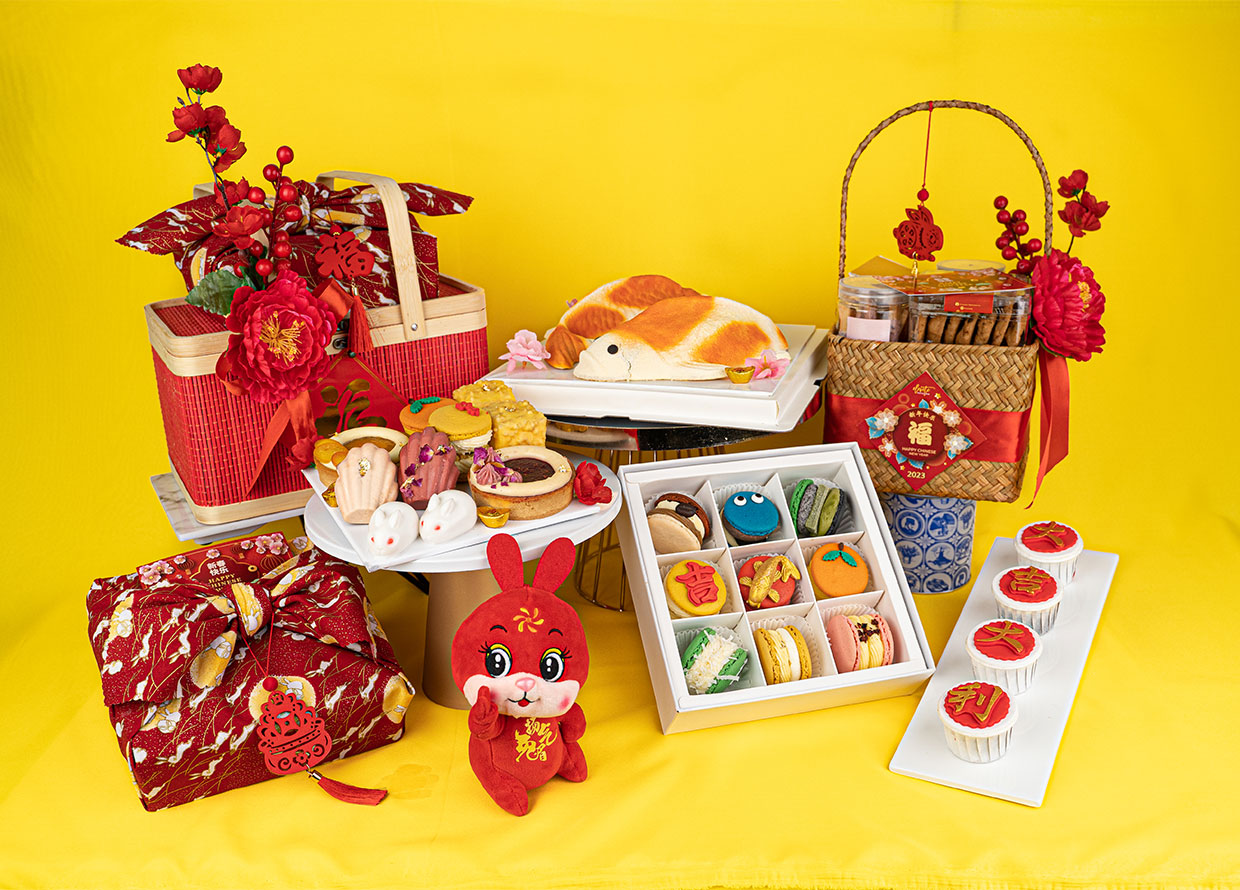 Local dessert shop Elevete Patisserie has unveiled a Chinese New Year collection comprising a variety of desserts. These include a festive-designed cookie box, koi-shaped entremets, an assortment of cupcakes, Fatt Choy Fatcarons (read: prosperity macarons), and a gift basket filled with a plethora of melt-in-your-mouth Chinese New Year cookies.
The Elevete Patisserie Chinese New Year 2023 limited collection is available online from 9 January 2023 to 4 February 2023.
For more Lunar New Year stories like this, click here. 
| | |
| --- | --- |
| SHARE THE STORY | |
| Explore More | |