Lifestyle
Yee Sang 101: Where it came from and what to say before you toss it
Get the lou-down
Video: Octopost Studio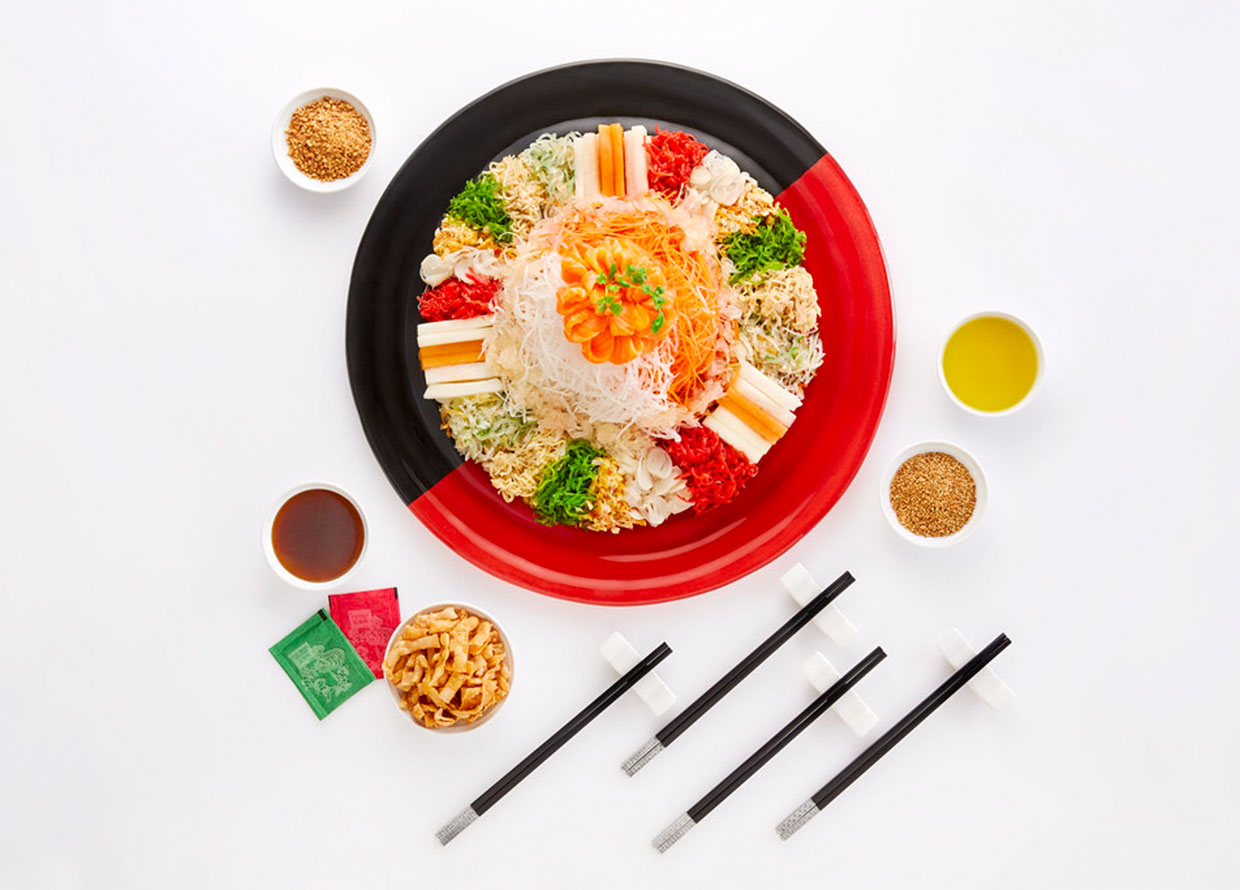 Do you know what to say when preparing the yee sang for the 'lou hei'?
We don't mean when tossing the yee sang and asking for all the grand things in life (money, love, health, holidays, you name it). We mean before that when the nice restaurant staff "blesses" the platter with auspicious sayings according to the condiments.
Most of the time, we're not truly paying attention but as more people opt to have their yee sang at home, their takeaway or delivery order definitely won't include the service of a staff and his/her "blessing". Of course, you can always just add the condiments without the wishes but since it's known as a prosperity toss, why throw away that extra luck?
We turned to Chef Ricky Thein Yiew Ming, the Executive Chinese Chef at Lai Po Heen of Mandarin Oriental Kuala Lumpur for a quick lesson. (Fun fact: Did you know you can order their yee sang for delivery online via their new Mandarin Cake Shop website?)
Watch the video below for the lou-down as we do The Yee Sang Ritual Challenge and scroll on for all the phrases!
THE YEE SANG RITUAL
SALMON FISH
年年有余
Nin nin yao yu
May you always have more than enough
LEMON/LIME
大吉大利
Dai kat dai lei
Wishing you an abundance of good luck
PEPPER AND CINNAMON POWDER
财源广进
Choi yuen kwong zhun
May you always be healthy and youthful
OIL
顺顺利利
Soon soon lei lei
May everything goes smoothly and successfully
PLUM SAUCE
甜甜蜜蜜
Tim tim mat mat
May your life be blessed with sweetness
GROUND PEANUTS AND SESAME SEEDS
金玉满堂
Kam yuk moon thong
May your house be filled with gold and jade
CRACKERS
满地黄金
Mun dei wong kam
May there be wealth and prosperity everywhere around you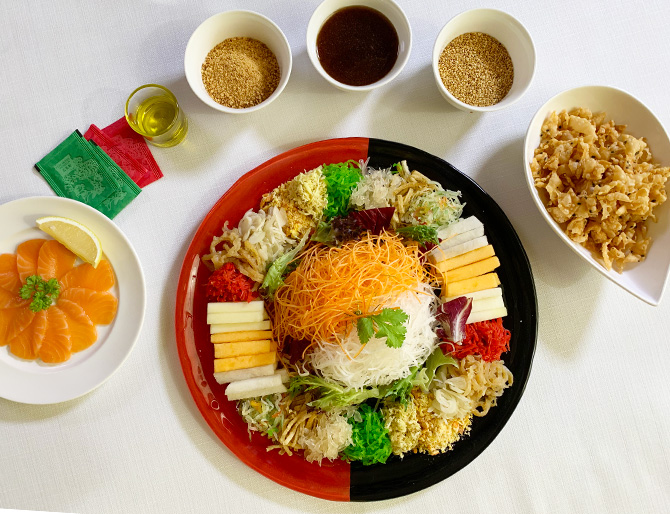 On another note, have you ever wondered where does yee sang comes from? Lou and behold, it's not actually widely served in China or Hong Kong (though it is growing in popularity there) unlike here in Malaysia and at our neighbouring country, Singapore. There are several different origin stories of the modern yee sang but all of them agrees that it belongs to the Cantonese and has influences from southern China. Here are two of the most popular origin stories we managed to dig up.
Yee Sang Origin #1 — A man from Seremban invented it
According to the extensive research done by a Cilisos writer, raw fish cuisine was very popular thousands of years ago in China though it eventually died down—except for yusheng, a traditional dish where the main ingredient is the raw fish. Long story short, the Cantonese and Hokkien immigrants brought it along to Malaya and one of them, a man named Loke Ching Fatt created his own version in 1940s as the locals weren't very fond of yusheng. His yee sang had around 30 ingredients! You can read the whole story here.
Yee Sang Origin #2 — Singapore's "Four Heavenly Culinary Kings" created it
Like a few other Malaysian dishes, there's a debate with Singapore that it could have started in the Lion City instead. Wikipedia cites several news articles from Singapore that wrote it was created by the island's four Master Chefs and made its debut in 1964 at Lai Wah Restaurant. However, The Star reported that the niece of one of the four Master Chefs, Tham Mui Kai, said "her uncle had come up with the recipe when he was an apprentice at the Yok Woo Hin Restaurant in Kuala Lumpur's Petaling Street." This would be in the 1920s or 1930s. She added that Tham first arrived in Malaysia from Guangzhou before moving to Singapore to work, then coming back in his 30s to marry a local woman, and then later moving back to the island in the 1970s.
We don't think it matters as to who created it, so long as we all get to enjoy it. Happy Chinese New Year to everyone and may all your yee sang wishes come true.
To make a reservation for the yee sang at Lai Po Heen, call 03 2330 8797, email [email protected] or order online for takeaway/delivery from their new Mandarin Cake Shop.
| | |
| --- | --- |
| SHARE THE STORY | |
| Explore More | |