Food has always been one of Malaysians' biggest pride and joy. Previously, we featured several recipes shared by local chefs. This time, we're taking a look at the art of creating some of our favourite Malaysian snacks, rather than the ingredients that go in them.
Cekodok pisang (fried banana balls) and currypuffs, for example, are two classic favourites that we're all too familiar with, and in recent times, often complain about the price that is compared to the price that was. But as Siti Hajjar Abd Kader, founder and Head of Recipes at Siti Li Food Studio, puts it, "There's so much time put into making these and for us, we use premium ingredients to ensure the taste."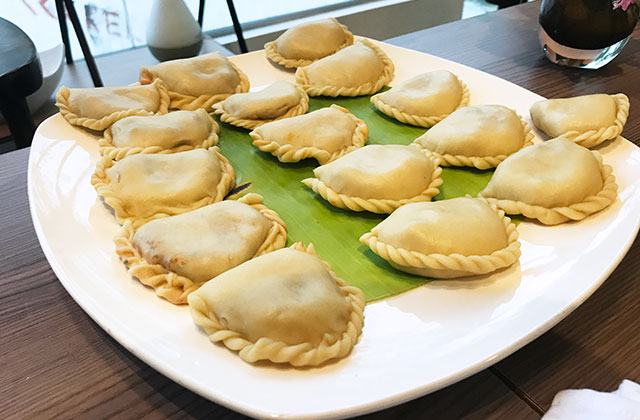 Siti Li Food Studio is the cafe portion of local lifestyle store Kita Kita which offers a curated selection of items inspired by Malaysia's arts and handicrafts. Siti cites shopping at wet markets for the freshest produce and B.I.G for quality ingredients such as the butter she uses for the dough for their currypuffs. "It does make a difference," she said. Did you know you should leave the dough for the currypuff's skin to sit overnight to attain that smooth-textured outer layer? Well, perhaps it'll be easier to just watch the video below (careful not to salivate over your keyboard) where we attempted to make round cekodok pisang and fold currypuffs.
Located at Damansara Heights, Siti Li Food Studio offers a tantalising menu of classic Malay favourites and local delights. For more info, visit their Instagram.
Related stories:
#MalaysianRecipes: Asam Pedas Cik Salma by Siti Li Food Studio
#Buro101: A guide to kopitiam drinks
Buro Tries: A Meditation through Batik workshop with Cotton & Sago
| | |
| --- | --- |
| SHARE THE STORY | |
| Explore More | |