Are we seeing a rise in the art of mixologist in Southeast Asia? We put the spotlight on this side of the world with the recent Marriott International Liquid Masters 2019
A Gin and Tonic, a Negroni or a Jungle Bird—all delightfully pleasing yet deceitfully complex, perhaps it's the notion that nothing is as simple as it looks. What makes any cocktail special is the perfect concoction that the bartender skilfully whips up while balancing on flavours and flair. A juggling act that requires much more than just an easy pouring of spirits into a mixer. Truth is it takes a whole lot of skills and knowledge to serve up the right pairings, as we discover at the recent Marriott International Masters Liquid 2019.
In the burgeoning scene of Asia, we're witnessing a flourishing of talents and even more creative bar concepts taking shape in the major hubs of Bangkok, Kuala Lumpur, Singapore, Bali and etc. At the second edition of the Marriott International Liquid Masters competition, 19 of the best bartenders from across the region got together at the Bangkok Marriott Marquis Queen's Park for a few days of intense but fun battle.
The expert mixologists are the cream of the crop coming from nine Marriott International brands including The Ritz-Carlton, St. Regis, W Hotel, JW Marriott, Marriott Hotels, Le Méridien, Westin, Renaissance Hotels and Tribute Portfolio in Thailand, Indonesia, Singapore, Malaysia and Vietnam. The Marriott International Liquid Masters was a showcase of skills, talent and showmanship as the bartenders work to push their own boundaries and create liquid art with their own signature drinks.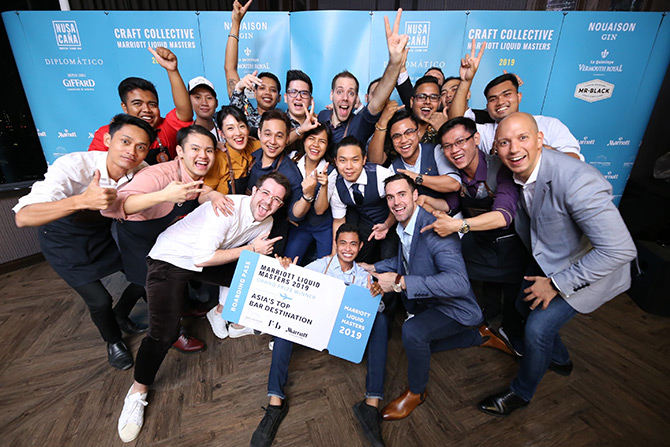 "People have always been at the core of our company's growth and success. We continuously provide opportunities for our talents to evolve and shine, as it translates into exceptional, personalised and elevated guest experiences," said Petr Raba, Vice President, Food & Beverage Operations, Marriott International Asia Pacific. "Through fun and interactive events such as Liquid Masters 2019, our talented bartenders have leveraged this platform to hone their skills, step up their mixology game and showcase bartending mastery."
The bartenders worked with a mixture of premium Craft Collective spirits such as Nusa Caňa Tropical Island Rum, Nouaison Gin, Diplomatico Rum, Mr Black Cold Brew Coffee Liquer, La Quintinye Vermouth Royal and Giffard liquers over the three-day event. A series of workshops, challenges and team building activities gave them the chance to hone their skills and step up their mixology game. Naturally when put under the microscope, one has to adapt. The talent we have in this region can be described as promising and growing.
Seeing the competitors in action, one can't help but be mesmerised by the different components that each bartender put into his or her "show". With the theme innovation and sustainability, Malaysian representatives—Han Jun Siew from W Kuala Lumpur mixed up a cocktail called 'Gone Fishing' while Kuhan Kalimuthu from The Westin Kuala Lumpur whipped up a 'Spicy Sugar Hurricane' at the final day showdown. The former took first runner-up for his blue-tinged drink.
Giri Asta from The St. Regis Bali emerged victorious with the title of Marriott International Liquid Masters Champion 2019 for his enthusiastic engagement, teamwork, profound knowledge and his signature tropical-inspired creations. Bartending isn't strictly a man's world; Namfon Jarensawang from Bangkok Marriott Marquis Queen's Park took home the Best Cocktail award for her 'Glow Gold' creation that fuses traditional Thai ingredients, dried jackfruit and aromatic pandanus leaves.
As the competition draw to an end, we headed out to celebrate all the talented mixologists at one of Bangkok's coolest bars. Raba was right; people are always at the core of any success. When given the right tools to shine, the best of the lot would emerge to take their craft up a notch and along the way, elevate the industry's standard. Next up, world domination!