The ocean has always been one of the most fascinating places on the entire planet. Despite covering 70 per cent of Earth's surface, mankind has only explored an estimated five per cent of the ocean floor. It's no wonder why author M.L. Borges says: "The beauty and mystery of the ocean fills our lives with wonders, vast beyond our imagination."
Whether you are an adventurous person at heart or simply seek an escape from reality, scuba diving offers a thrilling yet calming glimpse into the majestic underwater world. Not only is it a great sport or hobby to pick up for leisure and fitness, diving also instils a greater appreciation of aquatic life and Mother Earth as a whole.
If you're interested to begin your diving journey, read on to learn how you can become a certified scuba diver in Malaysia.
GETTING A PADI DIVING LICENSE
View this post on Instagram
While it's not illegal to dive without a licence, most diving centres will not allow you to do so without a valid licence. PADI is a good place to start, as the world's leading scuba diver training organisation with globally recognised certificates.
Beginner divers will typically start with the PADI Open Water Dive Course, where you will be trained to dive to a maximum depth of 18 metres or 60 feet. The course consists of three phases:
Knowledge Development: Students will learn the basic principles of scuba diving and complete a set of quizzes and a final exam to qualify. This can be done independently (via e-learning) or in a classroom environment.
Confined Water Dives: Students will learn how to apply scuba diving skills and get comfortable with diving equipment in a pool or a body of water with calm conditions (for example, just off-shore).
Open Water Dives: Students will practice, apply and demonstrate what they have learnt in the first two phases in open water conditions (a minimum depth of five metres).
PRE-REQUISITES
View this post on Instagram
1. Age limitations
The minimum age requirement to be eligible for the PADI Open Water course is 10 years old. Student divers who are younger than 15 will earn the PADI Junior Open Water Diver certification upon completing the course, which they may upgrade to PADI Open Water Diver certification upon reaching 15.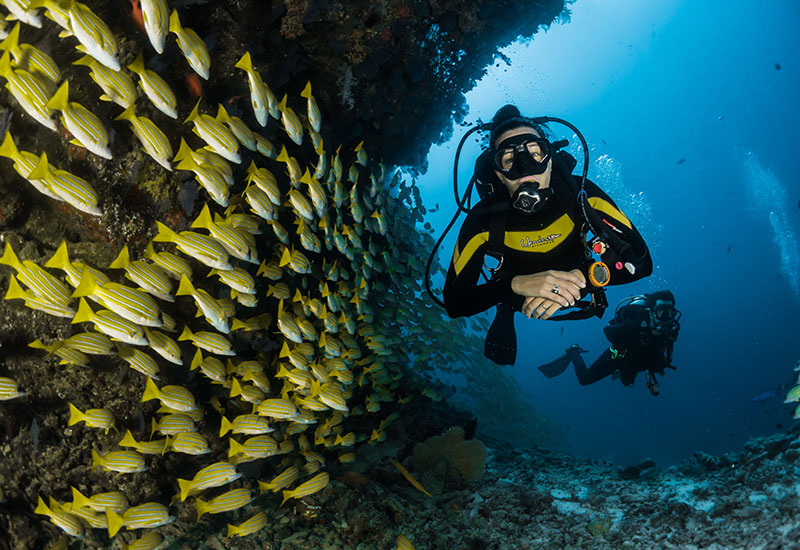 2. Basic swim skills
There's a common misconception that you do not necessarily need to know how to swim in order to dive. However, this isn't true with the PADI Open Water Dive course. Students will be required to pass a swim and float test as part of the course, namely:
Swim 200 metres/yards (or 300 metres/yards in mask, fins and snorkel). There is no time limit for this, and you may use any swimming strokes you want
Float and tread water for 10 minutes using any methods you want
With that said, you don't have to be an avid swimmer in order to pass the test. The goal of the test is to ensure that you have basic swim skills and are comfortable enough in water so that you are able to keep calm and avoid panic while diving.
3. Health and fitness
Besides being comfortable in water, you should also have a reasonable level of fitness. Make no mistake—diving is a physically demanding sport. Handling scuba gear, especially the cylinder tank, requires strength and cardiovascular endurance. Again, you don't have to be a gym junkie or sportsperson to qualify, but it helps if you lead an active lifestyle.
In addition, all students must fill up a scuba diving medical questionnaire before beginning a diving course. Some physical conditions such as lung problems or ear issues may be potentially dangerous under high pressure during a dive. Those with physical disabilities may still dive with special gear and alternative methods, depending on the type of disability, also known as adaptive diving. When in doubt, check with your doctor/medical professional if you are fit for diving.
WHERE TO GET CERTIFIED
View this post on Instagram
There are many PADI Dive Centres around Malaysia, including those based in the city and on islands. Among the more popular diving sites for beginners include Pulau Tioman, Pulau Redang, Pulau Perhentian, and Semporna (Sabah).
The full PADI Open Water Dive Course usually takes four days to complete, which can be completed in a single island trip or separated into different phases. Here's a look at your options and alternatives:
Island trip: This option is ideal for those who prefer to study the course and practise the skills at one go. (Note: You should be fairly comfortable in water, particularly the ocean, to ensure you are able to commit to the full course once you're on the island.)
City + island trip: This option is ideal for those who are more comfortable practising Confined Water skills in a safe pool before jumping into the ocean. You may also opt to complete your knowledge review beforehand (via e-learning) before continuing your Confined Water and Open Water lessons on the island of your choice (subject to your chosen package).
View this post on Instagram
PADI Scuba Diver's Course: If you are hesitant about committing to the PADI Open Water Diver course, you may opt for this course instead, which is basically half of the former. It omits some of the more challenging skills and requires only two to three days to complete. The key differences are the need for supervision and maximum depth—PADI Scuba Divers may only dive under the direct supervision of a PADI Professional to a depth ofup to 12 metres/40 feet. Certified PADI Scuba Divers may later decide to continue the remaining lessons to upgrade to a PADI Open Water Diver licence.
Discover Scuba Diving:  This one-day introductory dive is ideal for those who want to try scuba diving, but aren't ready to take the plunge into a certification course. Students will be taught the basics of diving, including the skills and equipment required for a scuba dive, followed by a short, shallow dive experience either in a pool or in a safe section of the ocean/reef. The experience will not count as part of your qualification to become a certified scuba diver.
Depending on your chosen package, the course can cost between RM1,000 to RM2,000 (except Discover Scuba Diving). This is typically inclusive of course materials (knowledge development), diving equipment (mask, snorkel, cylinder tank, wetsuit, etc.) confined open water dives, open water dives, and instructor fees. Some packages may also include accommodation and meals at additional cost.
ADDITIONAL TIPS
View this post on Instagram
Bring appropriate swimwear:

 

Given the all-round sunny weather in Malaysia, it's advisable to wear a rashguard underneath the wetsuit provided by your dive centre to avoid getting a sunburn. (Editor's note: I learnt this the hard way and went home with tan lines five shades darker than my skin tone on my arms and thighs!)
Wear sufficient sunscreen (make sure it's

 

reef-safe!):

 

Focus on exposed areas, including your face, ears, and the back of your hands. Check for reef-safe labels to ensure you are not harming corals and aquatic life while you stay protected from UV rays.
View this post on Instagram
Travel with a partner/friends:

 

This is optional as you can still get a diving licence as a solo traveller. However, you will likely be paired with another diver during your open water dives as all scuba divers are required to dive in a buddy group of two or three. If this is not something you are comfortable doing with a stranger, then you may want to consider getting your licence with someone you know.
Practise breathing through your mouth:

 

This will help you adapt faster to scuba diving, as you will be breathing through your regulator (mouth) underwater. You can practise this with a snorkel in a pool or simply pinch your nose and breathe in and out through your mouth in a slow, relaxed manner.
Relax and enjoy the experience:

 

Diving is supposed to be an enjoyable experience, so don't forget to keep calm, keep breathing, and enjoy the journey!
For more information or enquiries, contact a PADI Dive Centre or Resort near you.
Read more about diving here.
| | |
| --- | --- |
| SHARE THE STORY | |
| Explore More | |