How do you like your wontons? Here are two different ways to make them—and they don't need to be crispy
By now, it's clear that Malaysians take their food seriously. Food is, after all, a massive part of who we are and our national identity. In 2018, Malaysians weren't exactly the happiest when MasterChef UK judges Gregg Wallace and John Torode criticised the nasi lemak rendang of Zaleha Kadir Olpin for not having crispy chicken.
View this post on Instagram
Even when an incident isn't exactly related to Malaysians, one thing's for sure—we should always respect the culinary traditions of other cultures. We all have our own ways of preparing our cuisines; adding to the flair and colour of every culture in the world.
View this post on Instagram
A recent episode of MasterChef Australia ignited an Internet avalanche when judge Andy Allen (winner of Season Four of the show) criticised Mauritian-Chinese contestant Brendan Pang's wonton fillings for not being crunchy. On the episode, Brendan Pang prepared crispy prawn wontons accompanied by a side of garlic and chilli sauce during a challenge in which contestants are tasked with creating dishes that highlight the crunchy textures of food.
The uproar started when judge Andy Allen said: "I'm sorry but mine is not crunchy" and "that's soft, so in my opinion, it doesn't meet the brief". Even Andy Liaw, the Malaysian-Australian chef and winner of Season Two of MasterChef Australia, shared his opinion on the incident.
The Chinese dumpling usually involves a dough skin made of flour, salt, water, and egg as well as filling in the centre. While the exterior can be both crispy and soft (depending on how it's cooked), the fillings are usually always the same—not "crunchy".
Here's one simple wonton recipe to try making at home: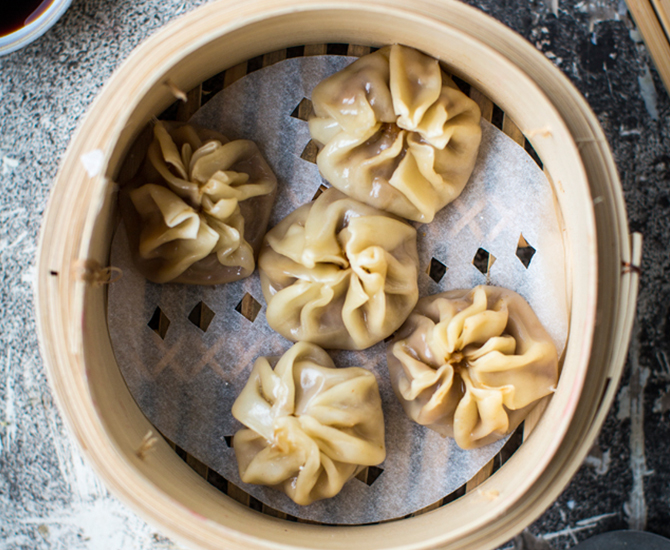 Ingredients you require are:
400 grammes of minced meat
150 grammes of prawns (shelled, deveined, and ground)
1 tablespoon of dark soy sauce
½ tablespoon of rice wine
1 teaspoon of sesame oil
1 teaspoon of sugar
1 egg white
1 tablespoon of cornflour
30 circular wonton wrappers
Light soy sauce (for dipping)
Steps:
In a bowl, start by combining the meat, ground prawns, soy sauce, rice wine, sesame oil, sugar, egg white, and cornflour. In another bowl, fill with cold water until full.
Proceed to put one wonton skin in the palm of your hand before spreading about one teaspoon of the mixture from the bowl in the centre. Remember to leave at least one to two centimetres of the skin uncovered.
Dab a little water all the way around the skin using your finger. After that, continue to fold the skin over to meet the other side. Use one hand to feed the skin towards the other—pressing the sides together until the formation of the dumpling.
Keep doing that with the rest of the filling ingredients. Bring about 150 millilitres of water to a boil in a wok. Then, place a disc of parchment paper—after piercing—in the bottom of a steamer. You can now insert your dumplings.
Proceed to cook for eight to 10 minutes after covering the steamer and placing in the wok. Do this until you notice that the skins have turned white (almost translucent).
Here's a pan-fried wonton recipe: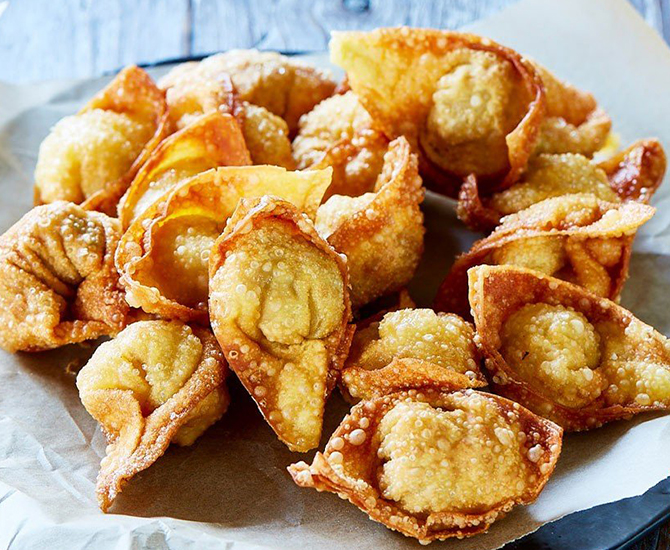 Ingredients you require are:
50 square wonton wrappers
500 grammes of minced meat
200 grammes of raw peeled prawn meat
3 large spring onions (white and light green part—finely chopped)
1 tablespoon of minced ginger
2 cloves garlic (finely chopped)
¼ teaspoon of salt
1 teaspoon of light soy sauce
1 teaspoon of Shaoxing wine
½ teaspoon of caster sugar
2 litres of vegetable oil (for deep frying)
sweet chillli sauce (to serve)
Steps:
Begin by chopping the prawns and mixing all the remaining filling ingredients together. Stir thoroughly for about five minutes with a wooden spoon or spatula. Make sure to mix in only one direction.
Moisten the edges of a wonton wrapper after dipping a finger in cold water. Proceed to spread approximately a teaspoon of filling into the centre with a butter knife or spatula. After that, start folding two corners together to form a triangle. Make sure to remove as much air as you can. Next, create a sealed packet by pinching the edges together. Moisten one tip of the long side of the triangle and connect the other tip of the long end. Don't forget to pinch together and make sure to be firm. Keep going until you use up all the filling ingredients.
In a wok or saucepan, heat oil to 170º Celsius. Then, start deep-frying the wontons. Do this for around three minutes. You can stop when the wontons turn golden brown. Now, they are ready to be served.
There you go—are you a fan of wontons? Whether fried or steamed, wontons have long been a staple for many around the world. These recipes are really easy to execute at home. You can even substitute with meat-free alternatives. Although the recipes have different cooking methods and ingredients, one thing's for sure: the wonton fillings are not supposed to be crunchy or crispy.
For more recipes to try at home, click here.
| | |
| --- | --- |
| SHARE THE STORY | |
| Explore More | |