Mother's Day falls on 10 May this year—and if you're thinking of dishing out delicious meals for mum, have a look at the recipes below
Have you thought of a gift to get mummy for the special day yet? We have some splendid suggestions here. However, if you are not buying her a present this year, why not cook instead? This is especially brilliant if it's not something you usually do. Not sure what to prepare? We have some ideas that you can check out.
One-Pot Chicken Casserole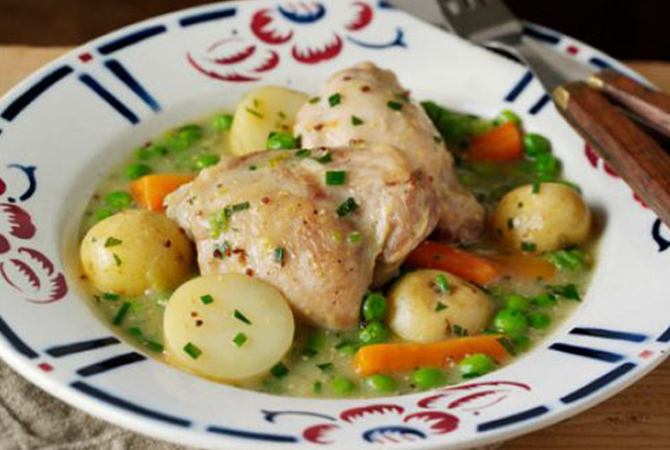 This is a dish that you can complete in under an hour. It's light and it's quick. As the name suggests, the chicken casserole dish only requires one pot. If mummy prefers a simple meal, this is a great choice.
Ingredients you require are:
8 bone-in chicken thighs (skin pulled off and discarded)
1 tablespoon of oil
5 spring onions (sliced)
2 tablespoons of plain flour
2 chicken stock cubes
2 large carrots (cut into batons)
400 grammes of new potato (halved if large)
200 grammes of frozen peas
1 tablespoon of grainy mustard
Fresh soft herbs (chives, parsley, tarragon, or dill—chopped)
Steps:
1. After putting the kettle on or boiling the water, proceed to fry eight bone-in chicken thighs in one tablespoon of oil in a casserole dish. You can also use a wide pan. With a lid, fry until the chickens are brown.
2. Mix in the whites of five spring onions with two tablespoons of plain flour as well as two chicken stock cubes. Keep stirring until the flour disappears. After that, slowly add in 750 millilitres of hot water.
3. Put in two large carrots and 400 grammes of new potatoes. Make sure to bring them to a simmer. Proceed to cook for 20 mins. Don't forget to cover!
4. After 20 minutes, remove the cover and continue to simmer for another 15 mins. Add 200 grammes of peas for an additional five minutes.
5. Stir in one tablespoon of grainy mustard as well as some green spring onion bits, and a handful of fresh soft herbs. Remember to season.
Aubergine Curry with Turmeric Cauliflower Rice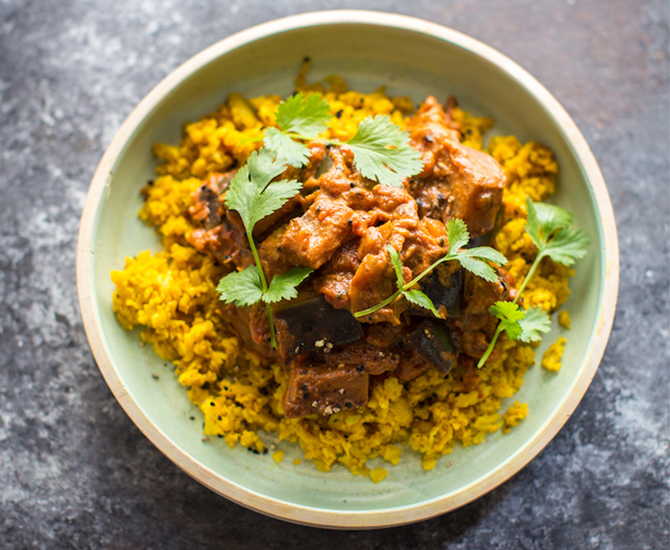 This is a perfect vegetarian dish for mums who prefer to go meat-free. You will need a large sauté pan for this dish that requires about 30 minutes to prepare. 
Ingredients you require are:
3 tablespoons of olive oil
1 large onion (finely chopped)
2 garlic cloves (crushed)
2.5 centimeters of ginger piece (peeled and grated)
3 aubergines (cubed)
2 teaspoons of nigella seeds or black mustard seeds
2 teaspoons of garam masala
1 tin of chopped tomatoes (400 grammes)
200 grammes of natural yoghurt (with more to serve)
For the cauliflower rice:
1 tablespoon of olive oil
1 garlic clove (crushed)
1 teaspoon of ground turmeric
800 grammes of riced cauliflower (store-bought is fine too)
Steps:
1.  Before frying the onion gently for six minutes until softened, heat half the oil in a large sauté pan. After that, put in the garlic and ginger; then proceed to fry for one minute. Continue to add the rest of the oil as well as the aubergines. Brown the aubergines on all sides after increasing the heat.
2. Add either the nigella or mustard seeds, garam masala, and tomatoes. Don't forget to season! After that, continue to decrease the heat level and bubble for 15 minutes. Do this until the aubergine is tender and the sauce is thick enough.
3. At the same time, prepare the cauliflower rice by heating the oil in a saucepan as well as frying the garlic and turmeric for 30 seconds. Put in the riced cauliflower and a splash of water. Make sure to season well then steam for five minutes until hot and tender. Don't forget to cover.
4. Mix the yoghurt with the curry and leave to simmer for up to two minutes. Finally, serve with the cauliflower rice. You can also add an extra serving of yoghurt.
One-Pan Tomato and Bean Fish Chowder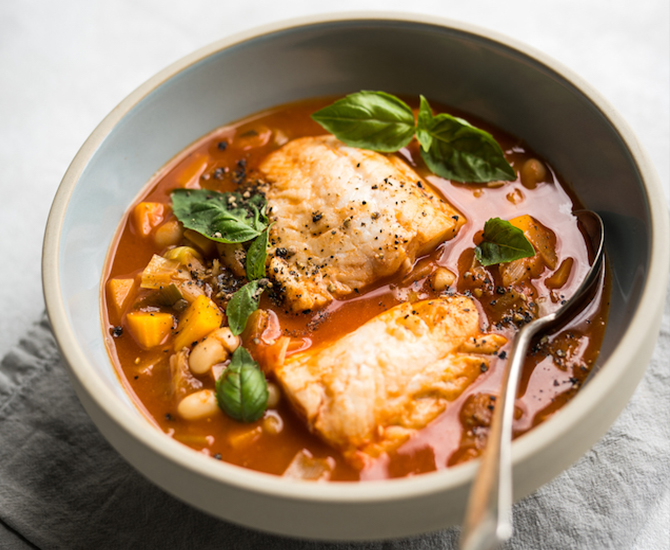 Prepare this dish for mum if she loves soup and fish. It's a pretty simple and hearty meal; one that mummy would really appreciate. For this, you will need a deep saucepan.
Ingredients you require are:
1 tablespoon of olive oil
500 grammes of soffritto mix or vegetable soup mix
1 jar of passata (600 millilitres)
500 millilitres of vegetable stock
4 haddock fillets (150 grammes each)
1 tin of cannellini beans (drained and rinsed; 400 grammes)
large handful of basil leaves
Steps:
1. Start by heating the oil in a deep saucepan and frying the sofritto or vegetable mix gently. Do this for five minutes over a medium heat until softened. After that, proceed to add the passata and vegetable stock to the pan before simmering.
2. Put in the haddock and beans. Then, simmer for four to five minutes until the fish is cooked through. Make sure to cover. The dish is ready to be served after you scatter with basil leaves.
Honey and Ricotta Cheesecake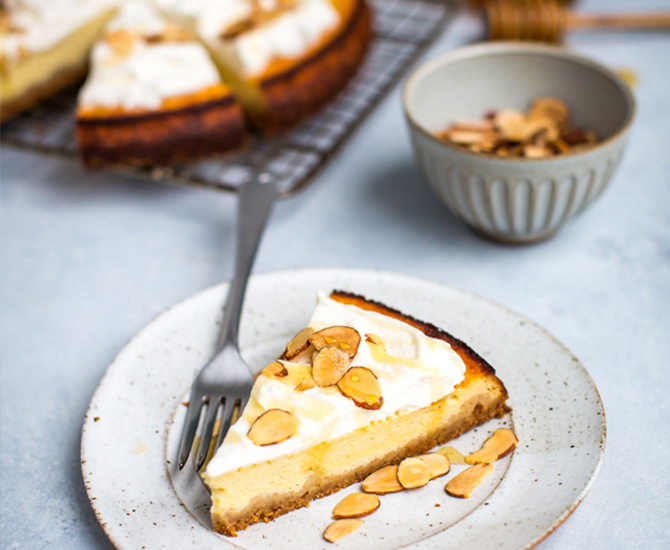 There's always room for dessert! If mummy adores cheesecakes, try baking this sweet delight for her. The whole process takes about an hour.
Ingredients you require are:
300 grammes of gingernut biscuits (blitzed to a fine crumb)
150 grammes of butter (melted)
500 grammes of ricotta cheese
250 grammes of mascarpone
100 millilitres of cream
100 millilitres of honey
4 eggs (beaten)
1 lemon (for zest and juice)
50 grammes of plain flour (sifted)
25 grammes of toasted flaked almonds
Steps:
1. Begin by pre-heating the oven to 180º Celsius. After that, grease and line a 20-centimetre springform cake tin with parchment paper on the base and sides. Proceed to set aside on a baking tray.
2. Mix biscuit crumbs and butter until completely through. Continue to press the combination into the base of the cake tin. Next, put that in the oven to bake for 10 minutes. Take out from the oven and leave to cool.
3. Whisk together the ricotta, mascarpone, and cream in a mixing bowl—along with all but one tablespoon of honey. Do this until the concoction is smooth and creamy. After that, whisk in the eggs. Do this step one at a time until totally through. Proceed to do the same with lemon and flour.
4. Pour the filling over the biscuit crumb base before smoothing off the top.
5.  Bake the cheesecake for 40 minutes in the oven. After it's brown, proceed to turn off the heat. Keep the door slightly ajar and let it cool in the oven. Before serving, drizzle with the remaining tablespoon of honey and flaked almonds.
Tamarind Chilli Beef Stew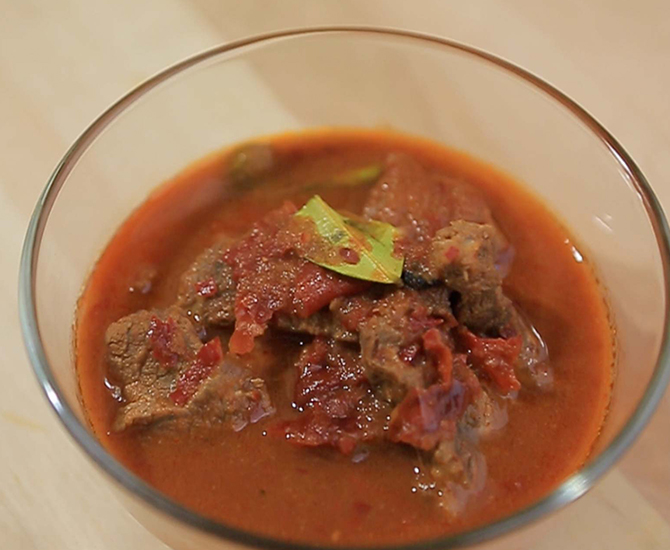 Does mummy love something spicy and sour? This asam pedas daging recipe by Ili Sulaiman is perfect for the occasion.
Ingredients you require are: 
1.5 kilogrammes of beef (mixture of tendons, meat, and fatty bits)
2 sticks of lemongrass
1 tablespoon of belacan (shrimp paste)
120 grammes of dried chilies (de-seeded, blanched in hot water, and blitzed to a pulp)
6 medium-sized shallots
4 cloves of garlic
1 cinamon stick
1 star anise
1 golfball-sized tamarind paste
8 cups of water
Steps:
1. Add in one jug of water in a pot and place the beef. Proceed to boil for a minimum of 45 minutes. When a little tender, remove the beef but remember to keep the broth.
2. Mix the shallots and garlic together until smooth. Continue by adding oil in another pot before frying the cloves, cinamon stick, and star anise. Mix in blended shallots and garlic; then fry for four to six minutes on medium to low heat. When the onion and garlic mixture is caramelised by the oils, this step is completed.
3. Add in tamarind paste in a bowl as well as two cups of the beef broth. To create tamarind juice, make sure to mix well. Put in the tamarind juice once the oil turns red. Don't forget to leave its pulp to the side. After that, proceed to add in sea salt as well as make sure to taste—checking the balance of spiciness, sourness, and saltiness. 
4. Put the cooked meat into the asam pedas gravy and simmer for 20 minutes. Do this on low heat. Proceed to add in kafir lime leaves after 20 minutes. Make sure to mix through and simmer for 10 minutes more.
What are you planning to do for mum on 10 May? These are some amazing recipes to try at home and she will definitely appreciate the brilliant effort. 
For Mother's Day gift ideas, click here.