With a tagline like "Food for the Fashionable", it's hard not to have expectations as high as the 38th floor of Menara SuezCap, where Vogue Lounge KL calls home. Before you ask, yes, it's the same Vogue dining experience that joins the ranks of the other renowned Condé Nast Restaurants such as Vogue Cafes in Bangkok, Beijing, Shanghai, and Moscow.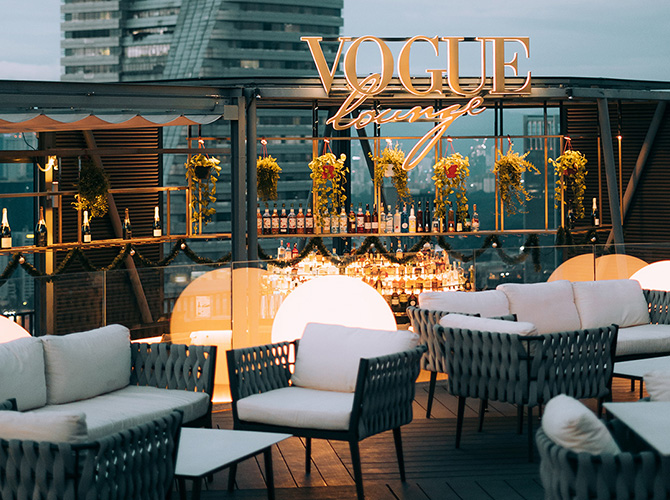 In KL—specifically in the heart of Bangsar South—Vogue Lounge KL is a literal hidden gem located in an unexpected building. Case in point: It offers stunning, unparalleled 360-degree views of the city's skyline from its rooftop bar, complemented by cosy seating areas as well as a mini garden. On most evenings, you'll be able to enjoy delicious cocktails (or mocktails), awesome music, a glistening cityscape and the cool breeze. Add that with good company and conversations, and you'll have yourself a spectacular night out.
On the other hand, the restaurant is aglow with contemporary teardrop-shaped lighting fixtures hanging from high ceilings, portraits of Vogue covers and photoshoots and a digital platform down the centre of the main dining area that could easily double as a runway. The decor is modern-chic, and every corner is an Instagram-worthy photo waiting to be taken. There's also private dining rooms for those who prefer more intimate settings with closed ones, as well as a cocktail bar and wine cellar.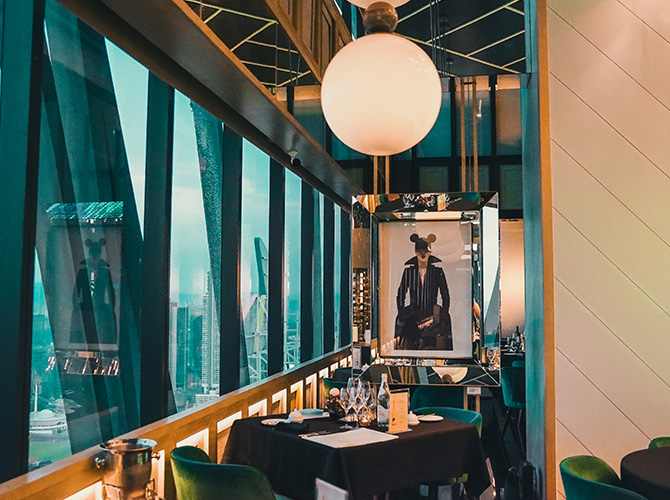 Enough about the interior—as bougie as it is—because it's the food that was equally as enjoyable. The star of Vogue Lounge KL's kitchen is Chef Steve Ariffin, the Executive Chef of Vogue Lounge KL. The menu here is themed after modern European and Asian fusion fine dining, but Chef Steve does it effortlessly. The plating for most of the dishes we had that night was playful yet elegant, while on the palate, it was a worthy tribute of the ingredients used.
My date and I started with some amuse-bouche and were each served a signature brioche bread cube with a 'V' stamped on it, accompanied by a savoury seaweed butter. It was already a good start, but then the appetisers came, and with style too, might I add.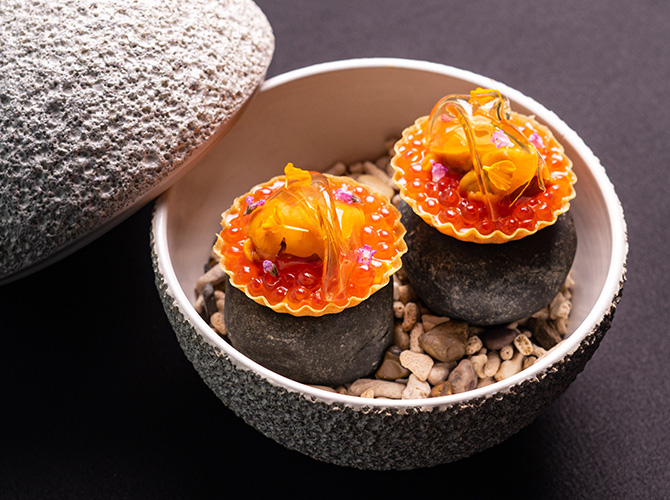 The Hokkaido Sea Urchin arrived in an egg-shaped concrete bowl with dry ice fog (for that dramatic 'Vogue' effect) wafting around a delectable tart carrying the luscious uni in a bed of mentaiko cream, carrot puree, dashi jelly and seaweed melba. The Hokkaido Scallop, on the other hand, was tender to the core and paired with a light savoury mix of cauliflower puree, caviar, and smoked Dutch eel. Trust me when I say the night was only just beginning.
There's a decent variety of items on Vogue Lounge KL's menu where I wouldn't say you'll be spoilt for choice, but you will still have a hard time deciding what to pick—because everything sounds so good. For our mains, we were served the Maine Lobster and A4 Japanese Wagyu.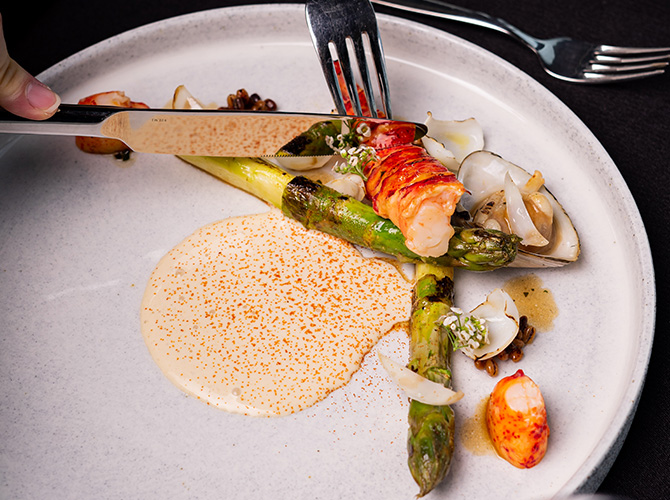 My pick would be the former, which was cooked etuvée-style yet retained its juicy and sweet flesh. In addition, I liked how it was paired with more subtle and fresh flavours from the zucchini flower, asparagus and lily bulbs.
The ribeye wagyu featured a beautiful red at its centre with a crisp outer at the top. Paired with white onions, baby leek, porcini powder and au jus, the beef was delightful, but some might find it a little too salty for their liking.
The best part of a date night out at a restaurant is that you get to share desserts! No? Just me? Well, we had two to end the night. One was a coconut bavarois served with yuzu marshmallow, passion fruit and coconut water. If you love coconut ice cream, this is for you (and me). It's fragrant from the coconut bavarois, sweet yet balanced with punchy tangy notes, and it ends the meal perfectly when you have a full stomach. The other dessert that we had was a truffle mousse with marinated plum, charcoal shard and eggnog. Personally, the mousse was a tad rich, but if you fancy bold-flavoured desserts, you'll enjoy its smokey aftertaste, which I feel would go nicely with a cup of coffee.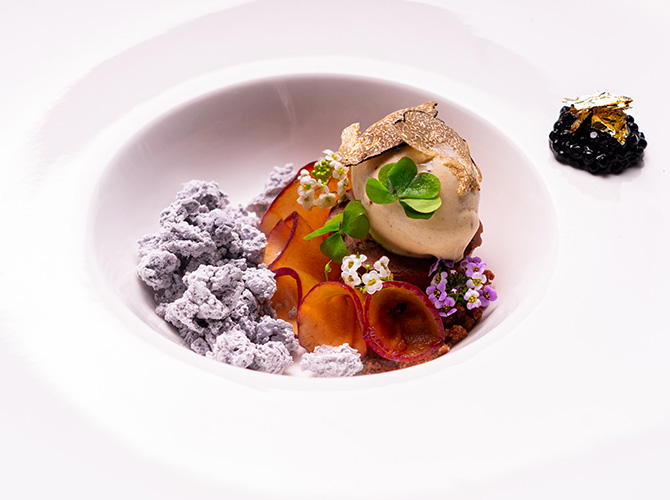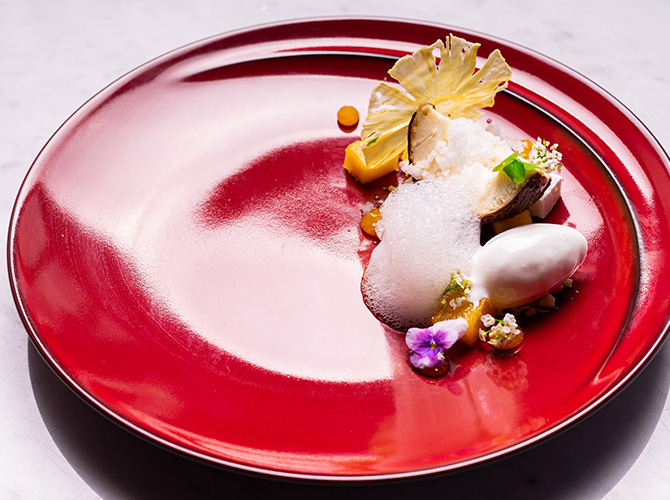 After our meal, my date and I adjourned to the rooftop bar for more drinks and enjoyed the chilly evening and each other's company. It was a nice end to the long week. While Vogue Lounge KL prides itself on serving "food for the fashionable", I purely enjoy its cosy, intimate setting that's accented further with its delicious food and drinks. I'll be back!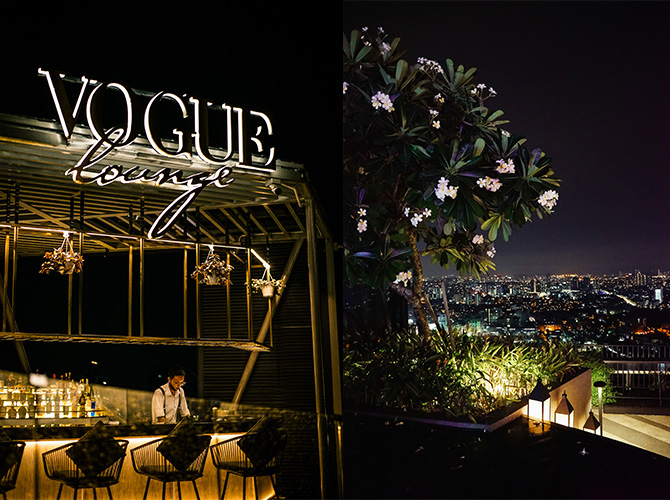 ---
Vogue Lounge Kuala Lumpur
Level 38, Menara SuezCap 1, KL Gateway, Jalan Kerinchi, Bangsar South, 59200 Kuala Lumpur
Phone: +6016 8466 552 | +603 2771 1530/1531
Email: [email protected]
Website | Facebook | Instagram
| | |
| --- | --- |
| SHARE THE STORY | |
| Explore More | |