We're approaching 31 August, and the 62nd year since Malaya's independence from the British. Out of a multitude of ways to be patriotic, food seems to be one of the most effective. Hence, for August's Team Buro Answers, we have decided to embrace our love for Malaysia through its cuisine. How? By determining the local food we desire the most—which can be really difficult and should be illegal to only be able to choose one! Oh, you should also try out the yummy dishes at the spots we recommend (surprisingly, no nasi lemak on the list).
TERRY SAW, editor-in-chief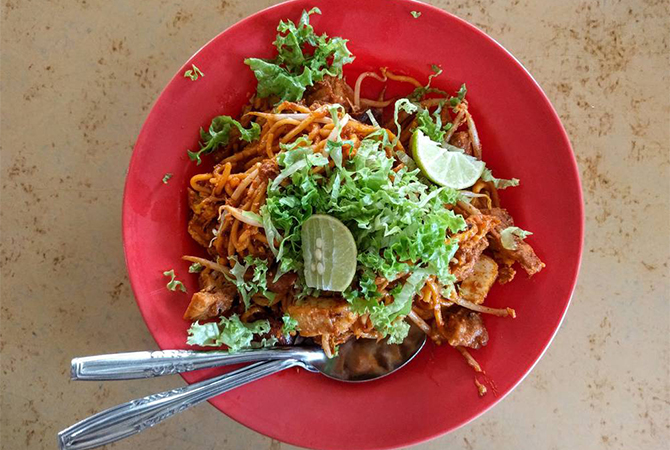 Any true Penangite or self-confessed foodie will recommend you try the iconic Bangkok Lane Mee Goreng when you're in town. A twist to the usual Mamak Mee Goreng we have here in KL, this version is slightly sweeter, saucy and fragrant, plus, it comes with delicious pieces of sotong kering for under RM10! You can also 'upsize' for extra sotong (highly recommended), or if you're not a fan of stir-fried noodles, try the Mee Rebus option, which comes banjir ('flooded') in a tasty thick gravy or add on a fresh plate of pasembur (our version of a Malaysian salad, featuring a mix of shredded cucumber, turnip, bean sprouts, bean curd pieces and prawn fritters) that's perfect for sharing. All three options are available under one roof so you can easily check a few things off your makan list in one visit!
RACHEL AU, editor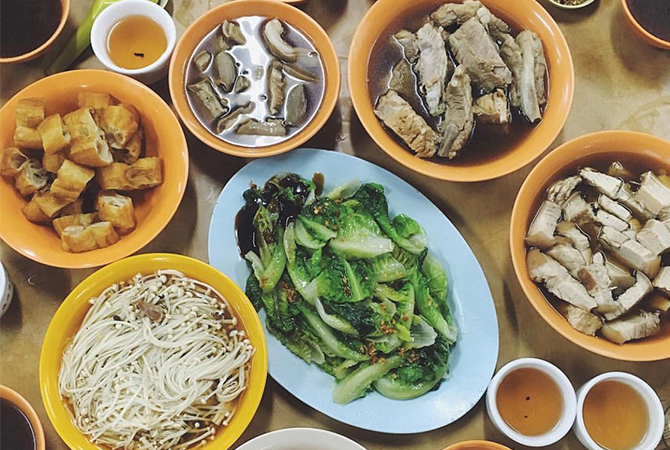 I deliberated over how to answer this month's Team Buro Answers for quite some time, simply because 1) it's impossible to pick one favourite and 2) a lot of my favourite childhood haunts have since closed (because the nice aunty/uncle has retired the business). Honestly, I can eat roti canai and fish curry from Kanna in SS2 every Sunday for brunch—actually, I did that for years, and still do but less often as I've since moved. #foreveraPJgirlthough. For the sake of a more impressive answer, my other pick would be bak kut teh—chunks of pork simmered in herbal broth. The Malaysian version and not that ultra peppery soup which Singapore considers as BKT and claims as their own (shots fired!). Then again, like many of our favourite local dishes, the origin story is often a blur. One of the best places to go would be this particular shop in Klang that my grandfather often takes us to (Restoran Bak Kut Teh Yap Eng) but for those of you who prefer someplace more central, Heng Kee at PJ Old Town is honestly your best bet. For that addictive pork soup fragrant with herbs. For tender cuts of pork that go beautifully with cut red chilli for an extra kick. For sides of tau foo pork and mushrooms of various types. For yau char kwai to go with the extra bowl of soup (you don't drink this bowl of soup because it becomes oily from the yau char kwai). For dark soy sauce drizzled on top of your white rice. Mmm, I'm salivating just at the thought of that entire picture I just painted. Be warned; go early cos the restaurant does receive a large crowd and so, your favourite dishes might sell out.
GWEN ONG, associate editor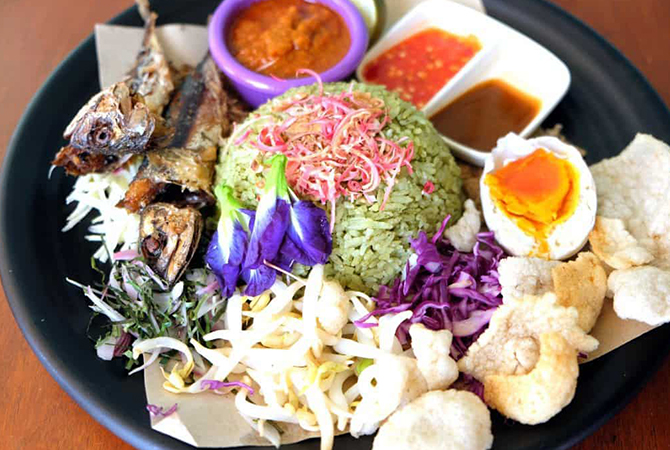 This month's TBA is an impossible task. How do you narrow down to just one single Malaysian food that you like? It wouldn't do justice to my Penang roots if I pick just one. Life is cruel like that. Good thing my teammates have got you covered on our northern specialities. Now allow me to wax lyrical about my East coast favourite—nasi kerabu. The sight of blue-tinged rice with a side of raw vegetables, herbs, salted egg and fish crackers gets me salivating every time. Mix everything together with the accompanying sambal and budu, and you're guaranteed a mouthful of divine flavours. I get my nasi kerabu fix from Makan Time in Kota Damansara and Dua by Skohns in TTDI currently but foodies are raving about Kelate Kitchen in Setapak that does a mean spread of authentic Kelantanese specialties as well. Now, can someone tell me where to get khao jam here in KL please?
JOAN KONG, fashion editor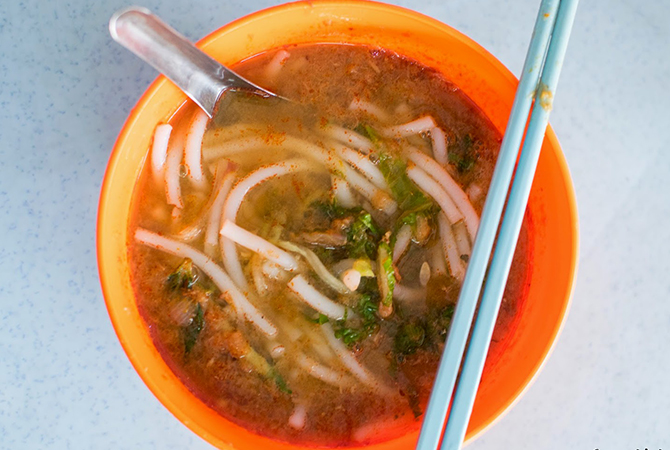 I've never been a nasi lemak kinda girl (sorry, fellow Malaysians); when it comes to my ultimate favourite Malaysian food, the glorious asam laksa will always win, hands down. It's sour, it's sweet, it's salty, it's spicy—if these aren't the components of a perfect dish, I don't know what is. An irresistible bowl to me is made up of rice noodles (note: not the translucent rice starch noodles), the perfect balance of cucumber and onion, topped with bits of sliced bunga kantan—yum! My all-time favourite laksa spot is Laksa Kelang Lama in Kulim, Kedah, which is a half an hour drive from my grandma's house in Tasek Gelugor, Penang. But when I'm back home, aside from my mum's home-cooked laksa, the Kedah asam laksa at Alisan SS4 hits the spot. If I need a quick fix, Ah Cheng Laksa—which can be found in almost every mall now—is where I'll go. Fun fact: My family and I have been patronising Ah Cheng Laksa ever since he started his business in a food truck in USJ over 10 years ago!
STEPHANIE BOEY, fashion writer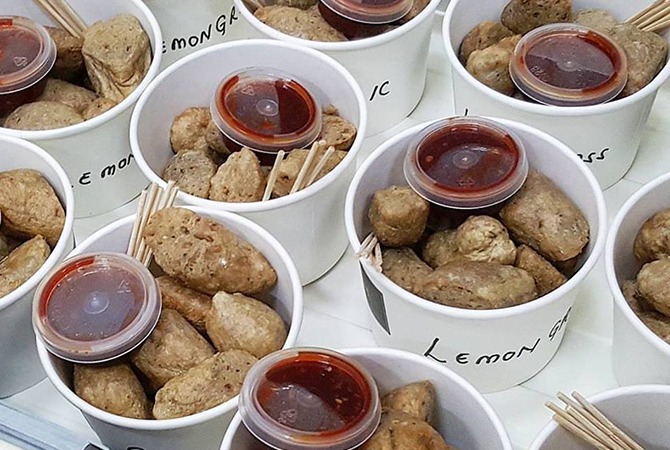 Aside from our delicious dishes and hearty meals, Malaysia is also known for their knack for snacks and teatime. The Malaysian culture of 'kopitiams' and 'coffee shops' centres around this very notion. I personally love a plate of fresh keropok lekor. The traditional fish cracker originates from the eastern state of Terengganu; and is made by grinding the fish into a paste, which is then mixed with sago flour and seasoned with salt and sugar, and deep-fried. I like to enjoy mine with spicy chilli sauce for dipping—best-nya! Ideally, the best place to buy keropok lekor is in Terengganu, you can buy them pre-fried and enjoy it at home. But if you're in the Klang Valley, and are keen to experiment, check out Upeh in Ara Damansara. They offer a wide range of (unorthodox) flavours like lemongrass, garlic and black pepper to season the traditional Malaysian fish cracker.
LOH WEI YEEN, beauty editor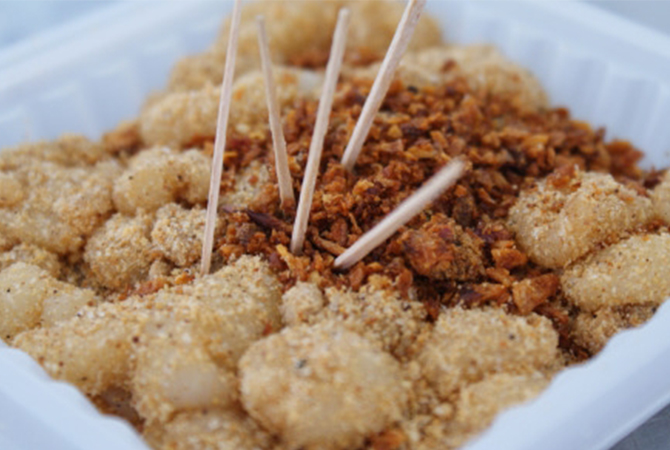 As a self-proclaimed lover of all savoury desserts and anything that has peanuts, the drool-worthy muah chee is my absolute local fare as it combines both the aforementioned things in one. This nutty goodness is very similar to glutinous rice balls, but diced and coated in sugar, finely-ground peanuts, sesame seeds and a sprinkle of fried shallots. The hallmark of a five-star muah chee is when the glutinous rice paste is soft and moist, yet not overly chewy. A careful peanut/sugar to glutinous rice paste ratio has to be balanced lest it becomes too sweet or salty. If you ever embark on a food trip to Penang, swing by Genting Cafe in Island Glades for this warm gooey snack—look out for an elderly Chinese uncle manning a pushcart outside the coffee shop—and prepare to blow your tastebuds away.
TAMMY CHAN, senior culture writer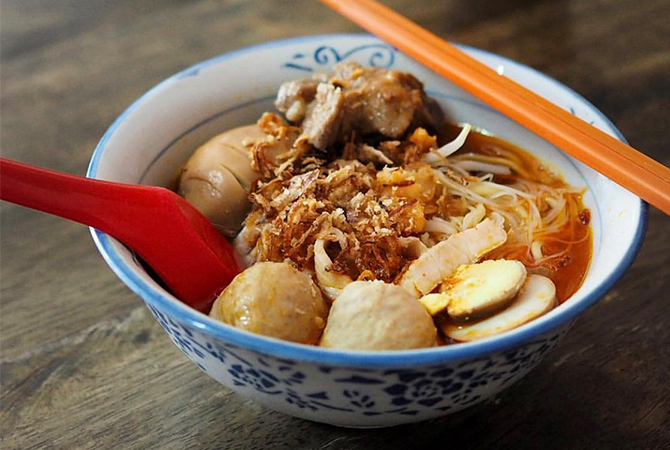 Nothing beats the prawn mee (also known as Hokkien mee) from my hometown, Penang. Sometimes I miss it more than my family (joking). Usually, I'd go to the one at Bridge Street, but when I'm in Petaling Jaya, the Lim Mee Yoke shop in SS2 serves pretty good bowls that are comparable to the ones from back home.
JOANNA PINTO, special projects editor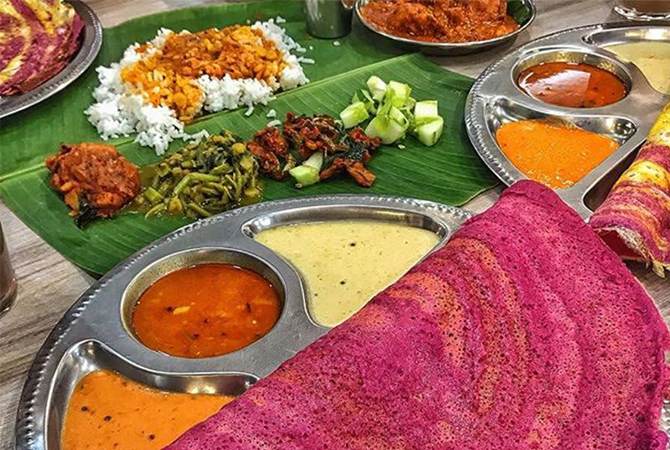 If there's one thing I constantly crave after any trip that's not in Asia, it's got to be the combination of: A) rice and B) curry. In my (comfort) food diary, that equals to banana leaf rice! For a quick fix post-holidays, I tend to gravitate towards the Bangsar area but avoid Devi's or Nirwana at all costs. Instead, I pop by Bala's Banana Leaf for its scrumptious curries, yummy veggies and tender meat dishes (my fave is their mutton). If I'm feeling less-than-healthy after being a vacay glutton, I'll swap my rice for its beetroot thosai—aka that pink thosai you've been seeing on Instagram—which I highly recommend!
TAN SU FEN, contributing writer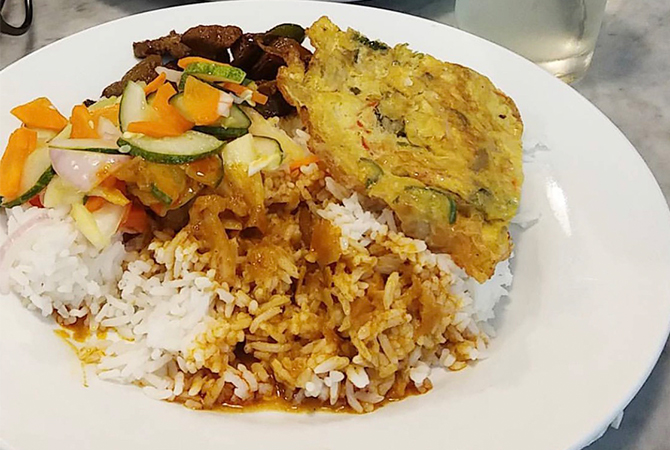 I am what the Chinese would call a 'rice bucket'. Nasi lemak, banana leaf rice… you name it, I probably love it. But lately my go-to meal has been nasi campur, or more specifically this combo: rice with asam pedas ikan pari (fish curry), a vegetable dish and fried/salted egg. I always get my fix at Bawang Merah, an ever-buzzing neighbourhood joint in Subang Jaya that serves home-cooked Malay food. They also make really good local kuih, which are always snapped up not long after they hit the shelves. Tip: Be there around 3pm to get the best selection of kuih fresh out from the kitchen.
RONN TAN, editorial assistant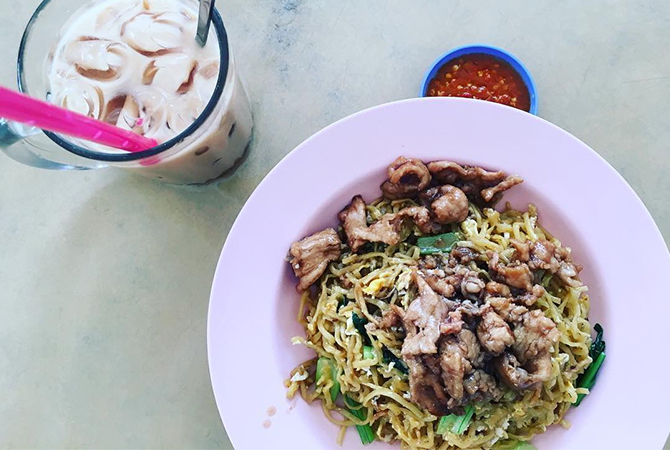 Deciding on only one favourite food from Malaysia is not just another walk in the park. Yes, a majority of local food aren't exactly the healthiest. But they are delicious, and that is what matters. I have an ongoing (probably eternal) battle with carbs but I do actually adore Tuaran Mee. If you're unfamiliar with this noodle dish, it is originally from an area north of Kota Kinabalu in Sabah—called Tuaran (I know). It's springy in texture, almost in between kolo mee and yee mee. Go imagine. However, my go-to place whenever I'm in that side of the country is Tuaran Mee Restaurant at Inanam; sadly, it has been awhile. I always opt for the noodles to be fried but you can get them in a claypot or in soup. Go for the seafood and add abit of lehing (alcohol produced locally) and—wowza—you're good to go! Pure bliss, I'd say.
| | |
| --- | --- |
| SHARE THE STORY | |
| Explore More | |