Food + Drink
3 Cool champagne lessons I learned from the Mumm Taste Encounters in Malaysia
The science of tasting
Photos courtesy of G.H. Mumm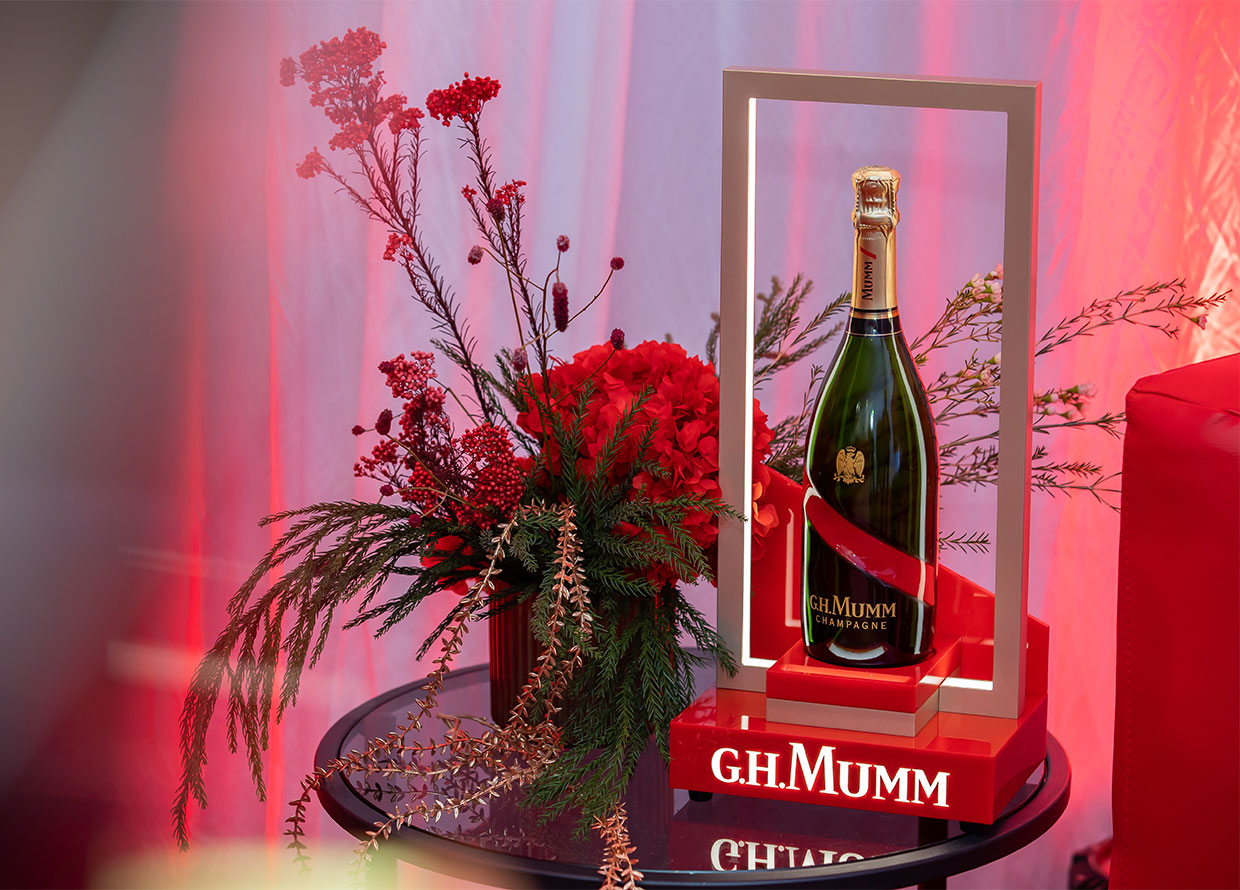 Earlier this month, I was invited to join a ground-breaking tasting experience that has journeyed from France to Hong Kong, Australia, Japan, the United States, South Africa, and the United Kingdom before landing here in Malaysia. Hosted by champagne house G.H. Mumm, the innovative concept "melds the fields of neuroscience and design"—offering a new way to taste and appreciate the aromatic complexities of the Maison's multifaceted champagnes.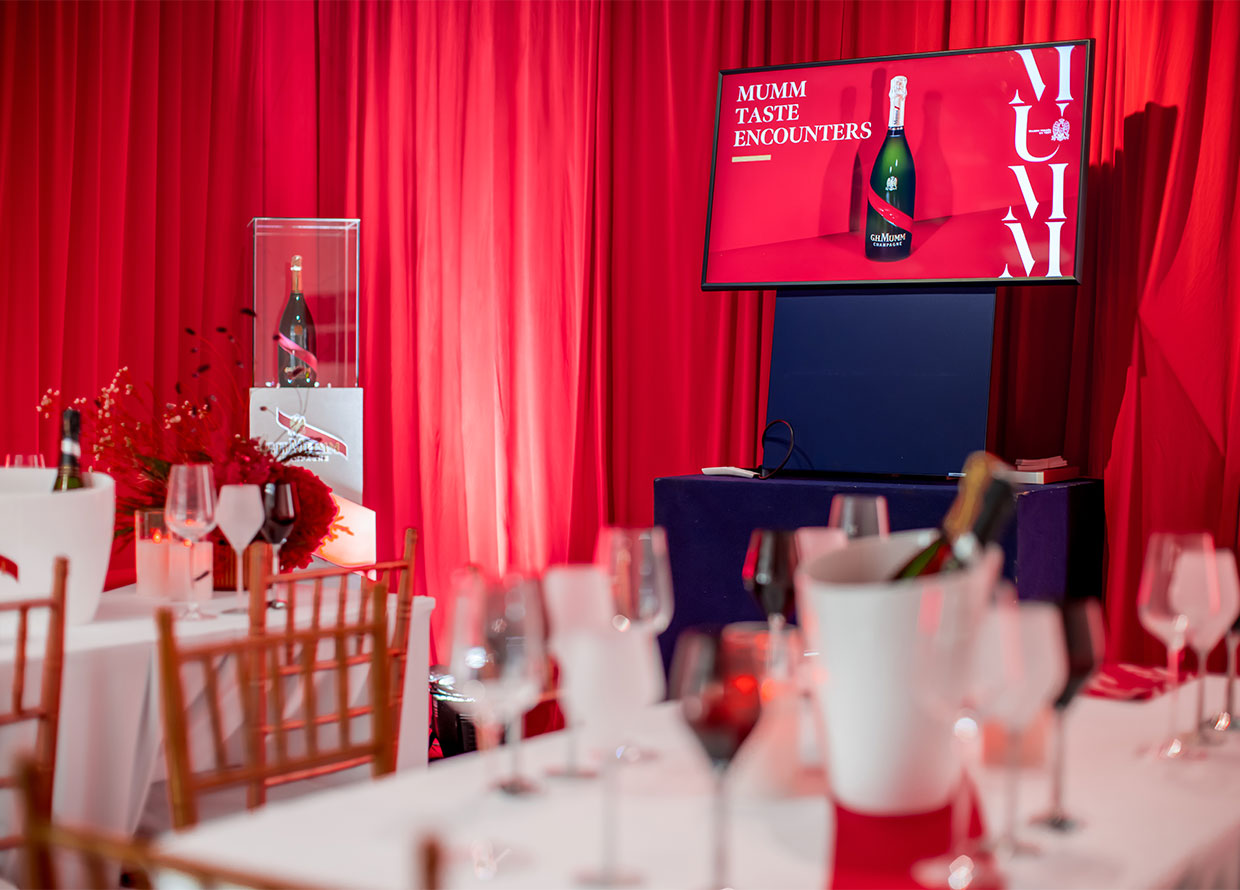 Dubbed "Mumm Taste Encounters," the unique exploration can be likened to a science experiment of sorts, where Bastien Michaud, Maison Mumm's Brand Ambassador in Malaysia, was the scientist and guests (including yours truly) were present as "test subjects" (read: guinea pigs, but in a good—and consensual—way). 
Now you probably already know that smell affects taste, but this experiment brought other senses into the equation, particularly sight and touch. In hindsight, I would consider the study a success—leaving me with three lessons from that bubbly encounter at Temu House in Petaling Jaya. 
1. How to craft a French 75 cocktail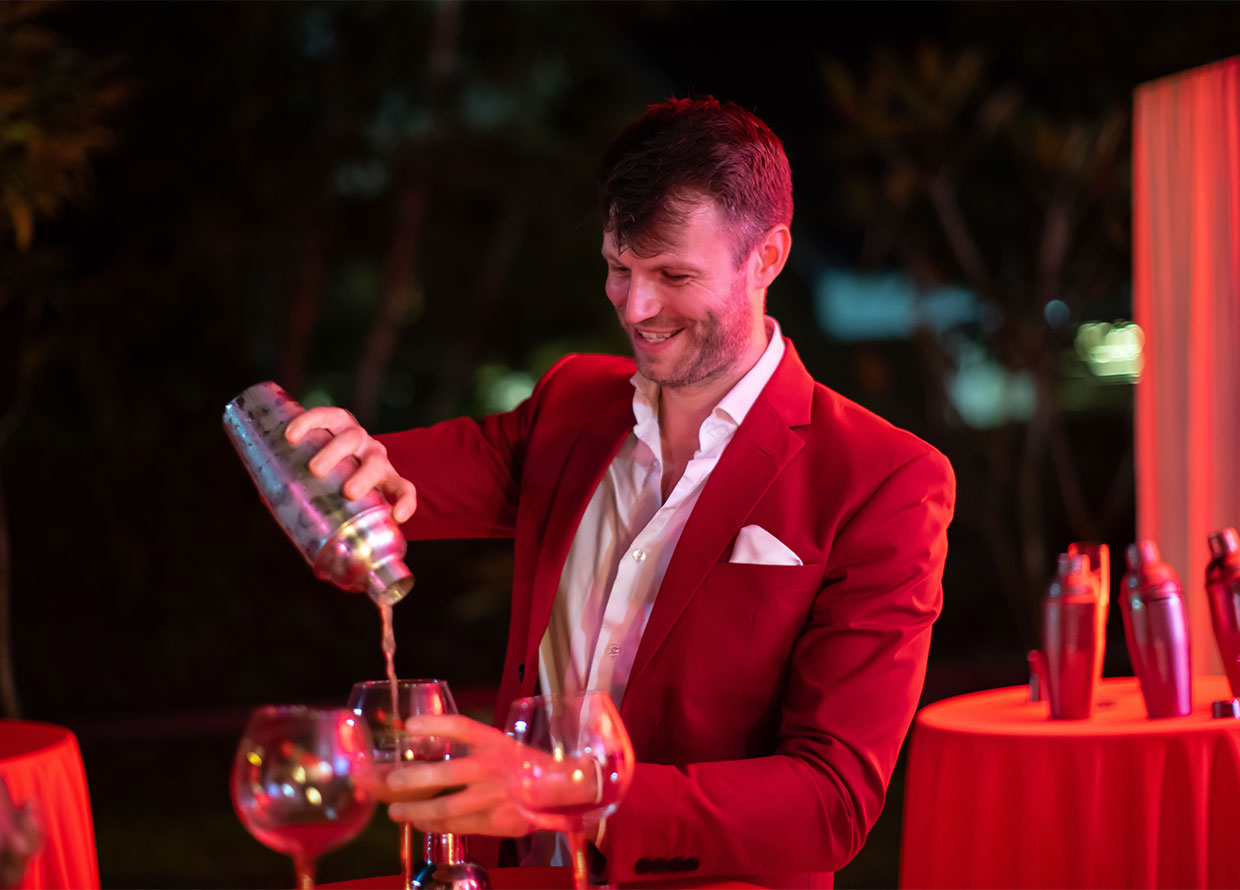 Before I got to the subject of neuroscience, I was first brought to another kind of lab where a cocktail-making class was in session. Under the guidance of Pernot Ricard Brand Marketing Manager Jean-Baptiste Gourvil, my companions and I crafted a French 75 that combined Martell Cordon Bleu cognac and G.H. Mumm champagne. Here's the recipe for your own home bartending enjoyment: 
Ingredients
30ml fresh lemon juice

30ml simple syrup

30ml Martell Cordon Bleu 

G.H. Mumm Grand Cordon (top up)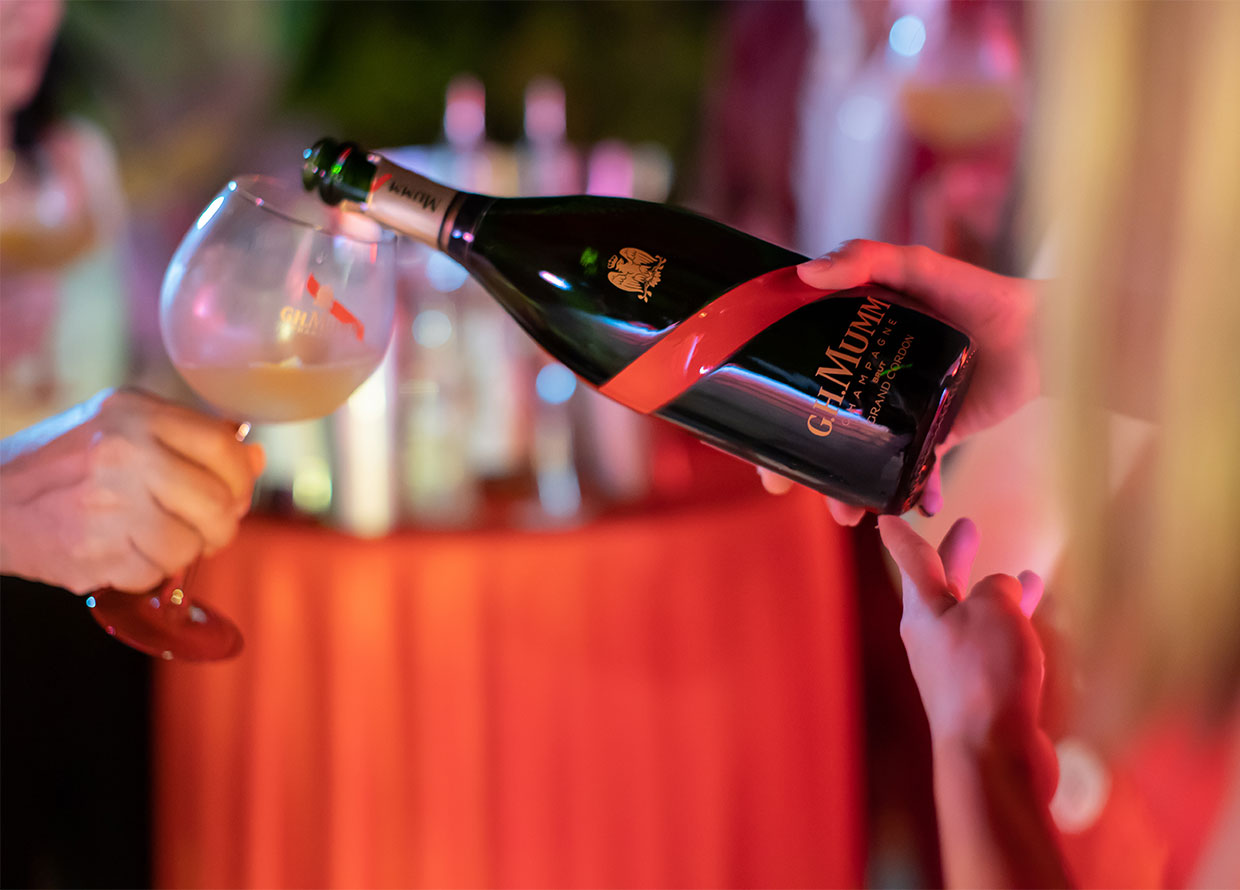 Method
Add syrup, lemon juice, and cognac into a shaker filled with ice and shake well. Pour into a highball glass and top up with Grand Cordon. Stir gently and enjoy! 
2. Looks *actually* matter when tasting champagne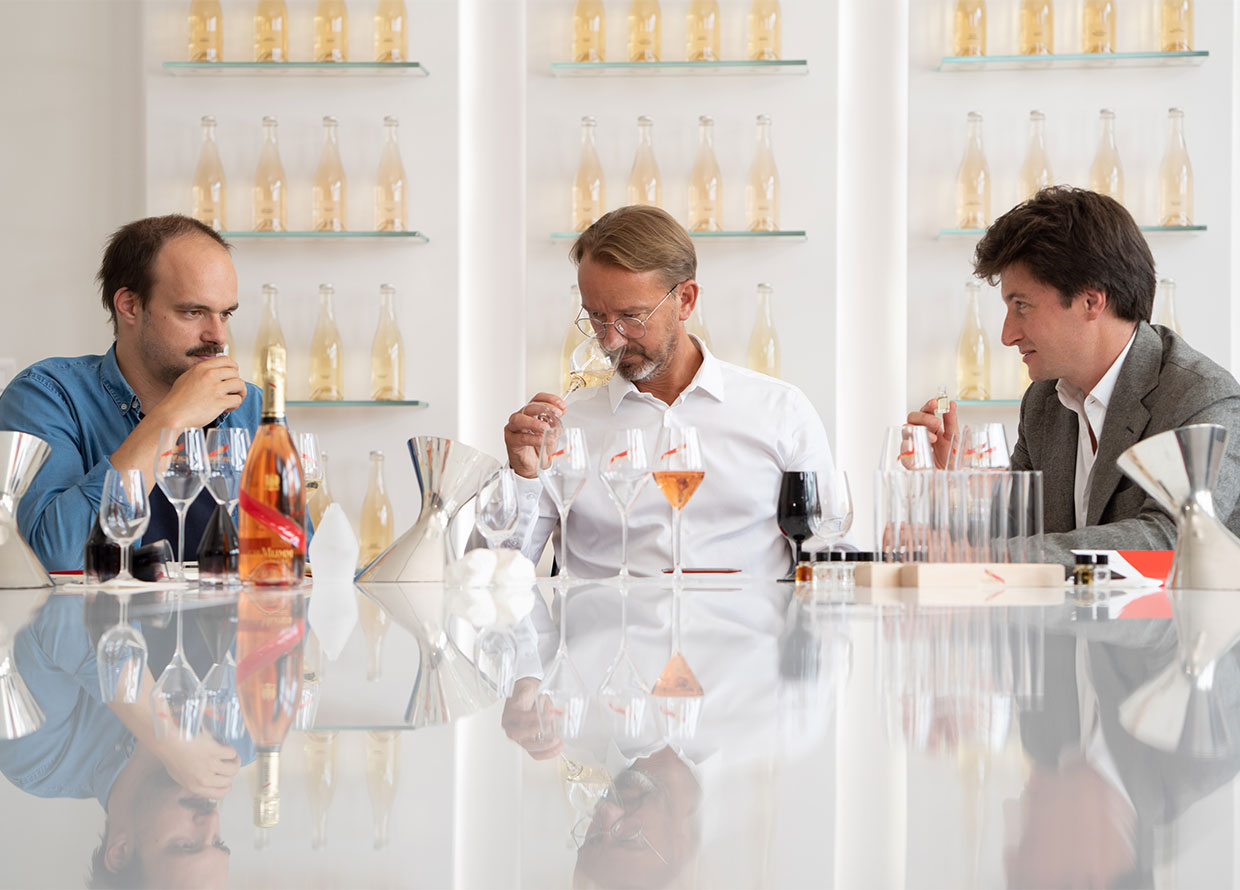 After the refreshing pick-me-up, the main highlight of the evening ensued. It was conceived by cellar master Laurent Fresnet together with neuroscientist Gabriel Lepousez—who has devoted 15 years to the study of how wine is tasted and perceived—and Octave de Gaulle, the designer behind the G.H. Mumm Grand Cordon Stellar, the first champagne that can be savoured in space. 
According to Lepousez's research, the brain receives a multitude of signals triggered by the senses, the most important of which are sight and touch. These signals affect our sense of taste and consequently, our appreciation of wine. With this in mind, Fresnet commissioned two special glasses from de Gaulle that draw from these distinctive sense-based cues.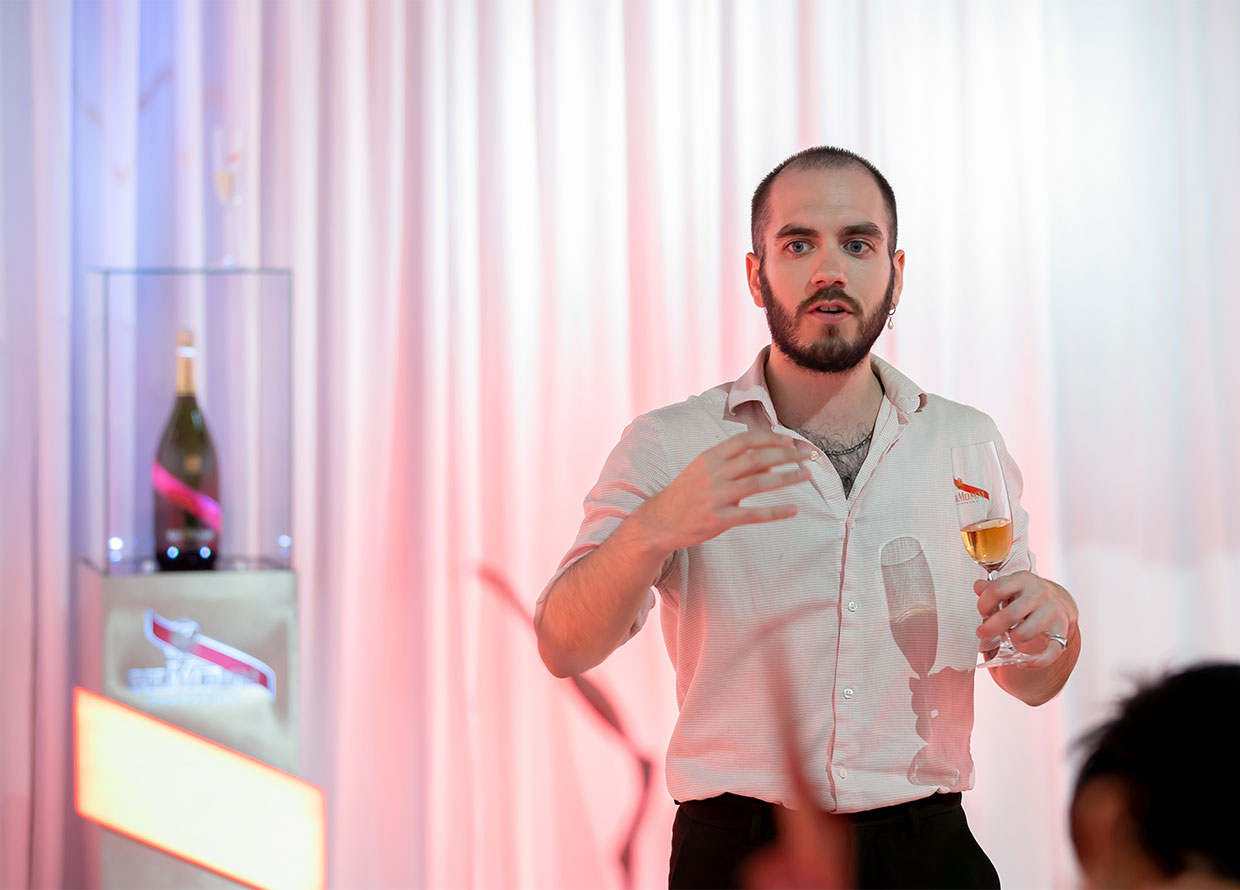 The first is a smooth, glossy bowl with a deep saturated purple tint and a thick, weighted stem on a polished stainless-steel base. It weighs significantly heavier than a traditional champagne glass. Led by Maison Mumm ambassador in Malaysia Bastien Michaud, the first part of the experiment started with the sampling of the Mumm Grand Cordon Rosé in a regular glass—which offered freshness in the attack, before revealing its fruity nature. 
When tasted in the heavier, polished purple glass, however, it had more depth and gourmet notes of red fruit and hints of Viennese pastry. Puzzled, I took a second sip of both, consecutively, and true enough, the differences between the two glasses were discernible on the palate despite them holding the same liquid!
3. The texture of your glass can also affect taste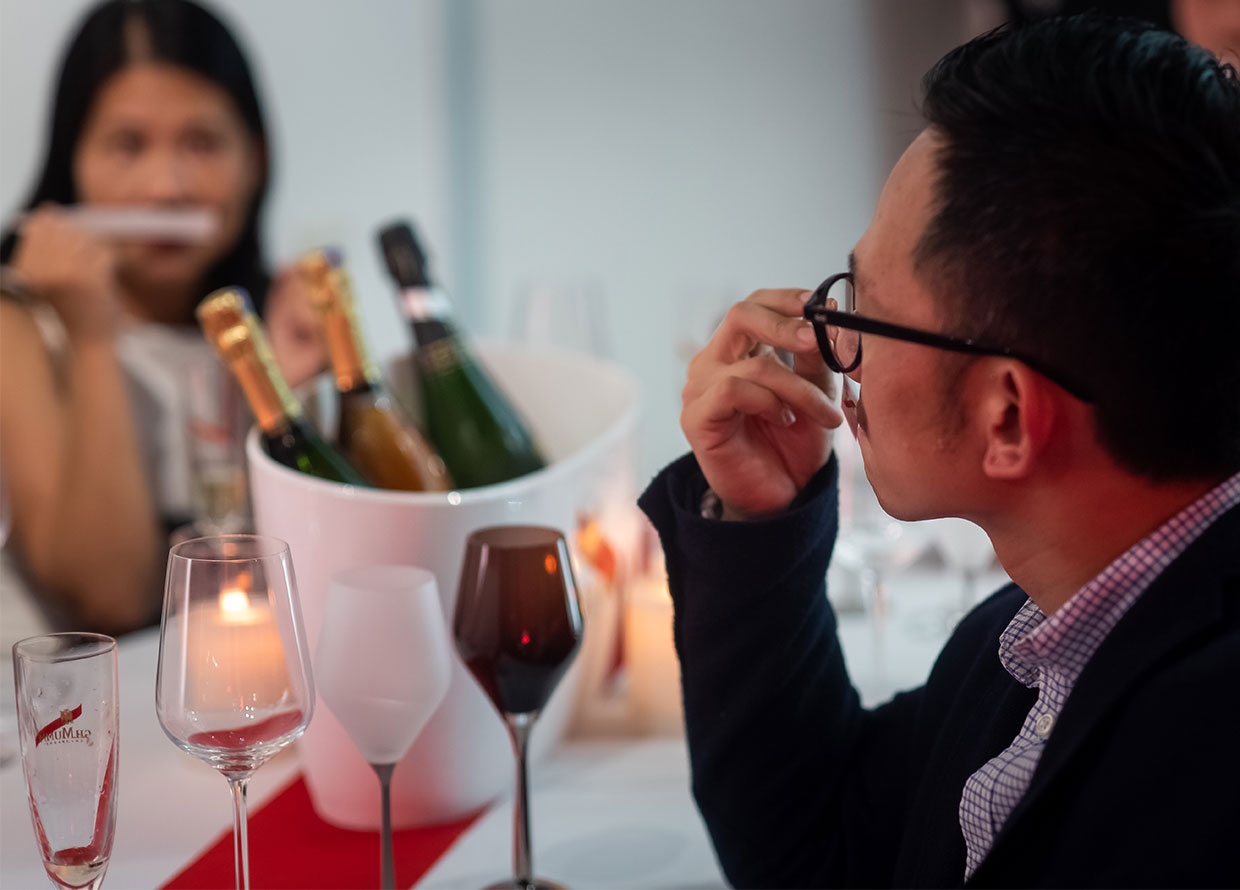 On the other hand, the second glass is frosted on the outside, giving it an icy appearance and a grainy sensation on the lips. Its fine stem has sharp edges while the aluminium base is somewhat narrower than the classic Mumm champagne glass. It also has a slightly rough surface and is much lighter than a standard champagne glass overall. 
We repeated the earlier experiment by tasting the Mumm Brut Millésimé 2013 (which, unfortunately, isn't available locally) first in the frosted glass, then in the classic Mumm glass. The former revealed a hidden freshness with delicate, lucid aromas that do not normally come to the fore with this cuvée. But the latter presented more gourmet pastry notes of this mature, structured, and precise vintage. Once again, the experiment proved that the mind can be tricked into experiencing taste differently by simply altering elements of sight and touch.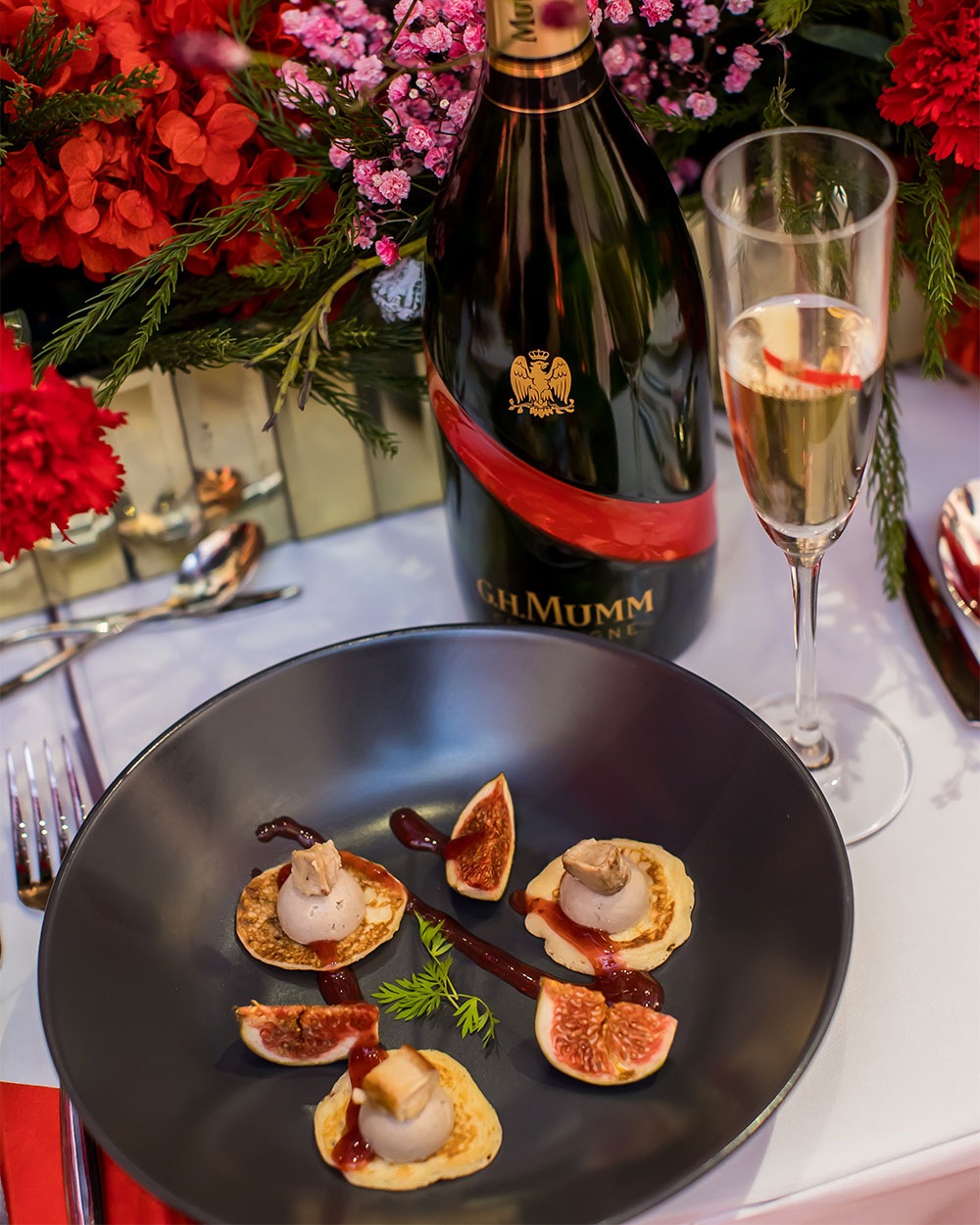 To culminate the experience, guests were treated to a sumptuous four-course pairing menu by French chef William Ragonneau, which further demonstrated and complemented the versatility of the Mumm Grand Cordon and Mumm Grand Cordon Rosé.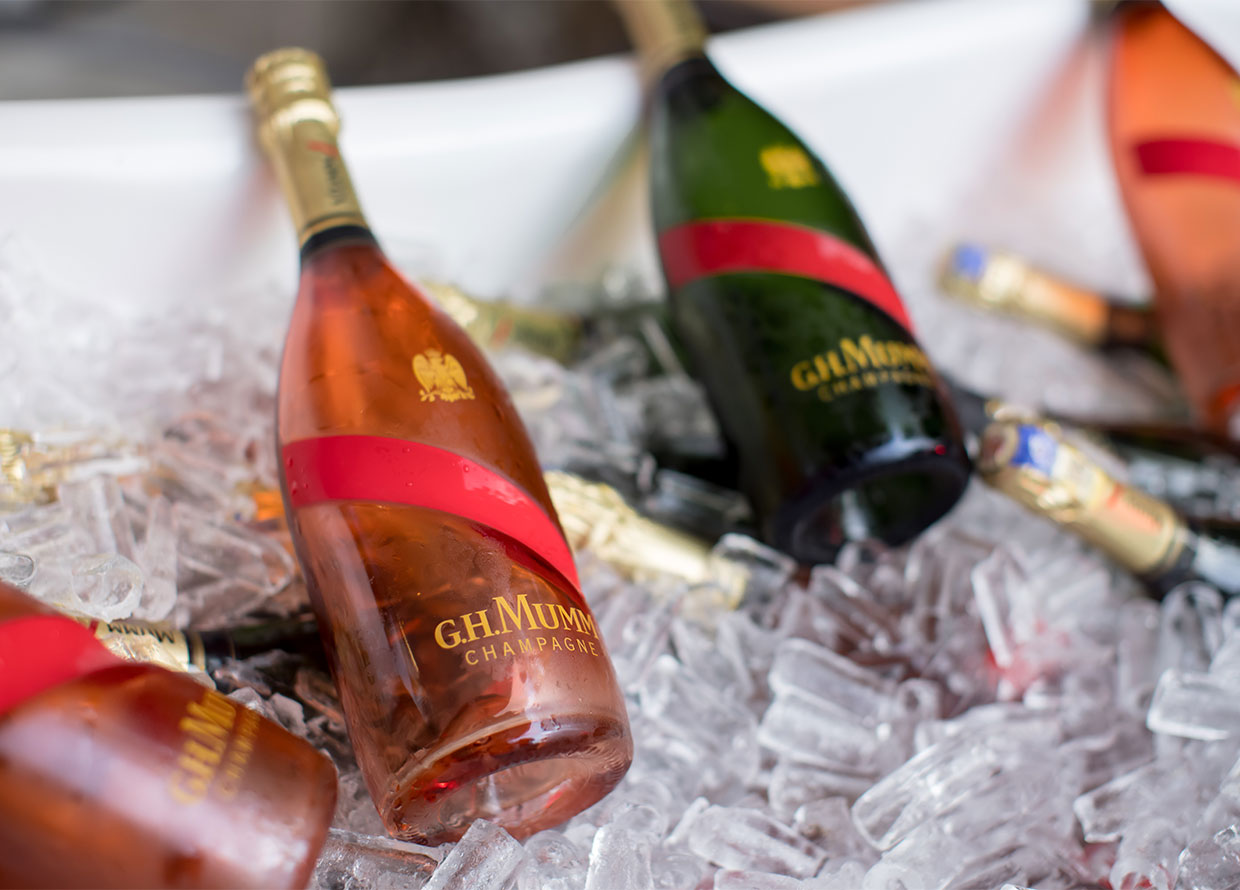 Bottom line: When one or more traditional sensory cues are altered—be it sight, touch, or olfactory signals—different aromas and flavours are brought to the fore. The experience showcases the innovative spirit and creativity of Maison Mumm, which is constantly in pursuit of progress in the making of champagne that spans nearly 200 years.
As Fresnet puts it: "This innovative experiment helps reveal the wealth of nuances that are hidden in Mumm's wines, as well as the remarkable, kaleidoscopic nature of our own, marvellously human responses to champagne."
For more information about GH Mumm, visit the website. 
Find more stories on drinking here. 
| | |
| --- | --- |
| SHARE THE STORY | |
| Explore More | |