Craving Korean food after all those K-dramas? Us, too! The easiest way to curb those tastebuds and use up leftover ingredients in your pantry is to put that weeks-old jar of aged kimchi to good use.
Whether eaten on its own with a steaming bowl of fluffy rice or served hot and hearty in a flavourful stew, the fermented condiment adds depths of spice and flavour in versatile ways while promoting good gut bacteria in all its low-fat, high-fibre glory. A staple in many households and an integral ingredient in Korean cuisine, the tangy, tart spice of kimchi is a delicious addition to any dish.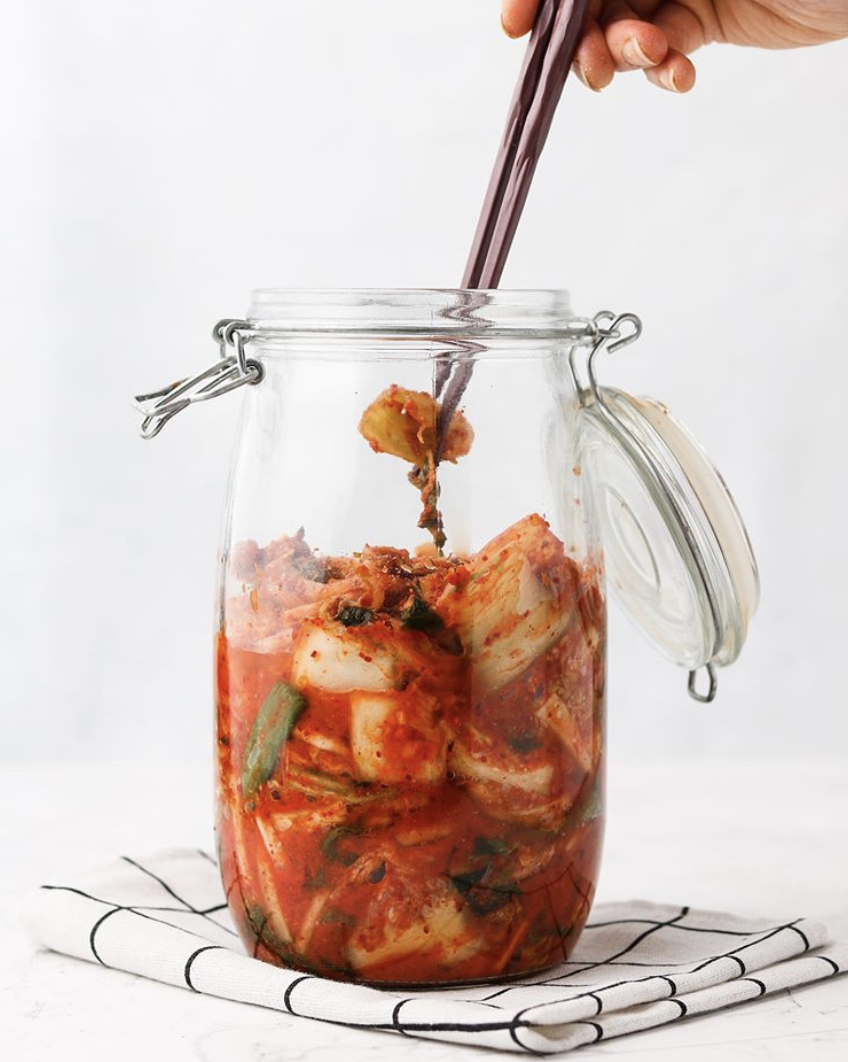 We've scoured the web and found several surefire ways to cook up a kimchi storm, alongside variations to test out and try now that we're all better home cooks (thanks, lockdown). All of these recipes are super versatile, easy to make and experiment with, according to whatever else is left in your kitchen or what you prefer.
But wait, how long can you keep kimchi before it goes bad?
According to Healthline, if kept at room temperature, it lasts for a week after opening but once refrigerated, kimchi is still good to go for about three to six months while it continues to ferment, leading to a sourer taste and mushier texture.
So what are you waiting for? Do your tummy and fridge a favour—scroll through and get cooking!
Kimchi Fried Rice
Cooking time: ~15 mins
View this post on Instagram
This popular, humble staple is easy to whip up at home and a great way to use up other ingredients leftover in your kitchen. Alongside our star ingredient, the basic foundations of this dish involve using rice, sesame oil, garlic and onion. Find the basic recipe here.
You can serve it up the classic way with a sunny-side up over the top or add in smoky bacon bits, sliced carrots and shiitake mushrooms as some tried-and-tested toppings—it's all up to you to add and experiment however you like!
Drizzle over soy sauce for more salt or gochujang sauce for more spice if you're short of kimchi brine (that leftover juice in your kimchi jar).
If you're feeling a bit more adventurous, try this recipe for a slightly nostalgic, Americanised take with spam, or go green with this veggie version.
Kimchi Stew
Cooking time: ~40 mins
View this post on Instagram
Also know as kimchi-jjigae, this dish is a quintessential comfort food in Korean cuisine. The traditional version calls for chock full of fatty pork meat, tofu and veggies to make it super hearty but it can also be made with any type of protein or simply just with tofu. Try out the classic version with pork belly.
The premise is simple: lightly stir fry the basic ingredients such as onion, garlic, pork and spices until soft and fragrant before pouring in stock or water, kimchi and tofu to simmer over time.
Bound to make you break a sweat, the soup is often seen in K-dramas (topped with canned salmon in this heartthumping scene) paired with banchan dishes (veggie side dishes) and a bowl of rice or some ramen.
For days when you need a healthy pick-me-up, try out this immune-boosting option that's also suitable for vegetarians.
Kimchi Pancake
Cooking time: ~10 mins
View this post on Instagram
Another super-easy and versatile dish is the kimchi pancake, or kimchi jeon, a savoury delight that is simultaneously chewy, crunchy, salty and spicy in one go.
All you really need to do is to mix an egg, soy sauce, all-purpose flour and scallions with your leftover kimchi to make up the batter before lightly pan-frying it until golden brown—basic recipe here. 
The trick is to make sure the batter is thick enough to hold together kimchi and any other ingredients if you'd like to add more.
Try out this vegan option, comprising only four ingredients; or go flourless with this cheese-stuffed mung beans alternative.
Kimchi Dip
Cooking time: ~10-15 mins
| | |
| --- | --- |
| SHARE THE STORY | |
| Explore More | |