With lockdown/FMCO (or at least some form of MCO) set to go on for a little while longer, one way to keep sane during this pandemic period is to indulge in the things you love pre-COVID-19. For many of us, that's hotpot! Hotpot is the ultimate comfort food, especially during a time like this. What's not to like about cooking almost anything you want in a delicious broth. Check out our suggestions for hot pot places that deliver below and satisfy your cravings.
*All prices and details are correct at the time of publishing*
1. Beauty In The Pot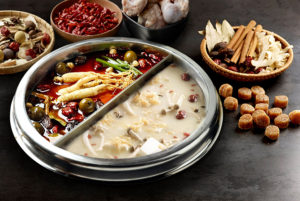 Available from its outlet in The Gardens Mall, there are three different sets to choose from—starting from RM198+. You can select two types of soup base from the following: Beauty Collagen Broth (Dried Scallop and Pork Bone Soup), Spicy Nourishing Broth (Pork Bone Soup), Vitamin C Tomato Sweet Corn Broth, Longevity Wild Mushroom Broth (Vegetarian), Hearbal Drunk Chicken Broth, Hearty Shrimp Broth, and Cooling Coconut Broth. Depending on which set you get, your hotpot ingredients will differ too. Check out the full menu here.
Opening Hours: 11am – 7pm
Contact: 017 576 1772
2. Feng Wang Fu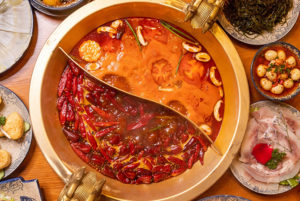 Available from both their Klang and Fahrenheit outlets, Feng Wang Fu delivers authentic Chengdu hotpot to you during this F/MCO. Check out the menu on their Facebook and Instagram page. Options include Fresh Beef Tripes, Handmade Bamboo Shrimp Paste, Snowflake Beef Slice, and their signature Double Flavoured Pot. Choose two types of soup base from the following: Spicy Mala Soup, Tomato Soup, Bone Soup, Mushroom Soup, Pickles Soup, and Fish Maw Soup. To order, contact them through Whatsapp using the number below.
Opening Hours: 12pm – 8pm
Contact: 011 3984 1230 (Fahrenheit); 011 2102 4921 (Klang), 011 5638 5267 (1Utama)
3. Haidilao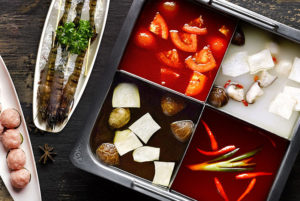 This hotpot brand is, without a doubt, one of the most popular in Malaysia. They are delivering during F/MCO too. To order, just call any of their outlets—Sunway Pyramid, One Utama, Pavilion, and Sunway Velocity. Haidilao also provides cookware renting service; so don't worry if you don't have a pot at home.
Opening Hours: 11am – 7:30pm
Contact:
Sunway Pyramid (03 5611 5188)
One Utama (03 7661 2678)
Pavilion (03 2110 0520)
Sunway Velocity (03 9770 0070)
IOI City Mall (03 8683 1298)
IOI Puchong (03 8080 1254)
Bangsar Village III (03 2202 2070)
4. Xiao Long Kan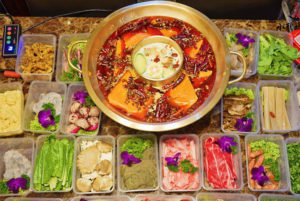 Available from the Kuala Lumpur outlet, you can also get hotpot delivery from Xiao Long Kan. Their prices range from RM128 (2-3pax) to RM 258 (4-6pax). To order form them, call of Whatsapp the number provided below.
Contact: 012 467 1381
5. Fei Fan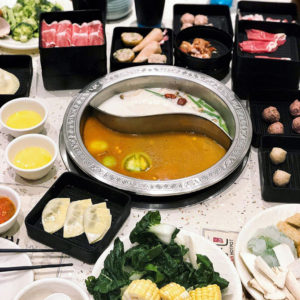 Fei Fan is known for its all-you-can-eat hotpot, with multiple locations all over the city. They're probably the most budget-friendly hotpot place you can find on this list. So, if you're not looking to spend too much on hotpot, this is the place to order from. If you're ordering for a whole group of people, take a look at their value set, which includes all of their specialties. Fei Fan is available on multiple delivery platforms such as Beepit, Grab Food, Food Panda, and Tableapp.
Contact:
SS15 Courtyard Mall (03 7496 6438)
163 Retail Park (03 6419 4928)
1Utama Shopping Center (03 7731 7928)
Paradigm Mall (03 7887 6438)
Setia City Mall (03 3358 6567)
Website | Facebook | Instagram
6. Shu Da Xia Hotpot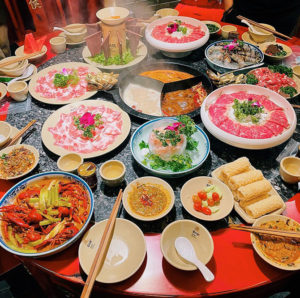 Originally from Chengdu, Shua Da Xia specialises in Sichuan-style mala hotpot. The KLCC outlet's extensive menu makes decision-making easy since there's an option for everyone at the table. Not only does this hotpot hotspot have many options, but all their ingredients are also of the highest quality. They even have Japanese A5 Wagyu for those who are feeling boujee. To order, use the link below.
Opening Hours: 11:30am – 8:00pm
Contact: 011 1204 1268
Order Link: Here
7. The Tavern Hotpot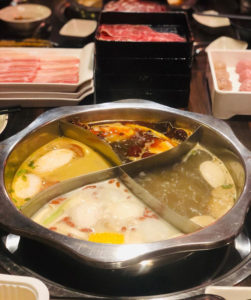 The Tavern Hotpot is a reasonably priced hotpot restaurant, with sets ranging from RM168 to RM388 depending on the number of pax. What sets them apart from other hotpot delivery services is they offer something called "Buffet in a Box". When you order this, the Tavern Wagon will drive to your doorstep so that you can fill up a box with all the ingredients you want, all for just one price. This can be arranged by contacting the number below via WhatsApp.
Opening Hours: 10:00am – 8:00pm
Contact: 012 280 9322
Order Link: Here
8. Da Long Yi Hotpot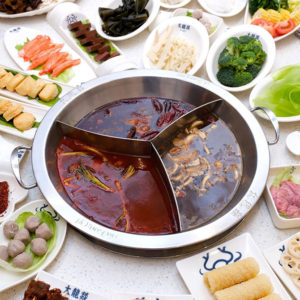 Da Long Yi is another Chengdu-based hotpot restaurant. They currently have over 300 restaurants set up all across the globe and, finally, opened their doors in Malaysia last year. So if you're looking for an authentic tongue-tingling mala experience—some have even claimed that this place has the best mala broth—give it a try. The only way to order from them is by contacting them through WhatsApp using the number below.
Opening Hours: 11:00am – 8:00pm
Contact: 011 3863 3336
Website | Facebook | Instagram
If you're craving for hotpot during lockdown/FMCO, these are great options to check out in the Klang Valley. Self-isolation and social distancing are thoroughly important—but you can still enjoy delicious food. Even better, you don't have to join the long queues outside these restaurants in KL anymore; you'll get the same scrumptious goodies at the comfort and safety of your own home.
Many eateries in KL are available for delivery and self-pickup, so there are still plenty of food options for you to choose from. If you would like to put your cooking skills to the test, there are even ready-to-cook food kits.
For more restaurants and cafes doing takeaway/delivery in KL, click here.
| | |
| --- | --- |
| SHARE THE STORY | |
| Explore More | |