Food + Drink
Food review: Tatsu Japanese Cuisine's brand of omakase is made for curious diners
Not your usual orders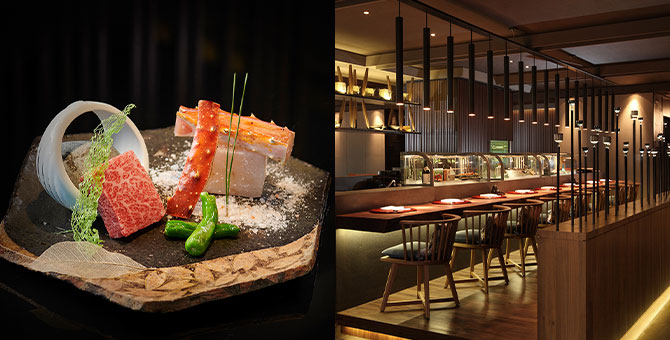 When talking about omakase dining, what often comes to mind is usually a series of sashimi and nigiri sushi. Perhaps even a rice dish, a few grilled items, or an assortment of tempura. At Intercontinental Kuala Lumpur's Tatsu Japanese Cuisine, however, I discovered that things are quite different.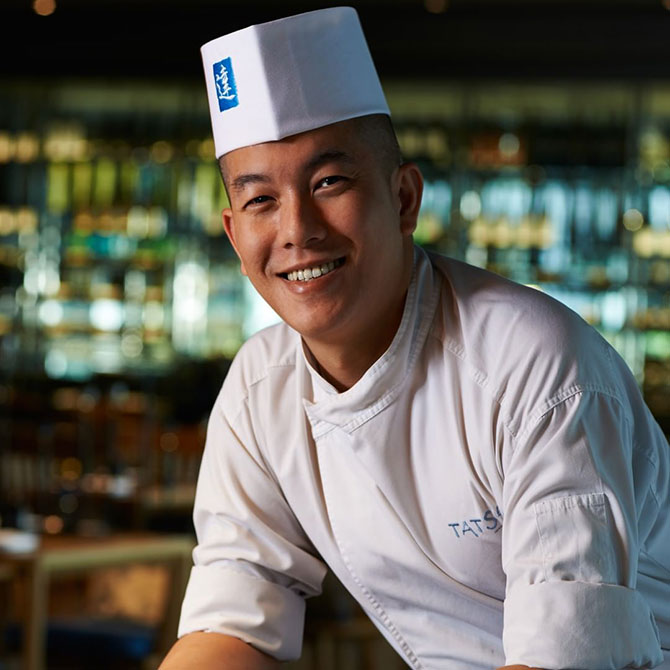 Helmed by Head Chef Tommy Kuan Soon Seng, the 147-seater restaurant offers a bold, modern approach to Japanese cuisine that reflects the chef's adventurous cooking style. Armed with more than two decades of culinary experience, Chef Tommy has previously honed his knife skills working in the kitchens of Nadaman Japanese Restaurant, Iketeru Japanese Restaurant and Benkay Japanese Restaurant before joining Tatsu in 2015.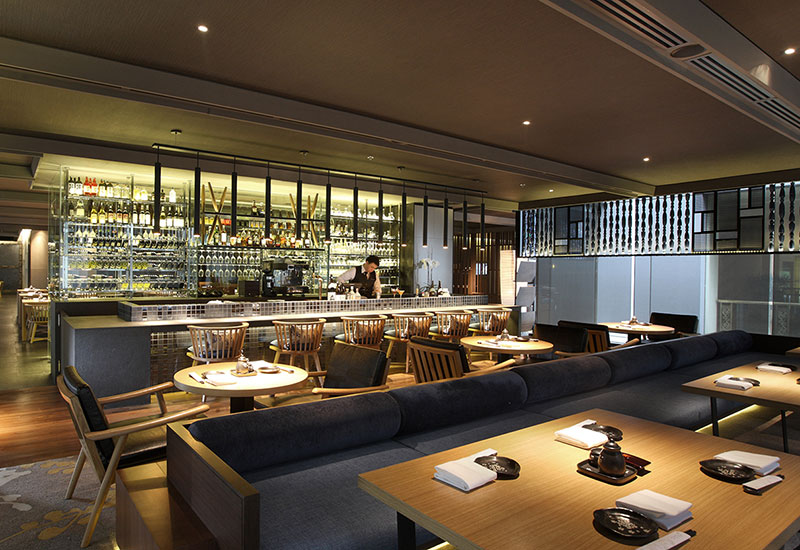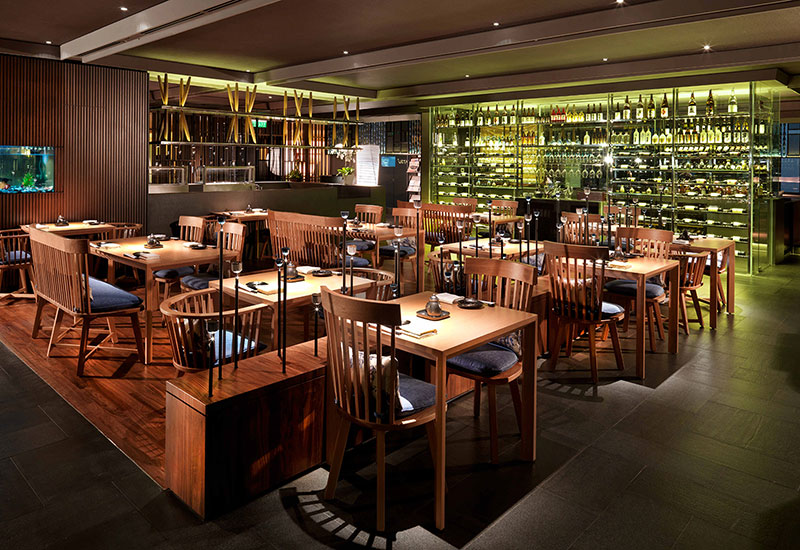 You'll get that sense of contemporary Japanese dining the moment you step into the restaurant on the first floor of the hotel. Dark timber furnishings pay homage to a traditional Japanese setting, contrasted against modern seats adorned with floral pillows and subtle azure accents around the airy space. There's also an intimate sushi counter as well as a private sake bar for those who prefer more privacy while dining here.
In true omakase fashion, I left the menu completely up to Chef Tommy during my visit to savour his interpretations of the best ingredients he had to offer. Read on for an inkling of what to expect from the six-course omakase experience at Tatsu Japanese Cuisine.
Appetiser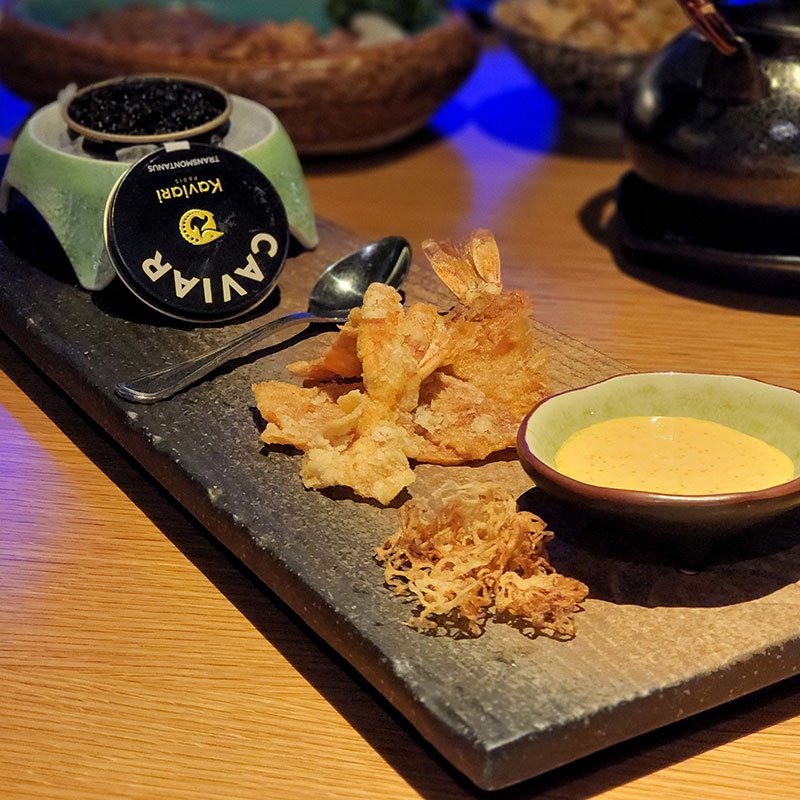 My dinner kicked off with an appetiser of ebi senbei (shrimp crackers) served with Australian caviar and tobiko sauce. This immediately struck me as something contrary to the kind of omakase dining I'm used to, which kept me intrigued throughout the meal. On its own, the caviar leaned on the saltier side; but when eaten together with the ebi, the natural sweetness of the prawn balanced the flavours out.
Sashimi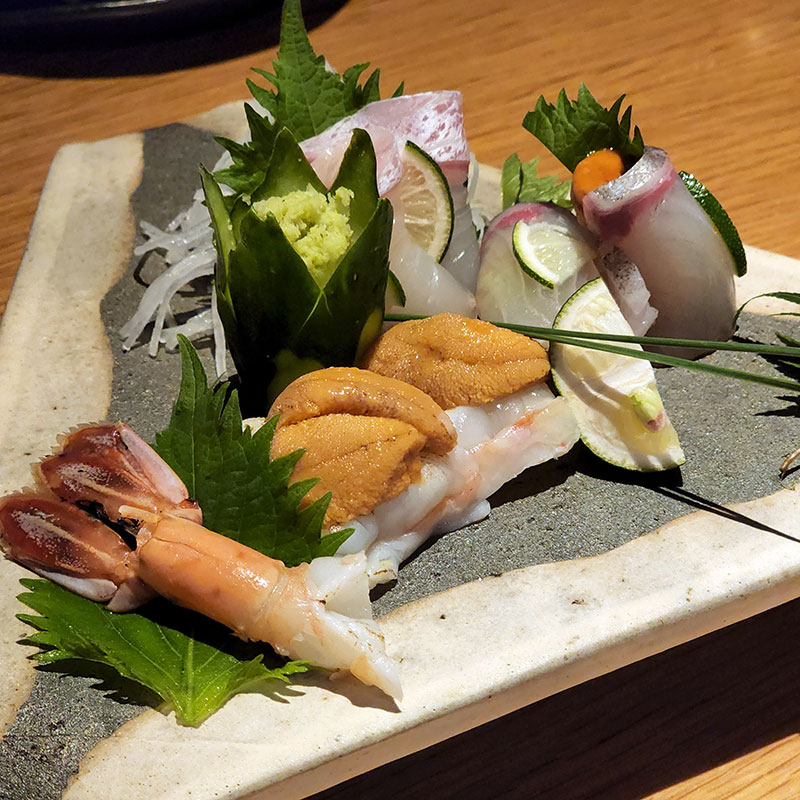 Next was a more familiar sashimi platter, comprising tai (sea bream), botan ebi (shrimp), and kampachi (amberjack). All three seafood dishes tasted as fresh as you'd expect, given that the restaurant regularly imports its ingredients straight from Tokyo's Tsukiji market. The botan ebi was my favourite of the trio, presenting sweet, clean flavours and a nice firm texture.
Osuimono (soup)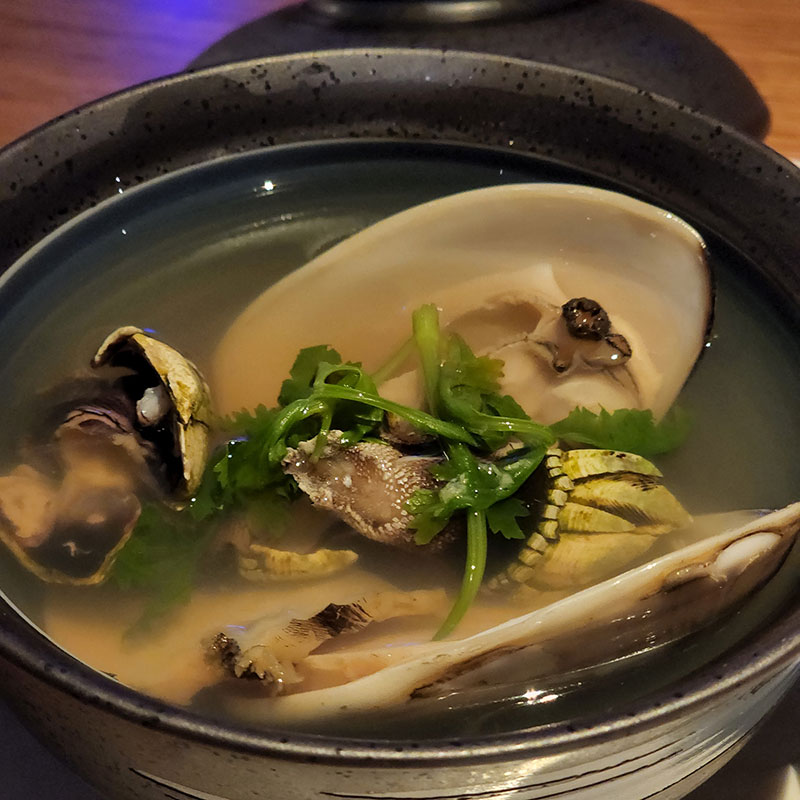 The third course came as an interesting surprise because I had never tried goose barnacles (sometimes called 'turtle hand') before. Served with abalone in a warm bowl of hamaguri suimono (clear clam soup), the intimidating crustacean actually tasted quite similar to soft-shell clams. The broth was imbued with strong flavours of the sea thanks to its contents, but the light, clear consistency made it soothing to sip on in between the morsels of seafood.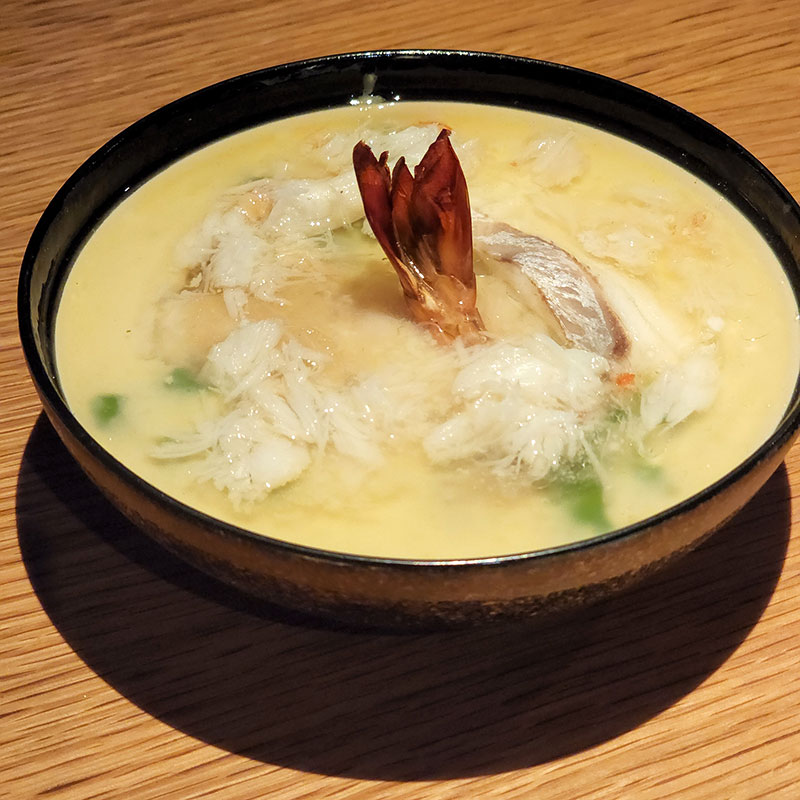 Before moving on to the next course, I was served a generous bowl of chawanmushi, which comes complimentary with every omakase meal at Tatsu. And by generous, I mean it was the biggest serving of the egg custard dish that I have ever had in my life. Made with mushrooms, gingko, fish, prawns, and chicken, this dish proved a comforting intermission from all the seafood flavours.
Nimono (simmered dish)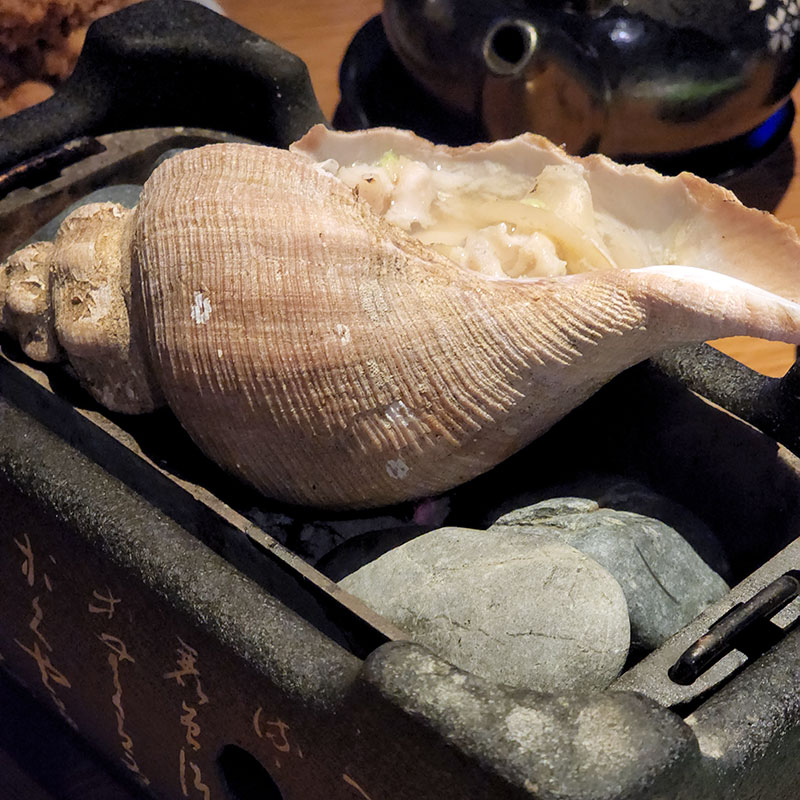 Up next was another unexpected grilled tsubayaki dish, served with clear broth in its giant shell that has been stuffed with leek. Arriving on a traditional Japanese grill, this dish was a showstopper in its own right. The flesh tasted fresh and mildly sweet, with a firm, chewy texture. On the other hand, the broth offered strong, onion-like aromas of leek that paired well with the molusc.
Main course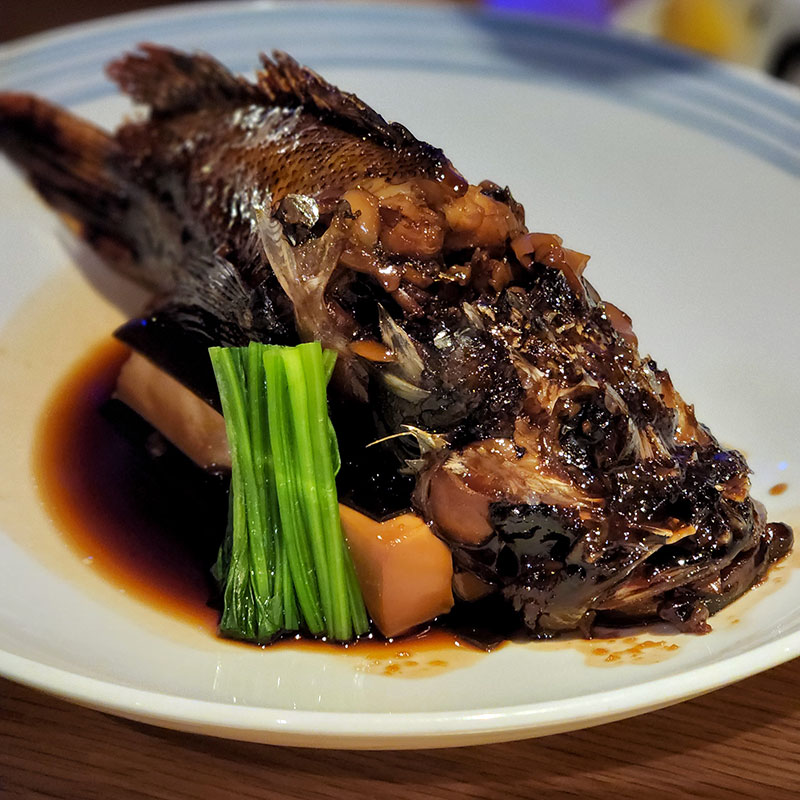 The main course arrived in the form of a grilled oni kasago fish, a seasonal catch during summer in Japan. To my surprise, the portion could easily feed two or three people. Chef Tommy explained that the fish is simmered in in a sauce made of sake, mirin, sugar, and soy sauce—also known as sakana no nitsuke in Japanese. The result was a combination of sweet and umami nuances that ended the savoury part of the meal on a punchy note.
Dessert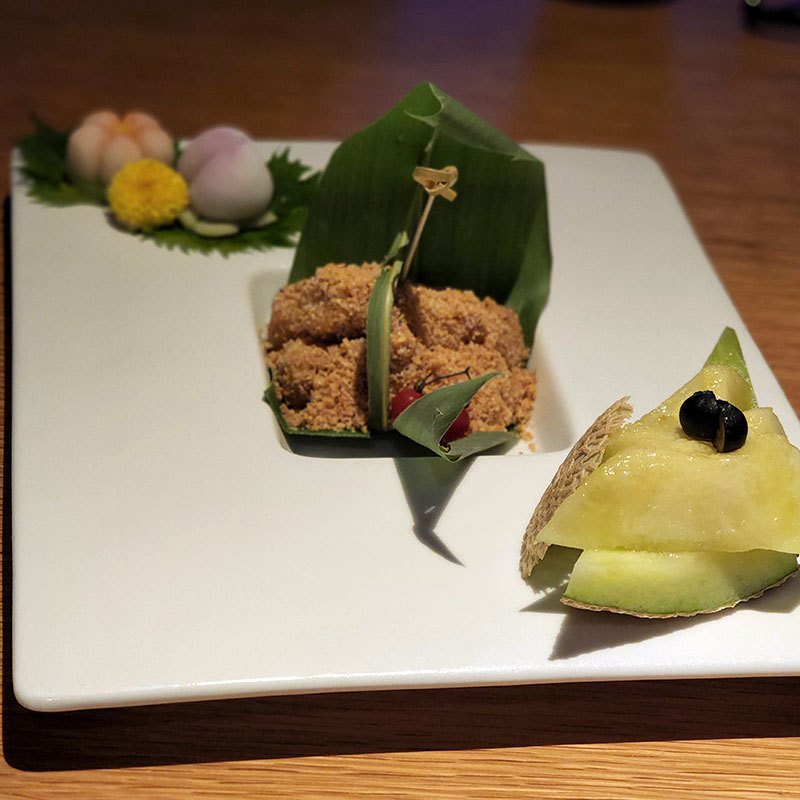 Rounding off the meal was a platter of musk melon (delightfully sweet and juicy), akebawa mochi (soft and beany), and daifuku (not too sweet or chewy—just the way I like it). Overall, Tatsu Japanese Cuisine's brand of omakase is not for those who prefer typical traditional Japanese delicacies (you can order those off the a la carte menu instead); but if you like surprises, you're in for a treat.
The Tatsu Omakase menu is available daily for lunch and dinner, priced from RM688+. For reservations and enquiries, call +603 2783 6000 or email [email protected].
---
Tatsu Japanese Cuisine
Address: 165, Jln Ampang, Kuala Lumpur, 55000 Kuala Lumpur
Opening hours: 11.30am to 2.30pm (lunch), 6.30pm to 10.30pm (dinner)
Contact: +603 2783 6000
Website | Facebook | Instagram
Find more food reviews here.
| | |
| --- | --- |
| SHARE THE STORY | |
| Explore More | |