Jalan Bangkung in Bangsar is blessed with a plethora of brilliant eateries and many of them are operated by the Maxim Image Group. If the name doesn't ring a bell yet, Maxim Image Group is the team behind establishments such as Opus, Lucky Bo, Cava, BGR, and Leonardo's.
While each restaurant is unique, you will notice two common themes: top-notch hospitality and premium food offerings. Helmed by Chef Toni Valero and Chef Jason Tee, Leonardo's Dining Room & Wine Loft has cemented a reputation as one of the most well-known spots in town for sublime Spanish pork and wine.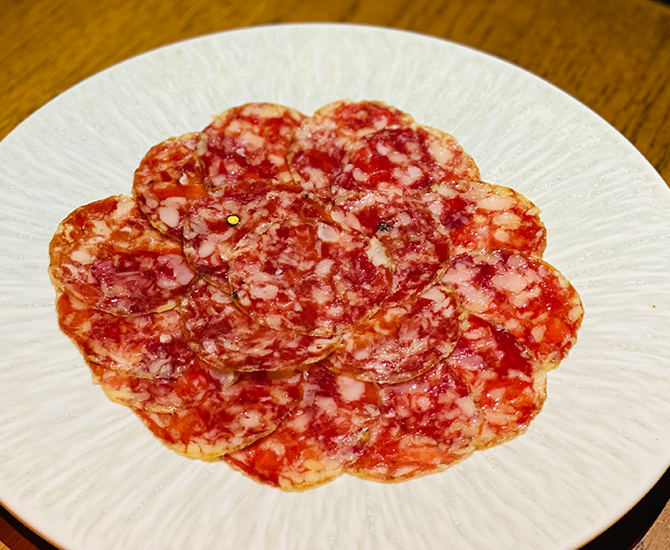 Since its inception, the cosy restaurant showcases a pork-centric menu that utilises different parts of the Ibérico pork. Leonardo's refreshed menu is an amalgamation of signature favourites and fresh concoctions. These are the dishes you need to try at Leonardo's.
Croquettes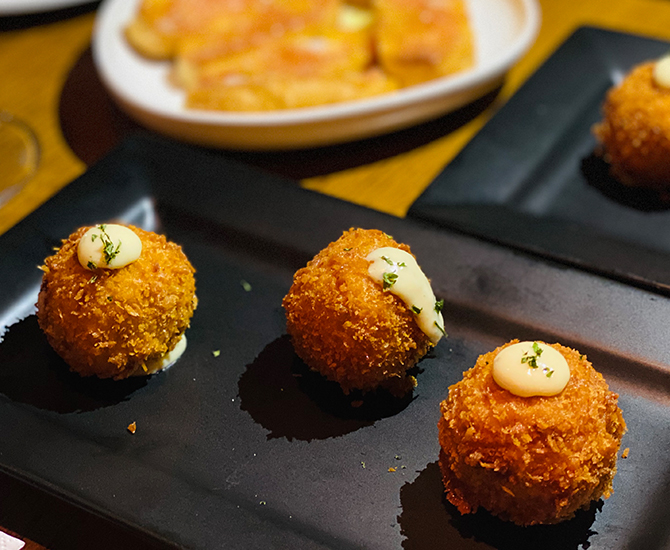 Filled with creamy Ibérico pork filling, the deep-fried croquettes are everything you could ask for from a starter. Served in threes, the palatable fried balls are crispy and golden. The croquettes—accompanied with béchamel sauce—aren't just easy on the eyes, but also tremendously powerful with every munch.
Unlike traditional French versions, you will find bits of Ibérico ham in Leonardo's creation. Bite after bite, you'll love the crackling texture and smooth flavour profile.
Hokkien Mee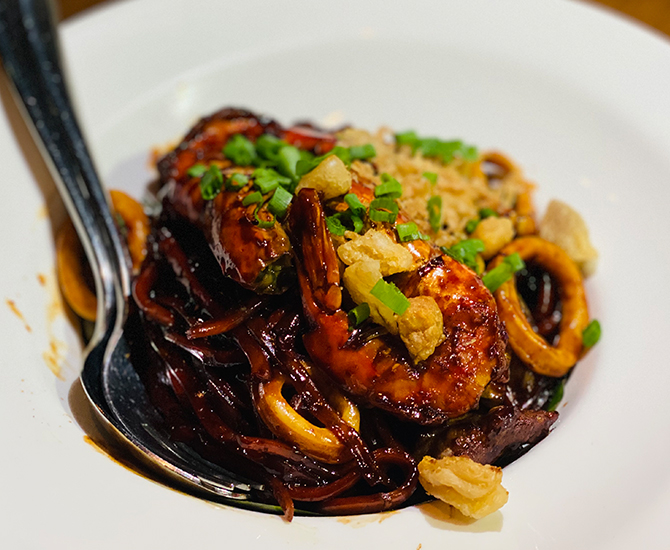 Although Hokkien Mee is a staple dish for many in Malaysia, Leonardo's KL-style fried noodles takes the cake by utilising premium Ibérico fillet pork in its mix (alongside prawns and cabbage). Expect your senses to dance when the dish is placed in front of you. The fragrant and ambrosial aroma from the noodles is the first thing you'll experience.
The Hokkien Mee looks typical in appearance but all you have to do is take your first bite for an otherworldly experience. Crispy pork lard add crunch and dimension whereas the dark soy-coated noodles provide nostalgic warmth and comfort (in the mouth, the heart, and mind). The dish has been on the menu for a long time—and rightly so.
Carnitas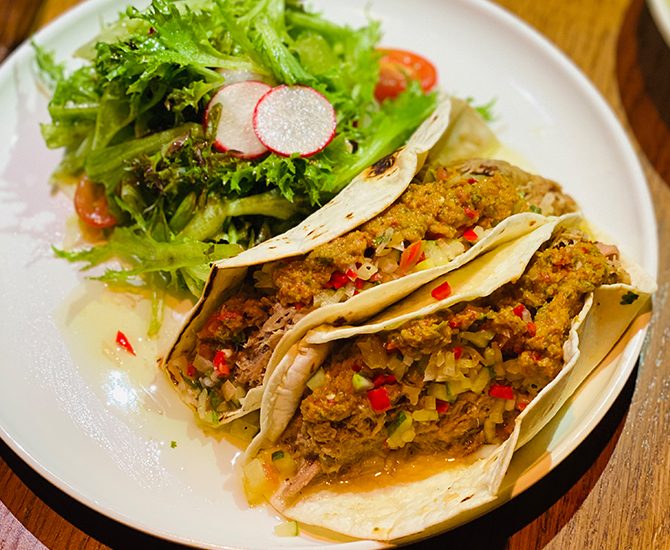 One of the newest additions to the menu is Carnitas—filed with slow-roasted confit pork and pico de Gallo. The traditional Mexian delicacy is given a special upgrade at Leonardo's with the utilisation of rich pork fillings. Served with a side of green salad, the dish comes with pork that's simmered and braised until superbly tender.
Pico de Gallo provides the a hint of spice and acidity to the dish. The Mexican salsa has a rather thin but intense consistency. It's a massively filling dish so you might want to consider sharing. Not a fan of heat? Make sure to have a glass of water—in case you need a little SOS.
Ibérico Bak Kut Teh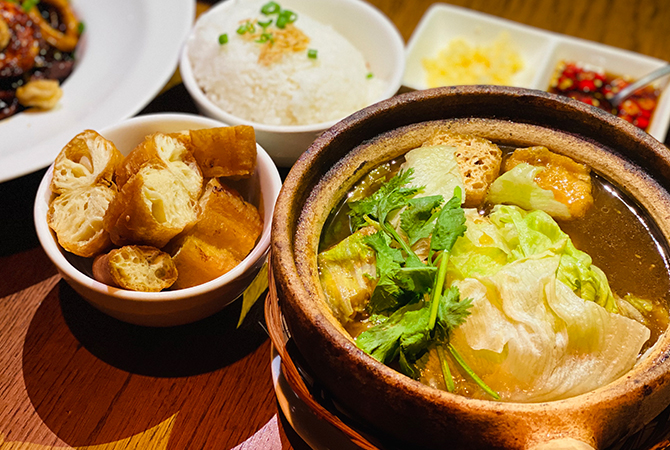 Another popular dish to try on the menu is Ibérico Bak Kut Teh. Similar to the versions you've eaten growing up (especially in Klang), Leonardo's concoction also comes with rice and crispy yau char kway. However, what sets this apart from the rest is—again—the addition of Ibérico ribs. It's a truly enjoyable experience because you still feel like you're in the diaspora of an authentic Bak Kut Teh dish, but only this time, elevated tenfolds.
The broth is luscious and toothsome; retaining memorable flavours but with a cleaner flavour profile. As for the meat, expect perfectly prepared pork that's juicy yet firm; palatable yet not overly brackish. How do you usually have your Bak Kut Teh?
Ibérico Suckling Pig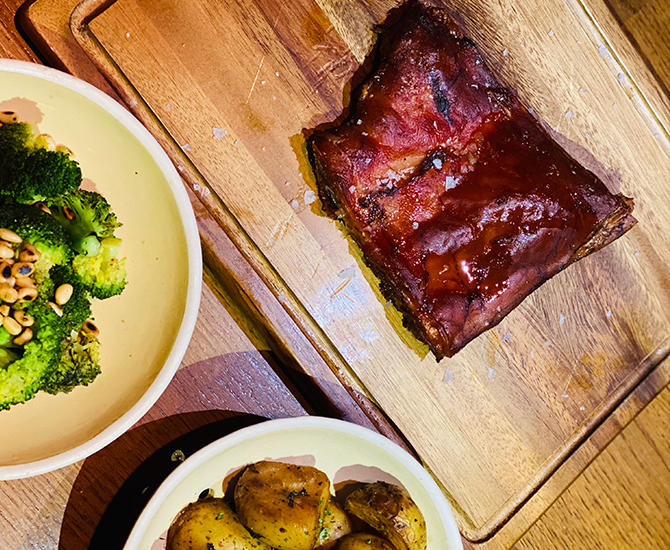 You can't possibly go to Leonardo's and not feast on one of their most popular dishes, can you? The house specialty roasted Spanish Ibérico suckling pig uses meat from free-roaming Black Iberian pigs. Hence, expect a higher fat marbling as well as meat that's tender and slightly nutty.
When served on the table, the restaurant actually uses a plate to slice the pork into smaller pieces to highlight how tender the meat is. The crispy skin and immensely succulent meat are paired with sides such as roasted potatoes cooked in pork fat and broccoli with pine nuts.
What I love best about Leonardo's take is the practice of minimal seasoning. Reward yourself with Ibérico pork in its utmost purity; adequately saccharine and certainly abundant. Simplicity is the truly the name of the game here.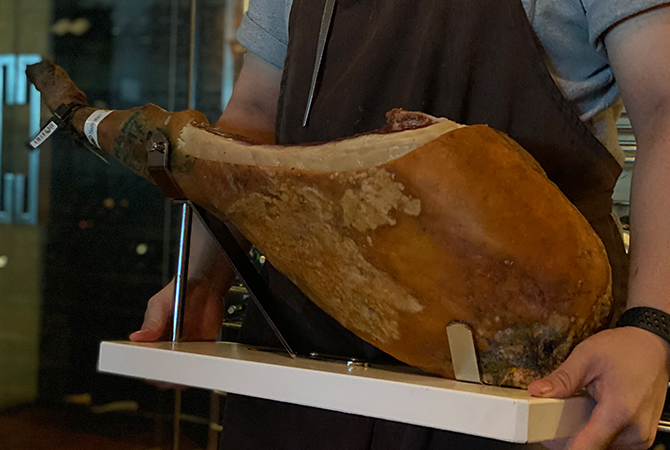 Presentation, taste, and quality have been at the forefront of Leonardo's philosophies throughout the years—and that's clear from our experience at the restaurant. Treat yourself to a selection of cold cuts such as 100 Per Cent Ibérico Ham Señorío de Montanera, Salchichón Ibérico, and Ibérico Lomo as well as unique creations such as Salmon with Sautéed Haricot Beans, Ibérico Bikini, and Babi Guling.
Leonardo's is a culinary paradise for anyone who loves all things pork and they deserve a standing ovation for their deliciously dapper and agile menu as well as bold ideas on upcoming offerings. Expect more additions to the menu—featuring special versions of delicacies from all over the world.
---
Leonardo's Dining Room & Wine Loft
Address: 61-1, Jalan Bangkung, Bangsar, Kuala Lumpur
Contact: 03 2096 2226
Website | Facebook | Instagram
---
| | |
| --- | --- |
| SHARE THE STORY | |
| Explore More | |